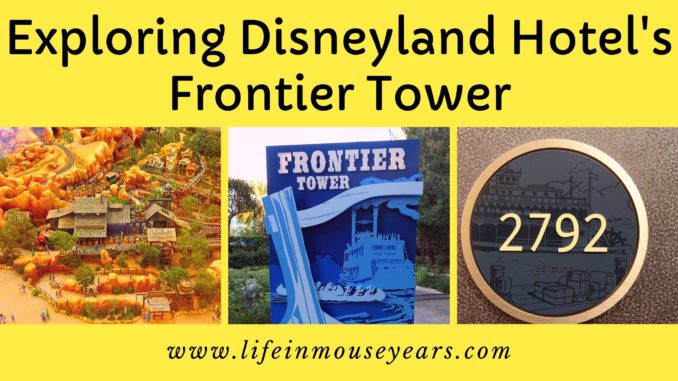 Exploring Disneyland Hotel's Frontier Tower can be a fun way to spend some time during your visit to Disneyland. There is so much to see at the Disneyland Hotel. Each tower has it's own unique qualities. Today I would like to share what you can see at Disneyland Hotel's Frontier Tower.
Exploring Disneyland Hotel's Frontier Tower
Ever since my first time seeing the Disneyland Hotel up close in 2000 for a visit to Goofy's Kitchen, I had wanted to stay at the hotel and check out every part of it! Later that year, I did get to stay there for the first time and see what the Disneyland Hotel has to offer. There have been lots of changes to the Disneyland Hotel since then, however, it is still a beautiful and fun place to stay and/or to check out!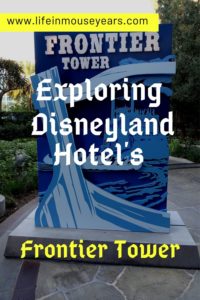 If you would like to read more about the hotel, check out my post Exploring Disneyland Hotel's Fantasy Tower here.
Looking for some items for your trip? Check out some of the items you can get at ShopDisney in the link below.
Make summer red, white & cool with Americana styles for the whole family. Shop vacation clothing at shopDisney!
Wall Decorations-Lobby
First on the list of exploring Disneyland Hotel's Frontier Tower is the wall decorations. Once you enter this tower and hear the themed music, you can then see the theme of this tower. It reminds me of Frontierland in Disneyland. 
On the walls, there are framed art prints of Frontierland. Some of them are the concept art from when Disneyland was being imagined. 
This sketch design is of Fort Wilderness that was on Tom Sawyer's Island. It is still there, although, it is used as a "backstage" area now. But back in the day, you were able to go inside and up into the towers of the fort.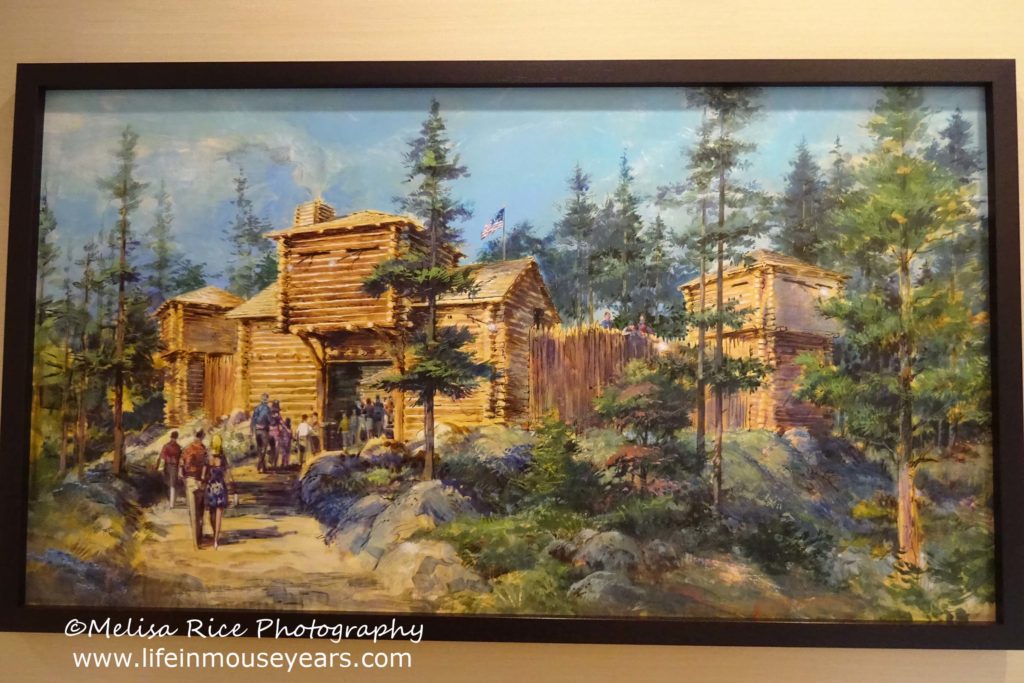 Next, this sketch shows Walt Disney's idea for Frontier Country which became Frontierland.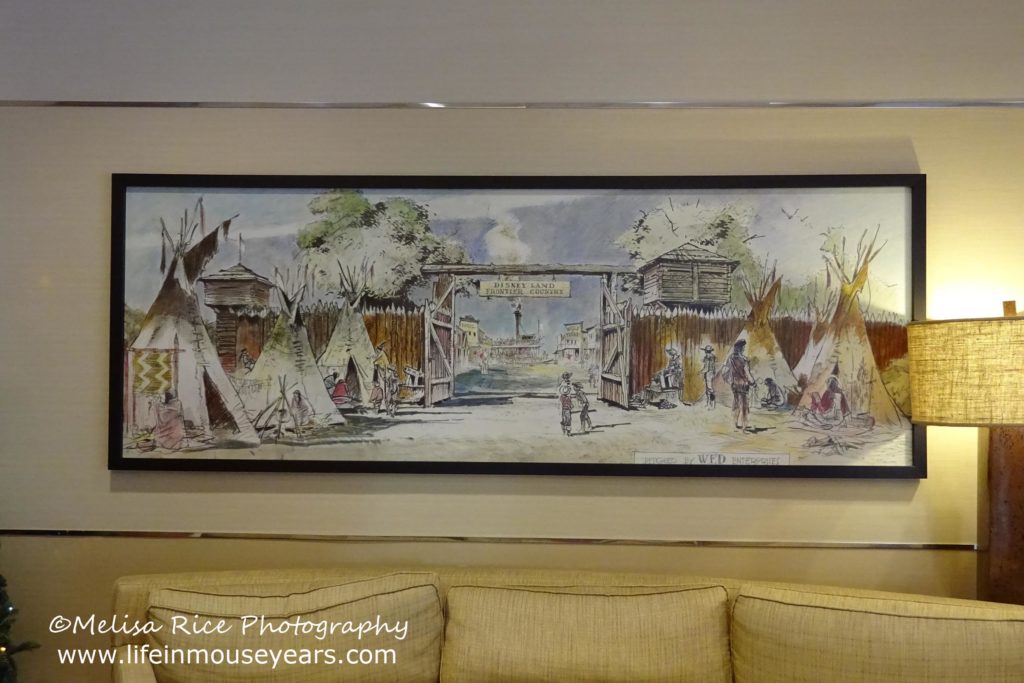 Wall Decorations-Upper Floors
On the upper floors of the tower, the hallways and rooms of the hotel are pretty much exactly the same in all three towers. There are a couple of differences. The first is the wall decoration when you leave the elevator on the upper floors. Here, there is a photo of the Disneyland Railroad Frontierland Station. This is prior to the opening of New Orleans Square in the '60s. After New Orleans Square was opened, the Frontierland station was then called New Orleans Square.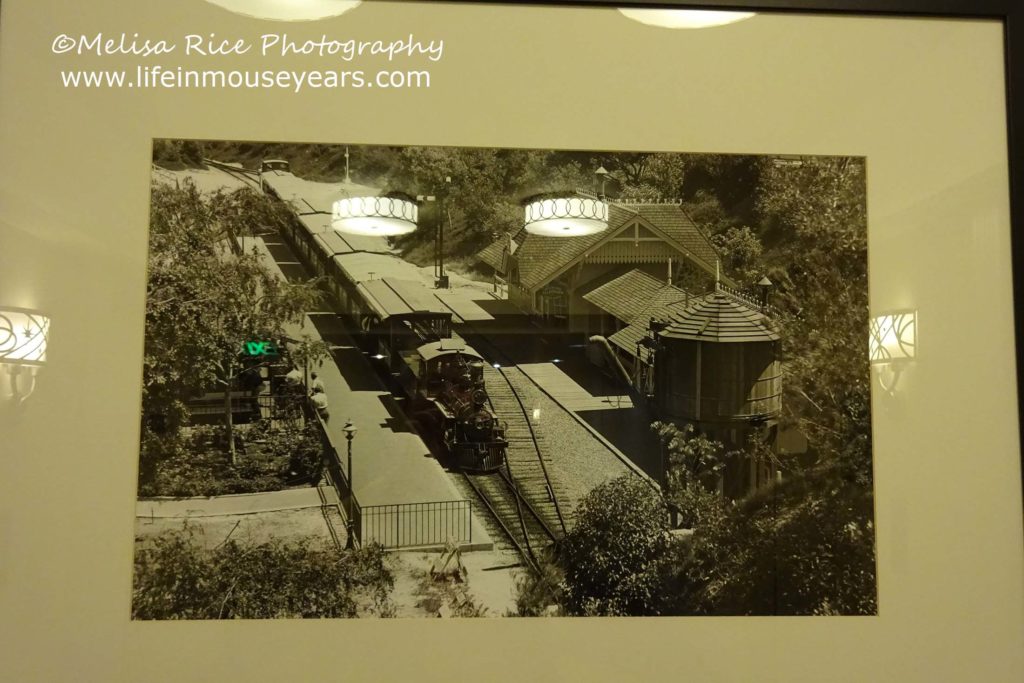 For more information on the Disneyland Railroad, check out my post-Secrets About the Disneyland Railroad here.
Another difference is the room numbers. While the numbers have the same look in each tower, the plate behind it has it's own design. For example, check out the photo below for the Frontier Tower. It has the Mark Twain Riverboat and the dock on it.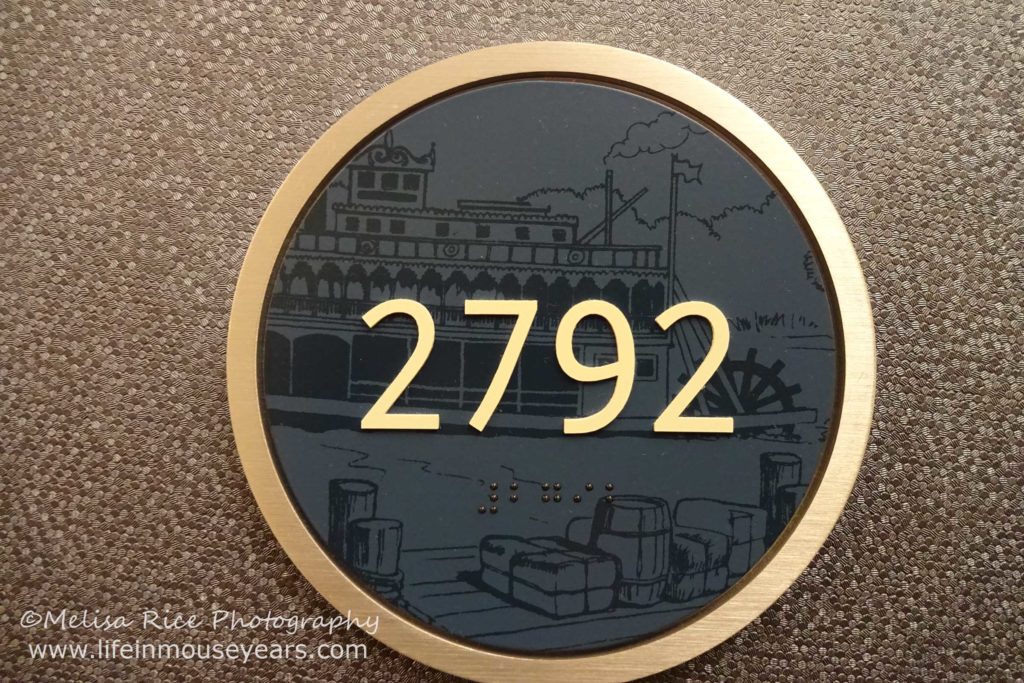 Little details are everywhere at the Disneyland Resort!
Big Thunder Mountain Railroad Miniature
Next on the list for exploring Disneyland Hotel's Frontier Tower is the Big Thunder Mountain Railroad Miniature. This ¼ inch scale model is a replica of the original model when they were designing the ride back in the '70s.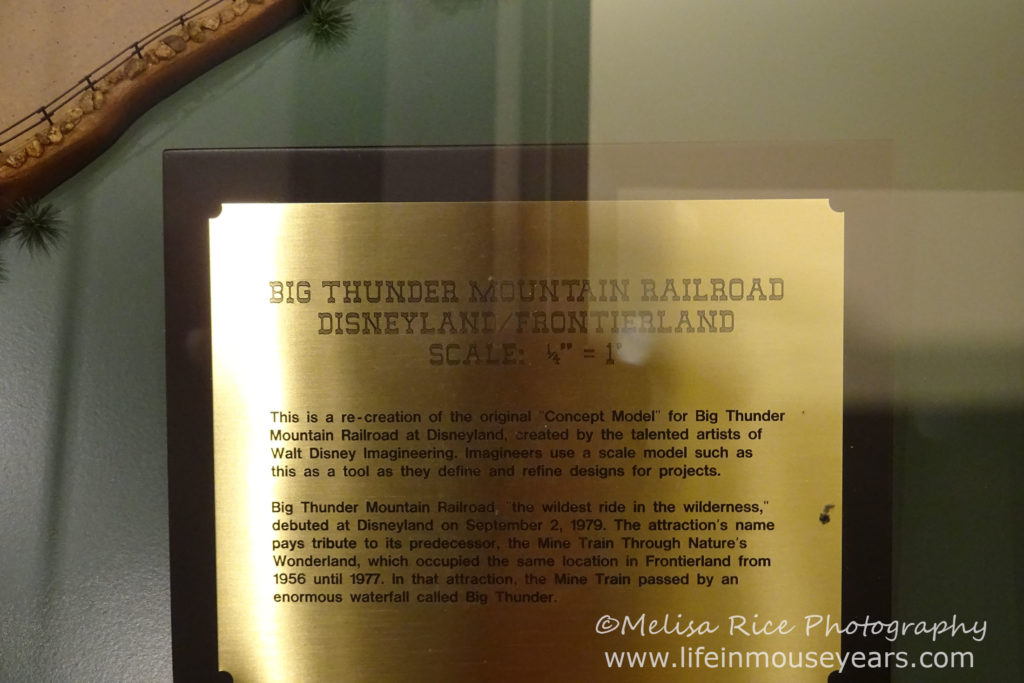 I have ridden this attraction so many times! However, looking at the model, I am amazed at where the train goes. I don't realize it when I ride it.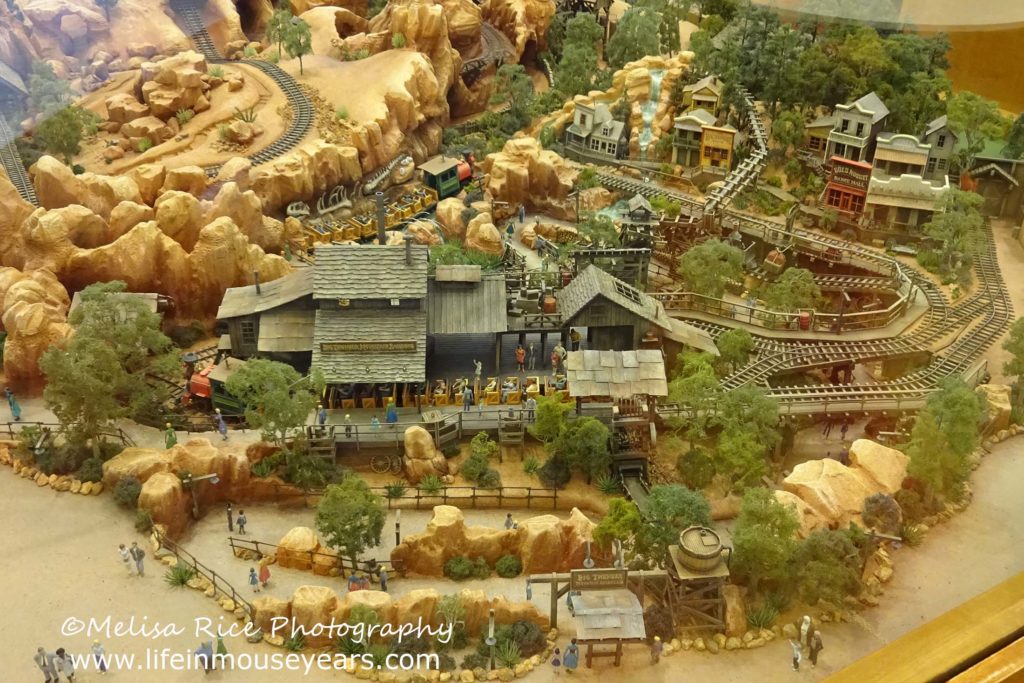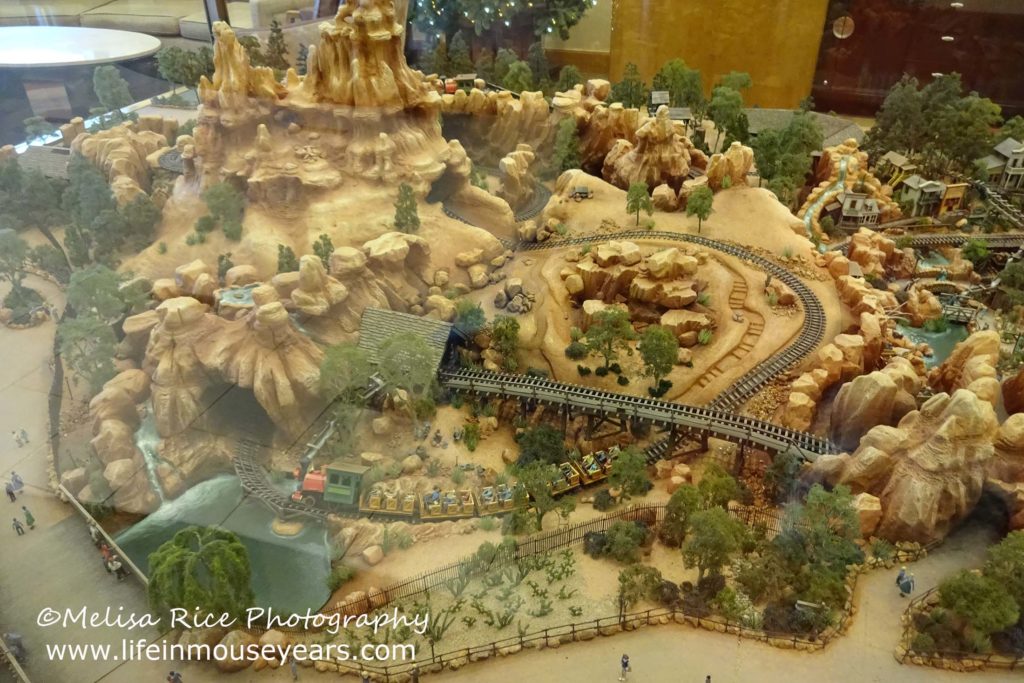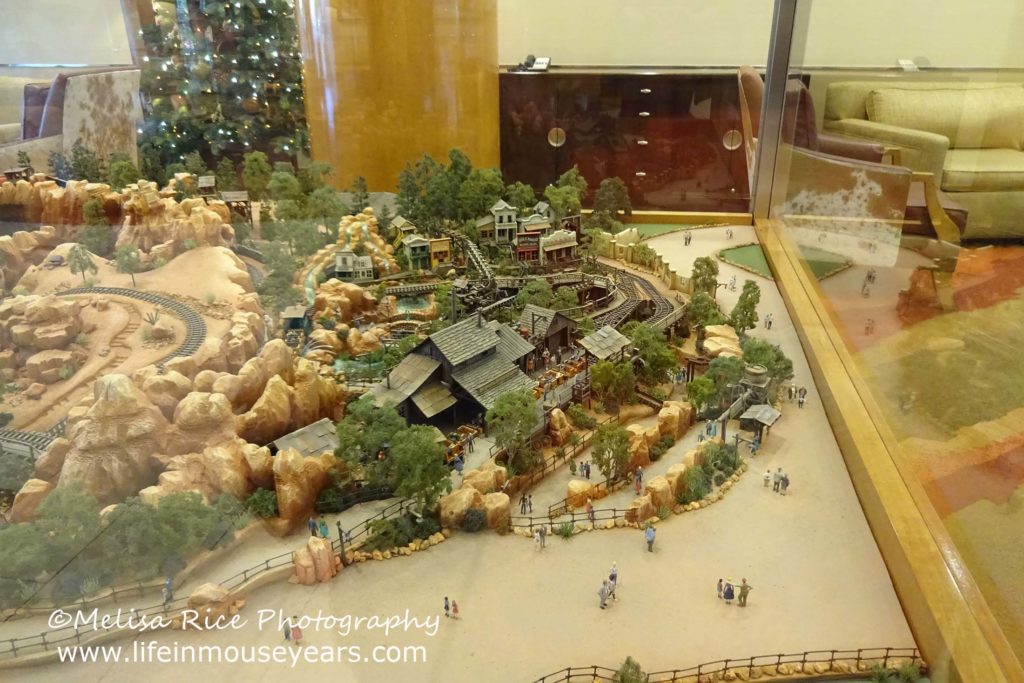 If you have a chance, I recommend checking out the model and follow the tracks. It is pretty neat to go around the entire model. 
Old Un-Faithful
Another thing to check out when you are exploring Disneyland Hotel's Frontier Tower is Old Un-Faithful. Out in front of the tower, looking at the entrance, on your left is a water feature. A little pond-like area with a little waterfall. Every so often, water shoots up in the air just like old faithful! It is a nice touch. And also a nice nod to the past of the attraction that used to be in Frontierland before Big Thunder Mountain Railroad. It was called Mine Train Through Nature's Wonderland.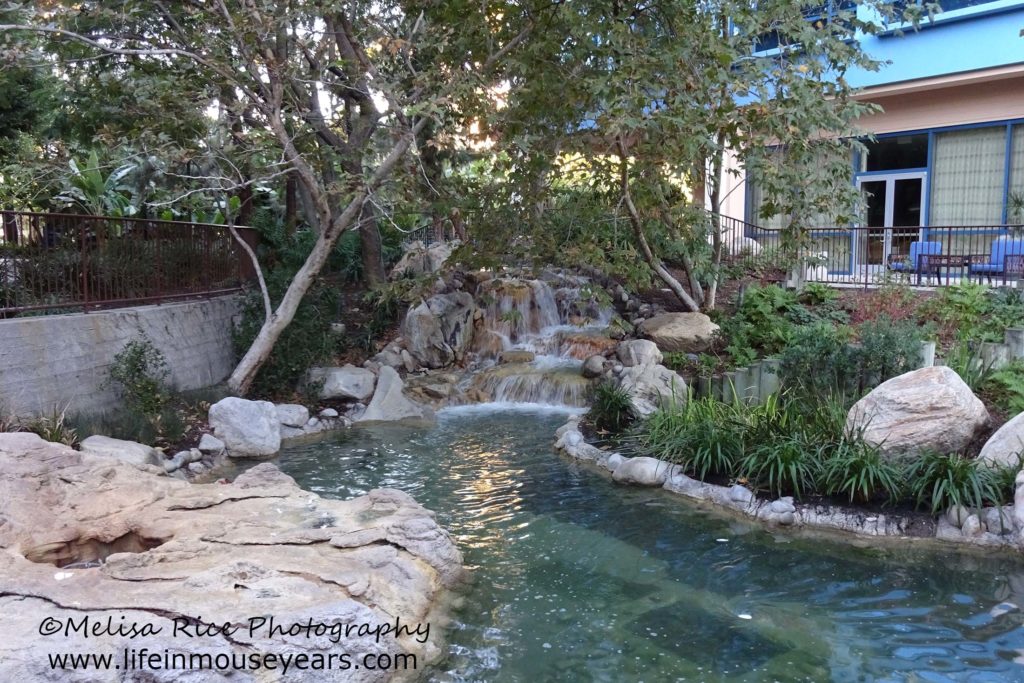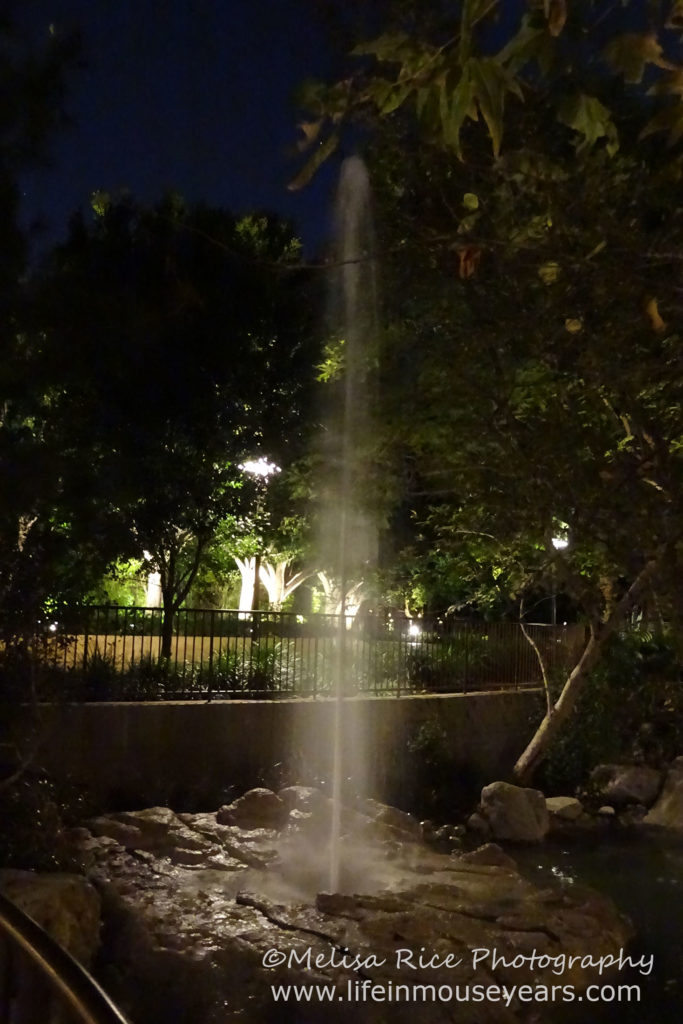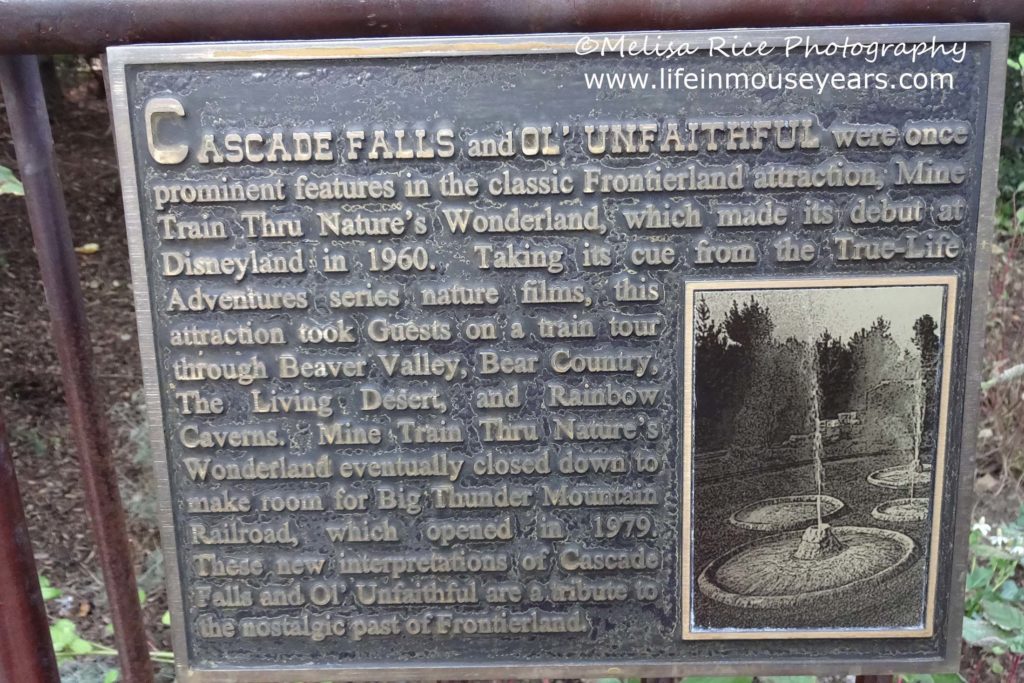 Frontier Floral Mickey Mouse
Another fun thing to check out is the floral Frontier Mickey Mouse out front of the Frontier Tower. During our visit in 2011, we stayed in the Frontier Tower and had a view of this spot from our room. We got to see the process of them making this floral Mickey Mouse during our stay. It is interesting. Before they plant all the plants and flowers, there is a frame that goes down. Then the Cast Members fill in the areas with the specific plants to make it look like Mickey Mouse with a coonskin cap on his head! This is truly a work of art in plant form!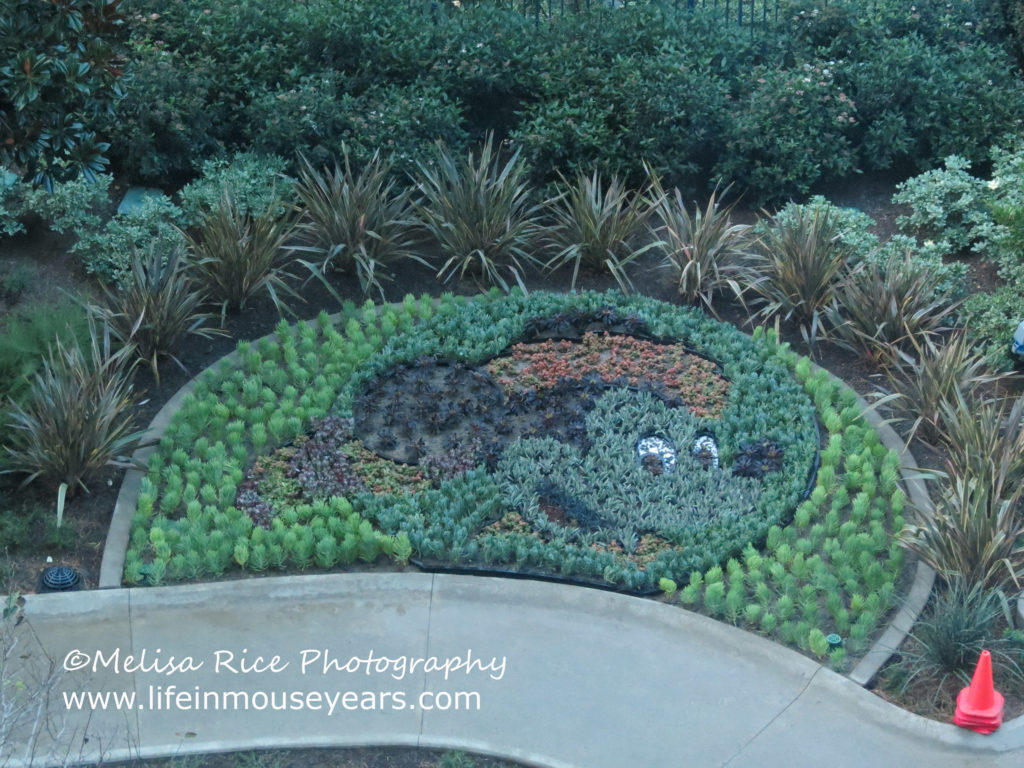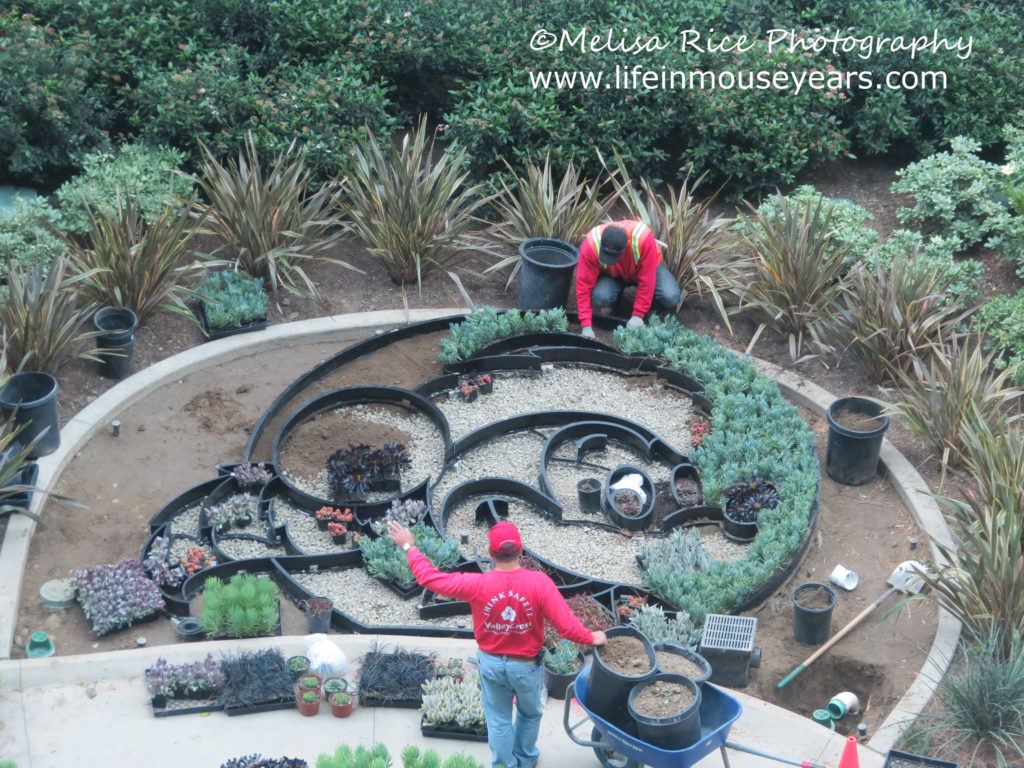 This is not the only spot in the Disneyland Resort where Mickey is made out of flowers. If you would like to learn more about all the different flower areas in the park, check out my post-Discover the Many Flowers of  Disneyland here.
Lobby Seating
Ok, so for this next section, it is not really designed to be Frontier Tower specific. However, I have only really noticed this hidden Mickey at the lobby seating in Frontier Tower. I haven't come across this in the other towers. But, I thought I would mention it. 
In the Lobby of the Frontier Tower, these three rounds of seating stools are always in the shape of Mickey. Therefore, making it a hidden Mickey of sorts. It is a fun little thing to spot as you walk by.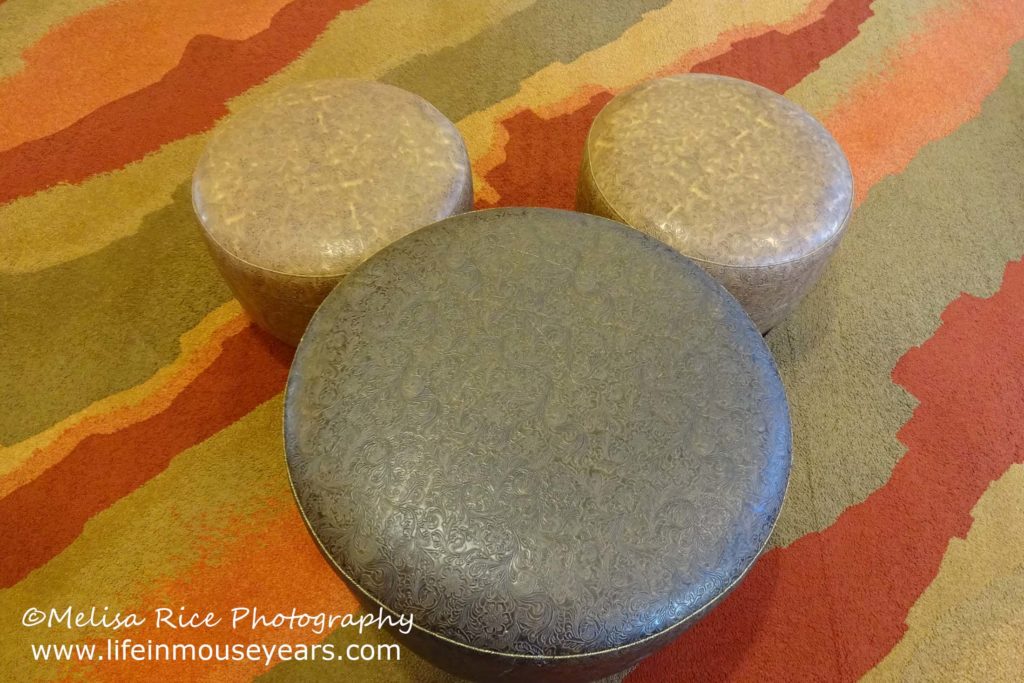 For more information on Hidden Mickey's around the Disneyland Resort, check out this post.
Lobby Restroom
Next on exploring Disneyland Hotel's Frontier Tower, is the restroom in the lobby. This is not my first mention of Disneyland bathrooms… (Check out my Secrets of Disneyland Bathrooms here.)
Disneyland is known for its theming of lands, attractions and more all over the Disneyland Resort. As a result, the bathrooms tend to be themed as well! The ones that are in the lobby of the Frontier tower has wallpaper that is of the poster art from Disneyland. It is all Frontierland ones.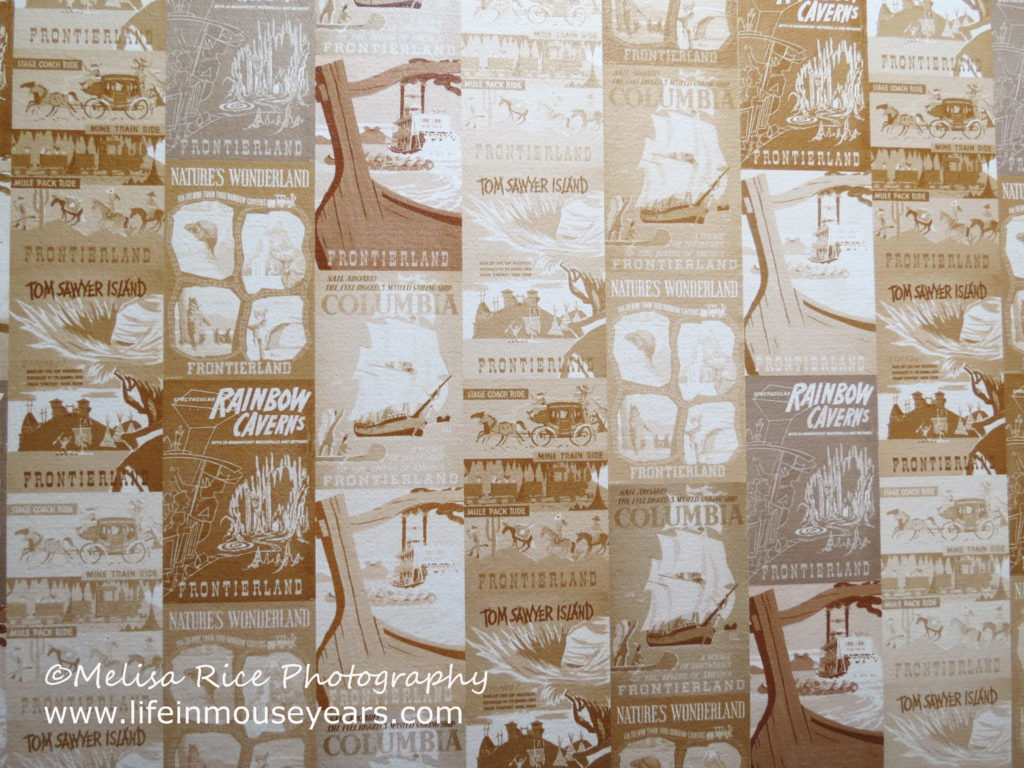 If you are not familiar with Disneyland's poster art, check out this post here.
Holiday Decorations
Finally, if you celebrate the holidays, in the lobby of Disneyland Hotel's Frontier Tower is a tree that is decorated with items to fit with the theme of Frontierland in Disneyland.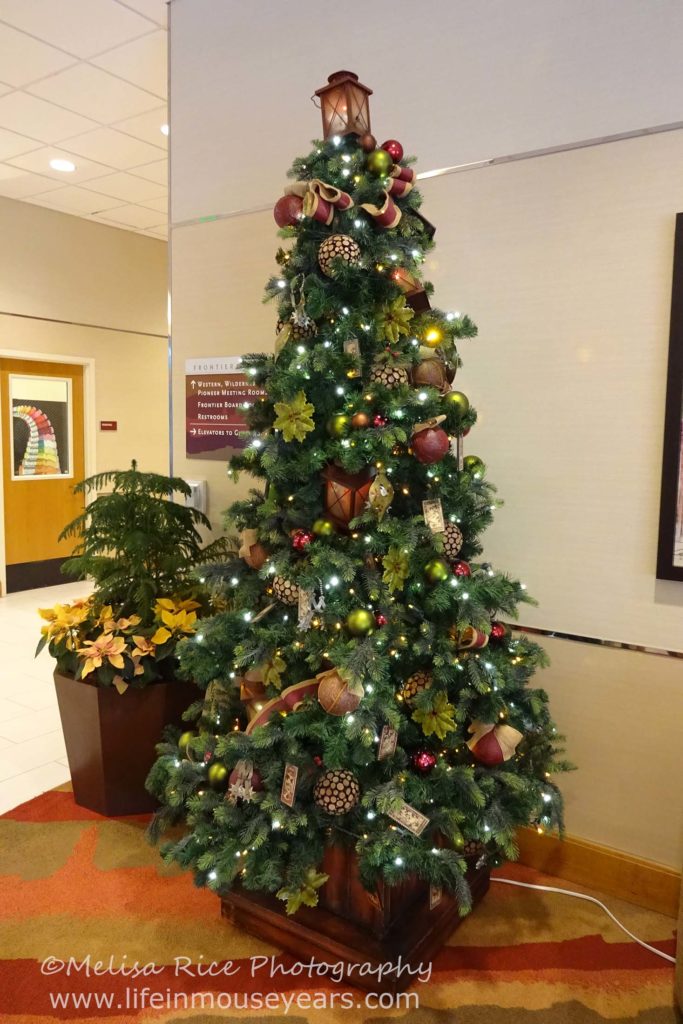 The lanterns are so cute! I really like the look of old fashioned lanterns. 
In Conclusion
With everything that there is to see at the Disneyland Resort, sometimes the Disneyland Hotel can be overlooked. Especially if you are tired from a long day at the parks. Therefore, I recommend taking a little bit of time and check out some of these fun decorations, theming, and designs the next time you are at the Disneyland Resort!
Questions or Comments?
If you have any questions or comments on today's post-Exploring Disneyland Hotel's Frontier Tower, please feel free to leave them below. I would love to help you out!
Thanks for stopping by Life in Mouse Years!
More Posts on the Disneyland Hotel
Before you go:
I just came across a couple of items on Amazon that I didn't know existed. I have done some posts on what to take with you to the Disneyland parks, but I didn't know that there are kits on Amazon for this! There is an essentials pack that has snacks, maps, and other essentials. The maps are for Disney World, however, this is still a great pack to get essentials all in one place!
Another great pack I found is a Mickey or Minnie Gift Pack. It has a book for pressed pennies, ear headbands, autograph book, stickers and more! This is a great gift to give to your little one while you are there at the park, and at a cheaper price than buying it all there. There is a pack for Mickey and a pack for Minnie Mouse.