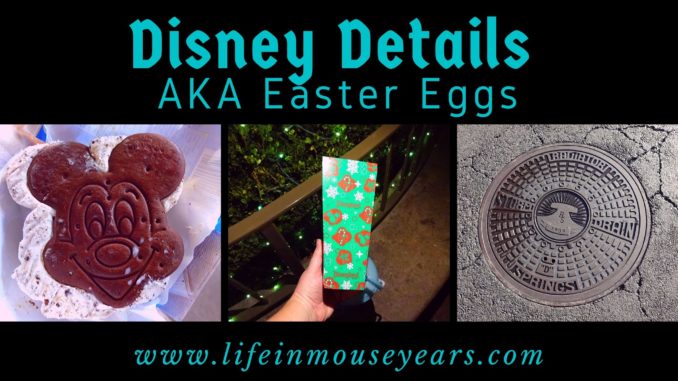 Disney details aka Easter Eggs can be found all over the Disneyland Resort! From hidden Mickey's to other little details, there are so many things to see and to spot as you visit the parks. Today for Disney Details, I would like to share what these details are, and where some of them can be found. Including the ones in Cars Land!
Disney Details aka Easter Eggs
One thing Disney is known for is details! Well, they are known for a lot of different things. In fact, when I first started blogging about Disneyland, I did some posts on why Disneyland is unique from other theme parks. You can read Part 1 Clean, Part 2 Lines, Part 3 Cast Members, or Part 4 Themes. (This is when I was first starting, so the writing style may be a little different. Hehe) And don't worry, all links open in a new window.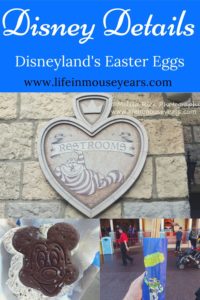 What are Disney Details aka Easter Eggs?
Disney Details are little designs that are sometimes hidden, or not so hidden around the Disneyland Resort that fit the area or land that you are in. For example, hidden Mickey's (Mickey Mouse shapes) are all over the Disneyland Resort. They are not always obvious but it is a fun thing to find while waiting in line for an attraction. 
People call them easter eggs, however, I like to say, Disney details. Because it really is about the details! 
Disney Details Bathrooms
One of the Disney details I like to mention is the bathrooms! You may be thinking what?!?!?! Bathrooms???? But hear me out, Disney is big on themes. And it doesn't stop with the bathrooms! My favorite bathroom at Disneyland is in Sleeping Beauty's Castle. It is on the way to the Alice in Wonderland attraction. The bathroom is themed after Disney's animated classic movie Alice in Wonderland! The woman's bathroom is the Queen of Hearts. Once inside, the doors to the stalls are all cards. The tile on the walls is hearts. Don't forget to look up! The lights have hearts all around too! This is what I mean about Disney details! Even in the bathrooms!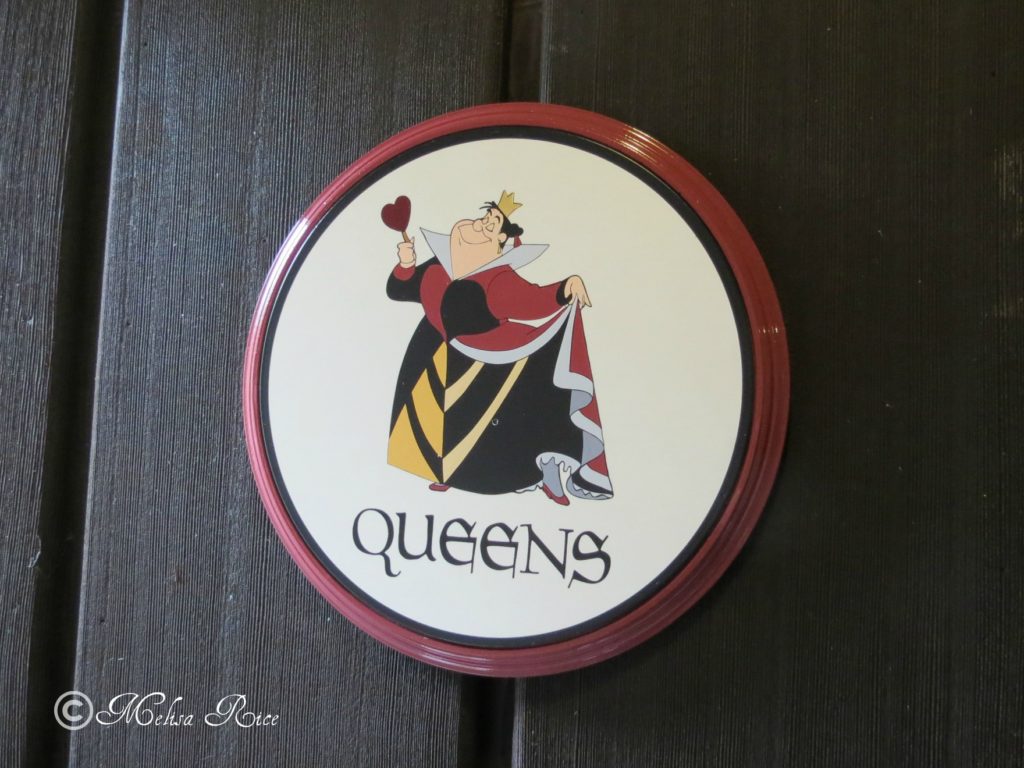 If you would like to know more bathroom themes, check out my post Secrets of the Disneyland Bathrooms here. 
 WD and RD in New Orleans Square
Next, in New Orleans Square at Disneyland is a nod to Walt Disney and his brother Roy Disney. Looking at the right side of the Pirates of the Caribbean attraction, there is a balcony with a railing. In the railing is a WD and an RD which stands for Walt Disney and Roy Disney. This wasn't always easy to spot, as the letters were the same shade of green as the rest of the railing. However, during Disneyland's 50th celebration there were gold details added all over the Resort. As a result, the letters on the railing were painted gold. Thankfully, they have kept them that way ever since. It makes it stand out a little more. I am also happy to see them still acknowledging Walt Disney and his brother. Without them, there would be no Disneyland!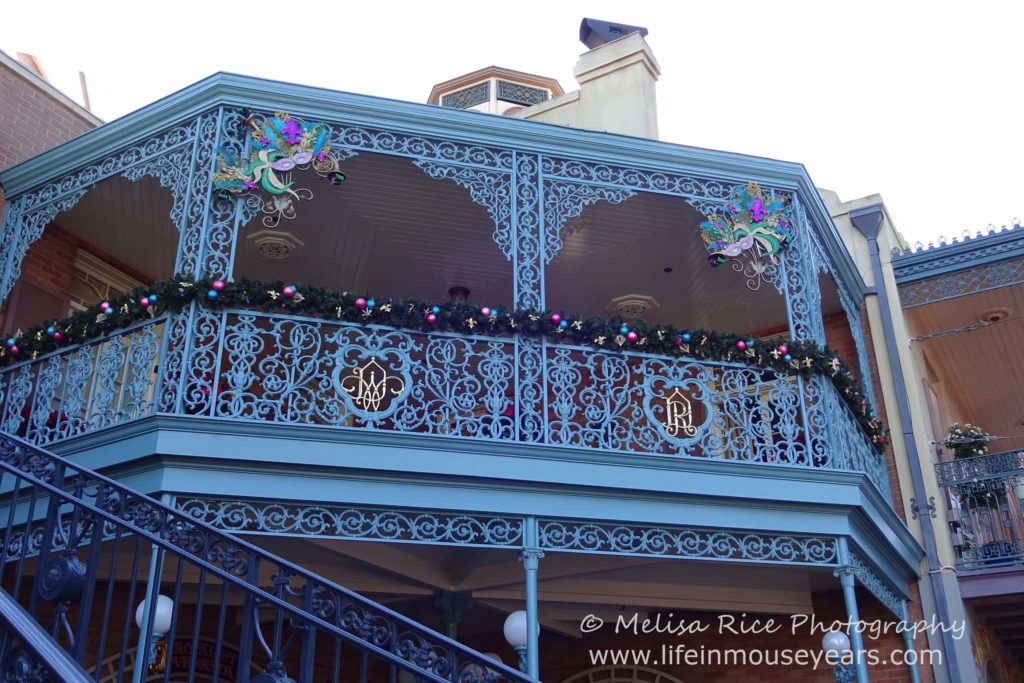 Food Designs
Next up is food designs. Disney goes all out on food, especially desserts! It is so hard to decide what to try at the parks. So many Disney details with the desserts. For example, candied apples. These apples are so delicious and the designs are a lot of fun! Check out some of the designs below.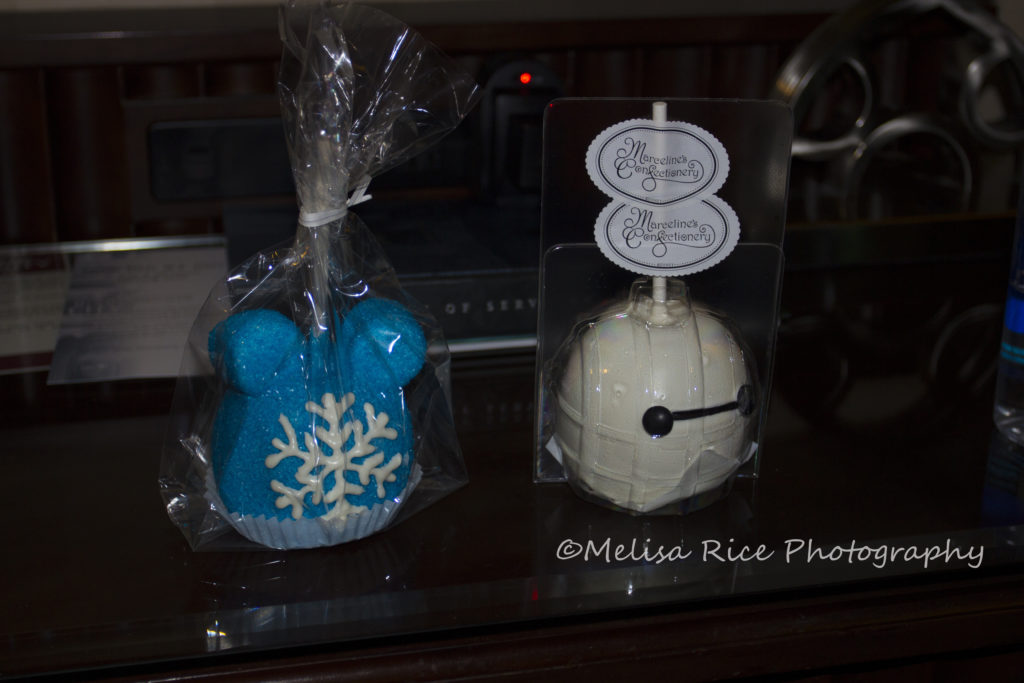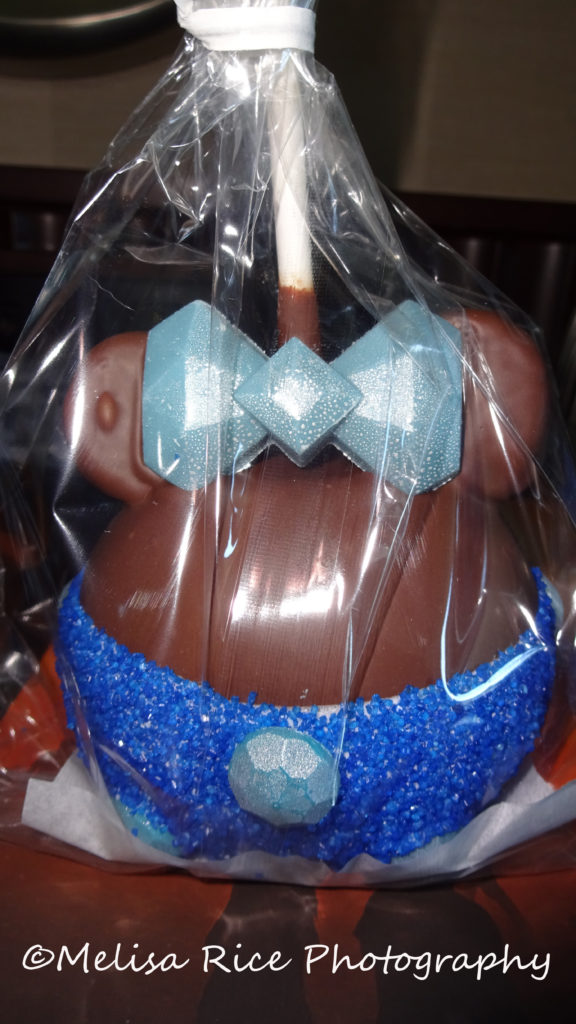 If you would like to know more about the candied apples in Disneyland, here is a post I did about the apples.
More Disney details with food, are the beignets you can get in Disneyland. At the Mint Julep Bar and at Cafe Orleans in New Orleans square, you can get Mickey-shaped beignets! They also come out with different flavors at various times of the year.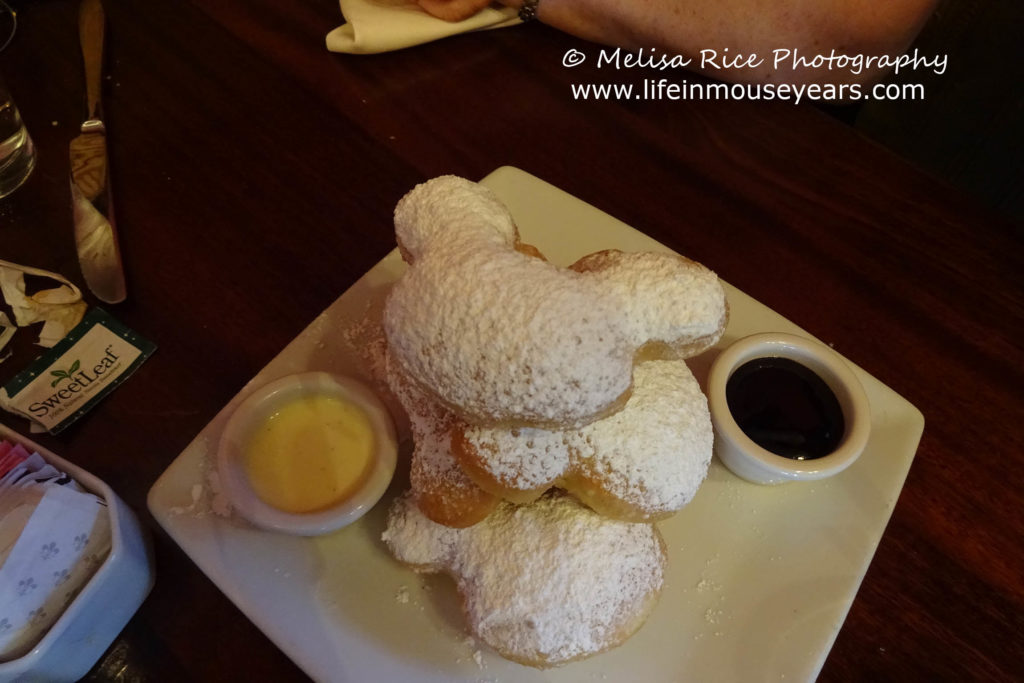 Another example is the Mickey Mouse confetti that you can get on various desserts around the Disneyland Resort. The birthday cupcake at the Disneyland Hotel in Goofy's Kitchen has the  Mickey Mouse confetti.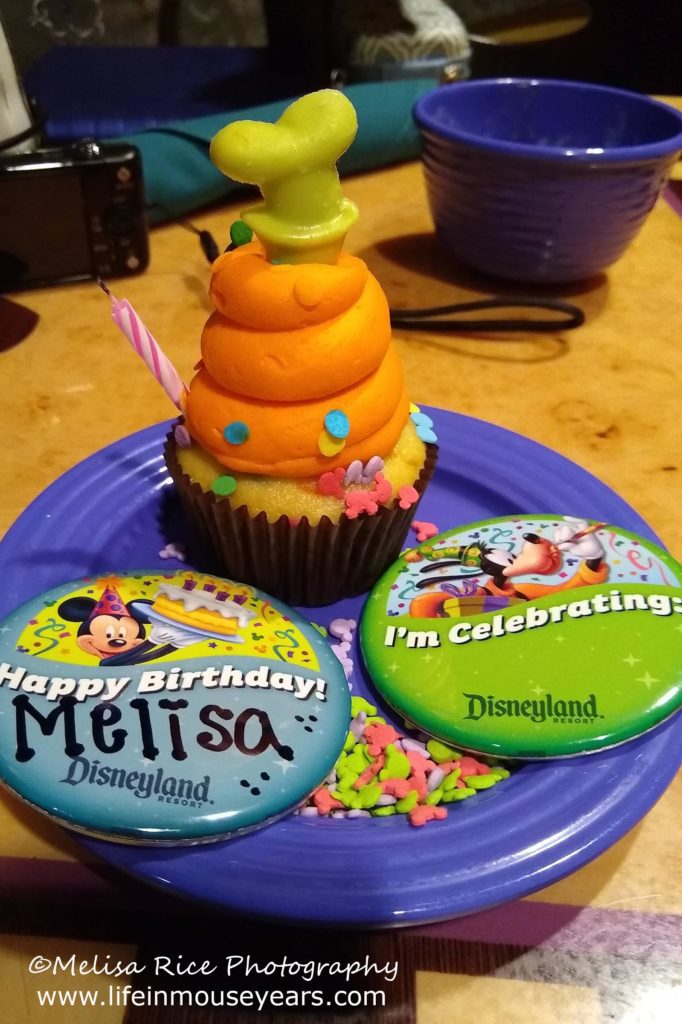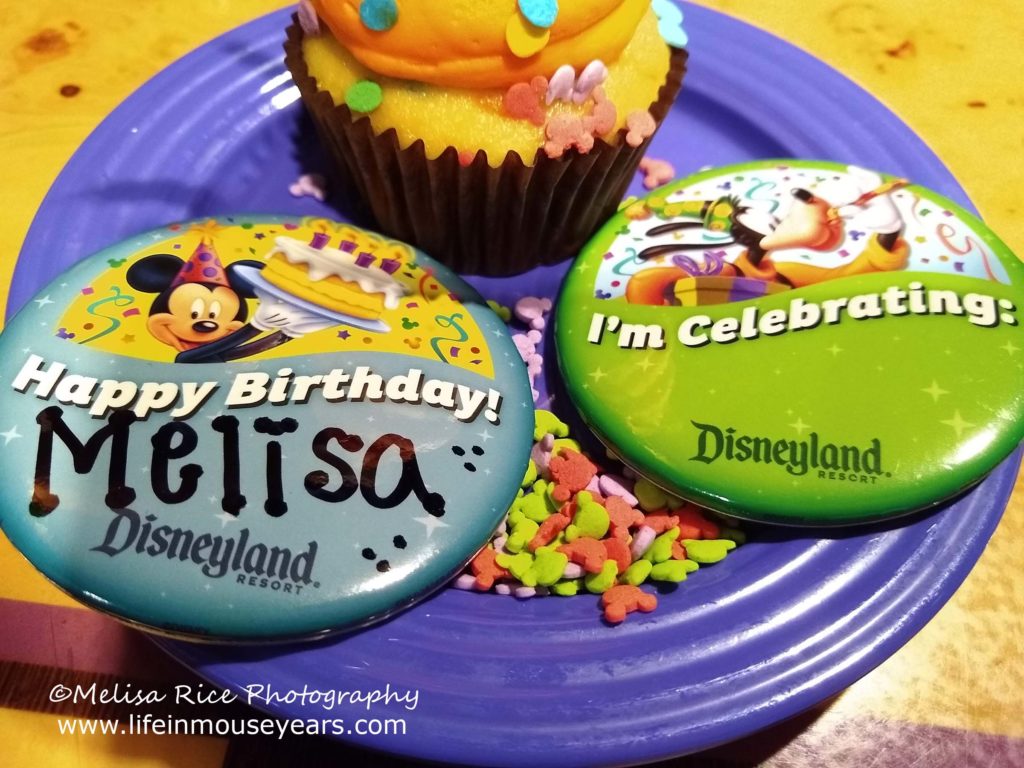 Finally on the list for examples of food details is the Mickey ice cream sandwich that is available at Disneyland and California Adventure. It is Mickey-shaped and also has Mickey's face pressed into the cookie. So much fun!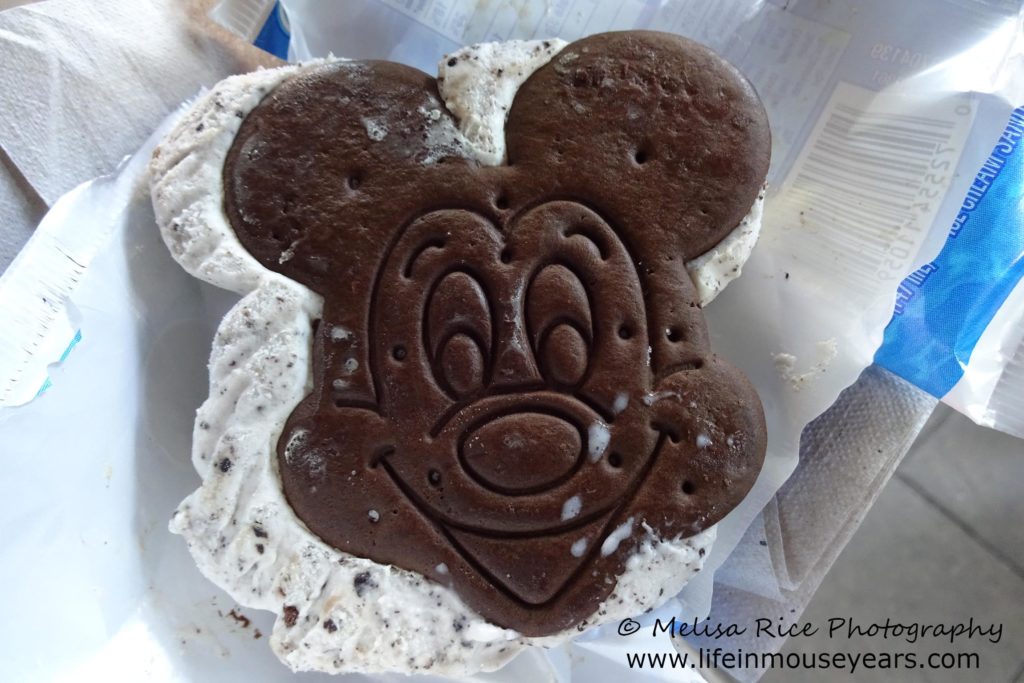 Container Designs
Another way for details is the containers that your food comes in. Some items come in a container that has Mickey Mouse on the design. For example, when you get popcorn in the regular container, it has a Mickey mouse on it. This design changes multiple times during the year but has some form of Disney decoration on it.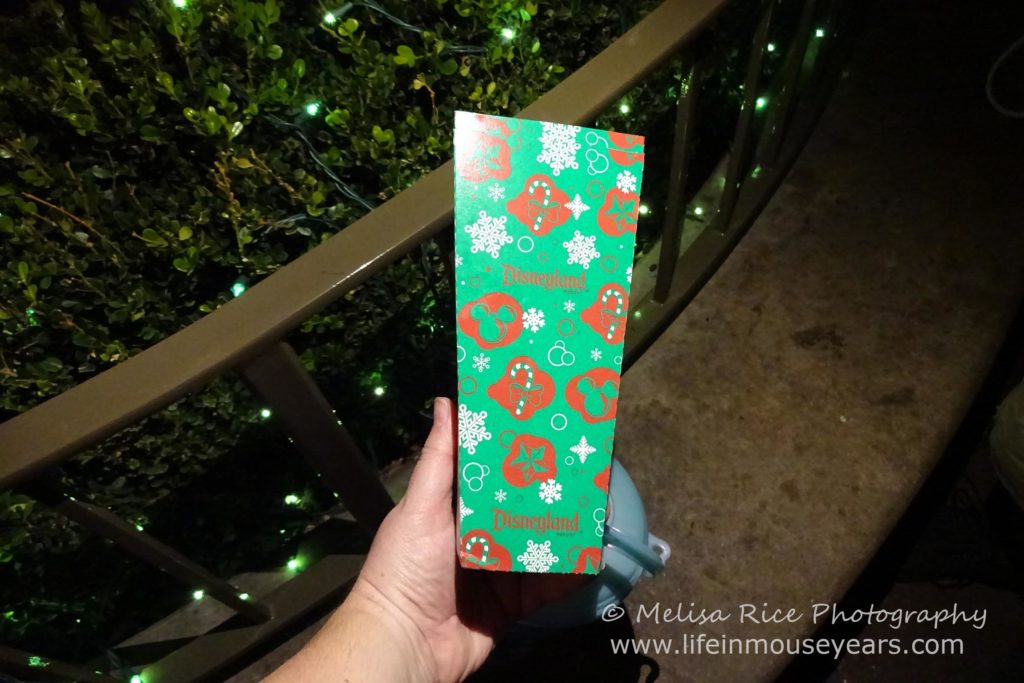 Another example is the drinking cups. The Starbucks coffee hot cups have Mickey-shaped balloons and various Disney characters on them.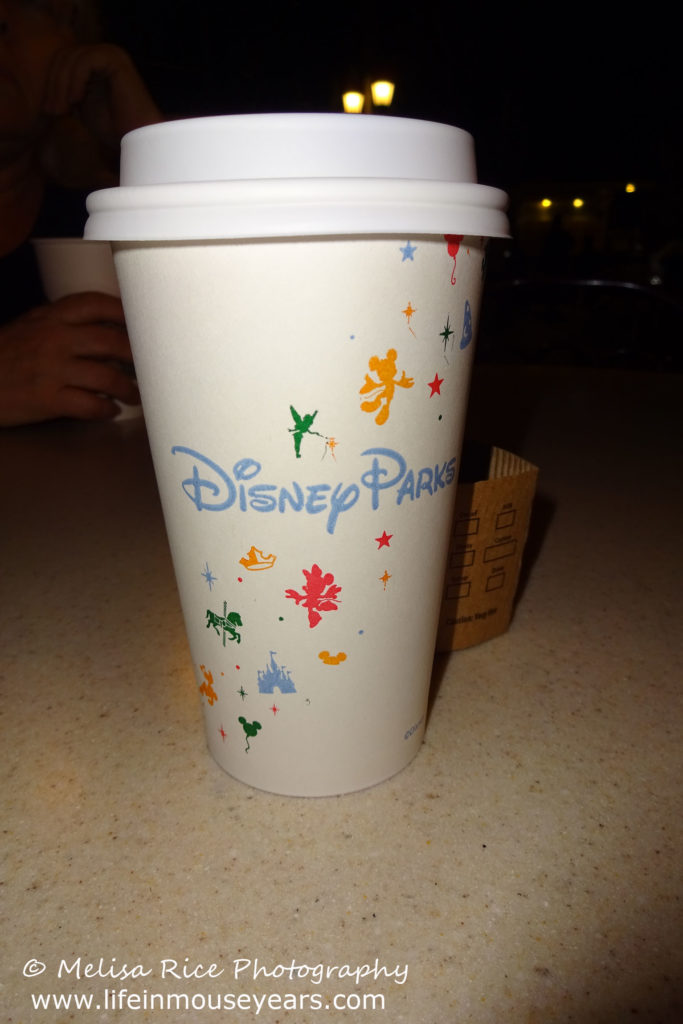 Finally, is the churro cover in Pixar Pier at Senor Buzz's churro stand. It doesn't just go around the churro, but the churro goes inside of the cover. I wish they had these at all the churro stands. It was so cool! This way it catches a lot of the sugar that would normally fall off while you hold it. But, I am getting distracted, the detail is that it has Buzz on it. A little detail that brings a smile to your face.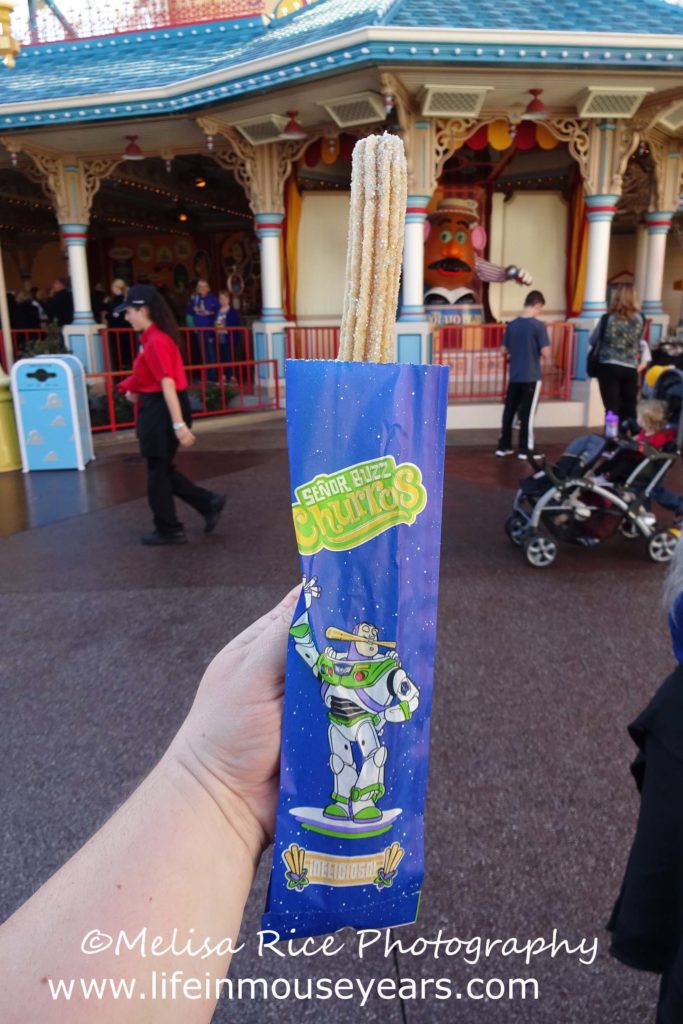 Windows
The window details at Disneyland is next. The first place I would like to mention is at Jolly Holiday Bakery and Cafe. The windows here at this dining location has the penguins from Mary Poppins.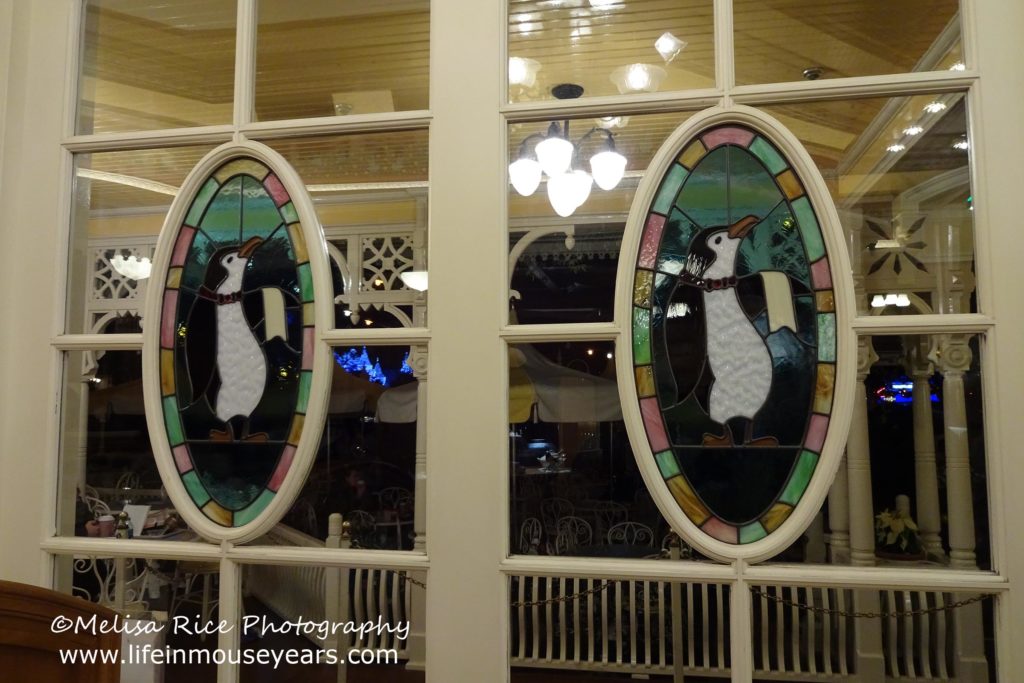 ---
---
Next, over at River Belle Terrace, there is glass inside of this dining location that has the Mark Twain etched in it. I love little Disney details like this! I really enjoy taking in the sites while I am at the park. There are so many things to see. Make sure to look up, down and all around!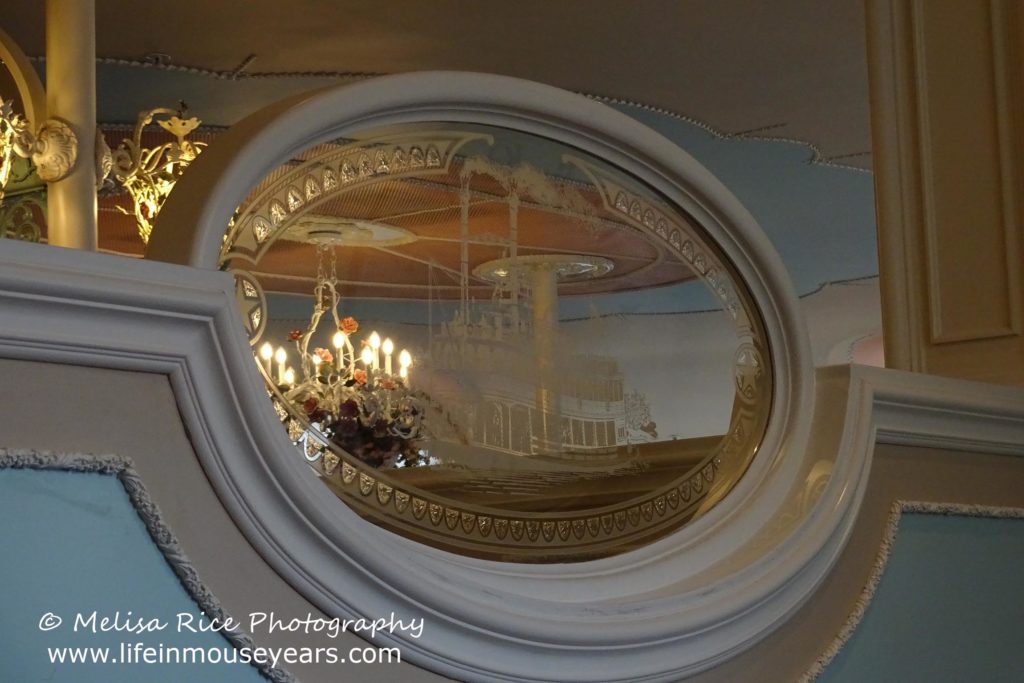 Finally, on Main Street U.S.A., the windows here have names on them. The upper windows. If you have a chance to look at these, I recommend it. There is Walt Disney's father on one. Elias Disney, as well as lots of other people who were key in designing and making Disneyland what it is. Including Disney movie actors and actresses too! 
Disney Details in Cars Land
So many details, so little time! I was so surprised at all the little details, that I started to photograph them because of all I was noticing that I hadn't before. It is so much fun!
First is the bathroom. This little car was on the door of the women's bathroom.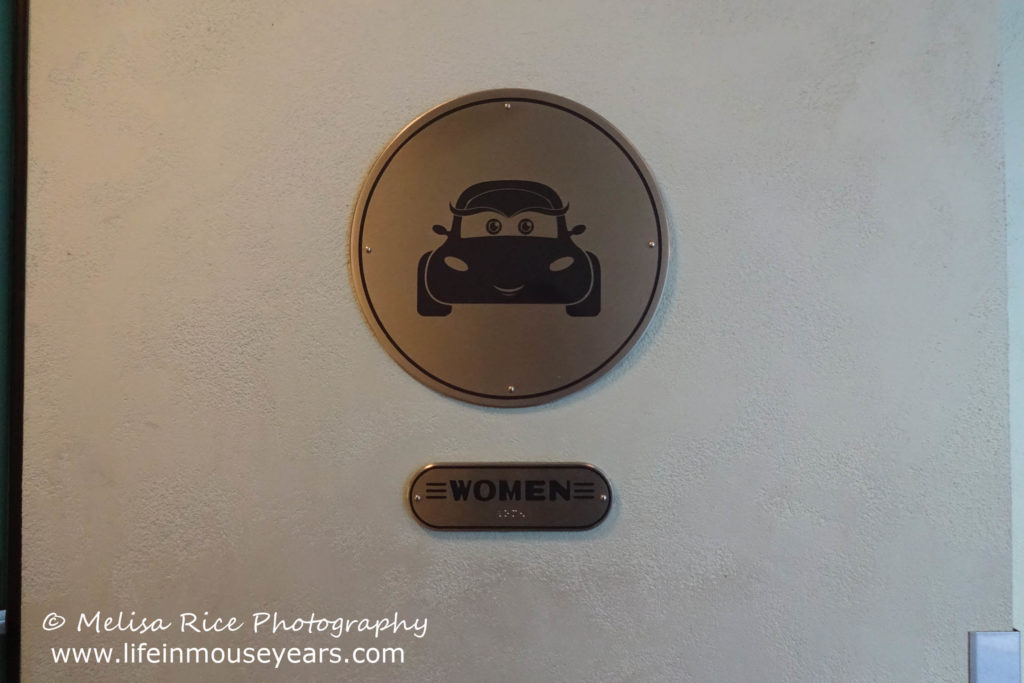 Next, is the little fencing around Flo's V8 Cafe. It has this V8 design every so often all around the cafe.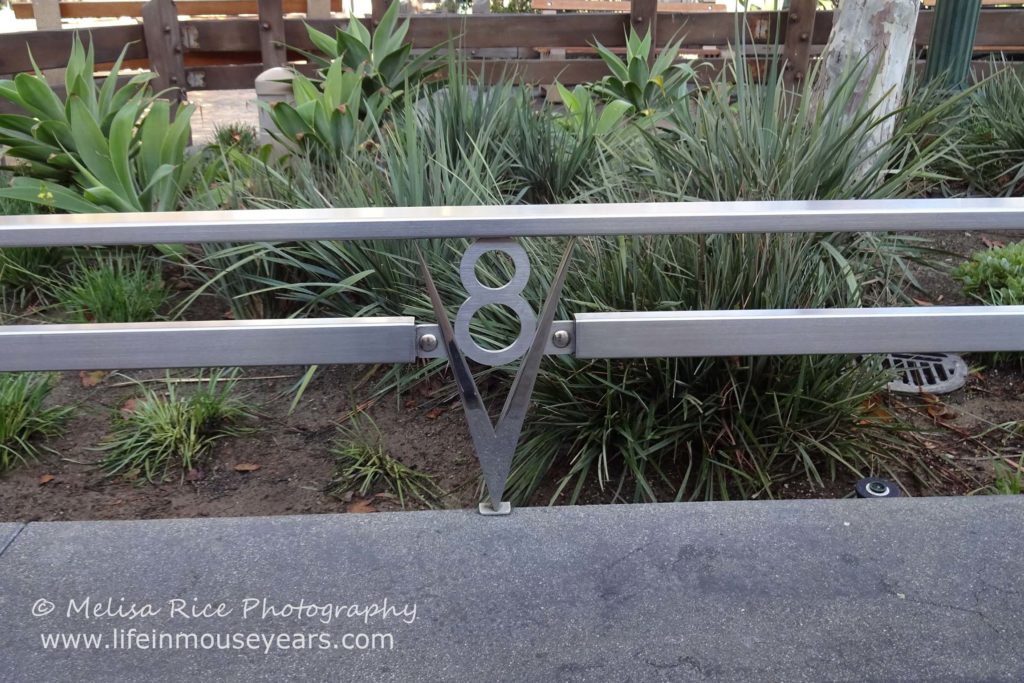 Another fun Disney detail in Cars Land is on the benches.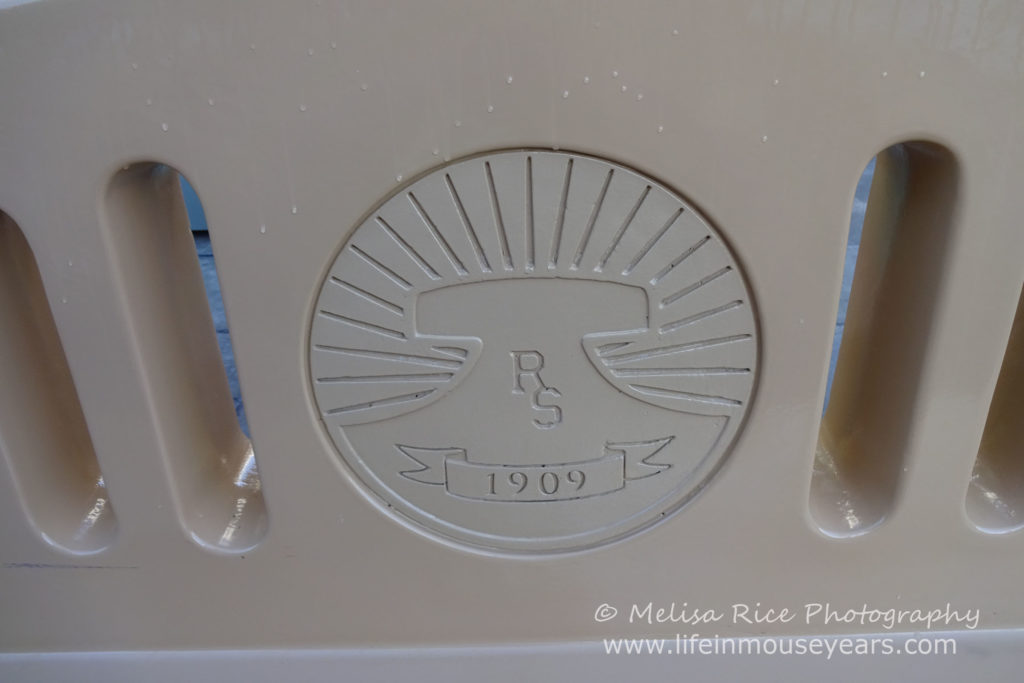 Even the garbage and recycling can have details on them.
Finally in Cars Land, is the storm drain cover!! Talk about details!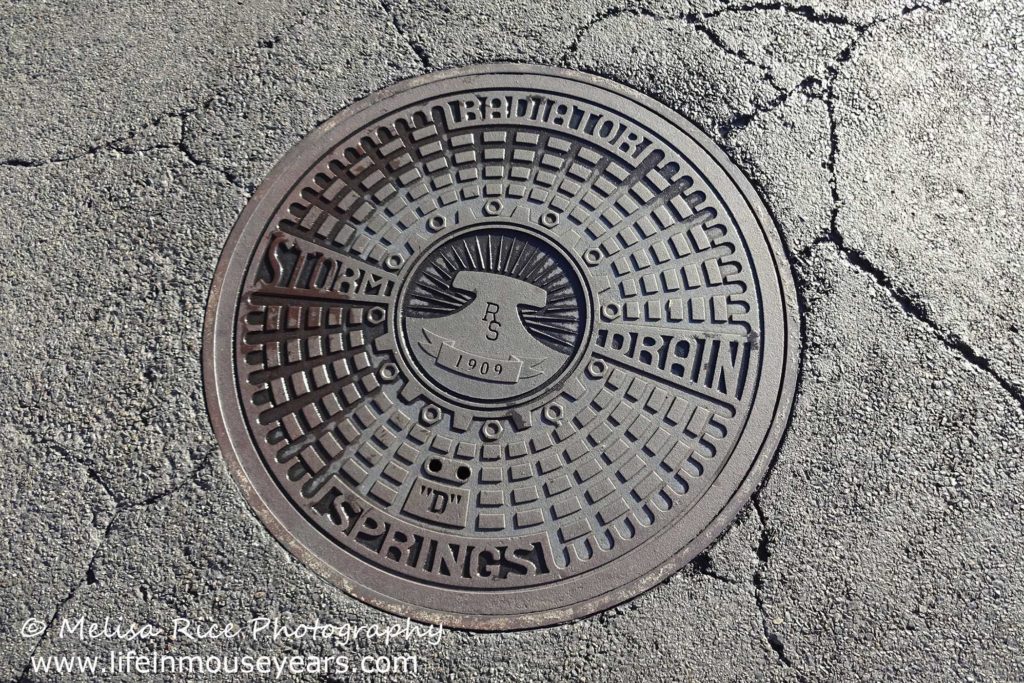 In Conclusion
There are so many details to see at the Disneyland Resort. This is just a small list of various details you can find. As a result of all the Disney details around the Disneyland Resort, you have to pay close attention to see how many of them you can spot during your visit! Even though there is a lot to see and you may miss some during your trip, don't worry and keep your eye out for more during your next visit to the Disneyland Resort!
Questions or Comments?
Do you have any questions or comments on today's post? Please feel free to leave them below. I would love to help!
Thanks for stopping by Life in Mouse Years!
Check out some of these fun Disney items I found on Amazon!
Whether you are needing some items for while you are at the park or wanting some fun Disney items for the house, Check out some of my Disney picks. From backpacks and headbands to puzzles and Disneyland soundtracks!