Discovering King Arthur Carrousel in Disneyland shares some fun and interesting fact about this classic Disneyland attraction. This attraction has been around since opening day in 1955 and is still just as popular today! Find out some history, fun facts, and more!
Discovering King Arthur Carrousel in Disneyland
King Arthur Carrousel in Disneyland has so much interesting history. I really enjoy learning about Disneyland and its attractions. So today, I thought I would share some fun things about this attraction that is in Fantasyland.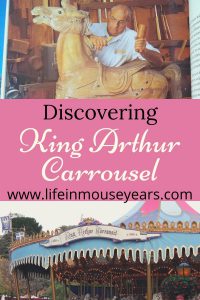 Origin of King Arthur Carrousel in Disneyland
First on the list for Discovering King Arthur Carrousel in Disneyland is the origin of this attraction. The original manufacturers of this attraction are the Dentzel Carousel Company. (Aka G.A. Dentzel Company) in Philadelphia, Pennsylvania. Unfortunately, it is unknown as to the original date it was manufactured. The earliest records for the carousel dates back to 1922. The Carousel in Disneyland was in Toronto Canada at Sunnyside Park from 1922-to 1954. And now, of course, it has been at Disneyland since 1955. 
Changes for Disneyland on Opening Day
Second, on the list for Discovering King Arthur Carrousel in Disneyland is the changes for Disneyland on opening day. Before Disneyland opened, Arrow Development Company in California, refurbished and made some changes to the Carousel. One of the changes is that another "course" was added to the existing three courses. So this means that there were four horses per row instead of the previous three. This brought the count up to 71 horses. 
Another change was that instead of all the various zoo animals with the horses, it was altered to have all horses and all jumping horses. This was Walt Disney's request. He wanted everyone to be able to be on a jumping horse just like King Arthur had.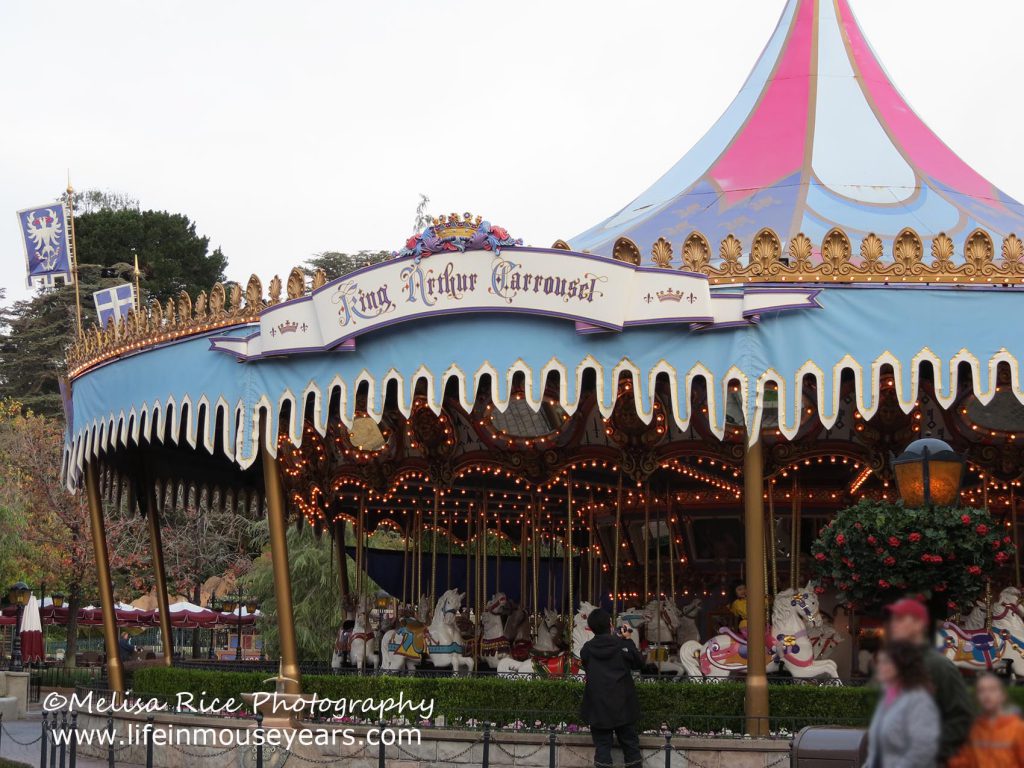 Inspiration for King Arthur Carrousel
Walt Disney used to take his daughters to Griffith Park to ride the Merry Go Round that is there. Walt would sit on a park bench and watch them ride it. As he was sitting there, he thought that there should be a place where parents and children should be able to go to have fun together. As a result, this is what inspired Walt Disney to create Disneyland.
Opening Day Attraction
Next on the list for Discovering King Arthur Carrousel in Disneyland is that it is an opening day attraction! There are only 12 Opening Day Attractions that Still Exist Today in Disneyland and King Arthur Carrousel is one of those attractions! 
This Disneyland attraction opened on July 17, 1955. It is still just as popular today as it was back then. 
Did you know that King Arthur Carrousel was placed in Fantasyland so that it can be seen from Main Street, U.S.A.? It was done intentionally so that it would draw guests to the land and the ride. 

Disneyland is reopening soon! Check out some cool merch to add to your collection today!
Hand Carved Horses
Another item on the list for Discovering King Arthur Carrousel in Disneyland is that they are Hand Carved Horses. Walt Disney was always big on handcrafting. It is a truly special, one-of-a-kind art that pays attention to detail. One of the ways we see this true workmanship is in the King Arthur Carrousel horses. Each horse is hand-sanded, carved, and painted by hand to keep the authenticity and originality. The attention to detail is amazing! This practice is still going on today when the horses are rotated out for refurbishment.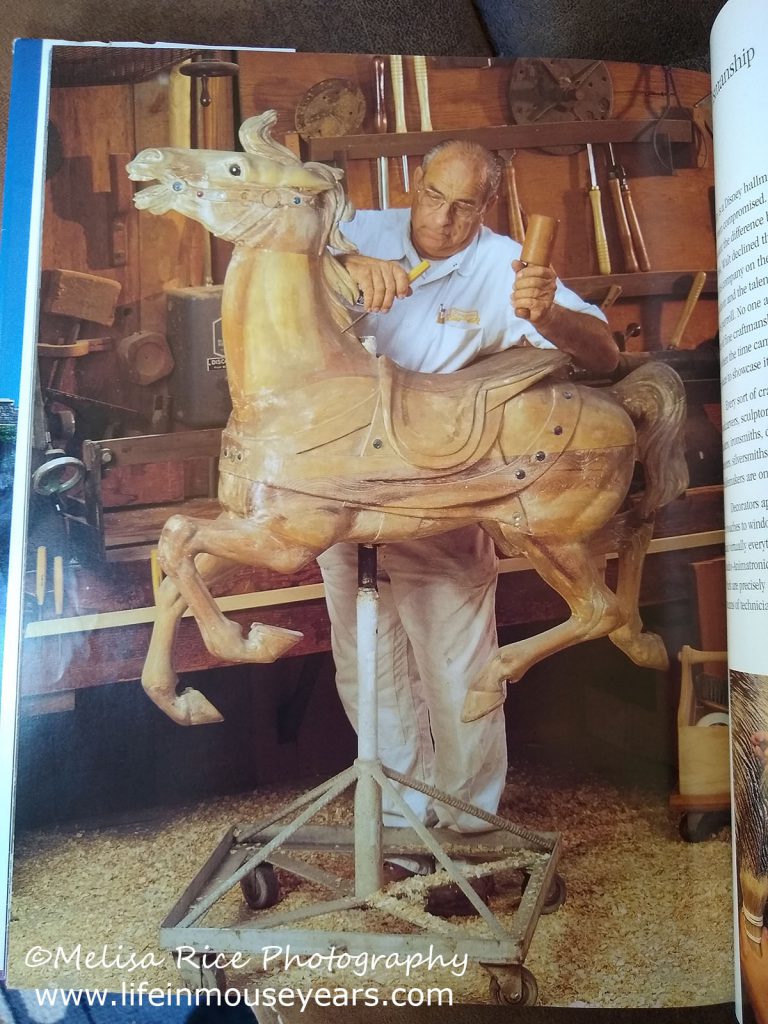 Fun Fact: Did you know that this attraction has 68 horses? Each one has a name as well. If you go to the City Hall on Main Street, U.S.A., you can get a list of the names.
Closure of King Arthur Carrousel (Refurbishments)
King Arthur Carrousel has been closed two times over the years for refurbishment. The first time it closed was in 1982 for the major renovations of Fantasyland. It reopened the following year. During this time the attraction was moved a little bit backward and it received an entirely new roof. 
The second time it closed for a refurbishment was in 2003. During this time the attraction received a whole new turntable platform and they added a computerized system that would stop the attraction in the exact same spot each time it ran. Another change that happened during this time is that a row of horses was removed to add in a seated bench and an ADA Ramp with a wheelchair grip.
Walt Disney's Favorite Horse
One of the MOST popular horses on the carousel was Walt Disney's Favorite horse. This one is named Jingles and it is the lead horse. Jingles has a strap of jingle bells carved on the neck. Therefore, because of the carved jingle bells, that is how Jingles got their name. 
Jingles had some added decorative detail to the saddlebag around the time of Disneyland's 50th anniversary. A monogram of JA, a bird perched on high buttoned shoes, a silhouette of Mary in flight, and the number 50. All represent Mary Poppins, Julie Andrews, (who played Mary Poppins in the original movie), and the 50 was in celebration of Disneyland's 50th anniversary.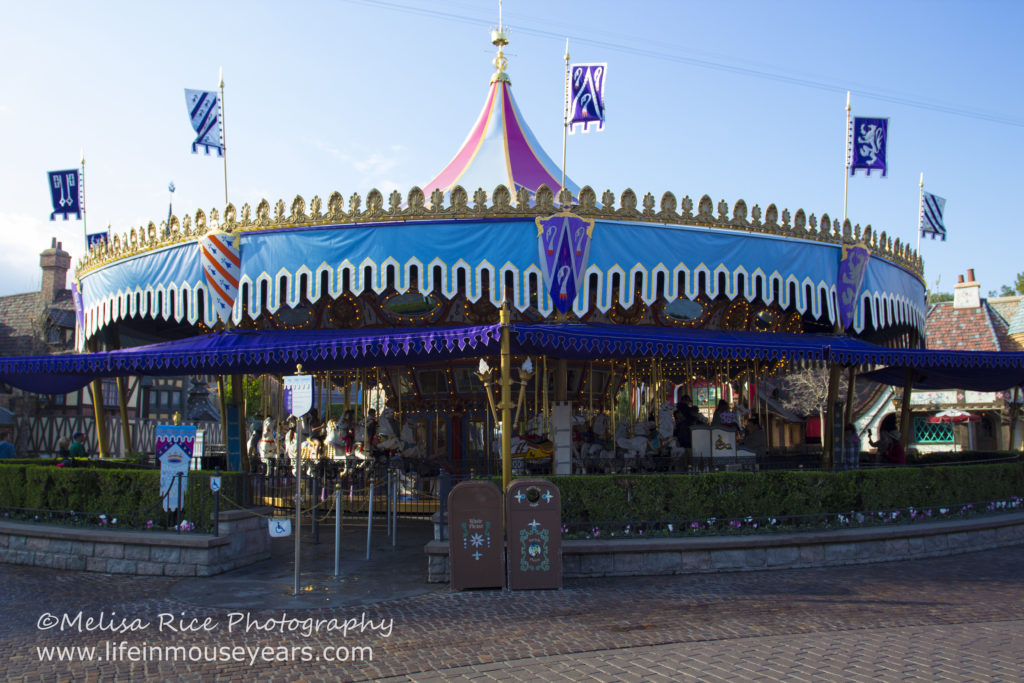 Fun Facts About King Arthur Carrousel
Next on the list of Discovering King Arthur Carrousel in Disneyland are some fun facts about this attraction. 
First up, do you know how long this attraction runs? Each trip is 2 minutes and 13 seconds long. If you have motion sickness… it feels like forever!!! (Must remember Dramamine…)
Another fun fact is that there are 9 hand-painted vignettes on the inner running board. They are so pretty! 
The final fun fact is that when you ride at night, there are 3,328 shimmering lights that light your way.
Print your photographic memories from your Disney trips! Check out Snapfish below.

Why Carrousel and Not Merry-Go-Round?
Finally, on the list for Discovering King Arthur Carrousel in Disneyland is why is it called a carousel and not a Merry-Go-Round? Did you know that there is a difference between the two? There is! A carousel goes in a circle counterclockwise. A merry-go-round goes in a circle clockwise. 
In Conclusion
Discovering King Arthur Carrousel was so much fun. Therefore, I hope you enjoyed finding out all of these fun facts and history about this classic opening day attraction at Disneyland! How many horses there are, the changes that happened, where the attraction had traveled over the years, Walt Disney's favorite horse and so much more! Everywhere you go in Disneyland there is so much history and fun facts to learn. 
Questions or Comments?
If you have any questions or comments on today's post, please feel free to leave them in the comments section below. I would love to help!
Thanks for stopping by Life in Mouse Years!
Check out some of our affiliates below. If you see something you like and order, we may receive a small commission that helps keep the Disney love going! Thank you in advance for your support. 🙂