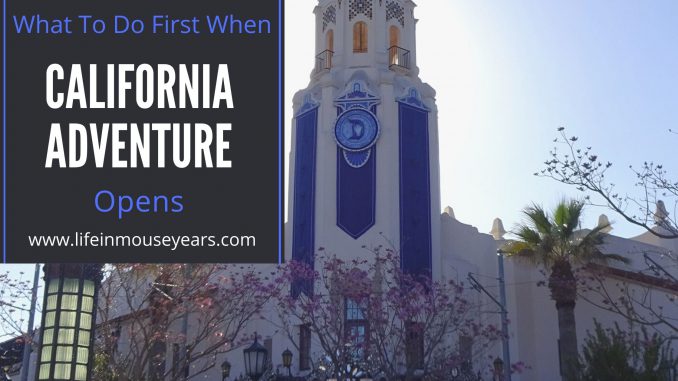 Just like Disneyland, California Adventure has been closed for over six months! Therefore, I am looking forward to when the park reopens and thinking about what I would do first! It is not an easy thing to decide on, with so many fun rides, tasty treats, and shops to visit! Here is my list on What to do First When California Adventure Opens.
What to do First When California Adventure Opens
Fun awaits us all at the California Adventure Park! Do you know which ride you would go on first? How about which snack you would get? Is there a favorite shop in California Adventure you would like to go into? There are so many fun things to do in California Adventure! It will be hard to pick and choose because I want to do them all! However, I will do my best to pick some options and share them with you today.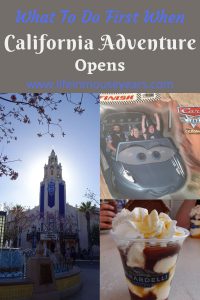 Ride Radiator Springs Racers
First on the list for What to do First When California Adventure Opens is to ride Radiator Springs Racers. This is my absolute favorite attraction in California Adventure. The vehicle you ride in looks like Sally from the movie Cars but in all different colors. When you first start out on your drive you are winding around the rocky scenery and pass by a beautiful waterfall before you head inside. Then you see various characters and scenes from the movie. Sometimes you speed by and others you are slowly passing by. Then, once you have gone through town, there are two different places that you could go to. Either to Luigi's for new tires or to Ramone's for a shiny new paint job! Then it is off to the races where you literally race another car full of guests to see who will pass the finish line first. 
This is one of the many attractions that take your photo while you ride. Say cheese!
One tip I would like to share is to ride this attraction at night as well. It is so pretty to see the rocks at night, plus, the ride feels faster at night! Similar to Big Thunder Mountain in Disneyland. 
Drop-in on Guardians of the Galaxy: Mission Breakout!
Next on What to do First When California Adventure Opens is to ride Guardians of the Galaxy: Mission Breakout! This ride used to be Tower of Terror, with a storyline that took place in 1939 where a group of people went missing when lightning struck the building while they were in the elevator. You ride said elevator and it drops you over and over. 
Now it is rethemed after the movie Guardians of the Galaxy. It still has the same ride vehicles and it drops you who knows how many times, however, it is now done to 80s music and stops at various times and shows scenes (like a movie) of the characters from the movie. 
The music is awesome! And I like that they keep you busy in-between the drops. I am not a fan of free-fall rides, although, as I said, they keep you busy by showing the characters (like a movie clip) in between the dropping, therefore, It is not as bad as it was before. At least for me, it wasn't as bad. Heehee 
After you exit the ride and view your photo, you then exit through a shop. It is the Collector's Warehouse. There are themed souvenirs in addition to 80s toys! Actual retro toys from back in my day… It is so awesome! Or should I say "rad"? 
Grab a Churro at Senior Buzz Churro Stand
Yes, churros are on this list too. (If you saw my post What to do First When Disneyland Opens.) But the churros! They are just too good to pass up! Crispy crust and soft center sweet bread, warmed and then covered in cinnamon and sugar. 
Is your mouth watering yet?
Churros are one of my must get treats at the parks. And next for What to do First When California Adventure is to get a churro at Buzz Lightyears churro stand!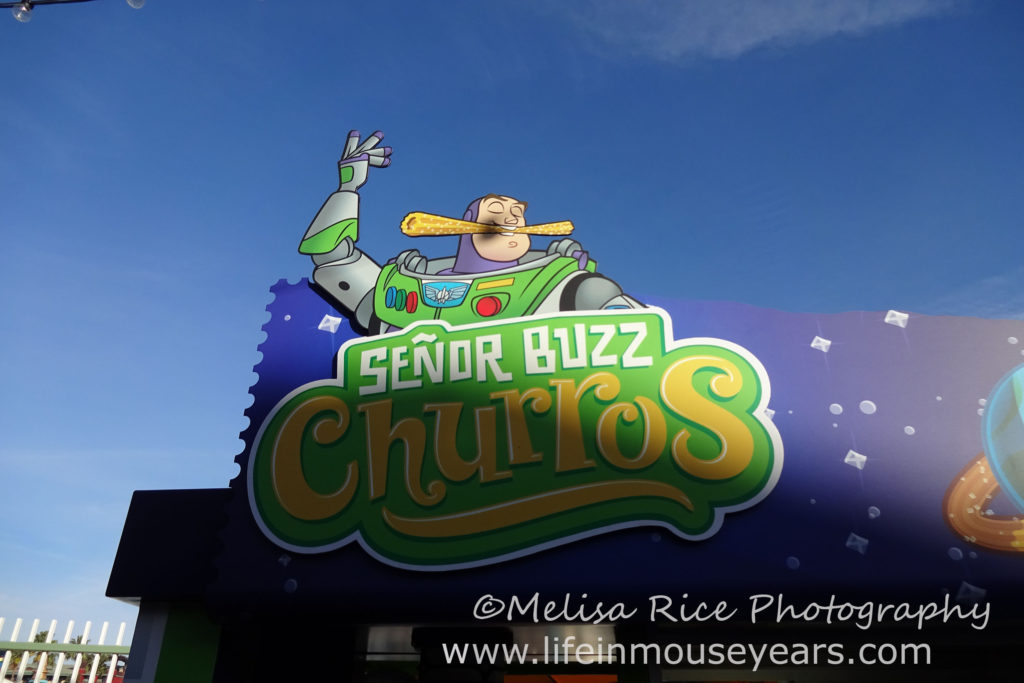 This churro stand is located in Pixar Pier. The churros here are placed in a treat bag, made special for churros! It was great! I don't know why all the locations do not have this bag. It tends to catch any sugar that falls off while you are holding it. Plus, it is fun to have a Disney touch to the treat.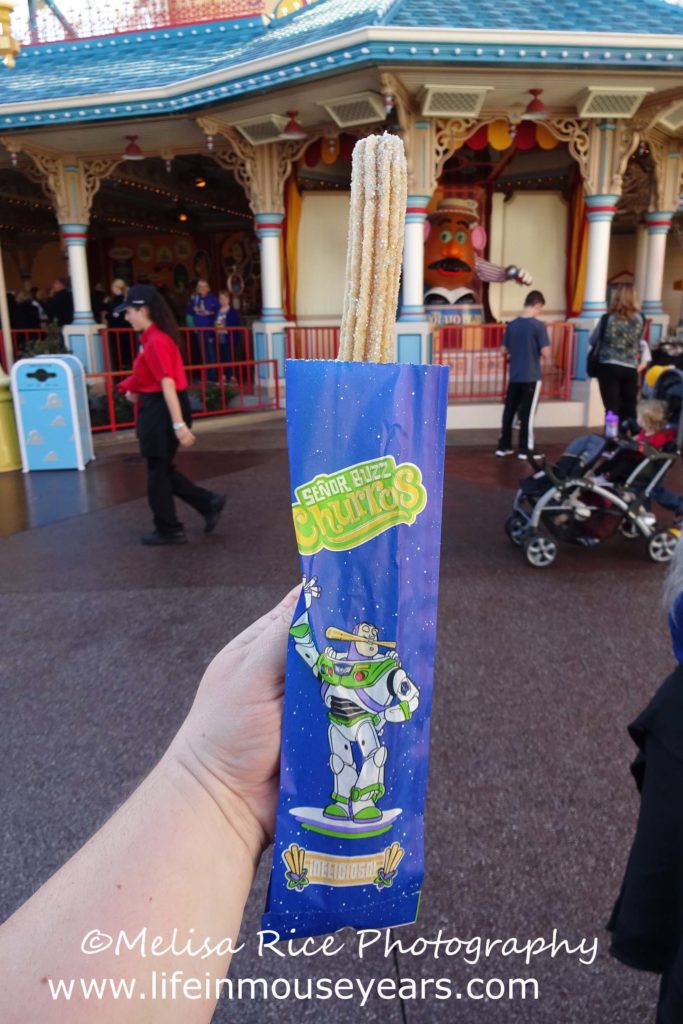 Check out this churro maker! Make your own churros right at home.
Play Games on Toy Story Mania
Another fun ride on the list of What to do First When Californa Adventure Opens is Toy Story Mania. This attraction is a 3D attraction that requires special glasses. When you are on the ride vehicle, there is a toy cannon in front of you. Once inside, there is a screen where you play different games. Similar to what you would find at the fair. For example, break the plates, pop the balloons, ring toss, etc. however, they all are Toy Story themed. 
Once finished with one game, the vehicle moves all over and in circles and then stops at another screen to play the next game. Be prepared if you are prone to motion sickness. This one will get you.
Try your best at the games, there are points, and you not only compete with whoever is next to you, but also for the entire vehicle. (Four People). It is a lot of fun!

ShopDisney has Disney Parks items! Check out what is available in the link below!
Get Hand-Dipped Ice Cream at Clarabelle's
Another very delicious treat on What to do First When California Adventure Opens is at Clarabelle's Hand-Scooped Ice Cream. There are multiple options at this location, however, my favorite is to get a dipped ice cream bar. 
First pick which ice cream flavor you want, (vanilla or chocolate), then pick what topping you want on top after they dip the ice cream bar in chocolate. I like to get vanilla ice cream and then get Mickey Mouse sprinkles.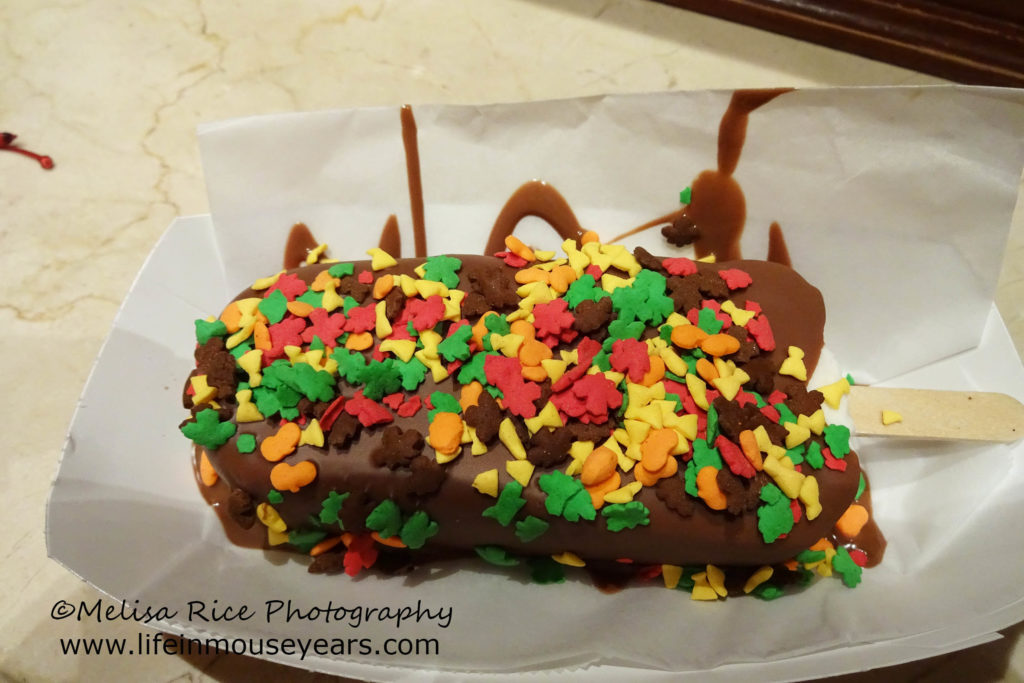 If you would like to know more about Calrabelle's and what they offer, check out my Clarabelle's post here. 
Take Flight at Soarin Over the World
Next on the list for What to do First When California Adventure Opens is to ride Soarin Over the World. Originally this attraction was Soarin Over California. It opened when California Adventure opened in 2001. In 2016, the attraction was changed to Soarin Over the World. It is still a flight simulated attraction with an 80-foot concave 180-degree dome screen. Only, instead of flying over California, it now takes you over popular spots over the world. For instance, the Taj Mahal in India, the Great Wall of China in China, the Eifel Tower in Paris, the Great Pyramids in Egypt, and many more!  
Also, it is not just a visual experience, but also a scented journey. I love that extra touch during this attraction. 
Don't Forget to go Under the Sea in Ariels Undersea Adventures
Another attraction on the list of What to do First When California Adventure Opens is The Little Mermaid Ariel's Undersea Adventure. This attraction is a dark ride that is an Omnimover ride system. It is just like the Haunted Mansion in that it constantly moves, the vehicle turns in the direction of where the scene is located and it is a clamshell shaped seat. Only the Little Mermaid ride really is shaped like clamshells! Brightly colored ones at that.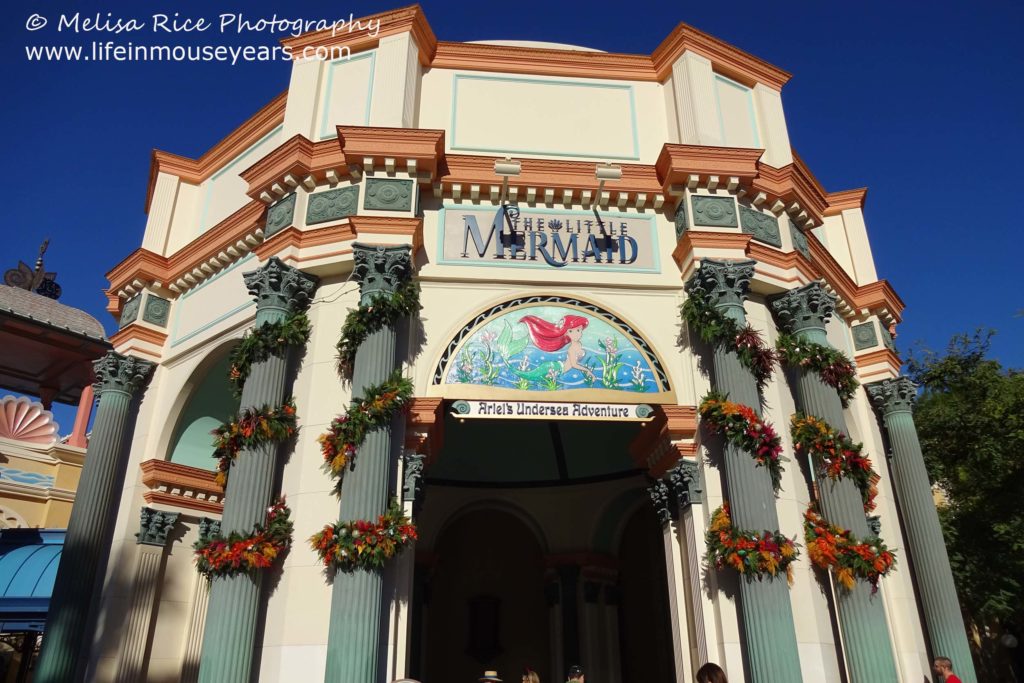 Hop into a clamshell and hear and see the story of Ariel, Prince Eric, Ursula, Sebastian, and more. I love going through this attraction with all the special effects, the bright colored fish, and the music. There are even bubbles projected on the walls and the ride vehicles at certain spots of the ride. It really adds to the attraction. 
Hungry? Cheddar Broccoli Soup in a Sourdough Bread Bowl
Now it is time for some food! After riding all those attractions and walking around the park. One place I really enjoy going to is the Pacific Wharf Cafe. This place has fresh bread bowls just waiting to be filled with your choice of soup or macaroni and cheese. My favorite is broccoli cheddar soup. It is so delicious in that bread bowl too. The soup may seem a bit small, however, once you dig in and start eating it, with the bread, it is so filling and you will be good to go for a while!

Get a free gift when you purchase $200 or more. Check out the beautiful jewelry from Gabriel Co.
Chocolate and Ice Cream Together! Ghirardelli's! 
Since you are in the Pacific Wharf area, the next place to go first when California Adventure opens is Ghirardelli's Chocolate and Soda Fountain. I recently did a post on this location that you can find it here. The chocolate is scrumptious and the ice cream treats sometimes have chocolate or caramel in multiple forms on them. For example, a caramel sundae has Ghirardelli Caramel Sauce on it and a caramel chocolate square on the top. Making it twice as sweet and tasty!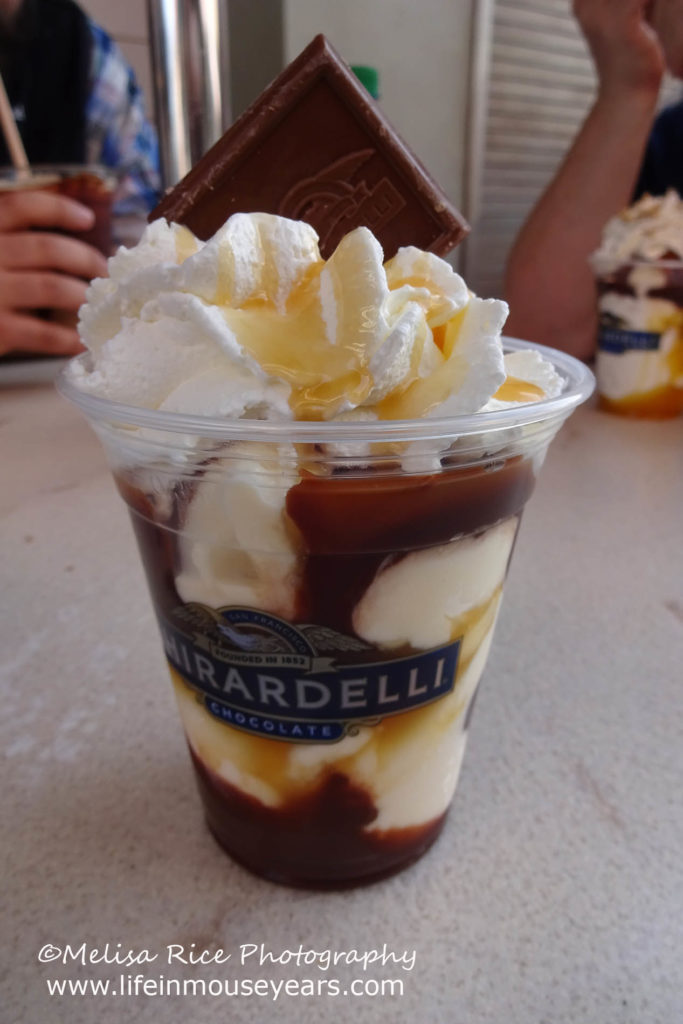 Learn more about Ghirardelli here.
Time for Shopping! Knick's Knacks
Another fun place for What to do First When California Adventure Opens is to hit the stores! Knick's Knacks is a great place to shop. This store is themed after the Pixar shorts and movies. It has lots of fun t-shirts, plush's, art, toys, and more! Some of the movies that the merchandise is from are Finding Nemo, Inside Out, Toy Story, Cars, etc. 
As a result of this store having a lot of options to choose from, it is one place that should not be missed! 
Oswald's 
Next on What to do First When California Adventure Opens is to check out Oswald's store. This shop is on the left just after you enter the gates of California Adventure. Oswald's is similar to The Emporium in Disneyland in that there is a little bit of everything in this store. There are keychains, magnets, shirts, plush's, pens, blankets, and so much more. Making it a great one-stop shopping for souvenirs. Especially when you are on your way out for the night.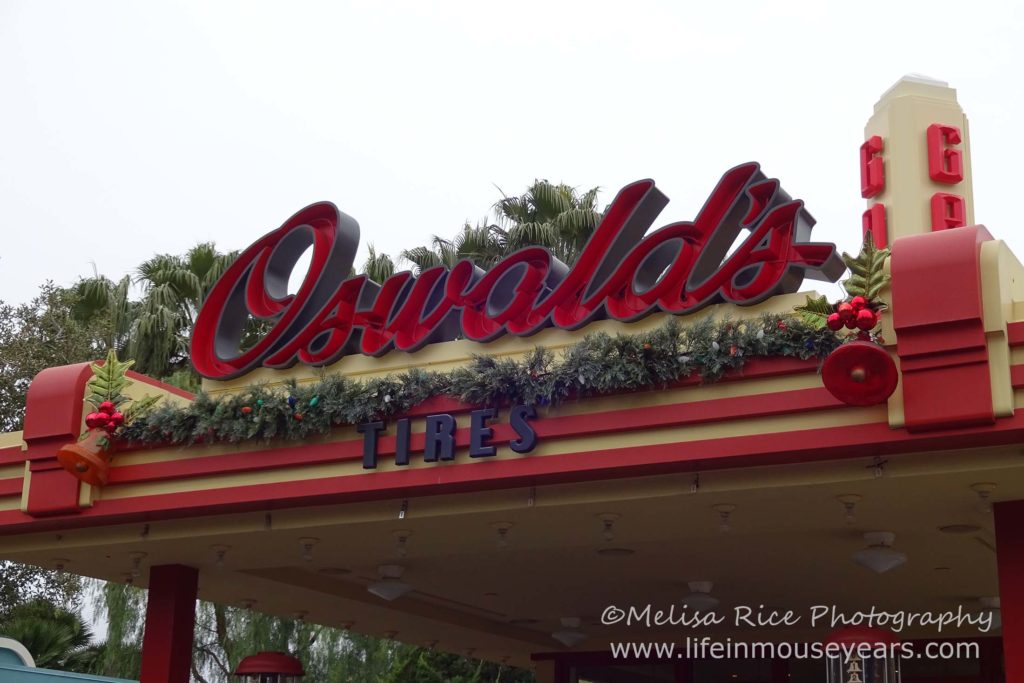 Trolley's Treats has Delicious Sweet Treats
No list would be complete for What to do First When California Adventure Opens without a candy store being on that list. This shop makes delicious sweet Disney treats fresh daily with a window view so that you can watch some being made! From Mickey candied apples to cake pops and everything in between. Trolley's Treats is one place that you won't want to miss out on!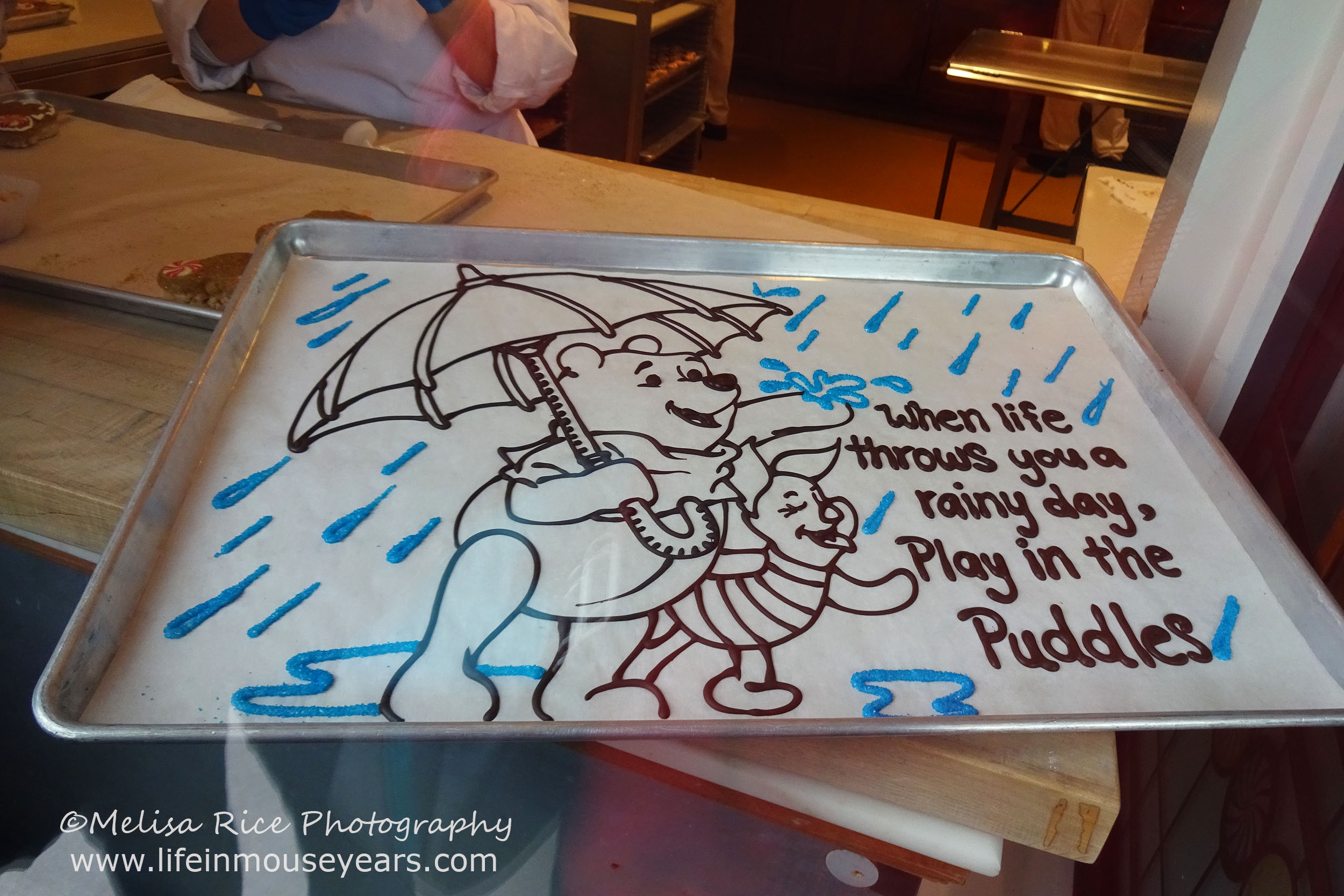 Luigi's at Night!
Another attraction on the list of What to do First When California Adventure Opens is Luigi's Rollickin Roadsters. It is fun to ride these dancing cars during the day, although, it is just as fun at night! In fact, I think it is more enjoyable at night! Once you are done riding and exited out into the road, hang out and watch the next set of songs. It is so much fun to watch the cars dancing under the strings of lights.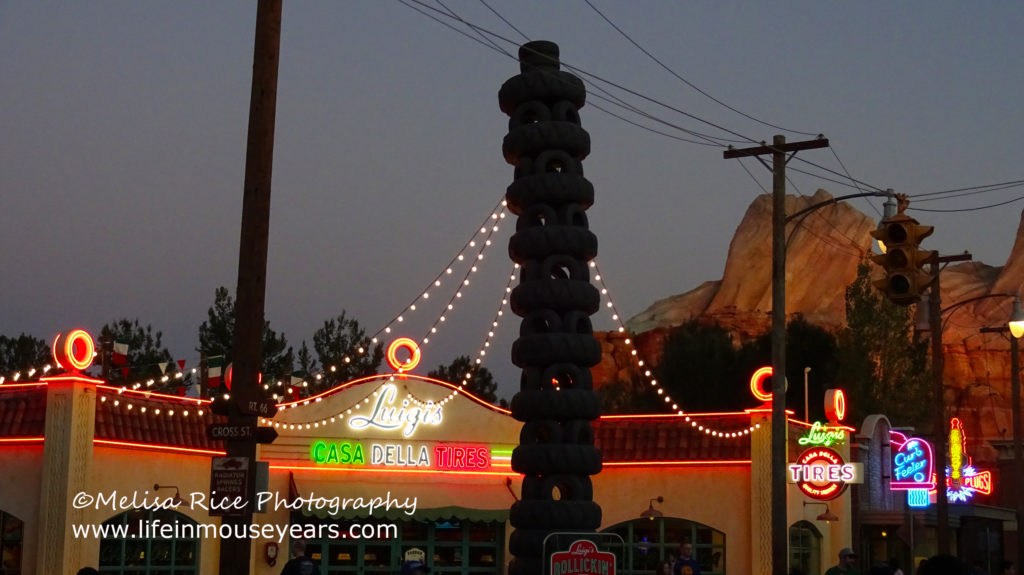 During the winter months, there is a holiday version and one of the songs is Joy to the Whirl. 
Tip: If you are riding, make sure to secure anything that is loose and could fly out, such as glasses, these cars really do take a spin at the end and items like that will fly! 
FYI: I like to lift my hands up and go weeeeee when the car spins me. Seriously, it's Disneyland, I can be a kid at my age. Heehee Enjoy yourself! I guarantee you are not the only one! 
In Conclusion
California Adventure has so many fun things to do around the park and trying to pick What to do First When California Adventure Opens is no easy feat! Therefore, this is just a list to get you started when the park reopens. Hopefully soon! We all need our Disney fixes!
What Would You Do?
What would you do when the park opens? Which ride would you go on first? What treat would you eat at? Which store is your favorite to go to? Let me know in the comments below! I would love to hear what everyone would do. 
Thanks for stopping by Life in Mouse Years!

Can't go to Disneyland in California? How about Disney World in Florida? Check out the deals below!