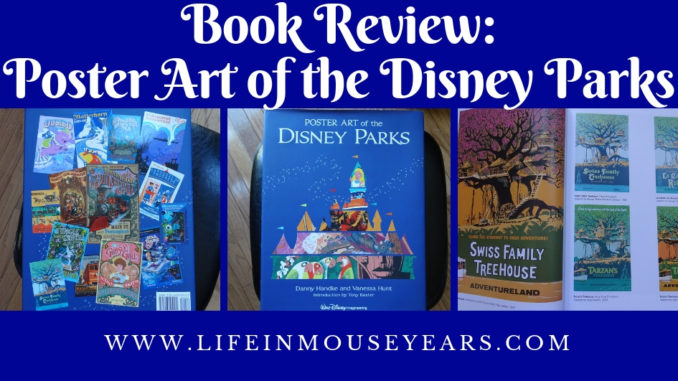 Books are wonderful things. They can take you into a storyland, make you feel happy or sad, take you to different places or times, and teach you things! With the internet and e-books, books can be right at your fingertips at any time. However, there is something about holding a book in your hands. Turning the pages and seeing all the wonderful colors (if it has photos). Today, I thought I would talk about a wonderful Disney Parks book I was given a few years ago. It is called Poster Art of the Disney Parks.
Book Review Poster Art of the Disney Parks
I have always been fascinated with Disneyland. I loved going there every year or two while I was growing up. As I got older, I wanted to learn everything I could about the park and Walt Disney. I even wanted to work there when I grew up!
Disney used to have an Annual book they would sell in the park. It would be a hardcover book with lots of photos of Disneyland through the years and information about the park and attractions. This was where I started to learn my Disney knowledge.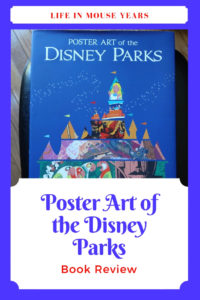 Poster Art of the Disney Parks is a book I was wanting for years! Finally, one birthday a few years ago, my friends had gotten it for me. I was so excited! However, some may not share in my excitement of this type of book. I do think that if you have been to the parks you may just be curious about all those posters you see around the Disneyland Resort.
---
---
What Posters?
First of all, in case you don't know about the posters, Disneyland has posters displayed as you enter the park. For example, after you enter the turnstiles at Disneyland you pass under the train tracks via one of two tunnels. One on the left and one on the right. As you go through these tunnels, there are posters that line the wall on both sides.
Next, the style of these posters is colorful drawings of the attraction they are advertising. Disneyland will also use this style of posters around the resort when they have construction walls up. In addition to decorating an otherwise plain wall, it also helps to build up excitement for what is coming in the near future as well as sharing some of the park histories.
Why Poster Art?
Walt Disney was a storyteller. Disneyland was designed to tell a story as you walk through. Therefore when you first walk into Disneyland it is like walking into a theatre. First, you see things that get you excited for the show to come. For example, you see the floral Mickey in front of the train station. You walk through the tunnel and see the beginning of Main Street, U.S.A. Horse-drawn carriage and old-time music play. As you continue down the street you cannot see the main character yet. Once you walk around the buildings to the center of the street that is when you see the heart of Disneyland. Sleeping Beauty Castle!
History
When Disneyland first opened in 1955, it was popular. However, the idea of a theme park was still something very new at the time. People did not know what to expect. Walt Disney needed a way to build excitement as people entered Disneyland. Posters are a great way to do that. It is a way to grab people's attention quickly.
If you think about it, it is an advertisement. Like with billboards that you see down the highway. Posters are just a smaller scale of that. They were used for many years for movies and video rental stores. Furthermore, posters are still used today for movies at the theatres.
Therefore, in 1956, the poster art of the Disney Parks could be seen lining the fence in front of the floral Mickey at Disneyland's entrance. While the poster art is no longer lining the fence, they continue to line the tunnels and fences as well as being in the Disneyland Hotel.
---
---
Book Review Poster Art of the Disney Parks
Hopefully, I haven't bored you yet with the background information… Now to start my thoughts about the book.
Poster Art of the Disney Parks is an over-sized book. This is great because some of the pages just contain one poster. Other pages have multiple posters of various sizes.
Introduction
The introduction to the book is by Tony Baxter. He was a Disney Imagineer for many years. In addition, there are quotes from other Imagineers and workers that worked with Walt Disney directly.
Authors
Authors Danny Handke and Vanessa Hunt do a wonderful job of talking about the start of the Disney poster art as well as a step-by-step illustration as to how the posters are printed.
The Book
As you read through Poster Art of the Disney Parks, not only do you see many posters through the years but they also talk about each land and area inside of the parks. How the styles vary according to what land and even which Disney Park they are in. This is really interesting to see how the styles and colors vary according to which park you are at.
Another thing I really enjoyed about Poster Art of the Disney Parks is that they say under each poster who designed it and what year it was for. I find it interesting to see the older posters as well as the newer ones. Seeing how the style and colors have changed through the years. In addition to attractions coming and going.
Finally, is the colors! All the posters are in color and they are wonderfully vibrant! I definitely enjoyed this book and I highly recommend it if you are interested in Disneyland and some of its history.
Poster Art of the Disney Parks Coloring Book
I don't know if you are into coloring or not. I always have been and coloring has been making a huge comeback! It is a way to relax and de-stress. Who doesn't need that in this day and age…
I have found some great Disney coloring books in the last couple of years. While I was looking up to see if the Poster Art of the Disney Parks book was still available, I found a coloring book of it! While I do not own this coloring book yet… I stress yet… It looks like it would be so much fun! There are 36 cards of illustrations of the poster art that you can color yourself. If you are interested, you can find it here.
In Conclusion
Poster Art of the Disney Parks is a wonderful book, full of color, history, and art! Therefore, I highly recommend getting this book to find out more and to just enjoy the art of Disneyland. Disneyland's poster art is something that has been studied through the years and it is a style that is still used to this day.
Your Thoughts?
Have you seen or read this book? What did you think? Let me know in the comments below!
What would you like to see here?
Is there anything you would like to read about here at Life in Mouse Years? Let me know in the comments below! I would love to help!
Don't forget to sign up!
If you would like to stay up to date on new posts that come available, please sign up to receive email updates!
Thanks for stopping by Life in Mouse Years!
---