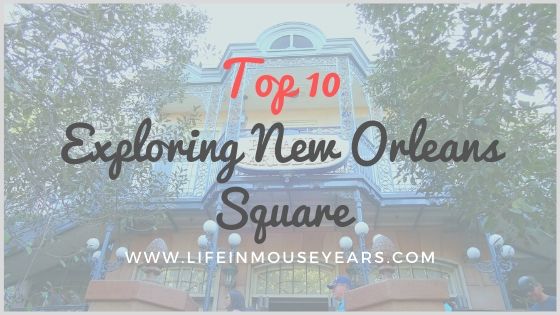 There are so many things to see and do while Exploring New Orleans Square in Disneyland! Rides, shops, buildings, signs and so much more! This land has so many details to find. Have you ever had the chance to slowly check out this land and find the little details? Today I hope to share with you some of these details and what all is in this land.
Top 10 Exploring New Orleans Square
New Orleans Square in Disneyland was part of the first expansion of Disneyland after it opened in 1955. Designed after the New Orleans in Louisiana, at almost 3 acres, New Orleans Square opened in 1966. The Mayor from New Orleans was at Disneyland for the dedication when the land opened.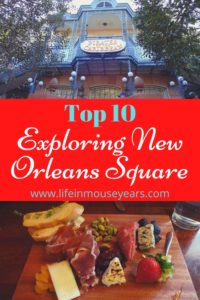 Pirates of the Caribbean
First on the list for exploring New Orleans Square is Pirates of the Caribbean. This swashbuckling dark-ride attraction first opened in 1967. It was originally designed to be a walkthrough wax museum attraction. However, after the success of it's a small world at the 1964 World's Fair, Walt Disney decided to make it a boat attraction using the same system as it's a small world. 
Pirates of the Caribbean takes you through the adventures of pirates, telling the tales of what happened during their search for treasure. This attraction has had a lot of changes over the years, including adding characters from the movies that were based on the ride.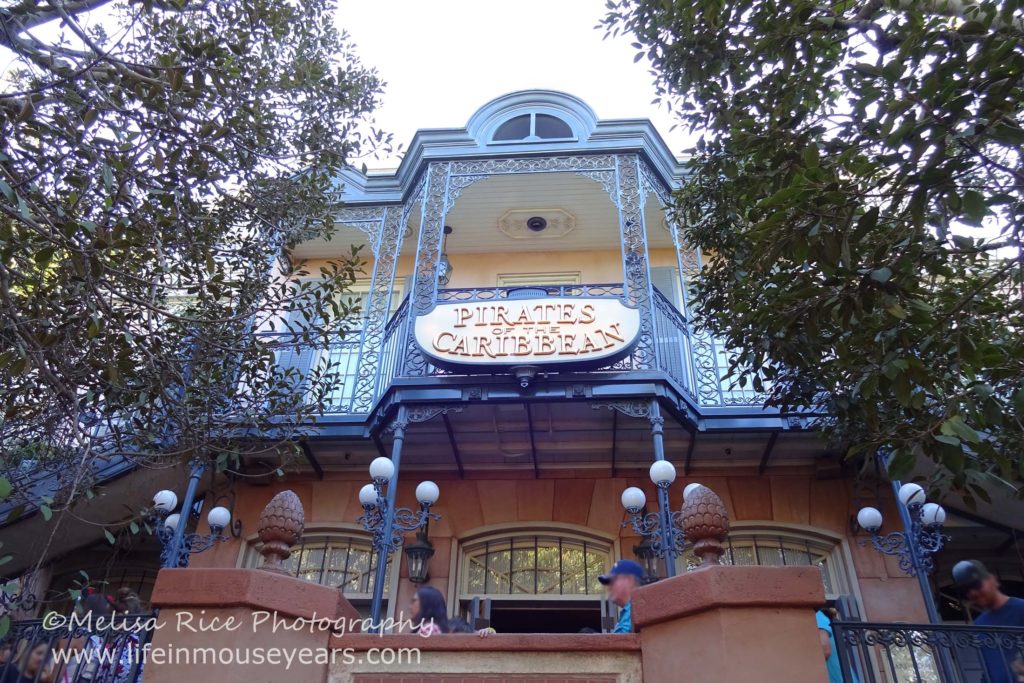 Another thing to explore is the line for Pirates of the Caribbean. While it is not as heavily themed as some of the other lines, there are still some fun things to see along the way. One is a water fountain.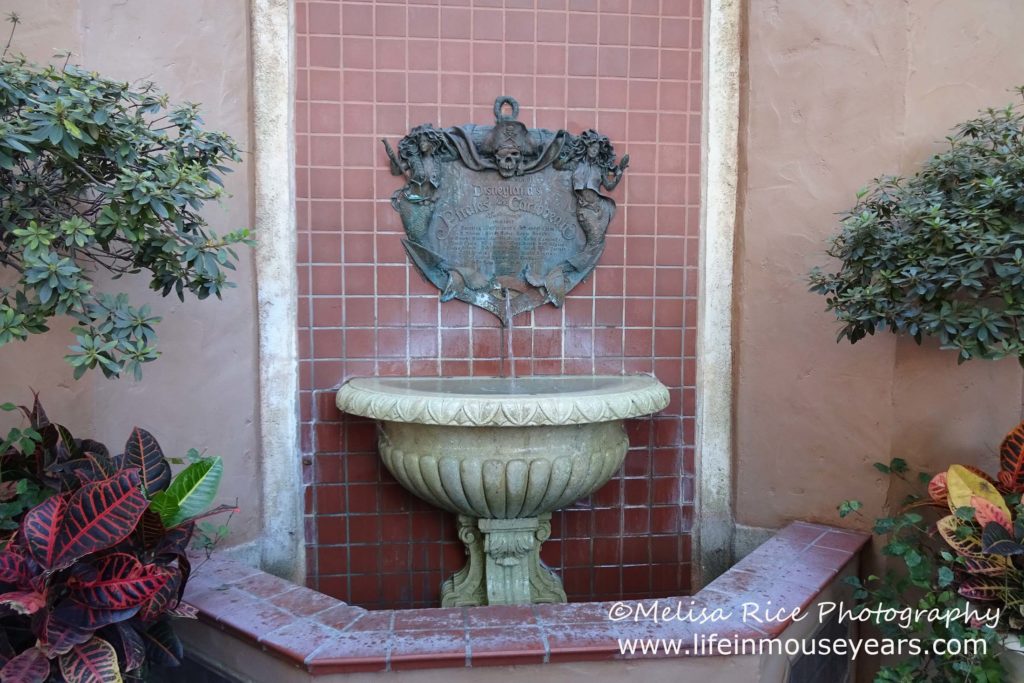 The other is pirate paintings that are on the walls just after you enter the building. 

Shop Disney has lots of fun items to choose from! Check it out in the link below.
Haunted Mansion
Second, on the list for exploring New Orleans Square is the Haunted Mansion. This attraction in New Orleans Square didn't open until 1969, however, the building was there since 1963. The plans for this attraction had started years earlier. It was delayed due to all the projects for the 64/65 World's Fair.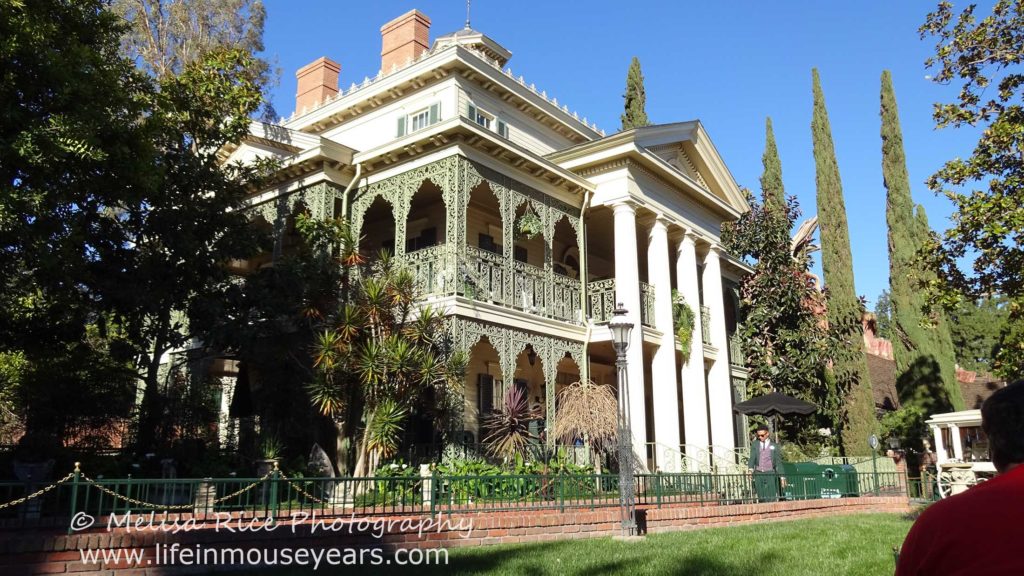 This attraction starts as a walkthrough tour and then ends up taking you through the rest of the tour on "Doom Buggies". 
The Haunted Mansion uses old parlor tricks and can be scary for the little ones, however, there are some funny scenes throughout the attraction. 
From the beginning of September to the beginning of January, the Haunted Mansion gets an overlay to be Nightmare Before Christmas themed. It is amazing what they do to transform this attraction during this time. If you would like to know more about the overlay, you can find it here.
Disneyland Railroad
Third, on the list of exploring New Orleans Square is the Disneyland Railroad. The steam train has a stop here in New Orleans Square. Although, it hasn't always been in New Orleans Square. It was once considered Frontierland Station. This was before New Orleans Square was built and that area used to be Frontierland. If you hadn't noticed it before, the signage at the train station lists both New Orleans Square and Frontierland.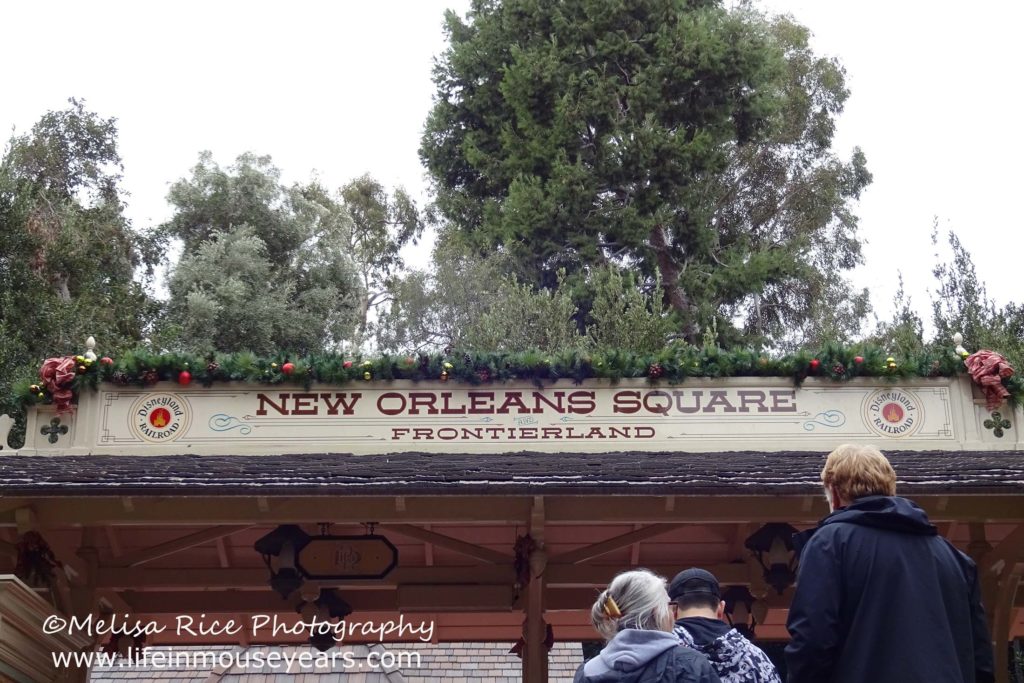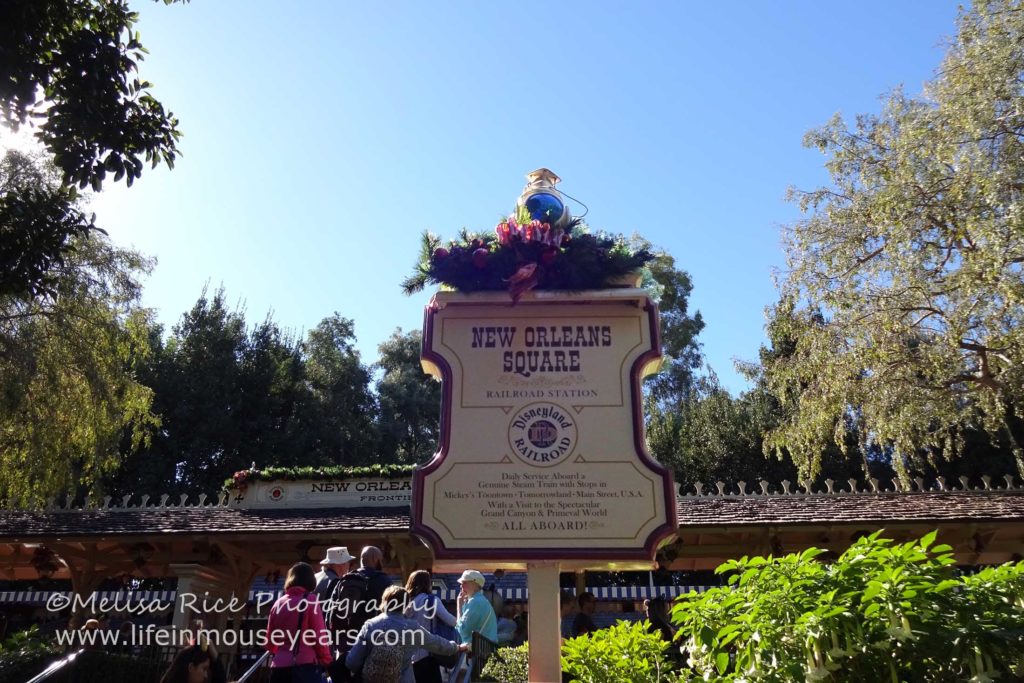 Pieces of Eight Shop
Fourth on the list of exploring New Orleans Square is one of the many shops in this land. Pieces of Eight. This pirate ship themed store has been around since the land opened in 1966, although, it had originally been called Pirates Arcade Museum. Besides all the treasure you can find in this store, there are fun decorations, window displays, and detailed signs.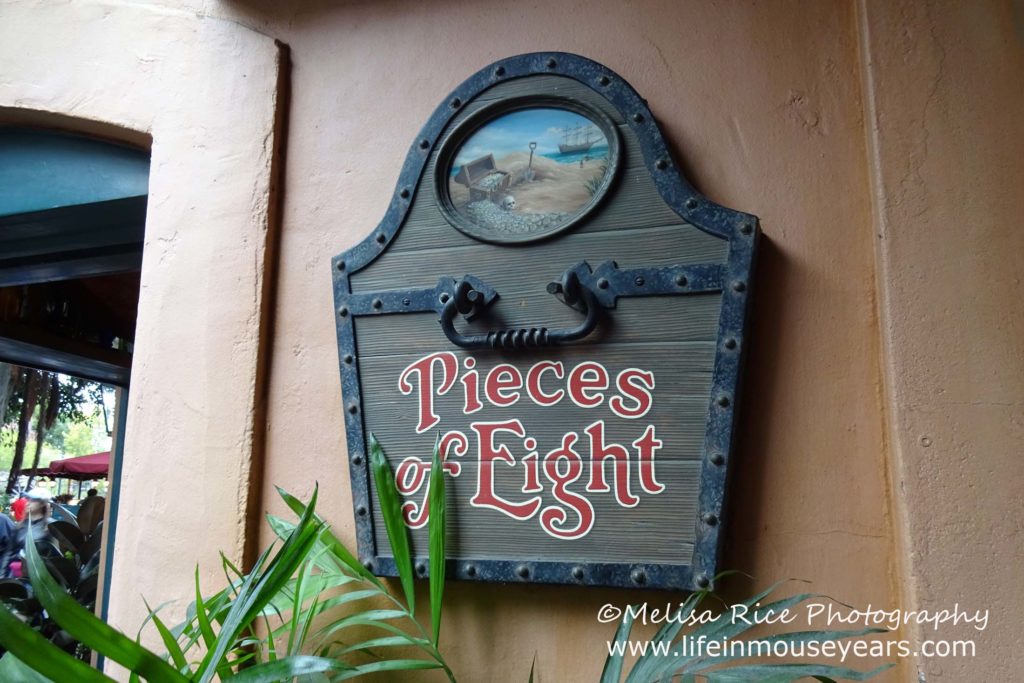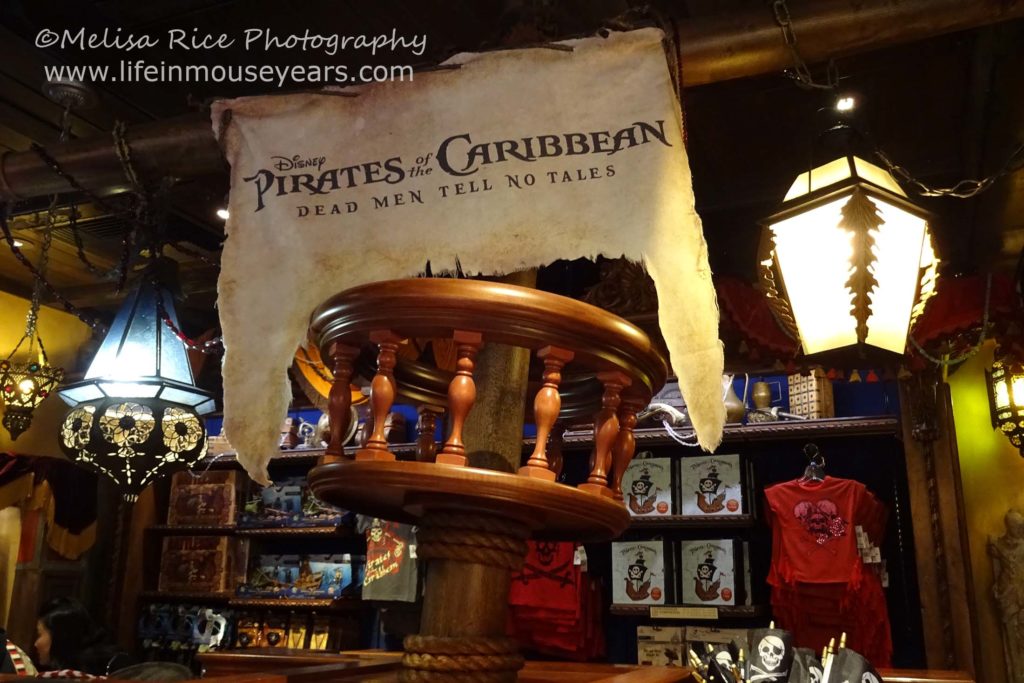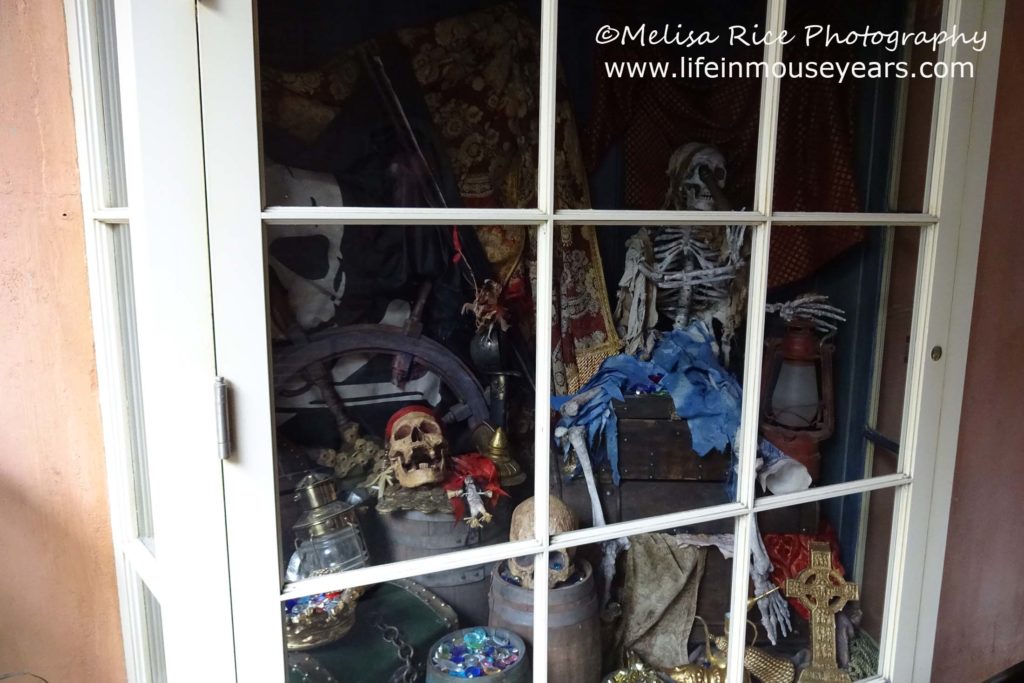 Blue Bayou Restaurant
Blue Bayou Restaurant opened in 1967 alongside the Pirates of the Caribbean attraction. This restaurant is located inside of the ride! Making it a novel and fun place to dine. The details inside of this restaurant are amazing and it starts in the waiting area. 
Stained glass windows above the doorways.
Mirrors and lights on the walls.
As well as molding and curtains.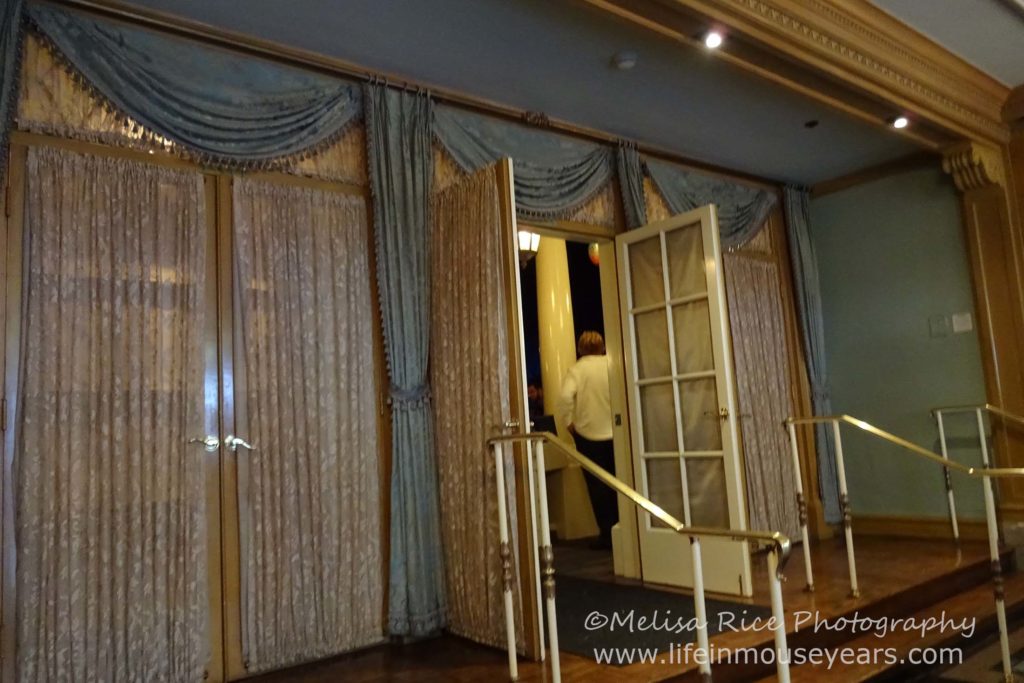 Once you are inside the dining area, (and smelling the wonderful creole inspired food), you will see a facade of a New Orleans style building, hanging paper lanterns, and a tree. In addition, to seeing the boats from the Pirates of the Caribbean going by as you dine.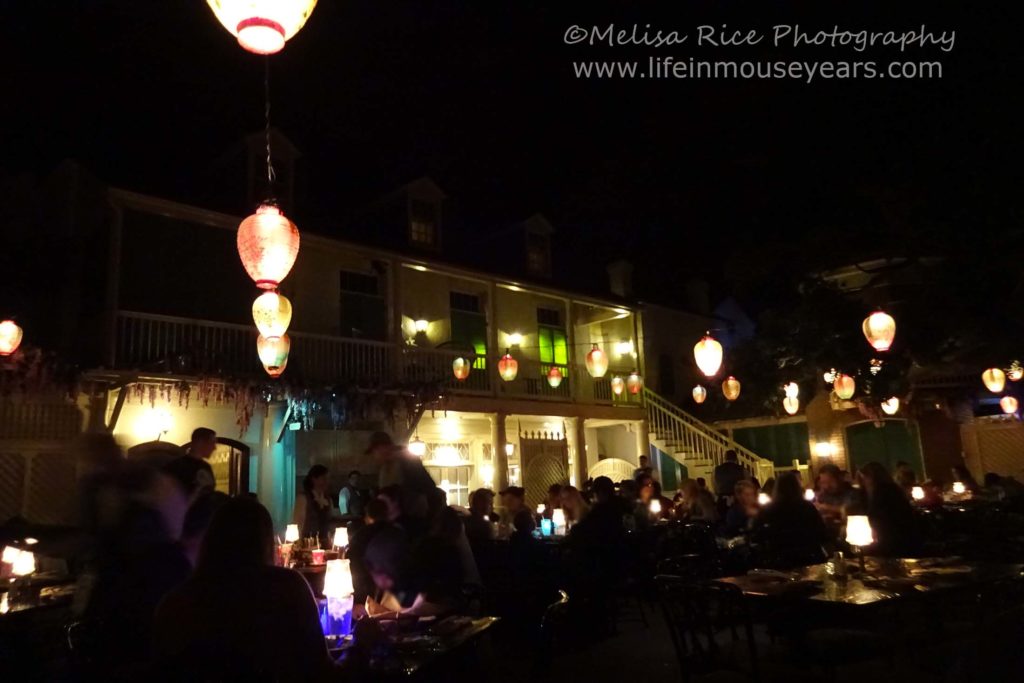 Another fun thing to discover here is the frogs, fireflies, shooting stars and the moon. I highly recommend dining here if you have never been before. It truly is an experience. 
Club 33
Next on the list of exploring New Orleans Square is Club 33. This is a private, not so secret, club in Disneyland. You have to be a member or know someone who is, in order to eat here. It is a very fancy and pricey place to eat. But oh man, I wish that one day I could eat here. 
 To the right of Blue Bayou, is a door that almost blends into the building. This was the original entrance to this club. On the building, you can see a glass "33" to signify the address of the Club.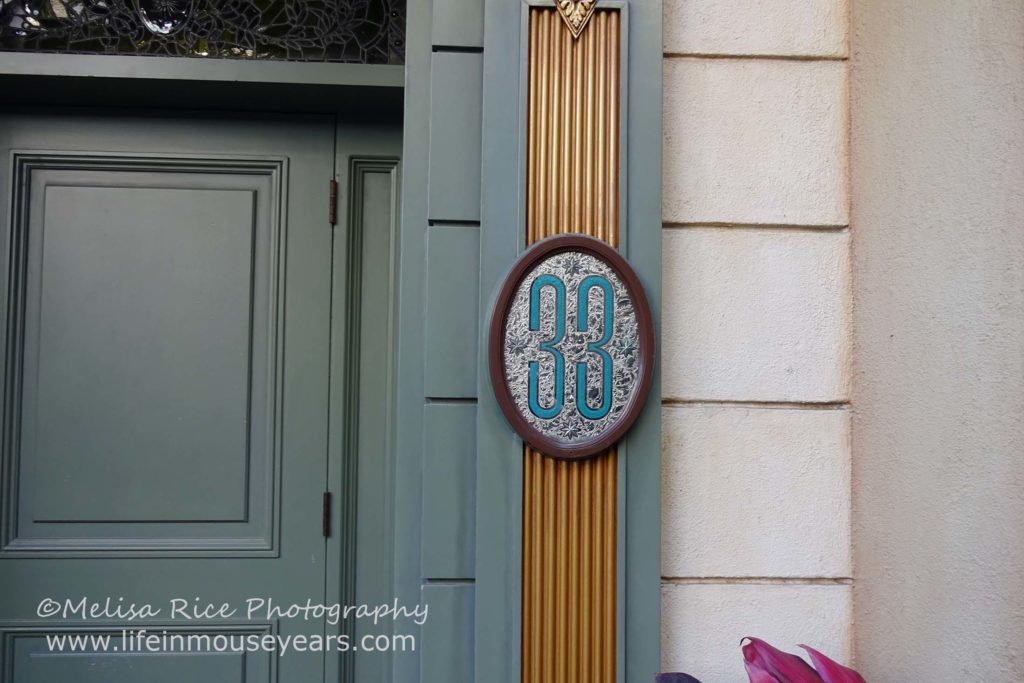 Since Disney made a new entrance to the Club 33 to be in a different spot, this is the only way to really spot it. It is an intercom with a small lit up 33. The new location used to be a beautiful and peaceful courtyard with a circular staircase.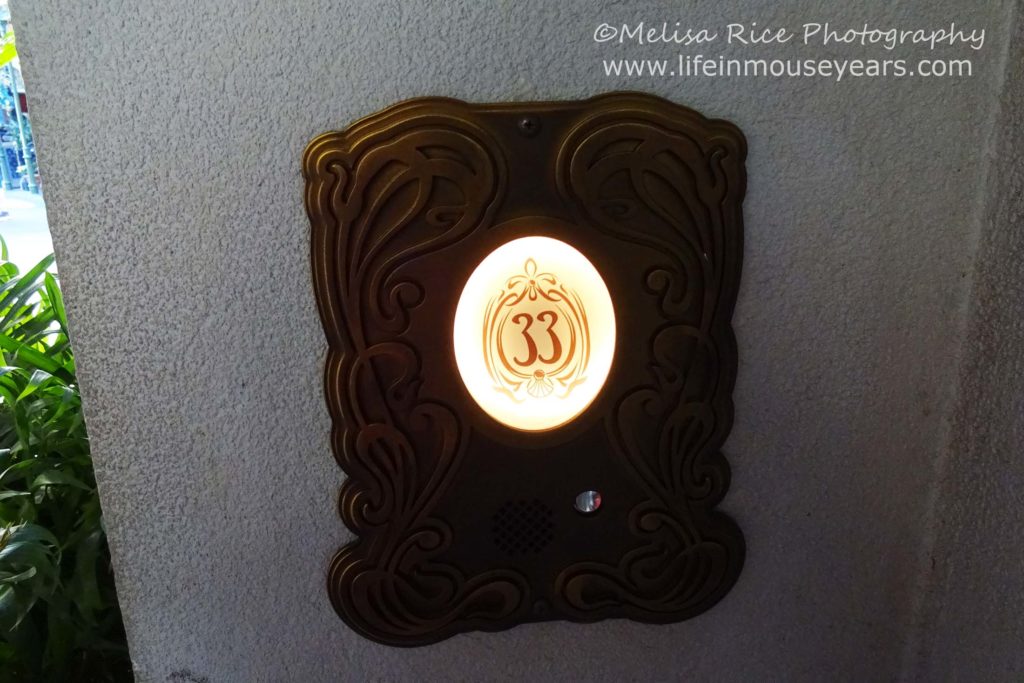 Streets, Buildings, and Balconies
Another thing on the list of exploring New Orleans Square is the streets, buildings, and balconies. There are so many details here. Therefore, make sure to take some time looking all over, including up!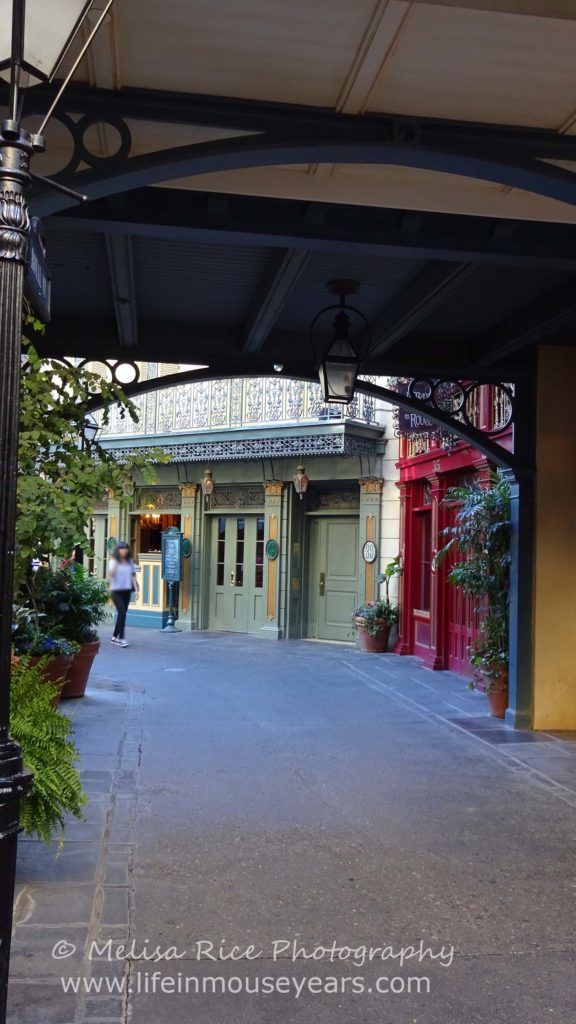 The streets wind around and all over. It is easy to miss some things! There are multiple shops all along the streets, as well as restaurants.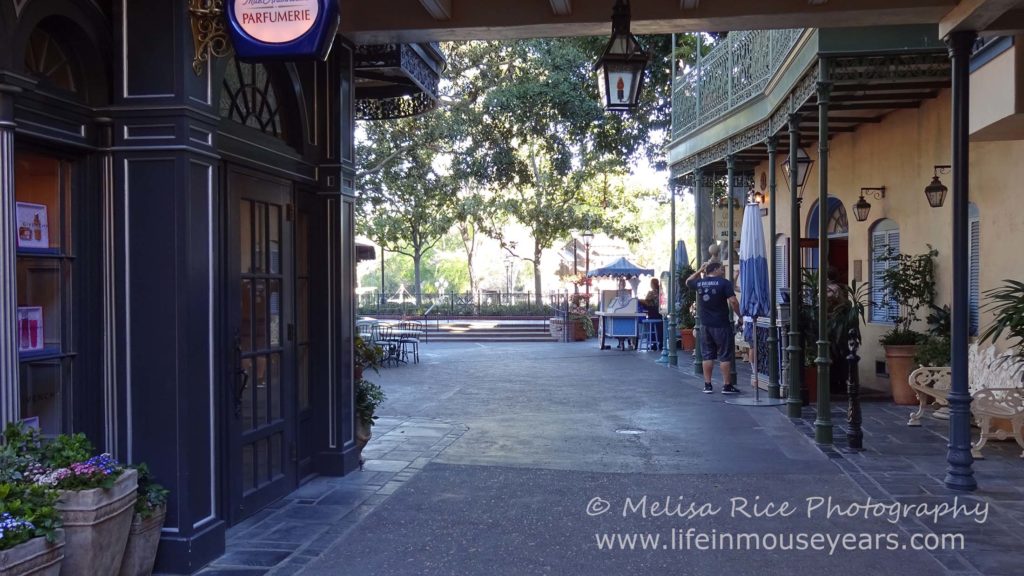 The buildings have little details and designs. This one has a drinking fountain in the wall with tiles.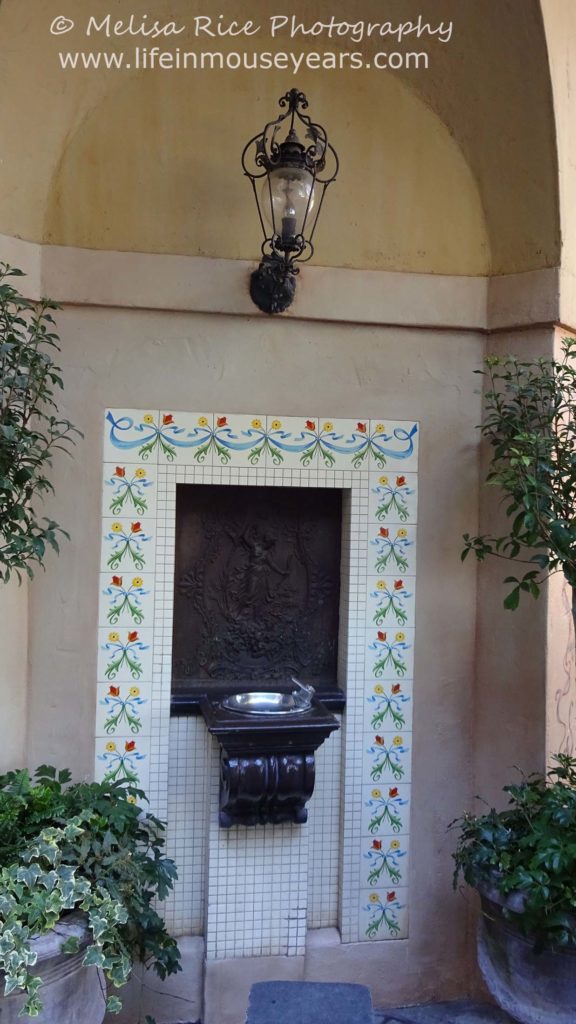 Finally are the balconies. New Orleans Square has balconies all over this land! One is the Pirates of the Caribbean building. Inside of the railing is a WD and RD for Walt Disney and his brother Roy Disney.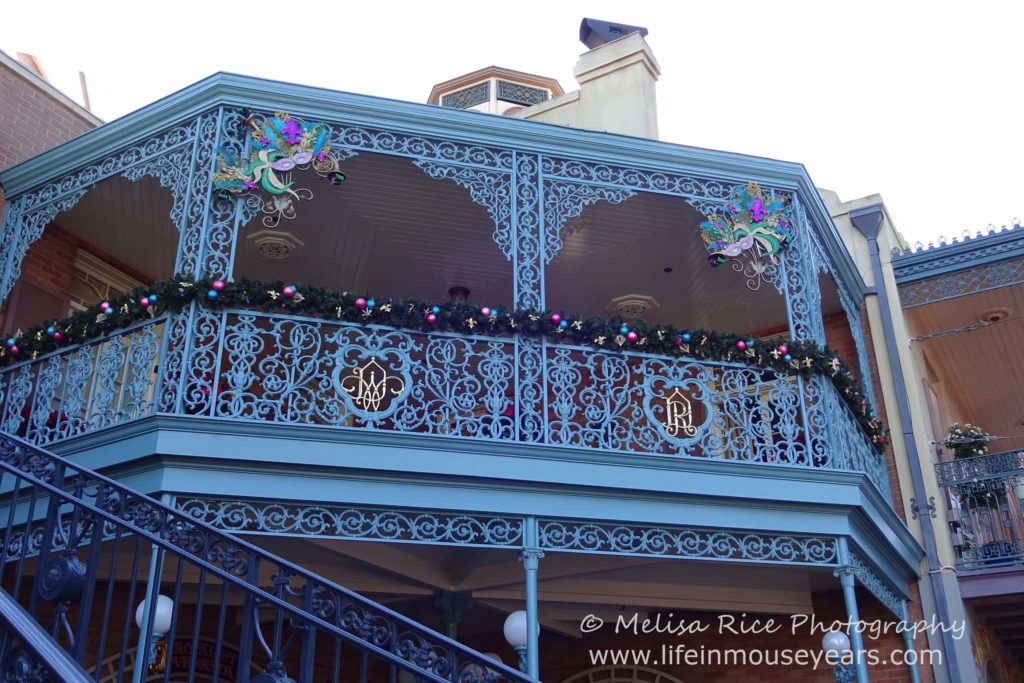 Other balconies have chairs and tables, and one has an easel with a painting.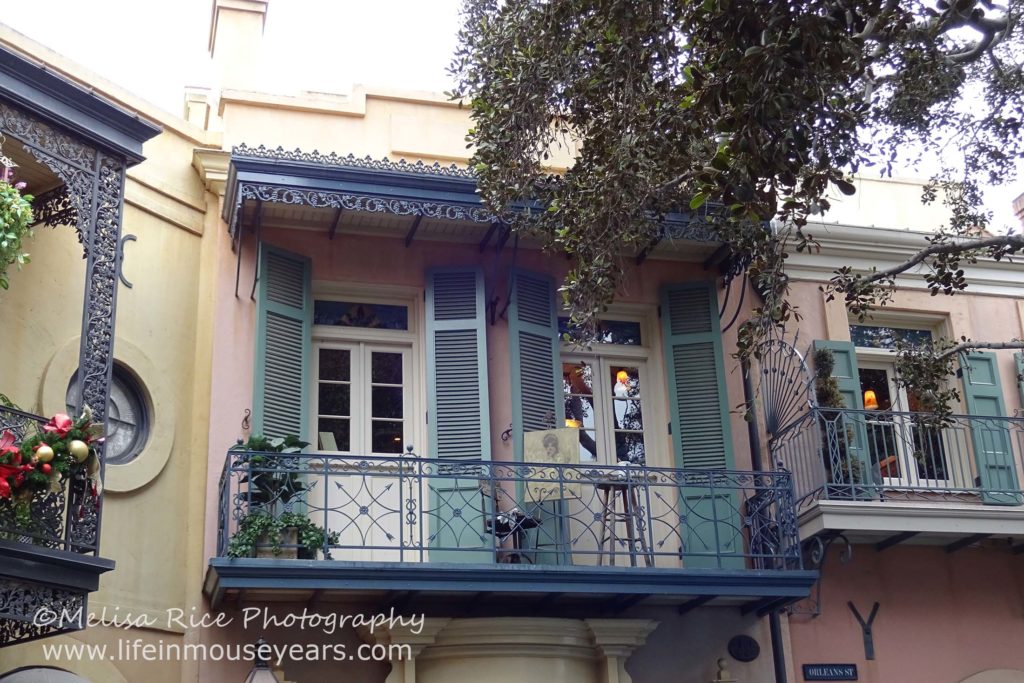 French Market
Another Restaurant in New Orleans Square is The French Market. This is a quick-service restaurant that has salads and southern cuisine. Quick-service means you grab a tray, pick your meal, ask the person behind the counter for what you would like, and continue moving along the line to pay.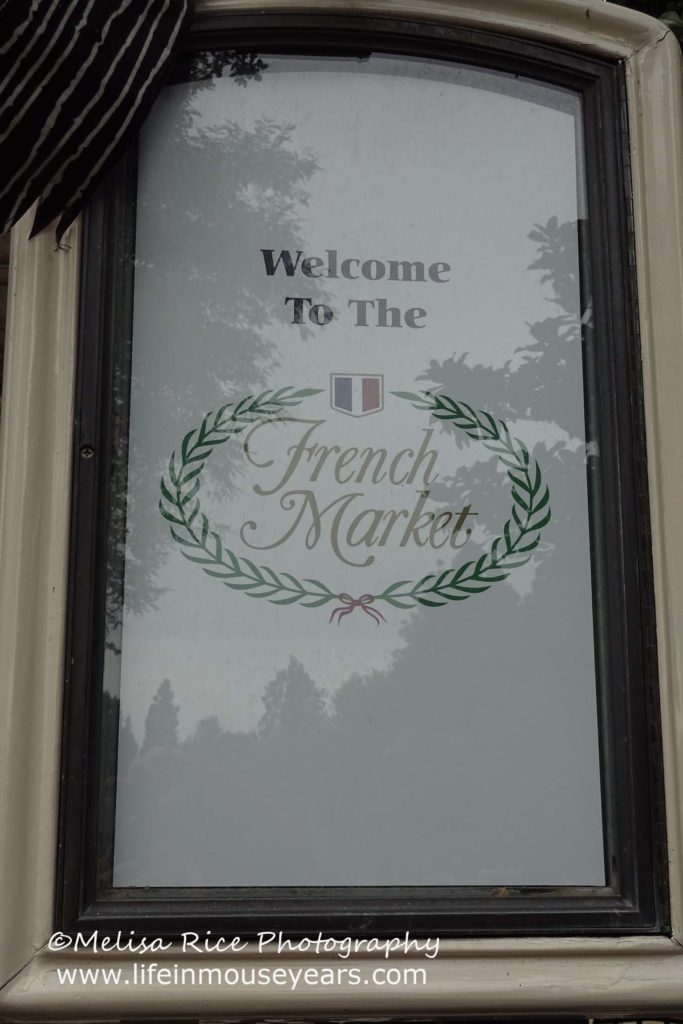 There is outdoor semi-covered seating that overlooks New Orleans Square with a stage. Sometimes there are performers that come out and play music while you dine. 
The Mint Julep bar is at the back part of the building, and right next to the seating area, has Mickey-shaped beignets and Mint Juleps. (Non-alcoholic versions.) Therefore, it makes a nice after-meal treat or a refreshing snack mid-day.
Cafe Orleans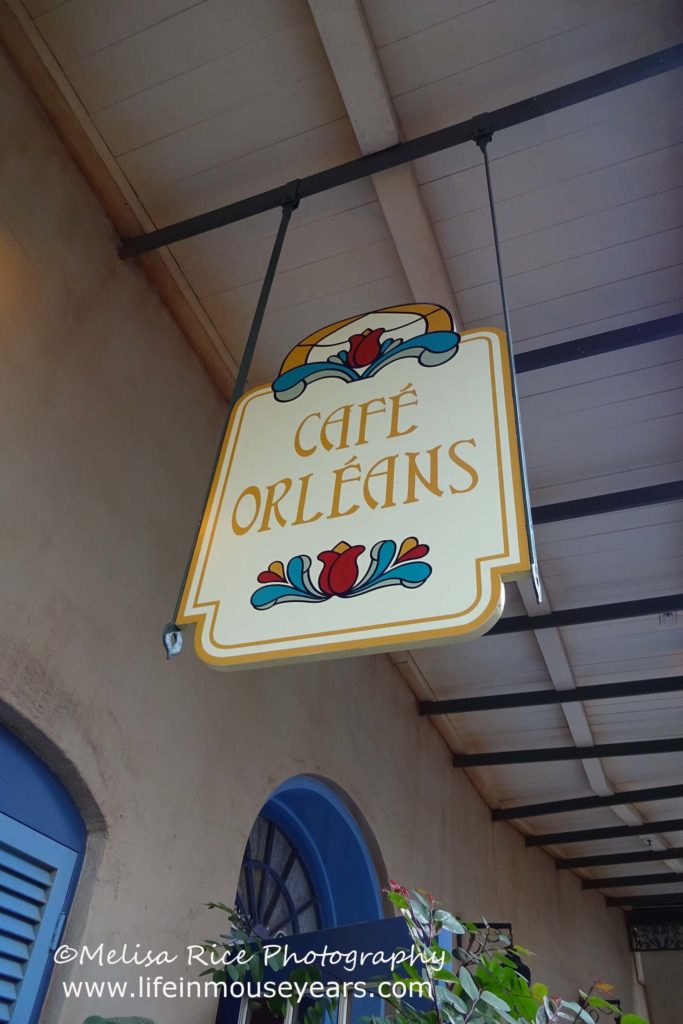 Next on the list of exploring New Orleans Square is Cafe Orleans. This table service restaurant serves up cajun style foods with nostalgic favorites as well. For example, Monte Cristo sandwich which is turkey, ham (can be left out), cheese sandwich that is lightly battered and fried. Then it is dusted with powder sugar and served with a berry sauce.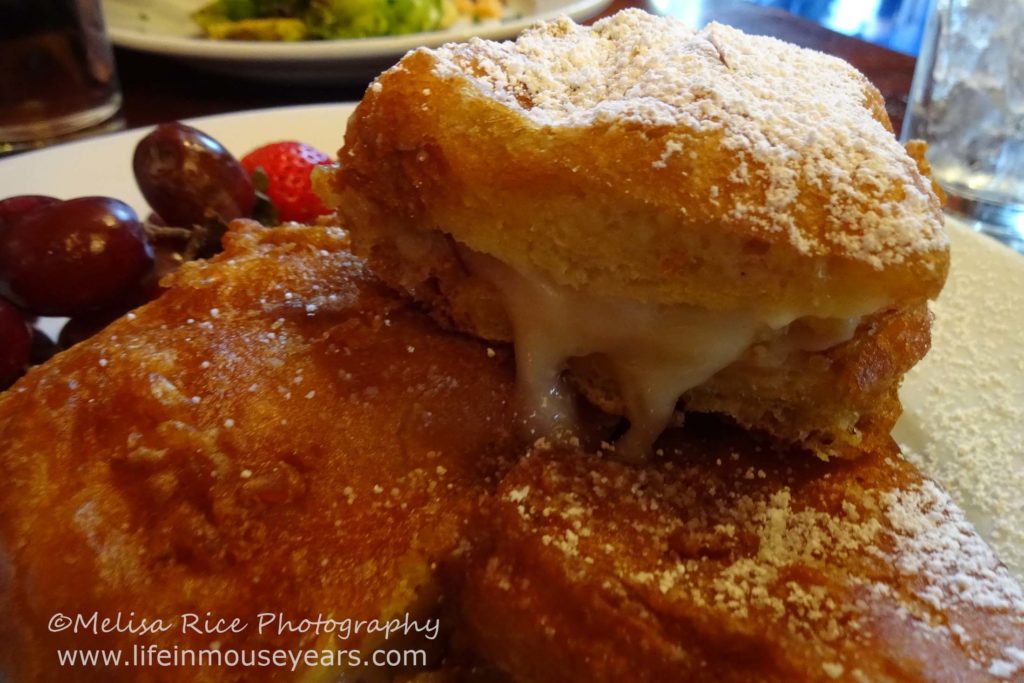 I tried this for the first time during our last trip. I asked to leave ham off and just had it as turkey and cheese. It was so good! I now see why everyone has been raving about this sandwich! It is definitely worth getting it. 
Also, there is a meatless version of the Monte Cristo Sandwich. It has three kinds of cheese. Swiss, mozzarella, and brie. It sounds good as well.
Finally, Cafe Orleans has Mickey-shaped beignets that come with dipping sauces. This dessert is also a must-try while you dine here.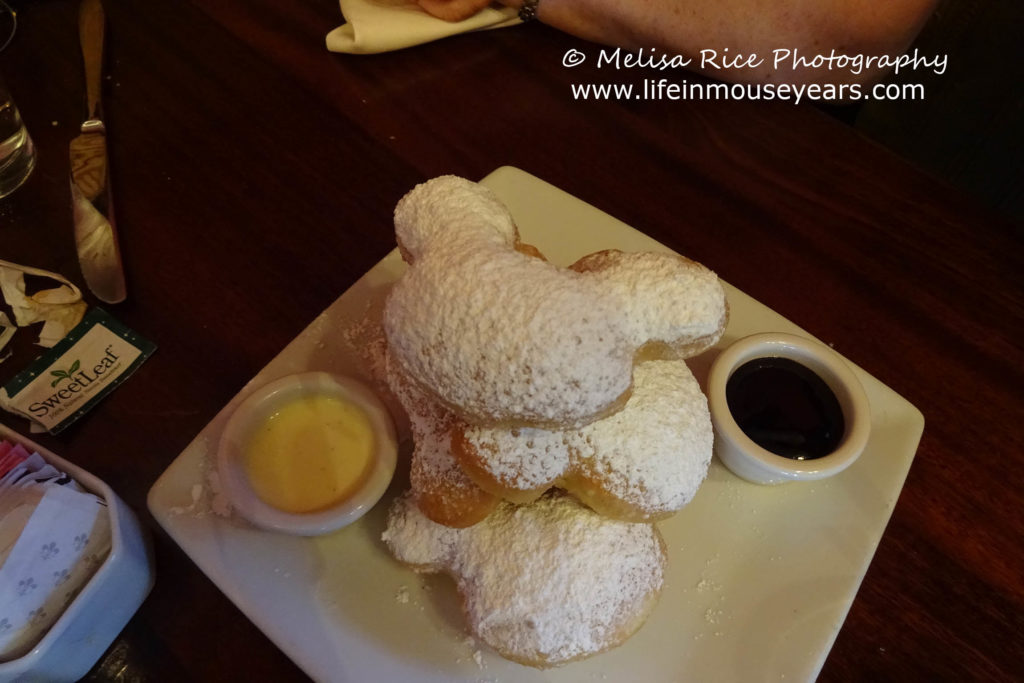 Cristal d'Orleans
Another thing on the list for exploring New Orleans Square is the Cristal d'Orleans shop. This store has glass vases, figurines, and glassware. Some items can have personalization etched into them. It makes great souvenirs for yourself, or bring one back for someone at home. 
FYI: This shop and the glass shop on Main Street are both owned by a separate company. Aribas Brothers. They have been there from the start and are great with customer service. The only thing is, that because they are a separate company, they cannot take the Disney gift card as payment.  
Bonus Details
After writing this post, I was thinking of more and more things to share. As a result, here a couple more things for you to see while exploring New Orleans Square.
Haunted Fountain
In between the French Market and Haunted Mansion is a circle of big trees and in the middle is a water fountain. This spot can be a nice and peaceful spot when the line for Haunted Mansion doesn't wind around it. 
Popcorn Character
Another thing to check out is the popcorn stand. Near the Haunted Mansion is a popcorn stand and just like all the popcorn stands around the park, there is a character turning some popcorn. The one here in New Orleans Square looks like a ghostly figure.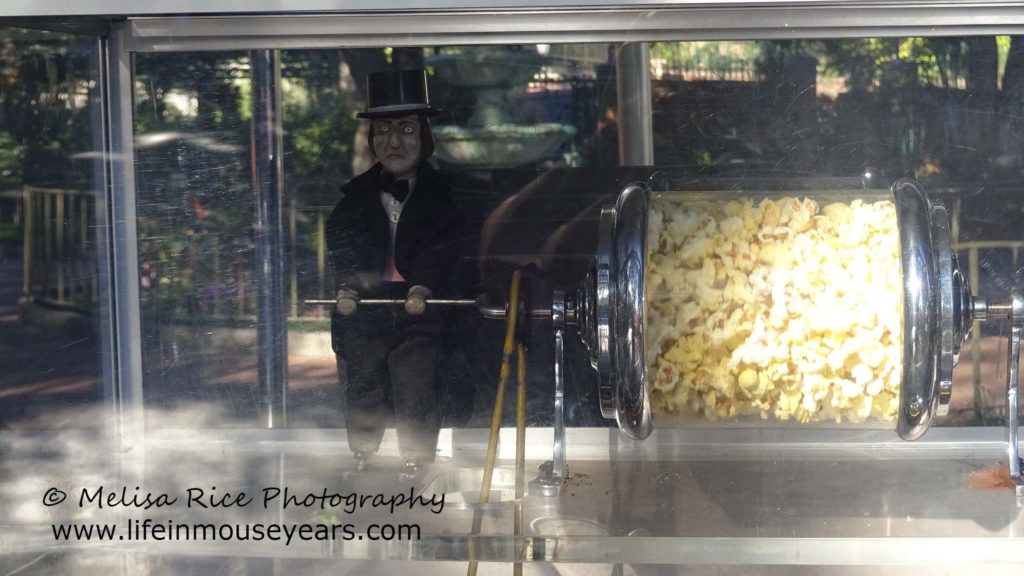 In Conclusion
New Orleans Square has so many fun things to see and do. Today's post-Top 10 Exploring New Orleans Square, shares just some of the many things in this land at Disneyland. Including some of the shops, restaurants, balconies, and attractions. I hope that you will be able to explore and find some of these things during your next trip to Disneyland.
For the most current information on Disneyland, you can find it at Disneyland's official website here.
Questions or Comments?
If you have any questions or comments on today's post, please feel free to leave them below. I would love to help!
Thanks for stopping by Life in Mouse Years!

Get discounted theme park tickets through Undercovertourist in the link below! Disneyland, Universal Studios and more!