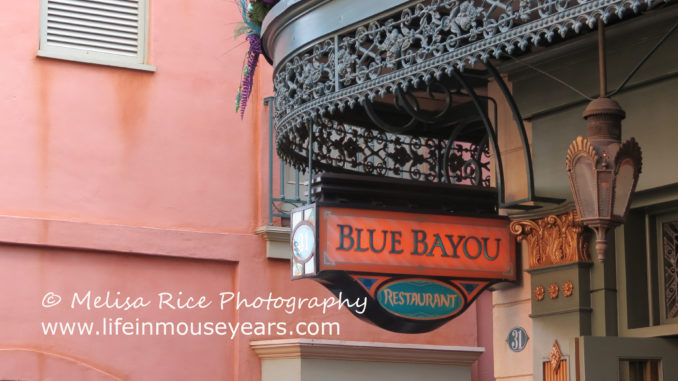 Disneyland has so many things for you to discover all around the Disneyland Resort. Today I would like to talk about one of my favorite dining locations inside Disneyland. It is Blue Bayou Restaurant.
Discover the Blue Bayou Restaurant in Disneyland
Did you know that Disneyland has a restaurant inside of one of their rides? It is called the Blue Bayou Restaurant. This restaurant is inside of the ride The Pirates of the Caribbean in New Orleans Square. Blue Bayou Restaurant first opened in 1967. It is a very popular restaurant. Therefore, the biggest tip I can make here is to make a reservation in advance!
---
---
Location
To get to Blue Bayou,  go past the entrance of Pirates of the Caribbean and go down the street on the left. Partway down, just past the exit to the attraction is the entrance to Blue Bayou.
Disneyland has a host desk right at the entrance. This is where you would check-in for your reservation time.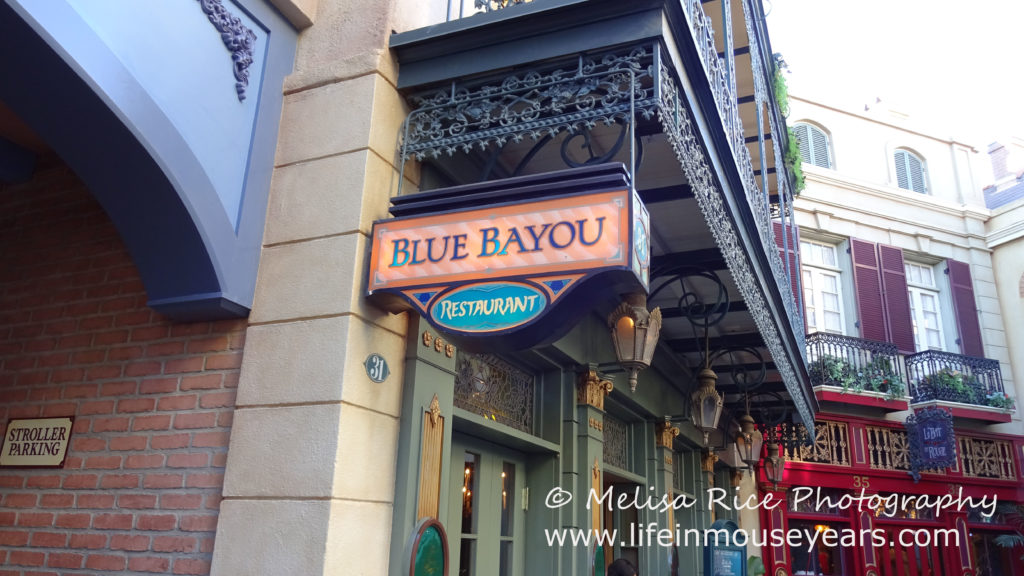 First Tip
The first tip for checking in is to arrive a little early. Second, when you are checking in, you can ask to sit by the water. If you want to, that is. It is my favorite spot to eat at. Especially if it is under the tree that is on one side of the seating area.
Waiting Area
Once you are checked in, you can then go inside the waiting area. They have some cushioned benches there. This waiting area is one of my favorite spots in the park. There are mirrors on the wall with fancy chandeliers above them. Just up a few steps are the doors for you to go through to enter the dining area. There are drapes that hang all along the doors. They are pulled back when they are open. The drapes look like they are heavy because of the type of material that was used. There are tassels that hang on the drapes, too.
I love waiting here. It is semi-quiet compared to the hustle and bustle of people out in the park. As a result, I can take a few moments, rest the tootsie's, and sit and think. I usually think of Walt Disney and the Imagineers. All the thought that went into the design of the building, from the lights to the crown molding, to the floors. It amazes me. Such talent!
Dining Area
Inside the dining area, it has a facade of a two-story building with a balcony on the upper floor.  There are colorful paper lantern lights strung across the dining area.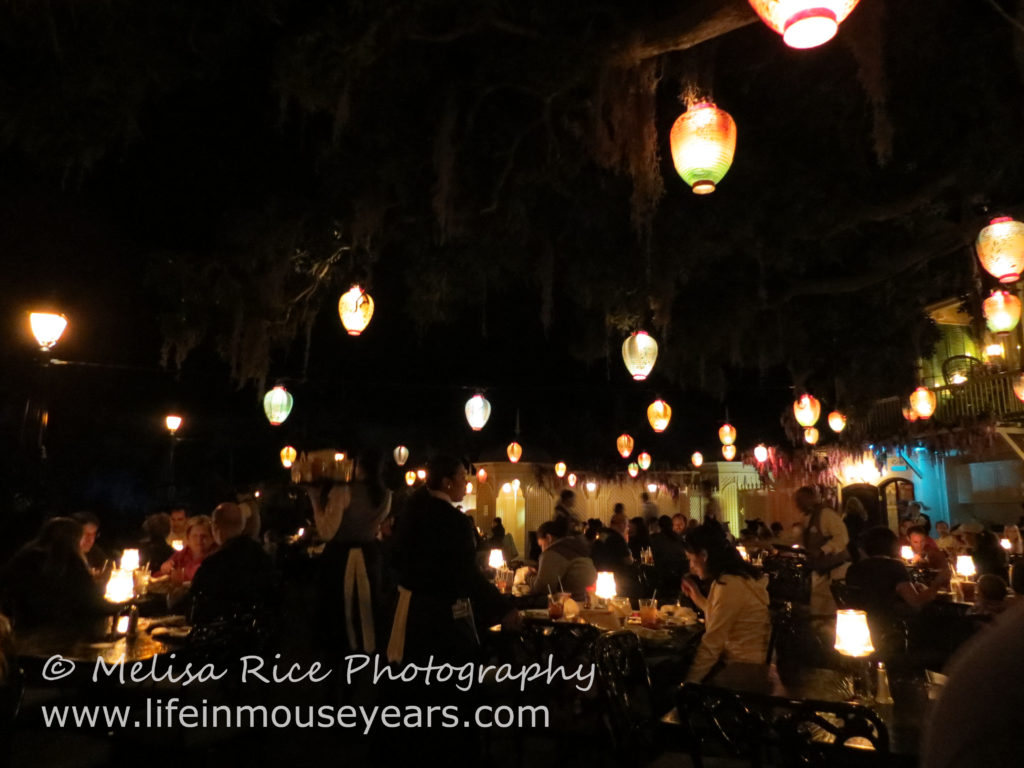 As I mentioned earlier, there is a tree. In my opinion, I find it to be a really cool tree to sit under. I am not sure what type it is, (probably the kind you would find down in a bayou…) I like it!
When you are dining here, you see the boats of people riding Pirates of the Caribbean go by. You have a view of the lagoon from the start of the ride as well. Crickets chirping, frogs croaking, fireflies lighting up, and the moon across the way.
Tip: 
Another tip is to keep an eye on the ceiling. From time to time you can catch a glimpse of a shooting star.
The tables all have a candle. I think that they are oil lamps, I can't quite remember. Therefore, I guess that means I need to revisit the park and Blue Bayou…
Blue Bayou is lit up like it is twilight all the time. It is to keep it dark for the ride. All part of the experience of Blue Bayou and the novelty of being able to eat inside of a ride.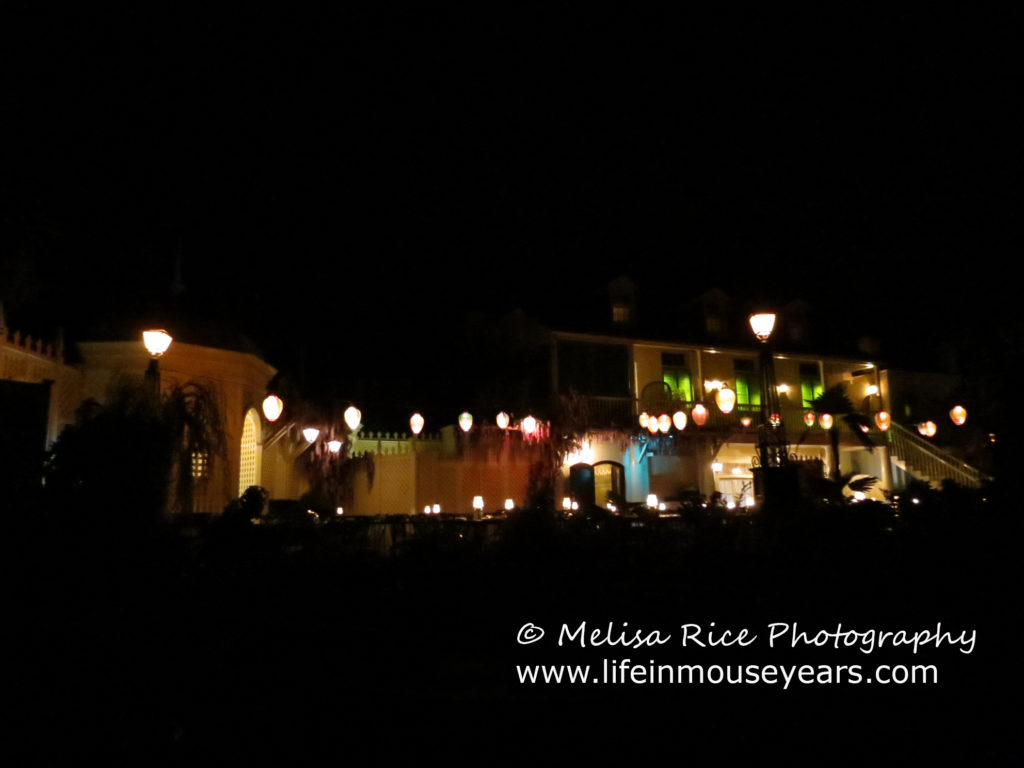 Price Range
Blue Bayou is one of the more expensive dining locations in the Disneyland Resort. But, if you are wanting one location to splurge at on your vacation, this is one of my picks for that. It ranges from $35 to $59.99 per adult.
Food
I will tell you, you will not be disappointed with the food here. It is so delicious!
First of all, to start with, they bring out hot rolls, with butter. This bread is so good!
Because you are down in the Bayou, the type of food served here is Cajun/Creole, Louisiana style. Some of the food choices here are Bone-in Rib Eye, Roasted Chicken Maison, Pan Seared Salmon, Herb-crusted Rack of Lamb, Surf and Turf and Le Special de Monte Cristo sandwich. This is just to name a few!
My favorite is the Roasted Chicken Maison. It comes with Au gratin potatoes, vegetables, and a Vermouth Jus and a choice of house salad or gumbo. The potatoes are so delicious!
For the kids, they have a fish meal, chicken breast, cheesy mac, or chef's beef. These meals range from $9-$13 at the time of this posting.
Tip: For anyone in your party that may have food allergies. They have an Allergy-friendly menu available upon request.
Special Dietary Needs
Also, don't forget that if you have special dietary needs you can ask to speak to the Chef. Blue Bayou is so very accommodating here. This was a wonderful experience during the last trip with my Dad.
For example, my Dad had Cancer and after his surgeries regrettably, there were foods he could not eat. For that reason, after we were seated at Blue Bayou, we let our waiter know we needed to see the Chef. He came out to our table. We told him about Dad's restrictions. The Chef then came up with three different options for Dad. In addition to the multiple food options, the Disney Chef was so nice to speak with. They made us feel relaxed and not a burden. Disney is so accommodating for people with special needs. It is so wonderful!
Last Tip
Finally, the next tip for Blue Bayou is to order a Louisiana Lemonade or a Mint Julep with a souvenir glow cube. It lights up! The souvenir may not be just a cube either. Sometimes they are shaped like a Disney character.  Blue Bayou is not the only location that has these. Each location around the resort offers different characters as well.
In Conclusion
I hope that you get the chance to eat at Blue Bayou on your next trip. It is a real dining treat to eat here.
What would you like to see here?
Is there anything you would like to read about here at Life in Mouse Years? Let me know in the comments below! I would love to help!
Don't forget to sign up!
If you would like to stay up to date on new posts that come available, please sign up to receive email updates!
Comments
Have you been here before? What did you think? Let me know in the comments below.
Thank you for stopping by Life in Mouse Years!
---
---