Wanting to get something Disney for yourself or someone else who is missing Disneyland? Today I thought I would share some of my Top Disney Items to Purchase Online. This way you can bring some Disney love to your house, or someone else, during this time. Or anytime!
Top Disney Items to Purchase Online
I am really missing Disneyland! I wish that I could go there. But, I can't go right now. What is the next best thing to do? You watch the animated Disney movies, put Disney puzzles together, play Disney games, etc. Or, you could shop and buy Disney items online! It is always fun to get a new Disney item and now is a great time to add new Disney to your life and bring some joy to your day!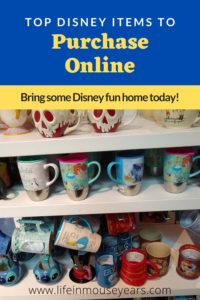 Sale Items on Shop Disney!
First on the list of Top Disney Items to Purchase Online is to Shop Sale Items at shopDisney.com!
Disney's online store has so many items to choose from. But for me, I like to start at the sale items and see what I can find at a discounted price. This way there is a chance to order more items at one time. 
Sale items change frequently, so make sure to check it often!
New Arrivals
Next on the list of Top Disney Items to Purchase Online is new arrivals! This is a fun one! It is so much fun to see the new designs of t-shirts, mugs, bags and more! The designs on these items seem to change all the time as well. If you see something you really love, don't wait! It may not be around for long. 
Also, Disney now has its own masks for sale! This way you can add Disney style to your mask-wearing. This is great for now, and when you are in the Disney Parks!
Flurries of New Arrivals at shopDisney! Shop Now!
Disney Parks Items
Third, on the list is one of my favorite things to check out. It is the Disney Parks Items! This way if you are not able to be in the parks to purchase things, you can buy them online at shopDisney.com! I love that this is an option. This is something that hasn't always been the case. Now I can be at home and see what is in the Disney Parks and have the opportunity to get a little something to bring that Disney happiness to my home. 
Check it out in the link below!
Disney Kitchen Items
Another item on the list of Top Disney Items to Purchase Online is Disney kitchen items. 

Click here for fun Disney kitchen items!
I have a lot of Disney items in my home, (that's probably an understatment…), however, I have always wanted to have a full-on Disney themed kitchen! I have slowly been collecting various items over the years. 
As a result of needing kitchen utensils, plates, aprons, etc, this makes it a practical and useful item to purchase for the home. It is not just a collectible item that will sit on a shelf gathering dust. It is items you need to cook and eat from! Check out some of the items rotating in the box below and see if there is something that you like. Or check out the kitchen section at shopDisney in the link above. 
Coffee Mugs
This one is my favorite! I have a mug collection obsessive disorder… However, with the Disney mugs, how can you not? Disney puts out so many fun and cute coffee mug options.
Star Wars
Now that Disney owns Star Wars, there are items on shopDisney that you can purchase that are Star Wars! Just like how Star Wars Galaxy's Edge is in the parks now too. Therefore, there are lots of Star Wars related items to choose from! Check out what is available now in the link below.
Marvel
Another franchise that Disney now owns is Marvel. There isn't a land open yet for Marvel, however, it is coming soon! In the meantime, you can shop and find some fun Marvel items in the link below. 
Some Marvel characters are Spiderman, Iron Man, Thor, and Captain America. Just to name a few.
Dooney and Burke Bags and Wallets
Years ago, I didn't know anything about the name brand purses and wallets like Dooney and Burke. I had a friend enlighten me. Now I own a couple. They were gifts. These bags are not Walmart priced. However, Dooney and Burke Bags and Wallets are quality made items and they last a really long time! It is worth the price. Plus they have such fun Disney designs! Check out the link below for some of the current styles.
Free Shipping on New Kate Spade Collection now at shopDisney.com!
Disney Jewelry
Next on the list of Top Disney Items to Purchase Online is Disney jewelry. I really enjoy wearing Disney Jewelry. This way I have some Disney with me throughout the day! I found some cute earrings and some necklaces to share with you in the photo below. If you are interested in finding more out about one of the items below, just click the photo and it will take you right to the item on shopDisney. 
Toys
Another thing on the list of Top Disney Items to Purchase Online is toys!! Toys can be a great item to purchase online on bring into your home right now. Especially if you have little ones in the house. Keeping them entertained can be a challenge. Check out some of these Disney toys in the link below.
Find best selling toys and more at shopDisney.com!
Tsum Tsum's
Disney's Tsum Tsum plush's are so cute! I don't know if it's because they are so small or what. They just call out to be collected. Have you seen the cartoons? They are so cute and funny! Check out what is offered at shopDisney right now in the link below.
Disney also has merchandise with the Tsum Tsum characters on them. For example, They have t-shirts, coffee mugs, iPhone cases, iPad cases, and more! Take a look at just some of the items I found in the box below.
Beach Towels
Summer is coming! The next item on the list of Top Disney Items to Purchase Online is Beach Towels. Disney has a nice selection on their website to choose from. Minnie Mouse, Mickey Mouse, Toy Story 4, Little Mermaid and so many more! There is even one that looks like cupcakes with designs to look like the classic Disney characters!
At the time I checked them out, a lot of them were discounted. So if you are looking to get one, now is the time!

Check out Disney Beach Towels here!
In Conclusion
Things are tough right now, but you can bring Disney into your home. Especially when you are not able to be at the Disney Parks. ShopDisney has a lot of fun and exciting items to choose from. I hope that these items help you out to find a Disney item to bring joy to your life.
Questions or Comments
Do you have a favorite Disney item in your home? What is it? Do you have something on your wishlist at shopDisney? What are you hoping to get? Please feel free to let me know in the comments below. I would love to hear what everyone likes.
Thank you so much for reading my blog and supporting it by ordering through the links on this site. I appreciate it so much!!
And as always,
Thanks for stopping by Life in Mouse Years!
Amazon also has lots of fun Disney items! Check out some of these items below. Or click and search for something Disney you would like.