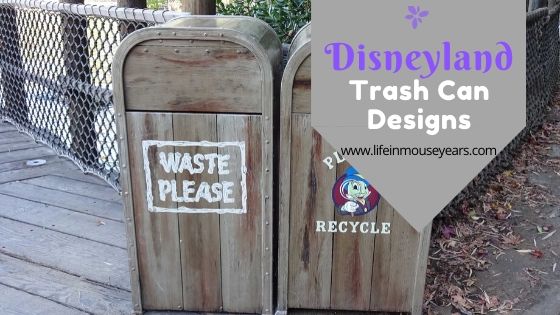 Disneyland Trash Can Designs are uniquely themed to the area they are located at the Disneyland Resort. Armed with a mission to photograph as many as I found, I found there are many different designs. And upon returning home, realizing there are far more than what I thought to photograph! 
Disneyland Trash Can Designs
I may not have photographed them all, but I did get a good amount to share with you the differences of Disneyland Trash Can Designs. Also, this leaves some as a surprise for you to discover during your trip to the Disneyland Resort.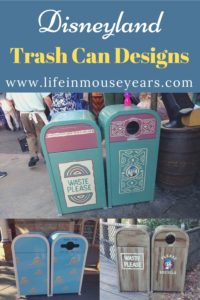 Disney Details
As I have mentioned many times before in my posts, it's all about the details. And with Disney, they really are all about the details! No stone, land, attraction, area, (bathroom), or trash/recycle can is left alone. 
Here is a recent post I did if you would like to read more about Disney Details.
History
Before Disneyland was opened in 1955, Walt Disney would take his two daughters to Griffith Park to ride the Merry Go Round. As he sat on a park bench, he wished that there was a place to go so that parents and children could enjoy things together. That is how Disneyland was born! In addition to having a place to go, he wanted his park to be clean. As a result, no gum has been sold at Disneyland.
It is said that the trash cans were designed by Walt Disney. Instead of the ones you see a lot of times in the city with holes down the sides and you see (and smell) all the garbage in it, the ones at Disneyland are fully enclosed with two flaps. One on each side. It keeps the stench inside and it is more pleasing to the eye by concealing the trash. 
The other really neat thing about the Disneyland Trash Can Designs is the style/character/theme that is painted on the outside of them. Each land has a different color/theme. As well as each area within a land could have a different design as well!
 Main Street, U.S.A. 
First of all, let's start on Main Street, U.S.A. for Disneyland Trash Can Designs. I found this simple, Victorian-style trash/recycle cans near the front of Sleeping Beauty Castle.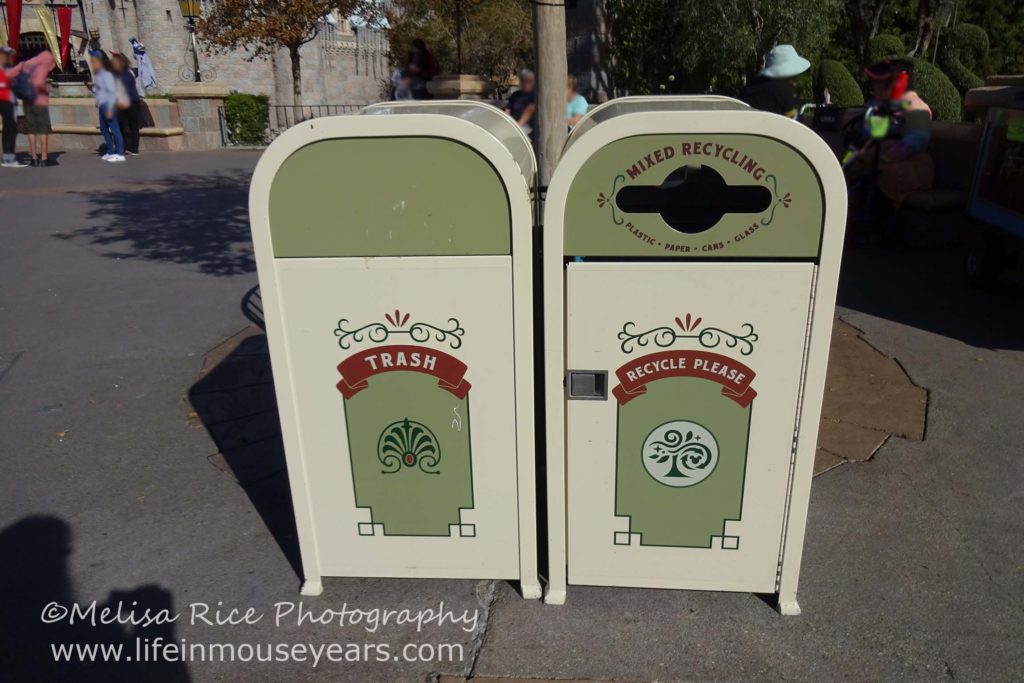 Did you notice the hidden Mickey on the recycle can?
Tomorrowland
Next on the list of Disneyland Trash Can Designs is in Tomorrowland. These were located next to Astro Orbitor at the entrance to the land. This was just before the removal of the "french fry rocks". However, I am sure they are still near this spot. Where there is one set of trash cans, there is another not far away.
Check out the photo below, in the background. There is another set of trash cans.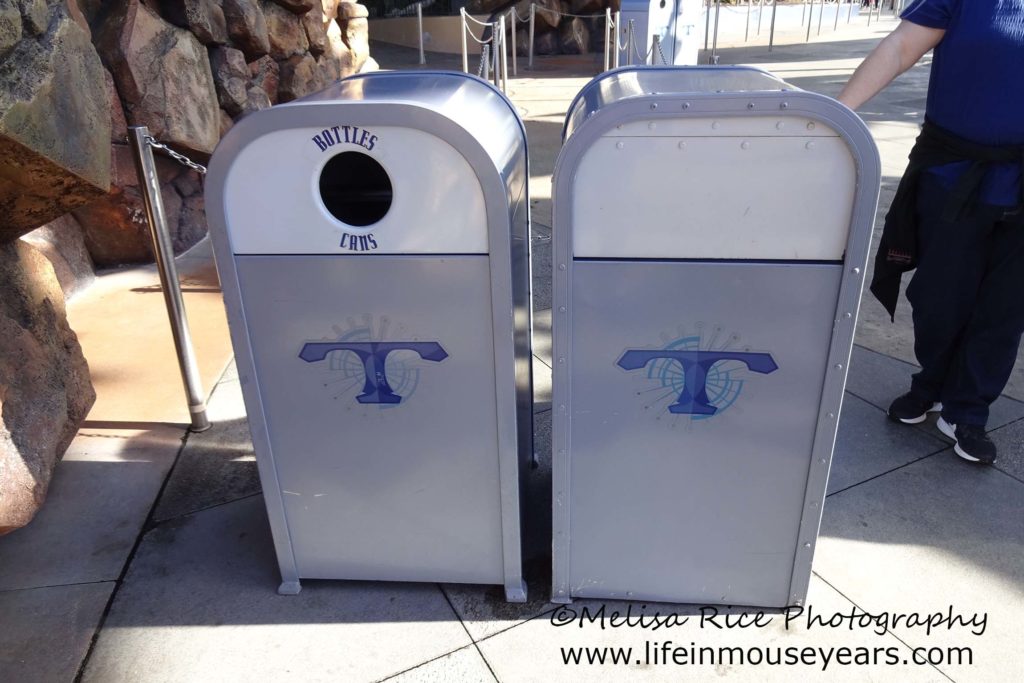 New Orleans Square
Another place to check out the Disneyland Trash Can Designs is in New Orleans Square. By the Haunted Mansion attraction, to be specific. These cans are themed to go with the Haunted Mansion colors and theme.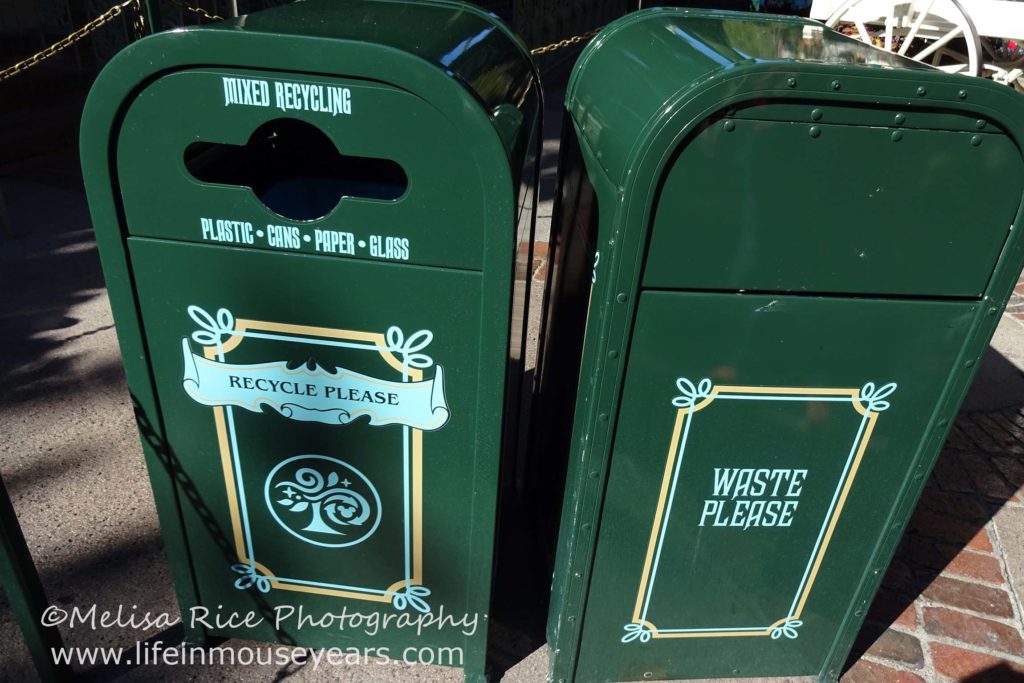 A little plain on the design, but check out the ghoulish font on the top section of the recycle can. 
Adventureland
Next on the list of Disneyland Trash Can Designs is this one that I found in Adventureland near Bengal Barbeque.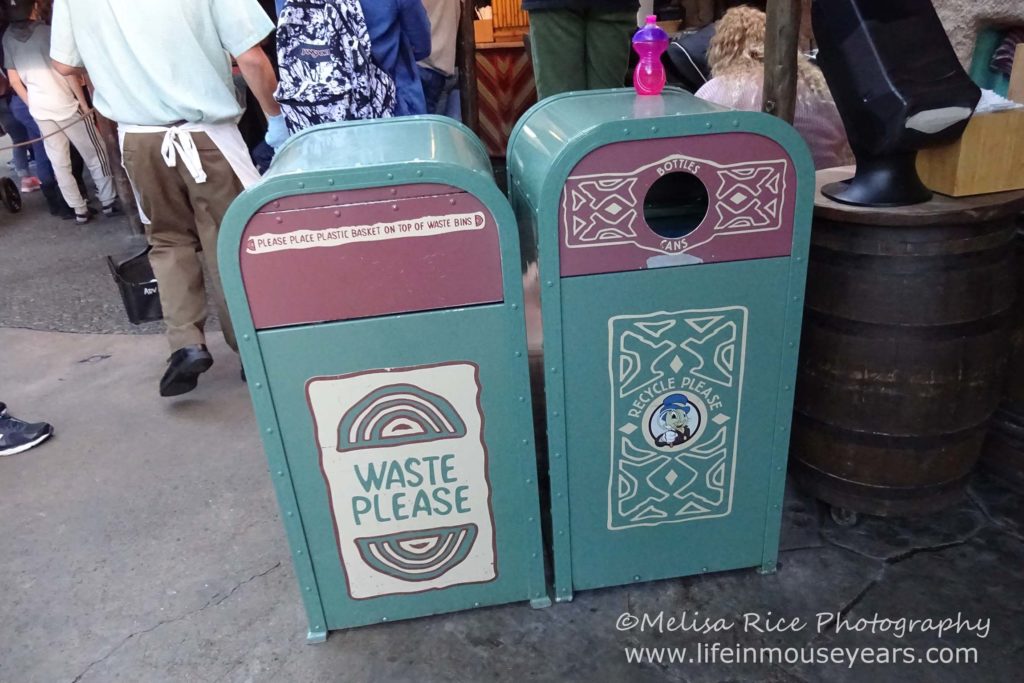 This Disneyland Trash Can Designs features Jiminy Cricket and has a Hawaiian/Tiki theme to them. 
As a side note, do not feel strange checking these out or photographing them if you like. You are not the only ones. I always have a funny story to tell of myself, even going to the grocery store, that no matter what I look at I end up with people following me and crowding me. I think they must think I found gold or something. (This happens literally ALL the time.) And with these trash cans in Adventureland, it was no exception. I had a lady following me as I was trying to photograph them. Because I thought I was in her way, I kept moving aside thinking she needed to use them. When I got done and went back to my family at our table, the lady moved to the spot I was in. Looked at the trash/recycle cans and then left.
Therefore, don't feel funny. You may just bring their attention to something that they otherwise wouldn't have noticed before. 
Have you checked out the new Minnie Mouse attraction line at the Disney Parks? You can shop online. Check it out in the link below. It also shows you a sneak peek of what's coming out next.
Minnie Mouse – The Main Attraction Collection at shopDisney.com!
Fantasyland
Another place for Disneyland Trash Can Designs is in Fantasyland. There are so many different designs in this land. One I recommend you finding are the ones right by It's a Small World. Mary Blair was a big part of the design/style of It's a Small World. The trash cans here are designed after It's a Small World.
Unfortunately, I didn't photograph those cans. However, I did get a photo of the ones that are between It's a Small World and Matterhorn. There is a covered area that used to be the loading platform for a water boat ride. It has been turned into a seating area. One of my favorite spots in the park. Surrounded by water, plants, and ducks!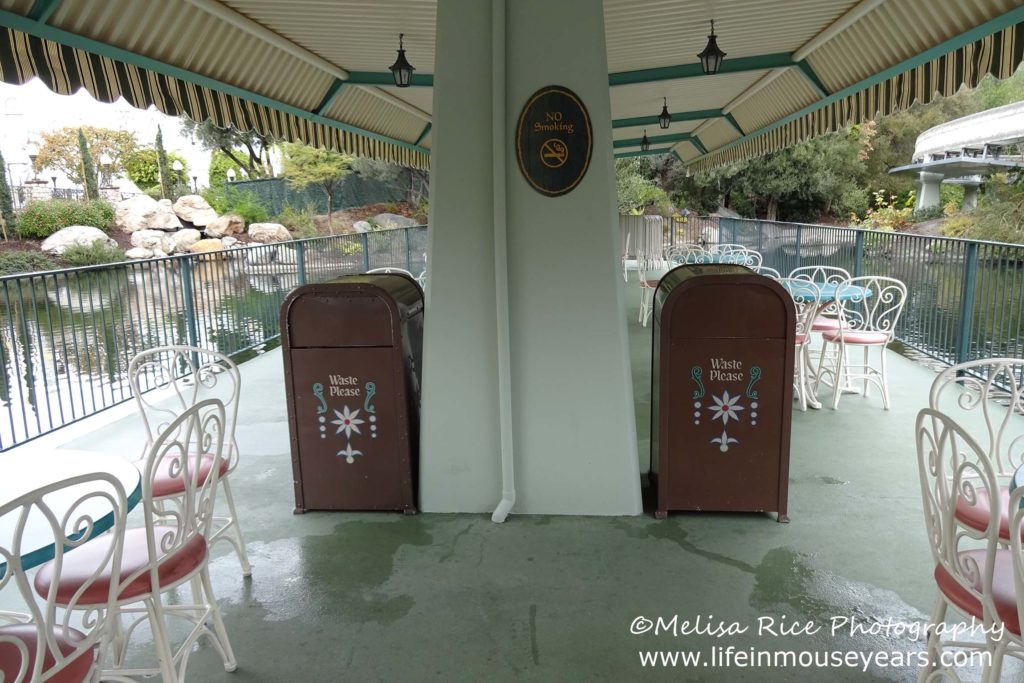 Tip: If you get caught in the rain or just need a quiet/peaceful place for a bit, this a great place to go. 
Cars Land
One of my favorite places in California Adventure is Cars Land! Between the theme and the music and attractions in this land, it is a must-see whenever I am at the Disneyland Resort. There are so many different little details in this land too. (I discuss some of them here.) One of the places in Cars Land for details is the Disneyland Trash Can Designs! Check out these Radiator Springs trash/recycle cans.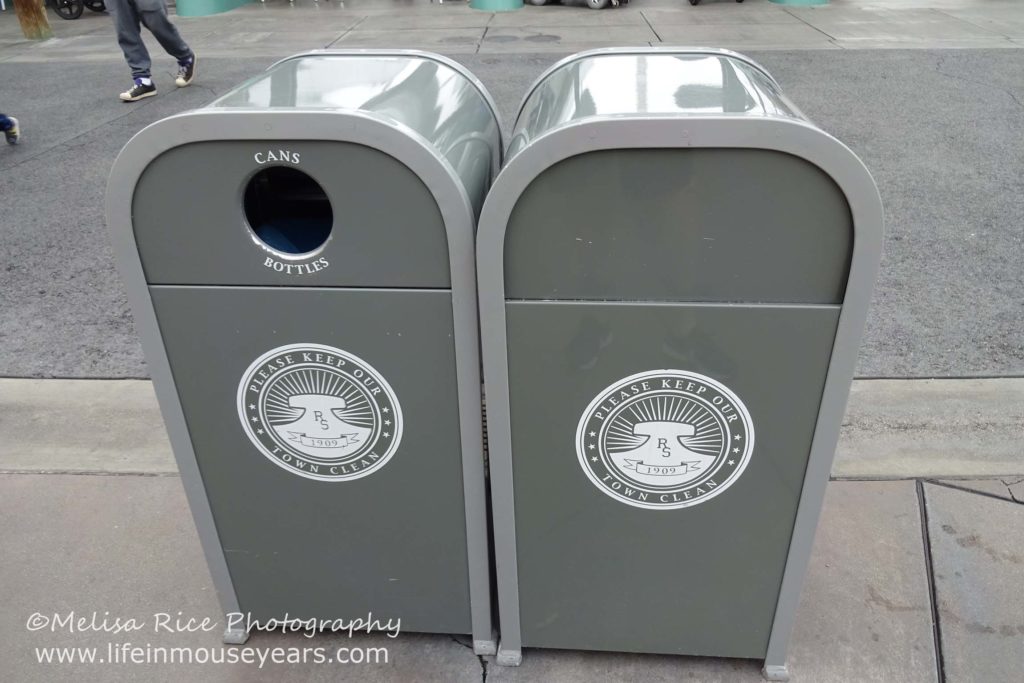 Buena Vista Street
In California Adventure, Buena Vista Street is the main street that you enter on. Just like how Main Street U.S.A. is to Disneyland. Designed after California that Walt Disney first saw when he moved there in 1923. The trash/recycle cans are very plain. But they blend nicely with the area here.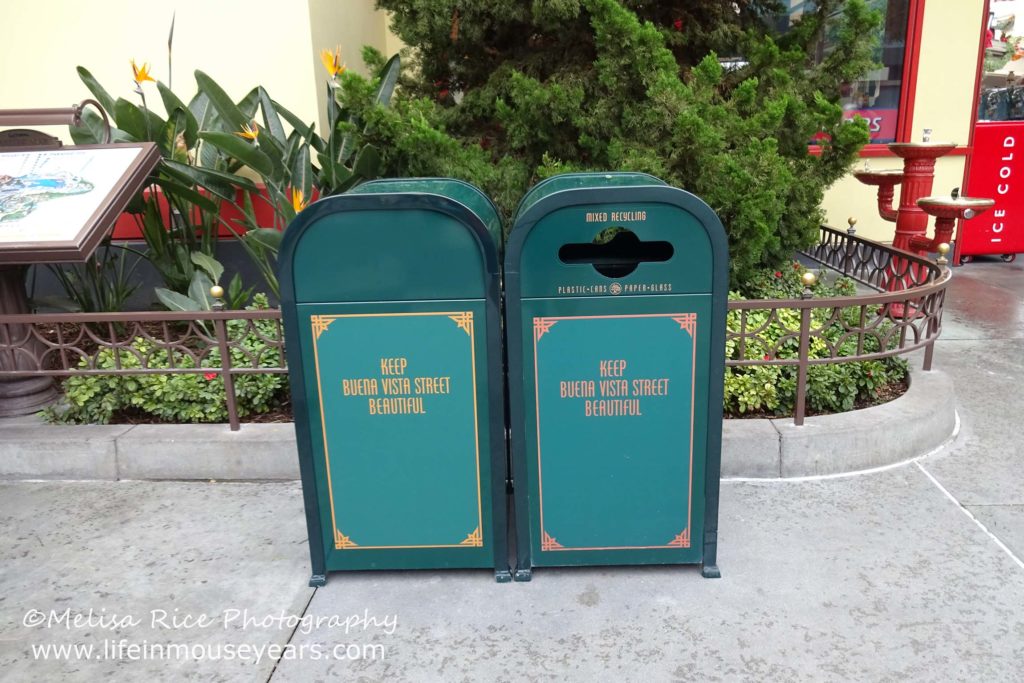 Hollywood Land
Another example of one land having multiple Disneyland Trash Can Designs is in Hollywood Land. First is this can that has spotlights and says Hollywood Land on them.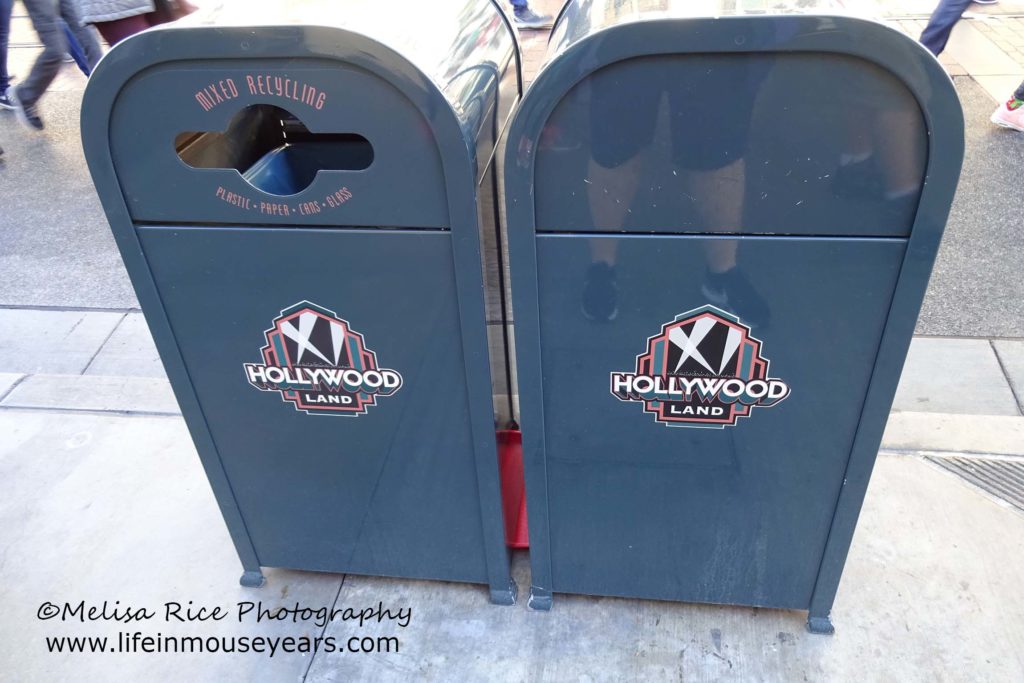 Next are these cans outside of the exit for Monstor's Inc.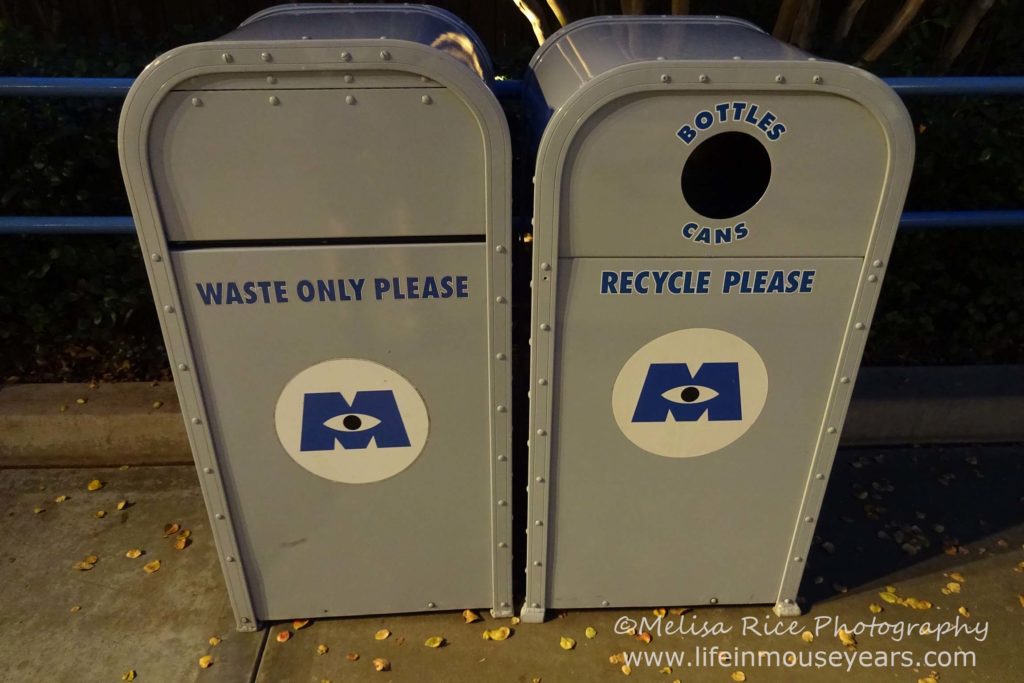 This is still Hollywood Land, but they are themed to go with the attraction. This is why you always need to keep an eye out. You never know what you may find!
Pixar Pier
Another spot for Disneyland Trash Can Designs is in Pixar Pier. More specifically, outside of the Toy Story Mania attraction. These trash/recycle cans are painted to look just like the wallpaper from Andy's bedroom. I mean come on, how cool is that!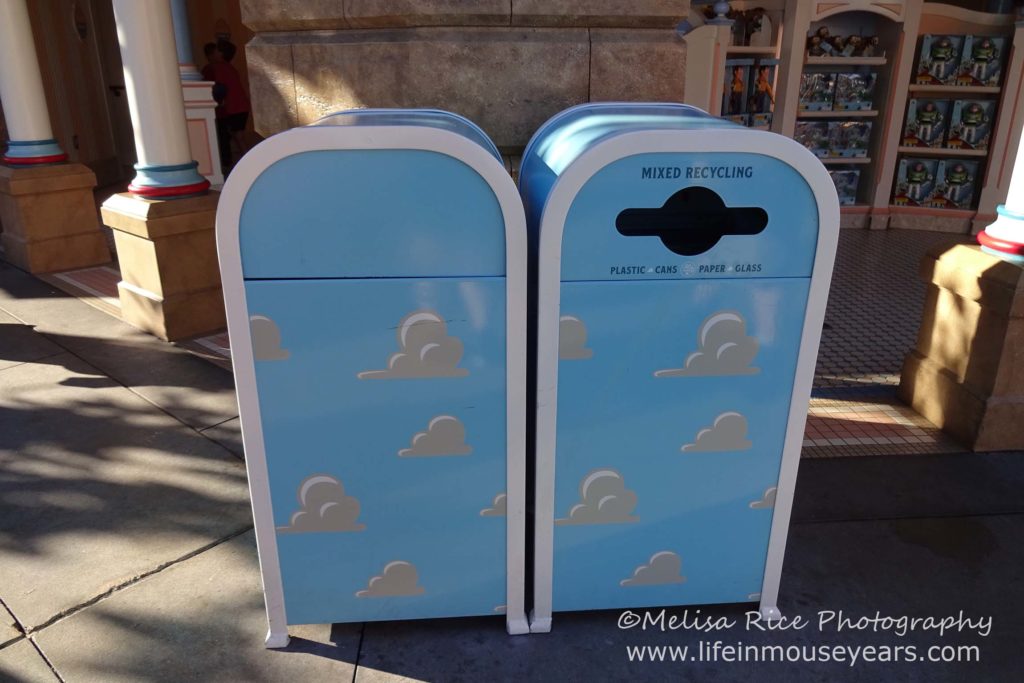 Tom Sawyer Island
Just because you cross the Rivers of America and explore Pirates lair on Tom Sawyer Island, doesn't mean you won't have garbage. Therefore, there are trash cans over on the island as well. Check out the designs.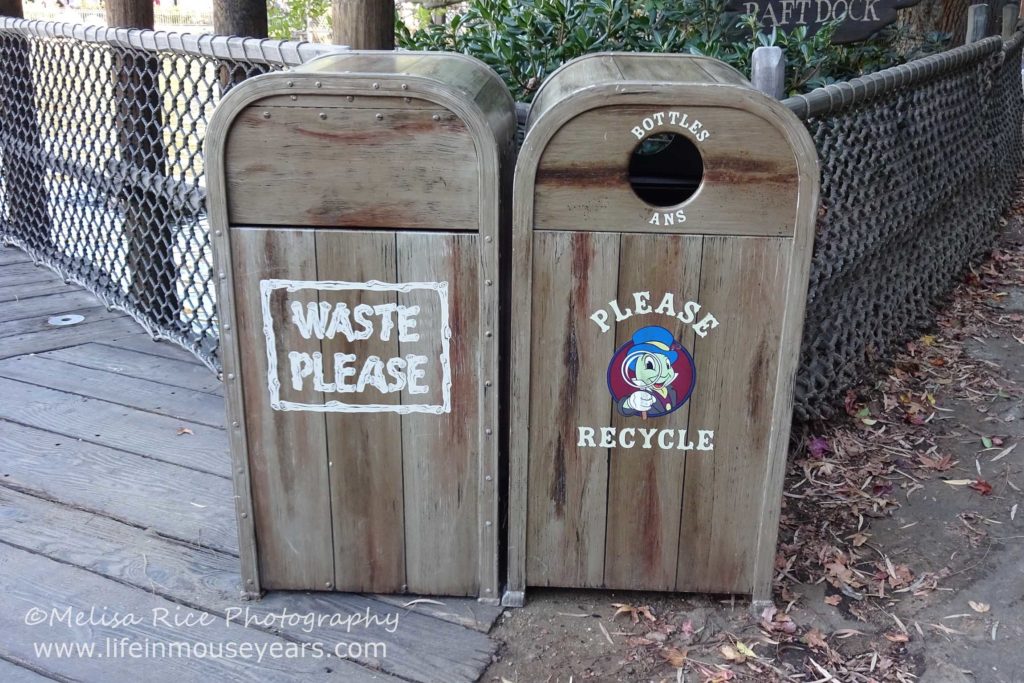 A little plain, but fits the outdoors theme here.
Esplanade (The Area Between Disneyland and California Adventure.)
The next spot I would like to share about Disneyland Trash Can Designs is the Esplanade area. Near Disneyland's entrance is this design. Very plain. However, I love the Disneyland font and name here. The color seems cheery to me. It makes me think of flowers.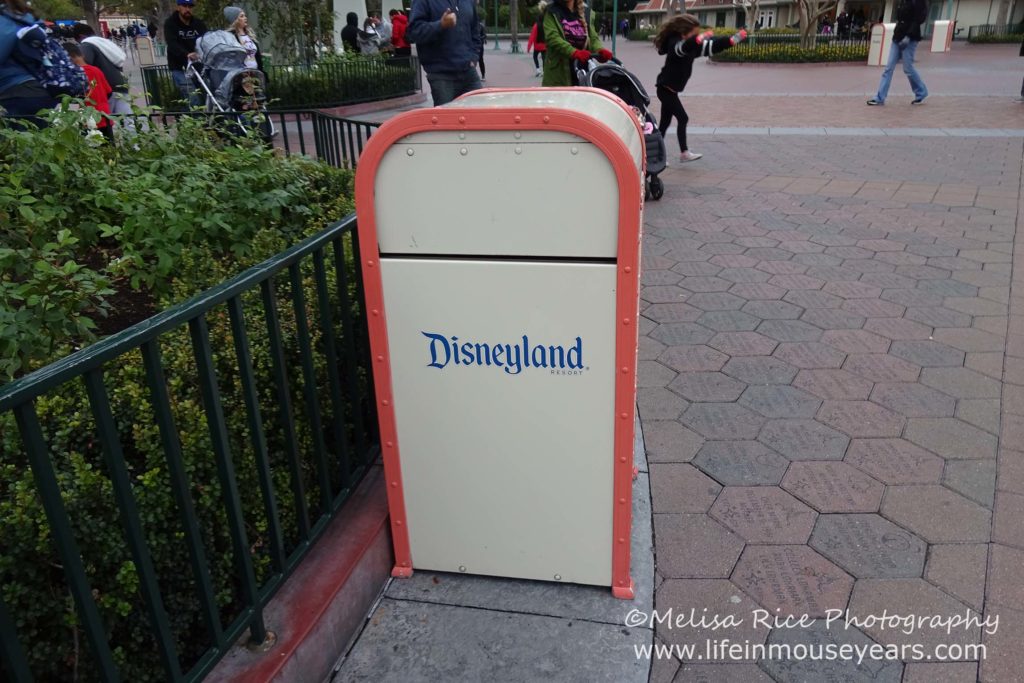 Disneyland Hotel
Finally, the Disneyland Hotel has trash cans as well. This one is inside of the Frontierland Tower on one of the upper floors. It is a different style, but I love the classic look of it.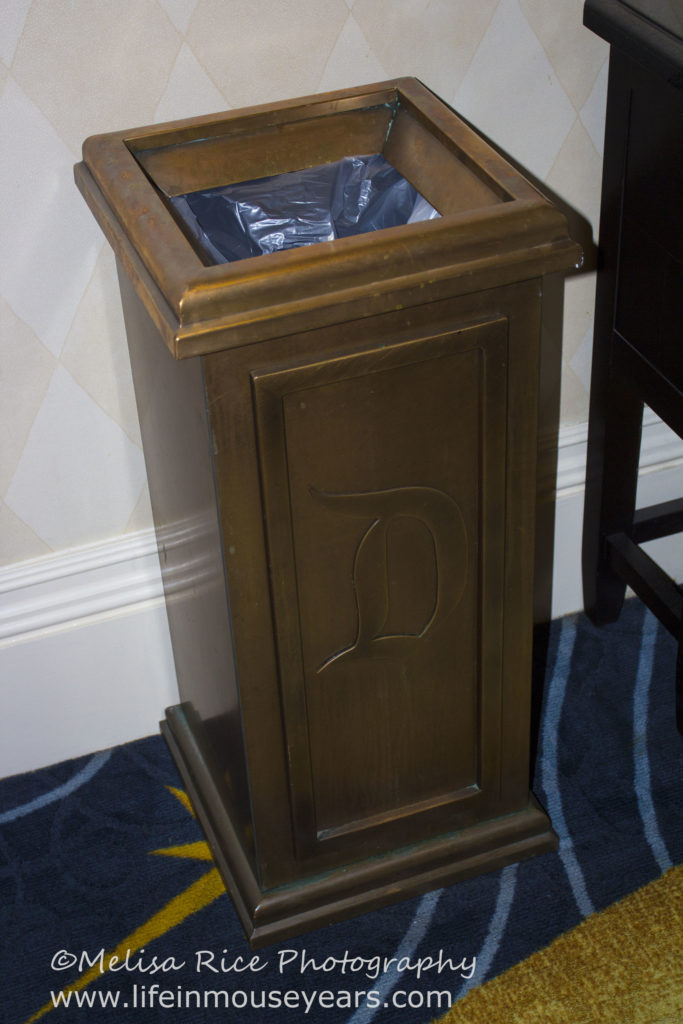 In Conclusion
Disneyland Trash Can Designs vary all over the Disneyland Resort. Fitting the different lands and attractions around the Disneyland Resort. Disneyland is all about details. I hope that you can find some other designs during your next visit to the Disneyland Resort.
Questions or Comments
Have you noticed the different trash can designs around Disneyland? Which ones are your favorites? If you have any questions or comments on today's post, please feel free to leave them below. I would love to help!
For current information about the Disneyland Resort, check out the official website here. 
Thanks for stopping by Life in Mouse Years!
Check out some travel products, available at Amazon, that may come in handy during your next trip!
Clicking and making an order through these links won't cost you anything extra, but I may receive a small commission to help keep the Disney love going. Thank you for helping to support Life in Mouse Years!
Travelon Anti-Theft Crossbody is one of my favorites! I used my first one until it completely died after years of numerous vacations and shopping trips. These hold up so well!
 This Travel Smart memory foam pillow could be a great travel accessory for your next trip!
RFID Travel Undergarment Waist Belt. Protect your money and cards while you travel.
Are you an Amazon Prime member yet? There are so many benefits to becoming one. Besides free shipping, they offer lots of movies and t.v. shows to Amazon Prime members. Check it out today for free in the link below!