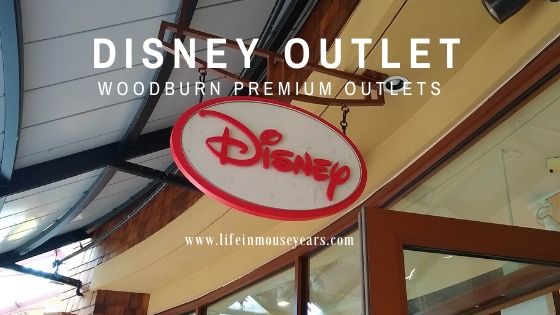 Disney Outlet at Woodburn Premium Outlets in Oregon is a great stop to get your Disney fix when you can't be in Disneyland. This was a fun stop during our visit to Canby, Oregon. If you are not able to make it to Disneyland or California Adventure, then checking out this store might be just what you need! 
Disney Outlet at Woodburn Premium Outlets
I have been to many Disney Stores in the past and I thought that this was going to be the same. But it wasn't! I was pleasantly surprised. And I can't wait to have the opportunity to go back there again! The Disney Outlet at Woodburn Premium Outlets not only sells Disney Store merchandise, but they also sell Disney Parks merchandise! That's right! The same items they sell at Disneyland in California can also be here.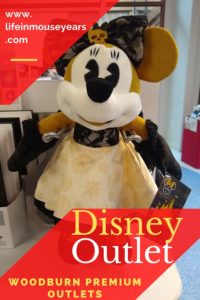 Woodburn Premium Outlets 
I recently attended a woman's enrichment weekend that our church hosts each year in Canby, Oregon. Since Woodburn, Oregon is only 20 minutes away, we decided to take them up on the offer to come a day early and check out the Disney Outlet at Woodburn Premium Outlets. 
As a result, we discovered a wonderful outlet mall and an even more wonderful Disney Outlet store! The whole area was clean, the people were nice, security was driving through and there are so many shops to choose from! Not only is there a Disney Outlet at Woodburn Premium Outlets, but there is also a Coach, Levi's, Starbucks, Rocky Mountain Chocolate Factory (one of our favs), Nike, and so many more!
If you would like to see the full store listing, you can find it here. 
---
---
---
Disney Signage
First, to get to the Disney Outlet at Woodburn Premium Outlets, you will want to park in the front part of the outlets towards the right side. Between Nike and Coach is a walkway. You follow this walkway towards the back and as it starts to curve to the left, the Disney Outlet will be right in front of you. 
There is a sign on the building.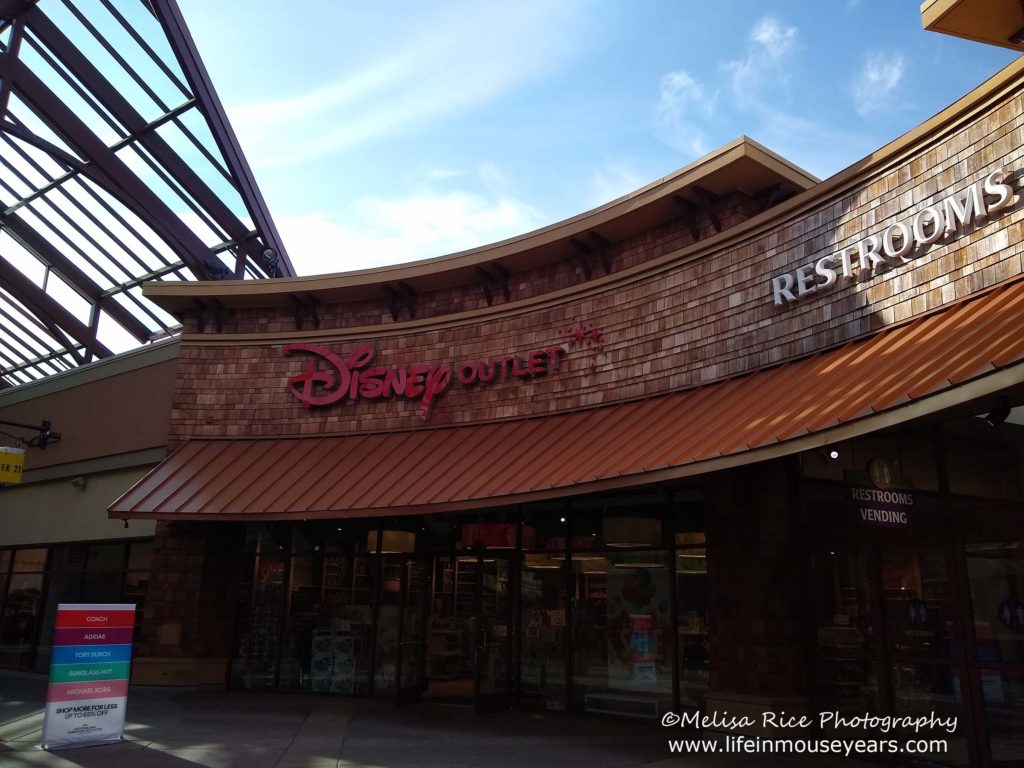 And another sign right above the door as well.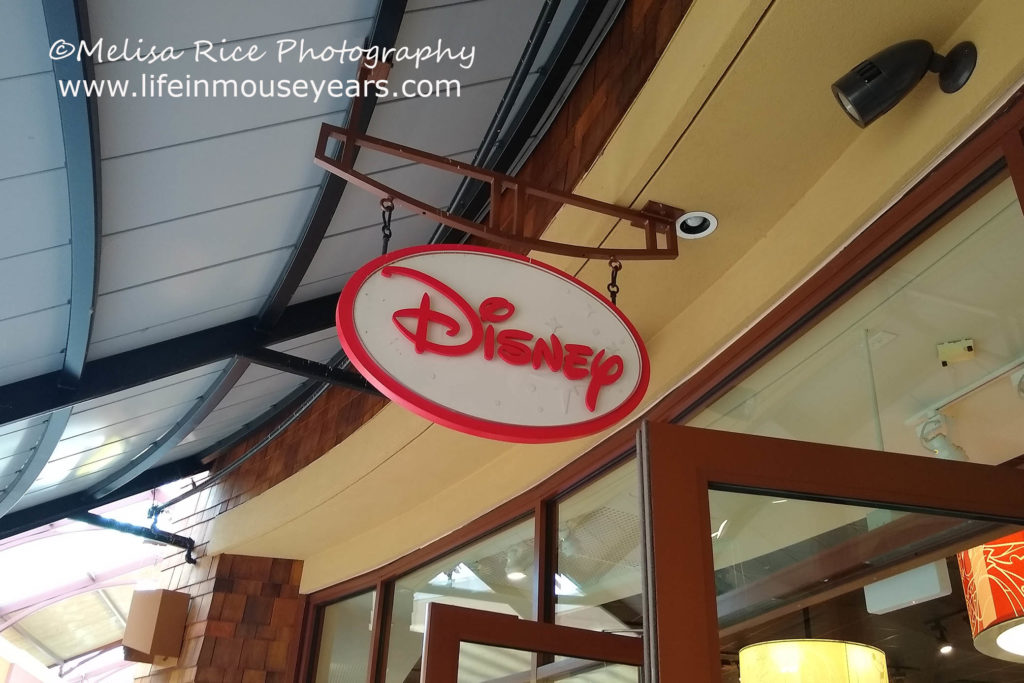 Tip: If you have little ones in tow, or even if it's just you, there is a restroom to the right of the Disney Outlet. This way you can pop right in there and get back to your Disney Outlet shopping!
Disney Outlet at Woodburn Premium Outlets Decorations
If you have ever been to a Disney Store, then you know how much Disney is all over the place! Decorations on the walls, on the display areas and the floors. They even use projection now, too! 
However, the  Disney Outlet at Woodburn Premium Outlets is more subtle on the decorations. They have Disney characters on the light fixtures, and some of the merchandise displays were Disney themed.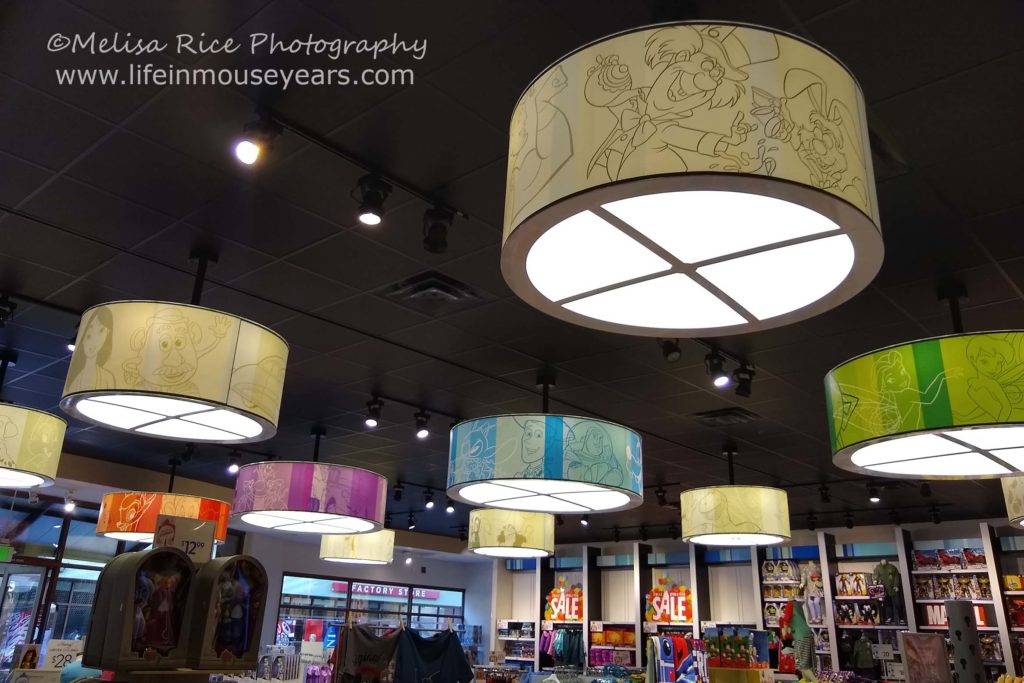 For example, this display in the center looked like a wand with a Mickey Mouse head at the top. Not only that, but it was all lit up and it changed colors! Check out the photos below.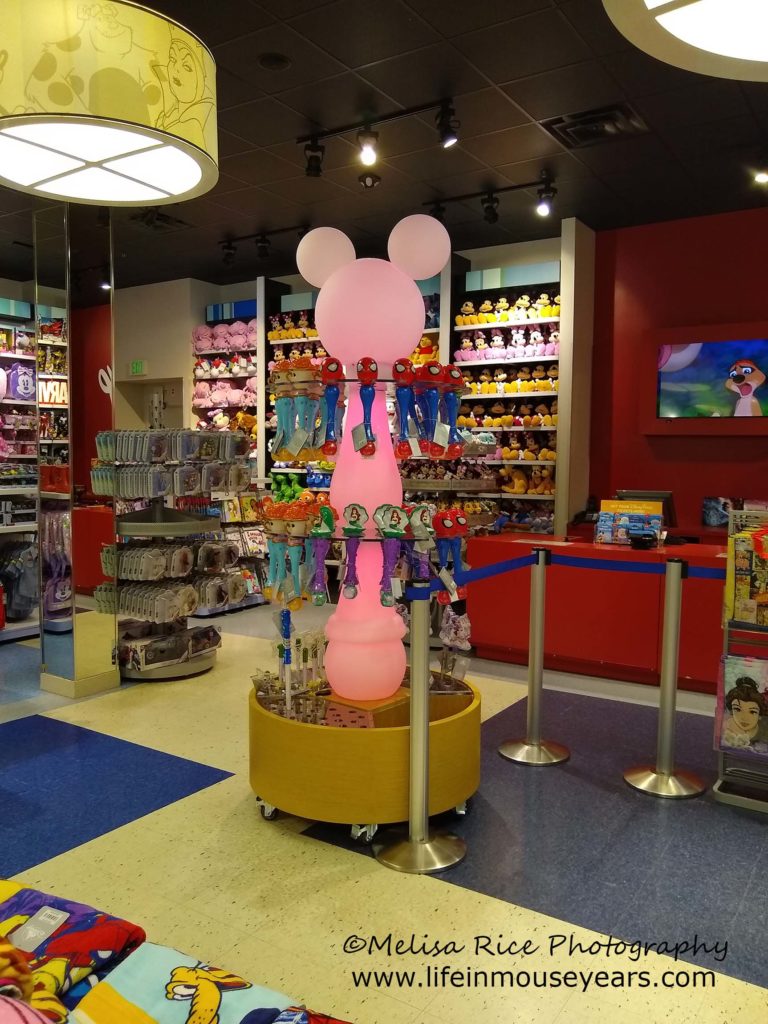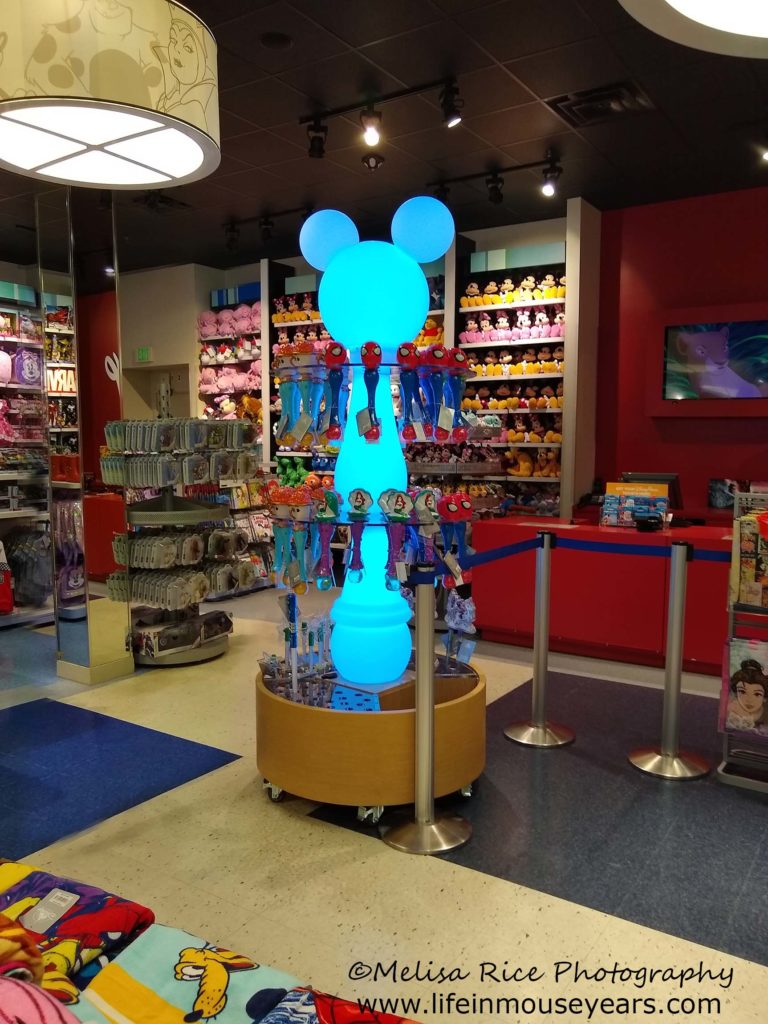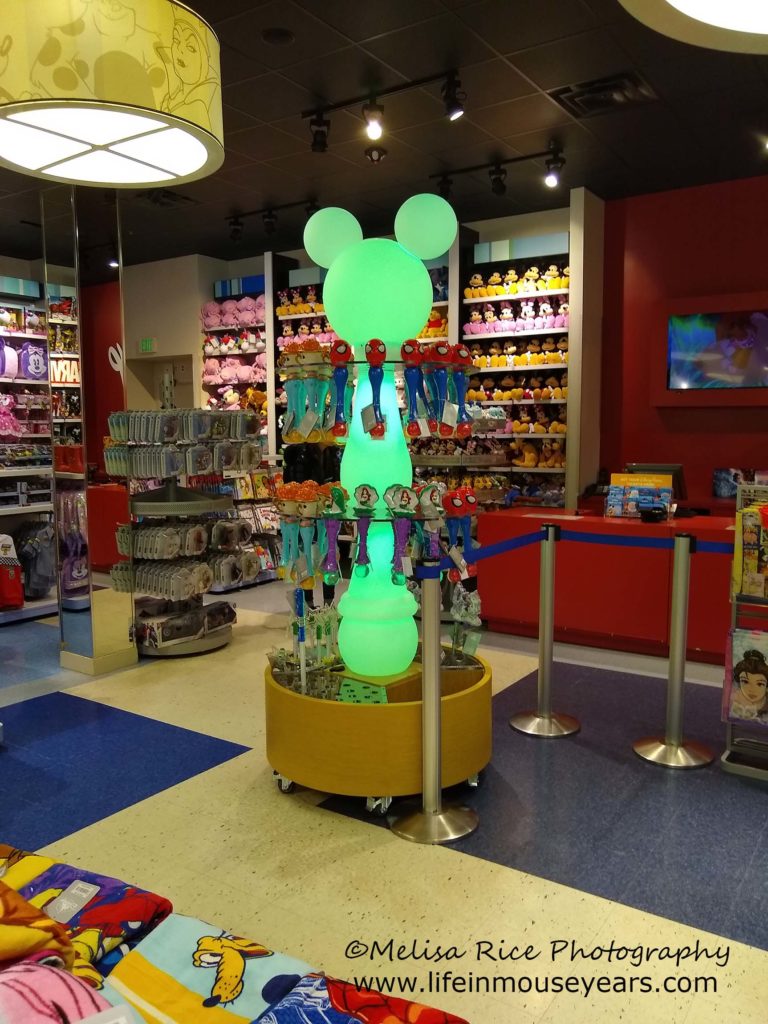 This was the coolest display!
Disney Mugs
Next, so many mugs, so little time! Hi, my name is Melisa and I am a Disney coffee mug addict. I don't know what it is, I love to collect Disney mugs. The Disney Outlet at Woodburn Premium Outlets didn't disappoint in this department. They had a whole section of coffee mugs here.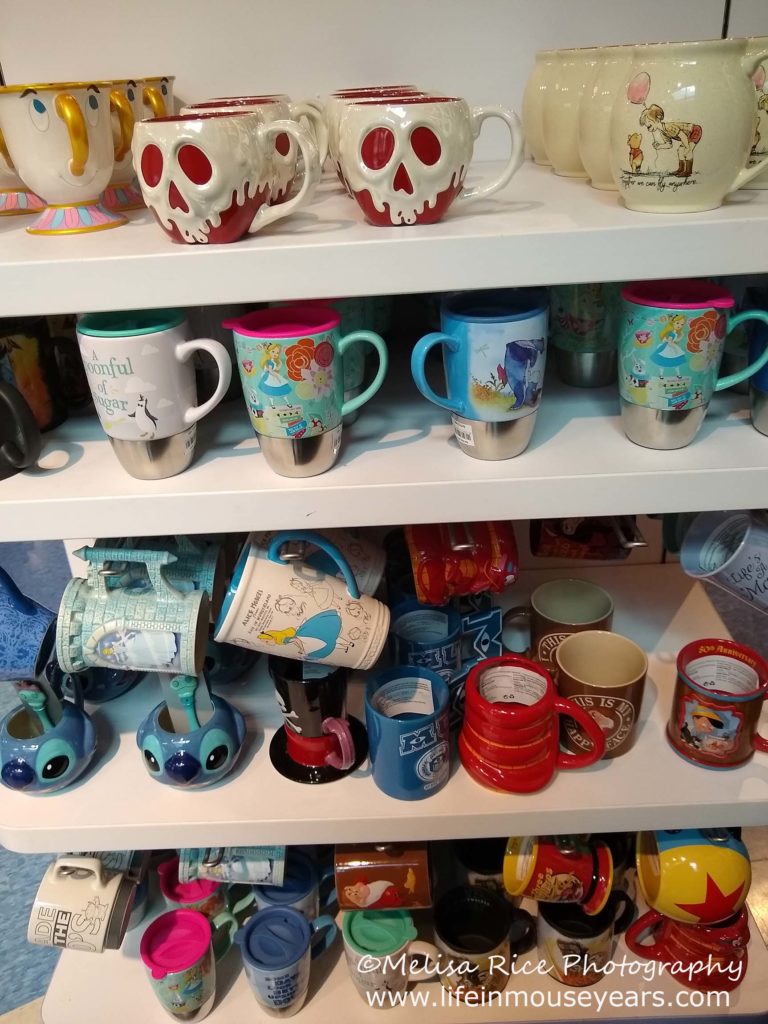 ---
---
They also had a section of clearance items that had coffee mugs, in addition, to having the new collectible gold pirates, Minnie Mouse mug.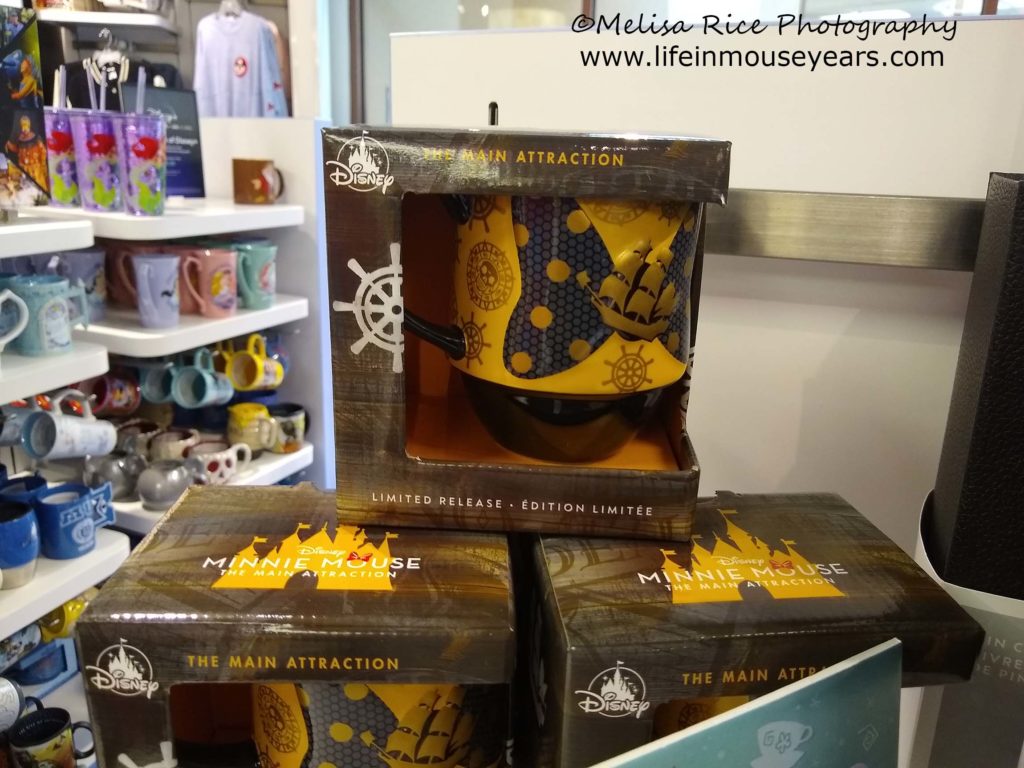 Sale Items
Next, the  Disney Outlet at Woodburn Premium Outlets has items on sale. I found a couple of racks of shirts there that had been at Disneyland not that long ago, that were on sale. It can be difficult to find the size you need, however, you never know when you might score the right shirt for you or a friend.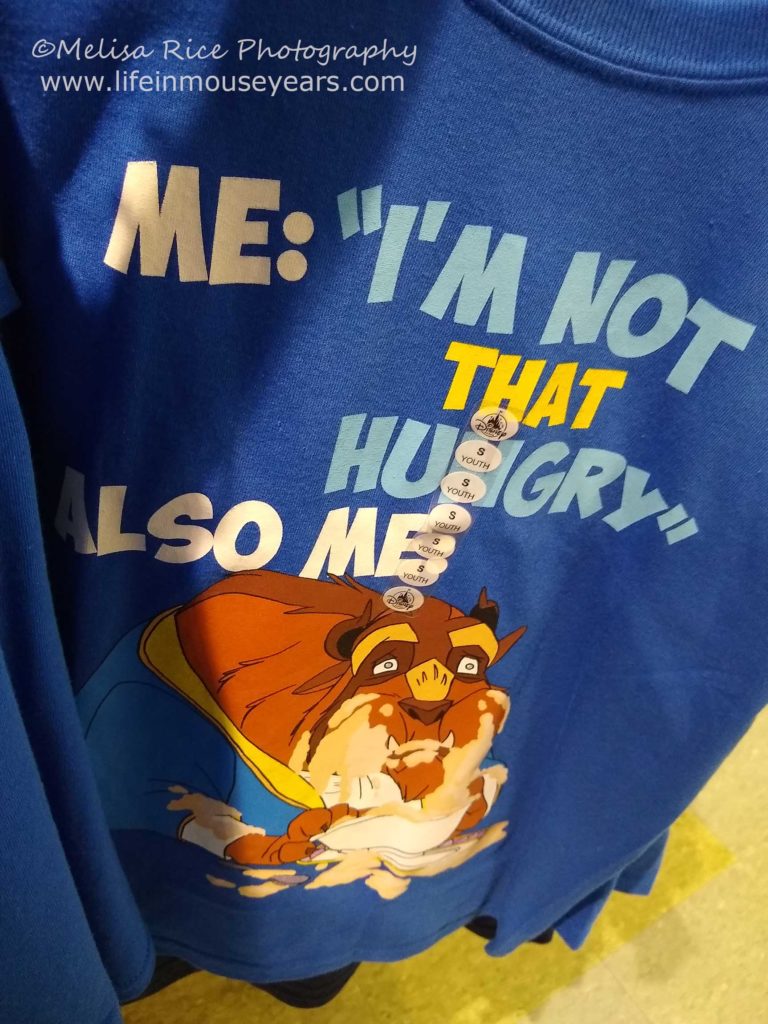 In addition to the shirts, I also found plush Katy Nana from Peter Pan on sale, Nightmare Before Christmas travel mugs, silicone hot pad in the shape of Mickey's shorts, Magnets and more.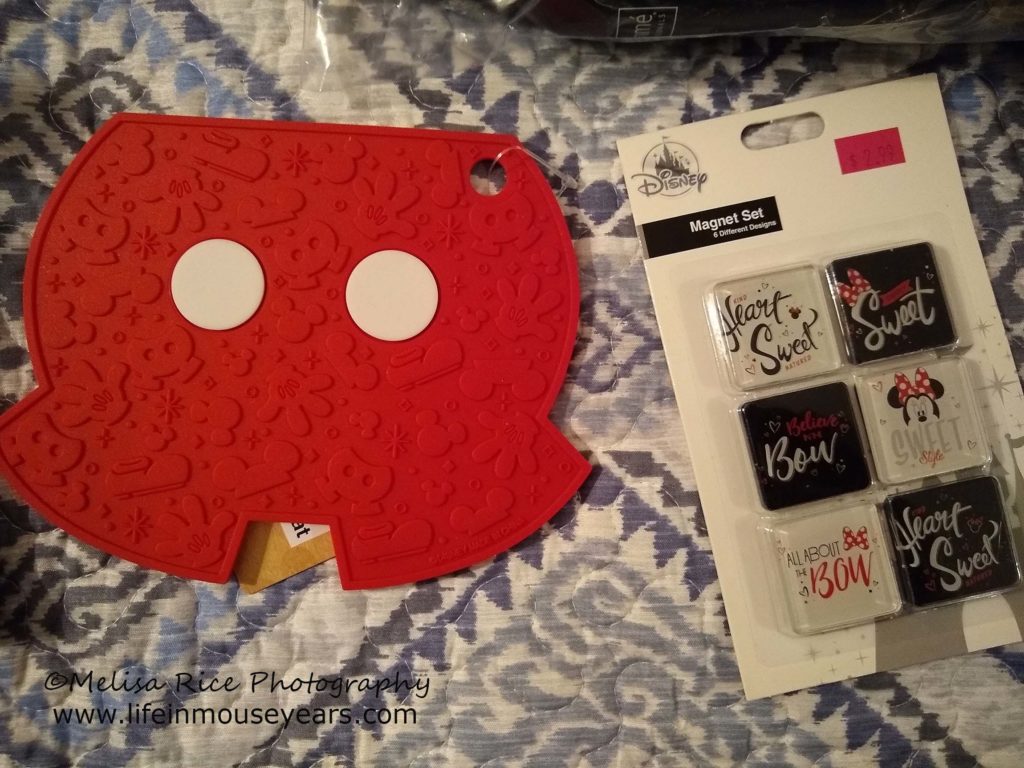 Not everything in the store is at a sale or clearance price. There are items there that are full price. Just keep that in mind while you are shopping so you don't get a surprise. 
Disney Parks Items
More items at the  Disney Outlet at Woodburn Premium Outlets are the Disney Parks Items. They had a whole wall of Disney character plushes, figurines, Mickey kitchen sets, and kid's clothes. In addition to Cars items and Star Wars items.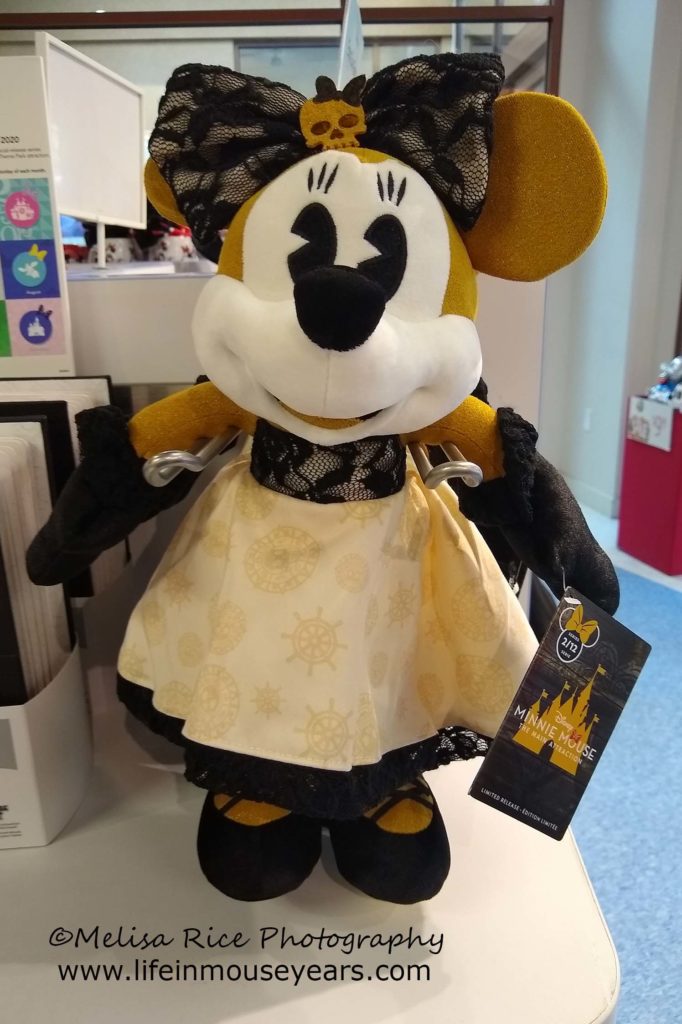 This Minnie Mouse line has a new design each month for this year! You can find it in the link below at ShopDisney. It even will show you what is coming up next. They are so cute!
Minnie Mouse – The Main Attraction Collection at shopDisney.com!
 I found this cute foodie section in the store. It had a Mickey and Minnie ice cream truck, bag and a cupcake carrier.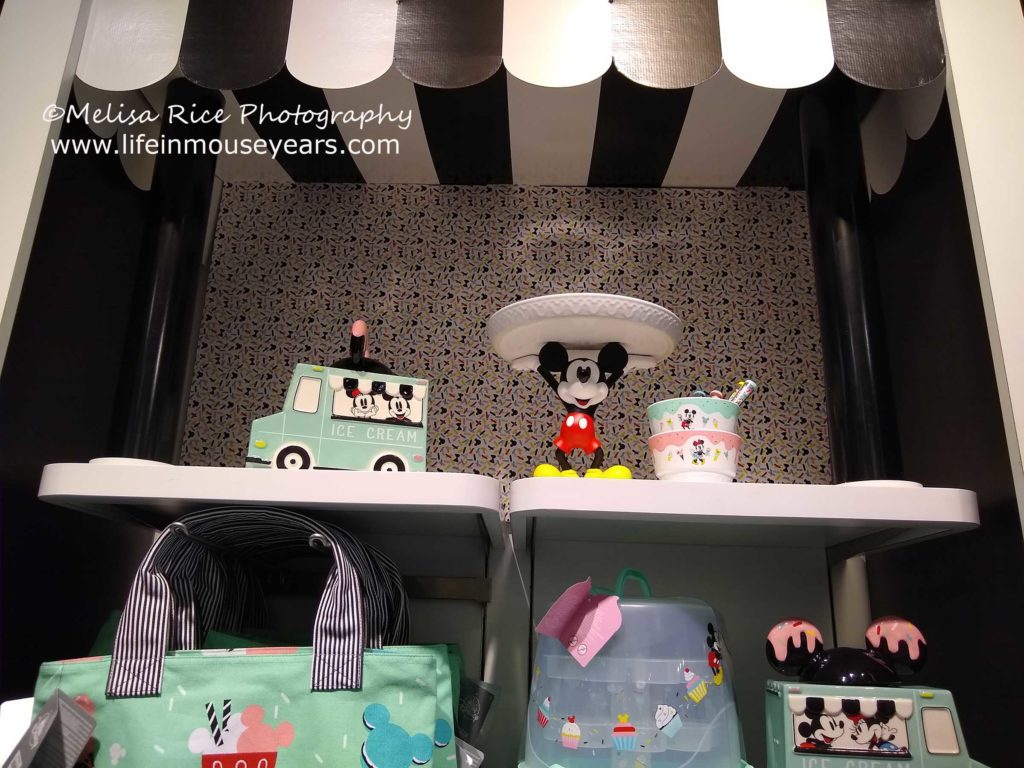 Finally, there were so many more options there at the Disney Outlet at Woodburn Premium Outlets, that I can't remember it all! I even circled the store three times trying to take it all in. 
Bring a Bag or Purchase a Bag
All or most of Oregon has banned plastic bags. As a result, you will want to bring your own reusable bags with you or you can purchase a reusable Disney one. They have the Disney Store ones that are a little over a dollar each, or you can buy the movie or fancier reusable bags. They were around $4.00.
Can't make it to the store to shop? No worries, you can browse and order online at ShopDisney! Check out the link in the image below at no extra cost to you. I may earn a small commission that helps the Disney love to keep going. Thank you!
Final Tip
Woodburn Premium Outlets are just off of I-5 in Oregon. Canby, Oregon is approximately 20 minutes away. If you are looking for a good place for coffee and food, then Gwynns Coffeehouse in Canby is the place to go! Located at 190 NW 2nd Ave Canby, OR 97013. They have the best Beef Gyro's, Chicken Tortilla Soup and breakfast sandwiches. The coffee is pretty good too! It is a family-run coffee house. They are extremely friendly and willing to make adjustments to your breakfast sandwiches if you are eating pork-free, low carb, etc.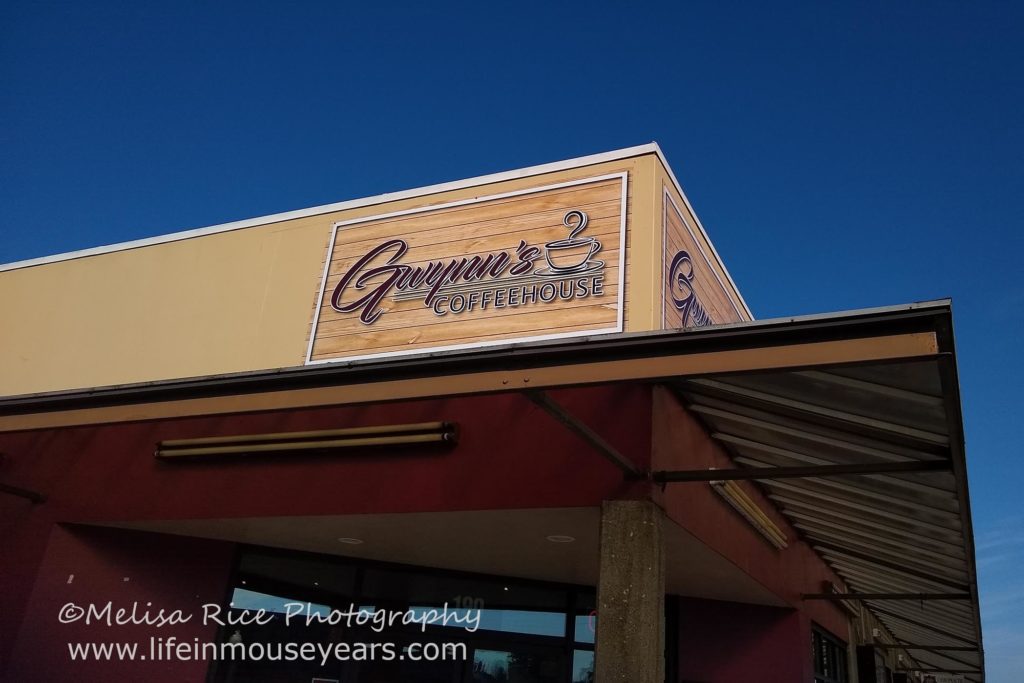 If you would like to know more, here is their Facebook page.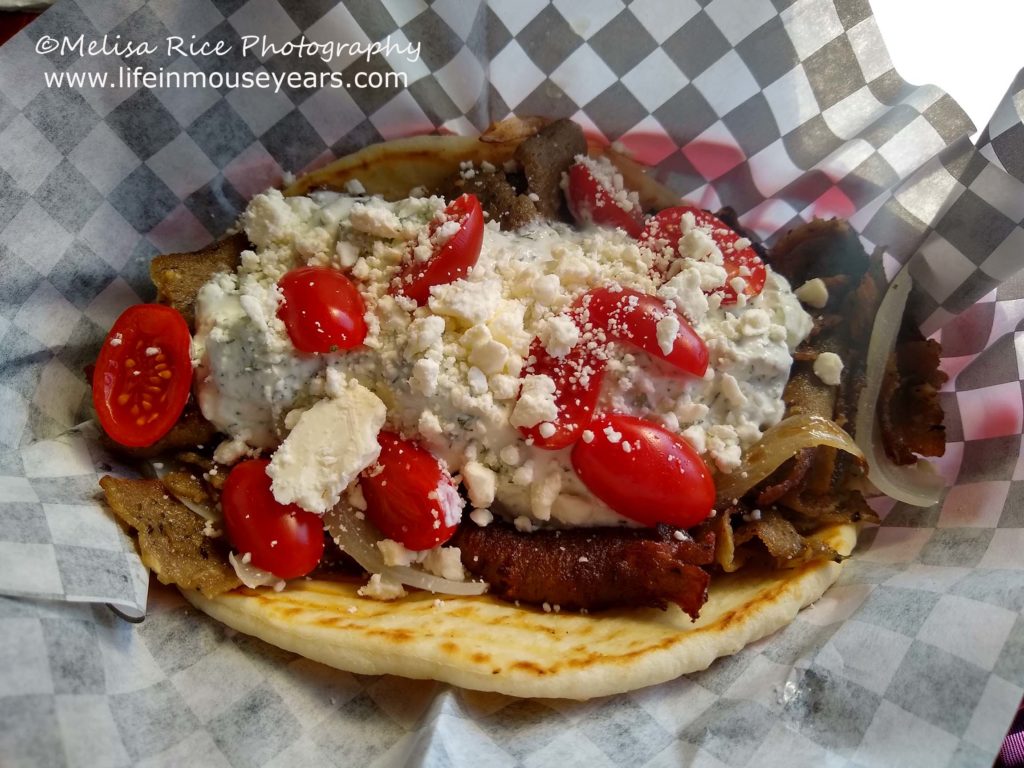 We enjoyed this place so much that we literally ate there for breakfast, lunch, and dinner! 
In Conclusion
If you are ever in Oregon and near Woodburn, I recommend that you check out the Disney Outlet at Woodburn Premium Outlets and see what Disney magic you can find while you are there. You won't be disappointed at this stop. It is a nice way to bring some Disney Parks home when you are not able to visit the parks. 
Questions or Comments
If you have any questions or comments about today's post- Disney Outlet at Woodburn Premium Outlets, please feel free to leave them below. I would love to help!
Thanks for stopping by Life in Mouse Years!