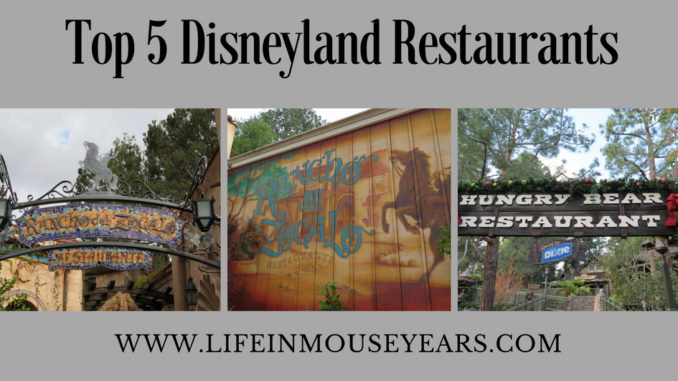 Disneyland has so many dining options inside of the park. Therefore, it can be difficult to know where to eat! Quick service counters, sit down dining and food stands are some of the types of dining options. Today I thought that I would share my list of the top 5 Disneyland restaurants!
Top 5 Disneyland Restaurants
Picking my top Disneyland restaurants is no easy feat! Just the other day my niece asked me what my all-time favorite thing to do in Disneyland was…. I just sat there for a few. I didn't know what to say! There are so many things how do you pick just one?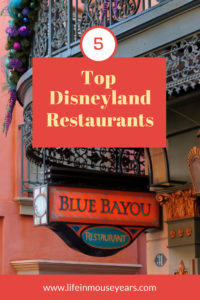 Bengal Barbeque
First of all, my absolute favorite top pick is Bengal Barbeque. Forget fancy and forget the sit-down service restaurants. This place is it! It is a quick service counter. That means you wait in line, walk up and order, then wait for your food at the counter.
Now that Disneyland has started their Mobile Food and Beverage Ordering service, you can download the Disneyland app, order and then pick it up at you appointed time! As a result, that makes Bengal Barbeque even better!
The food that is available here is barbequed beef skewers, chicken skewers, vegetable skewers, pretzels and more! In addition to the food, the sauces that go with the meat skewers are delicious. You won't be disappointed with this Disneyland restaurant.
---
---
Blue Bayou Restaurant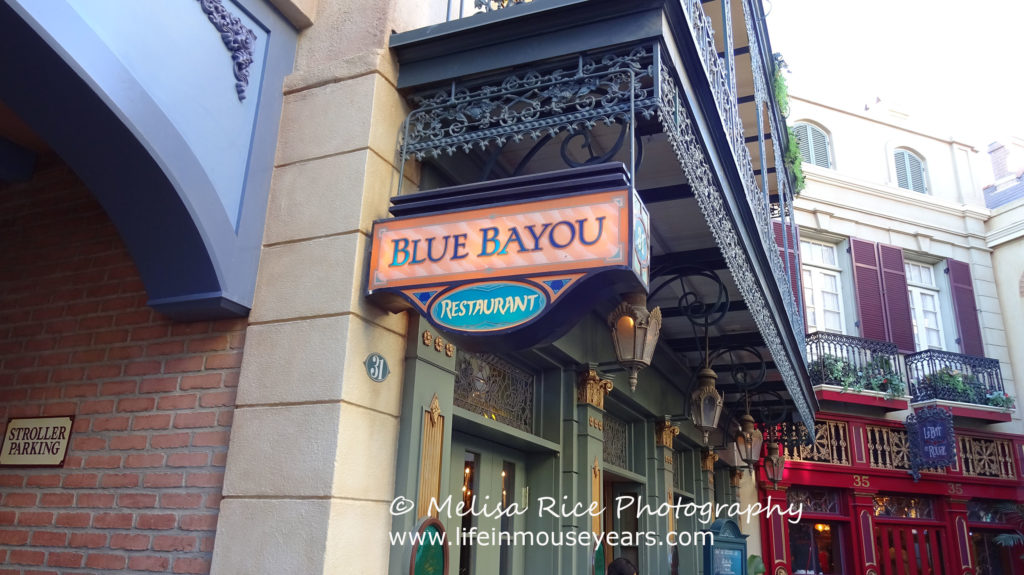 Next, on my Top 5 Disneyland Restaurants list is Blue Bayou Restaurant. For this dining location, you need to make a reservation before your Disneyland vacation. You can reserve 60 days prior to your visit.
Blue Bayou Restaurant is the only dining location inside of a ride at Disneyland. Yes, I said inside a ride! It is inside of Pirates of the Caribbean. Right at the beginning of the ride when you are in the lagoon, on the right you can see the restaurant. As a result, it is dimly lit to keep the ambiance of the ride.
This restaurant is more expensive than most places inside of the park, however, it is a really nice meal and being inside an attraction means that it is a unique experience. One that involves you being next to a lagoon and watching the ride boats go by with fireflies lighting, shooting stars and cricket sounds.
The food served here is Cajun and Creole.
If you would like to know more about this restaurant, you can find it in a recent post here.
Plaza Inn
Another restaurant on my Top 5 Disneyland Restaurants list is Plaza Inn. For lunch and Dinner, it is a buffet/family style setting. You walk in, grab a tray, decide what you would like to eat, walk up to the corresponding counter and order/pick up your food.
Plaza Inn has the BEST fried chicken meal I have ever had! It is a staple on each trip to Disneyland my family and I take. In addition to the good food, the style and decor of this restaurant are just beautiful! Make sure to check out the stained glass when you visit.
Find out more about Plaza Inn here.
Hungry Bear Restaurant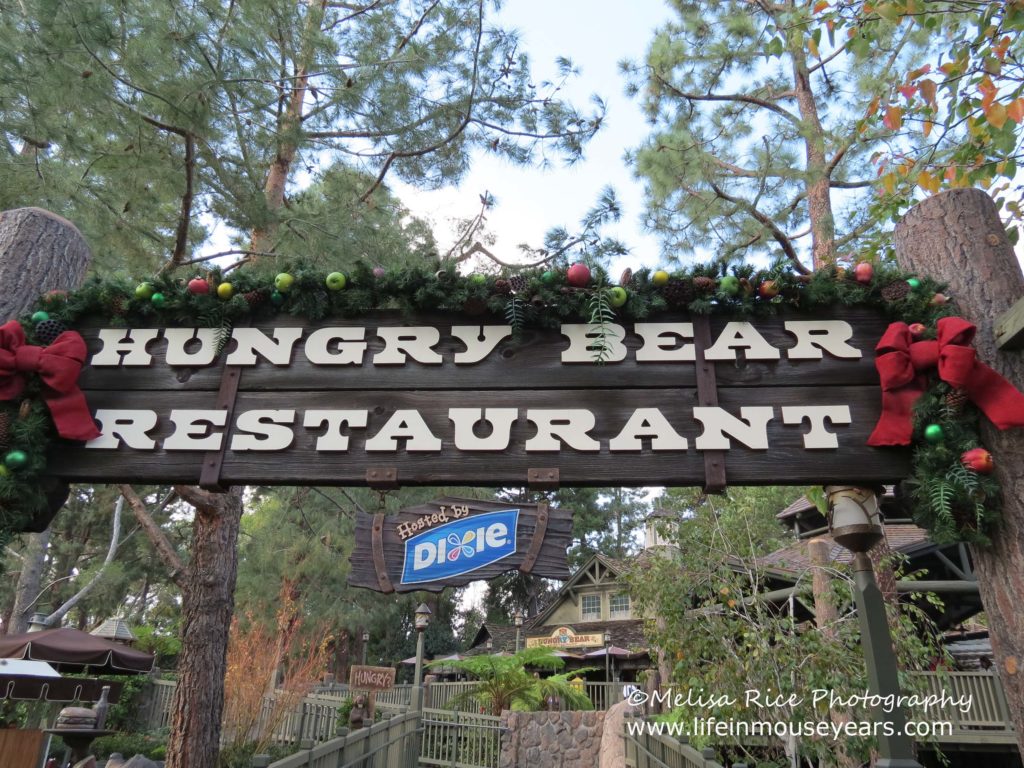 The fourth dining location on my Top 5 Disneyland Restaurants list is Hungry Bear Restaurant. Good food, great location, and atmosphere! Nestled in Critter Country by Rivers of America is this dining location. Burgers, salads, and desserts are offered here. Grab a seat upstairs and towards the back to get a view of the Disneyland Railroad when it passes. Likewise, catch a glimpse of the Mark Twain Riverboat as it passes as well. It is a great spot to sit while you enjoy the tasty fare.
More on the Hungry Bear Restaurant here.

---
---
Rancho del Zocalo Restaurante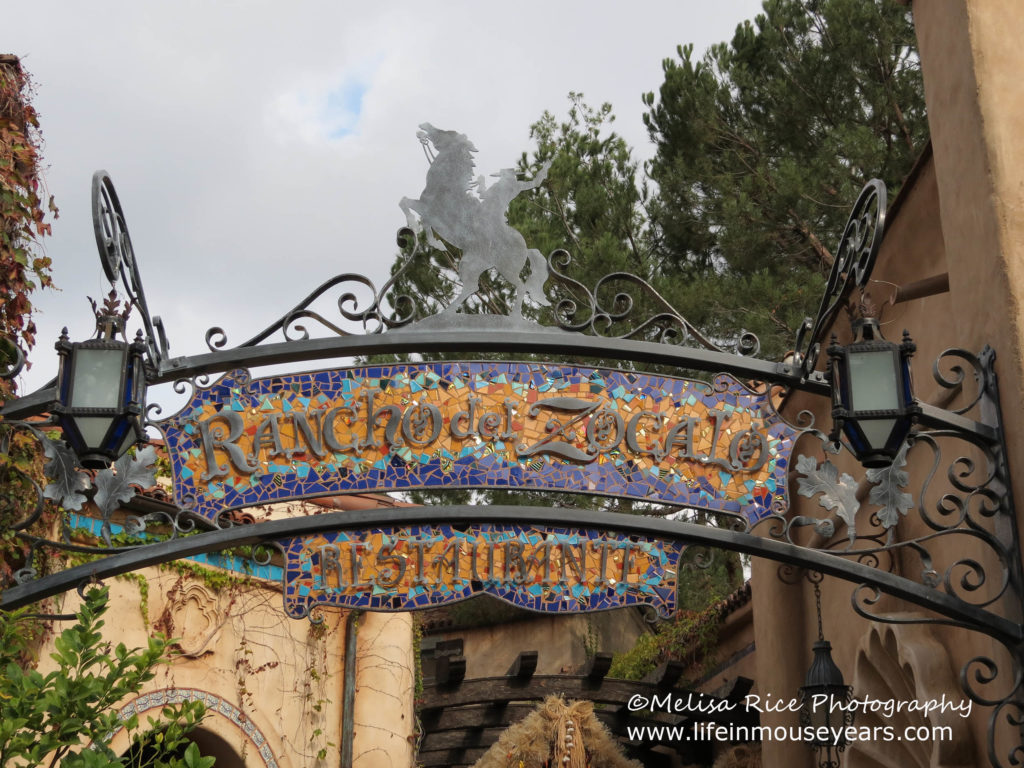 Finally, Rancho Del Zocalo is my last choice on my Top 5 Disneyland Restaurants list. Tucked to the side of Frontierland before Big Thunder Mountain Railroad is a great Mexican themed Restaurant. As you pass by a fountain of foliage and go under the Rancho Del Zocalo sign you pass by a pretty water fountain to get to the entrance.
Once inside, you get in line for the type of food you are wanting and order at the quick service counter.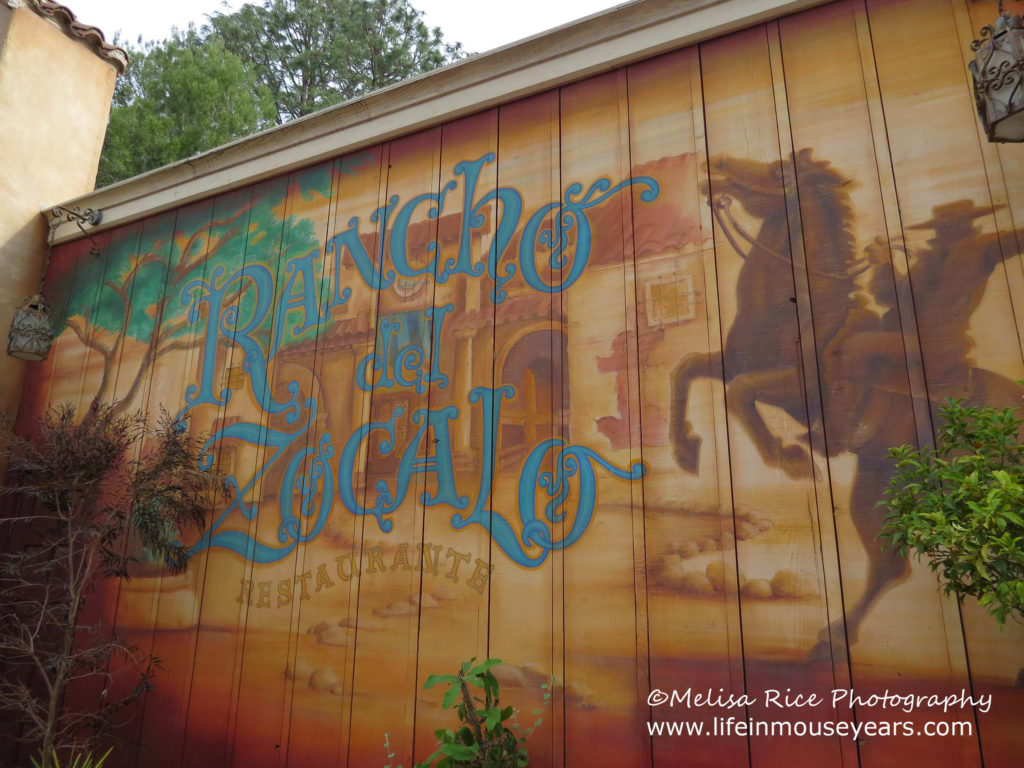 I love eating here. Not only for the food but also for the architecture and style of this dining location.
In Conclusion
So many dining locations, so little time! Here is my Top 5 Disneyland Restaurants list:
Bengal Barbeque
Blue Bayou Restaurant
Plaza Inn
Hungry Bear Restaurant
Rancho del Zocalo Restaurante
I hope that you get the opportunity to try out one or all of these restaurants during your next visit to Disneyland!
Where is your favorite place to eat when you are in the park? Let me know in the comments below!
Questions or Comments?
Do you have any questions or comments on today's post-Top 5 Disneyland Restaurants? Please feel free to leave them below. I would love to help you out.
Thanks for stopping by Life in Mouse Years!
---
---