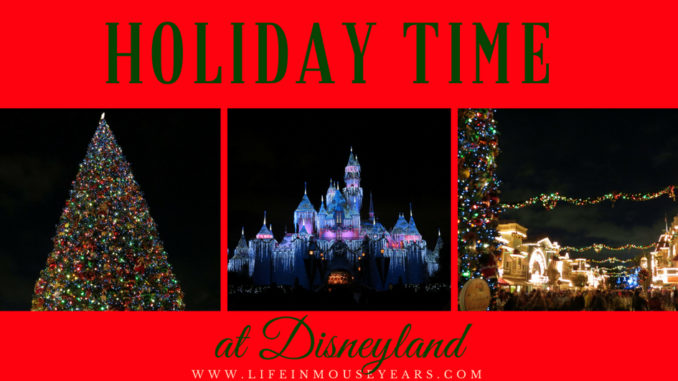 Holiday Time at the Disneyland Resort can be a festive way to celebrate for the whole family. Disneyland changes all the time! This includes the Holidays and seasons during the year. While trying to decide when the best time to visit the parks can be a challenge, (one I am going through myself at the moment), however, if you have decided to go during Holiday Time there are some things you should know before you go.
Looking to bring home some Disney magic? Click the link above and find something to love.
Holiday Time at Disneyland
Holiday Time at Disneyland is a fun, festive and pretty time of year to visit the park! They have decorations, tons of lights, holiday overlay on some of the rides, tasty treats and much, much more! Today I would like to talk about what goes on during the Holiday Time to help you out should you decide to visit.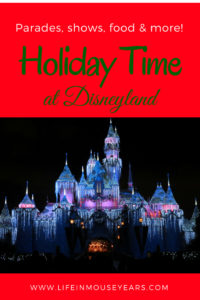 Holiday Time Dates
First of all, let's take a look at when the Holiday Time will be running this year. Disney recently announced that Holiday Time will run from November 8-January 6. This is for the 2019 season.
---
---
Decorations
Next, let's take a look at the decorations. Sometimes the Disneyland Resort goes all out on holiday decorations. The Christmas holiday season is no exception! For example, during the Christmas holiday season, Disneyland is all decked out with lights, Christmas trees, wreaths, Cast Member clothing and music. In fact, even Mickey and Minnie Mouse are wearing festive attire!
Here are some places you will want to check out for decorations:
Tree on Main Street

– On Main Street in Town Square is a HUGE Christmas tree. And I do mean HUGE! This tree is 60 feet tall. Disneyland decorates the entire tree with more than 1,800 ornaments and 70, 000 lights. Therefore make sure to check it out during the day and at night.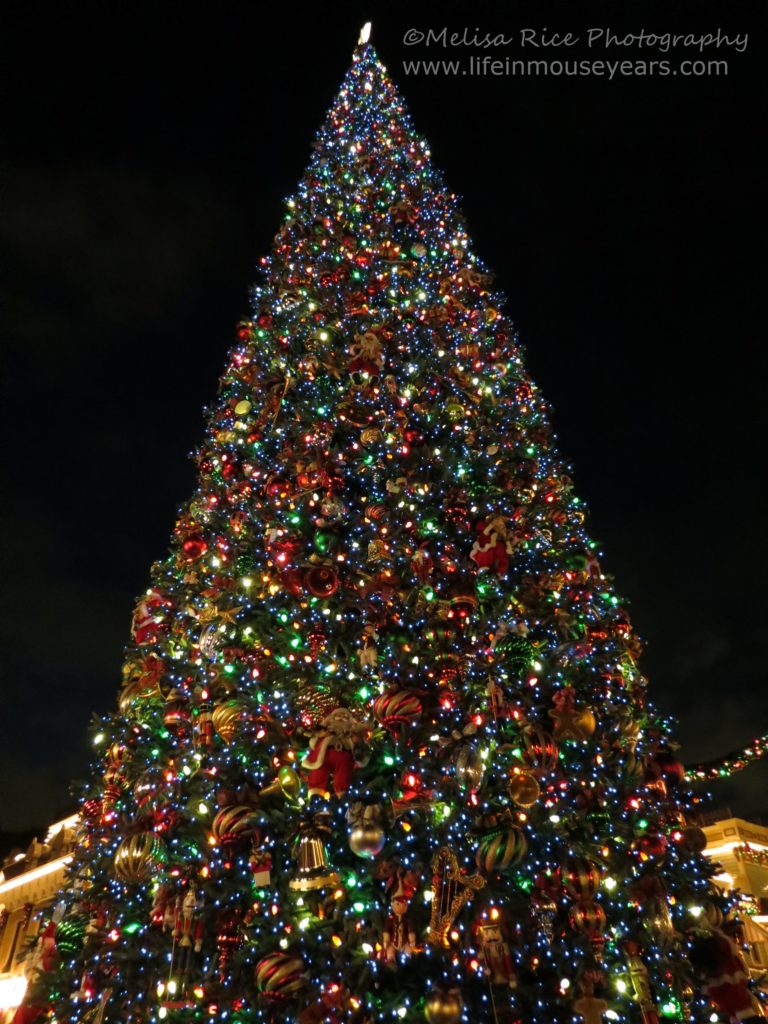 Wreaths and Garland

– All down Main Street is a Mickey-shaped wreath with the garland on each side of the wreath that stretches all way across the street. These too, are lit up at night.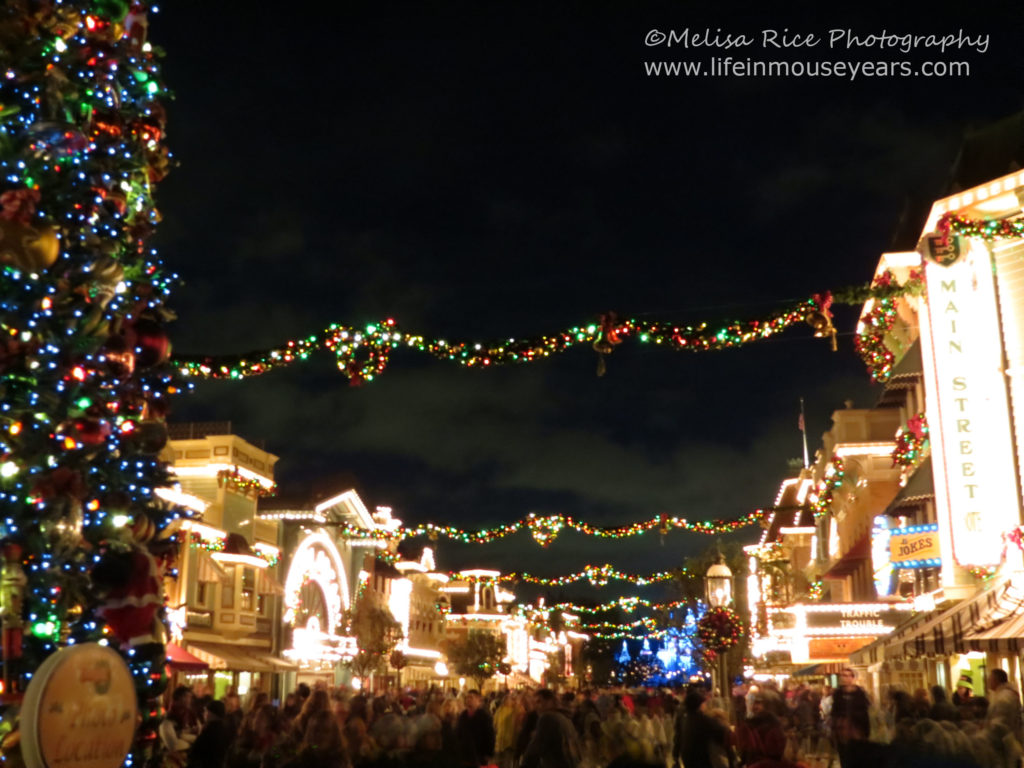 Sleeping Beauty's Castle

– Next, Sleeping Beauty's Castle at night is a sight you do not want to miss! Each year the Castle gets covered in snow and thousands of twinkling lights. It is so pretty when it is all lit up at night. This is one of my favorite places during the Holiday Time.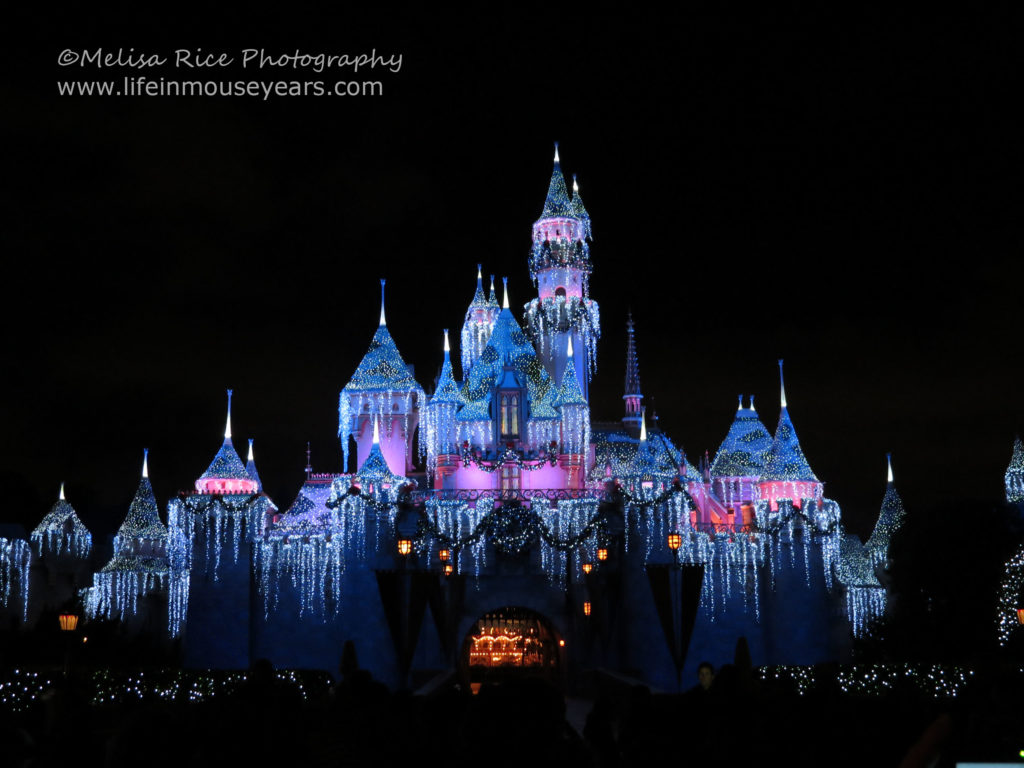 It's a Small World Facade

– My second favorite place during the Holiday Time at Disneyland is the It's a Small World facade. The entire facade is completely covered in thousands of twinkling lights! Make sure to check out It's a Small World after dark to experience all the lights! It is amazing!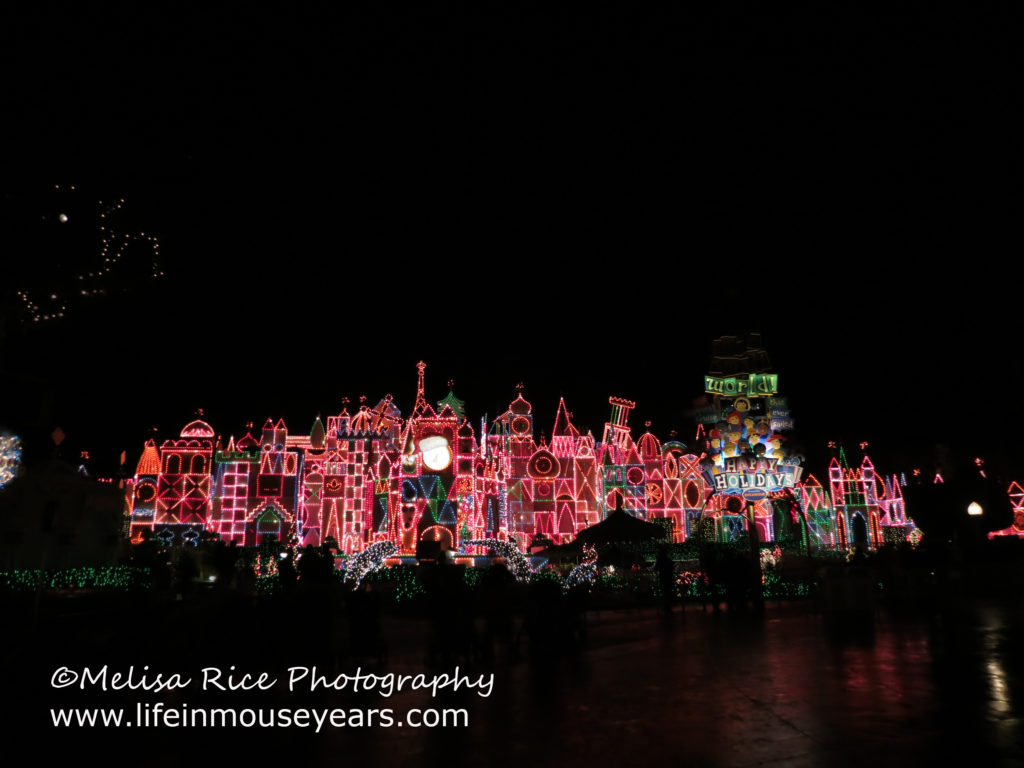 ---
---
Rides/Attraction Overlay's
Besides all the decorations around the Disneyland Resort, some of the rides get a makeover during certain seasons.
First of all, Haunted Mansion gets taken over by Jack Skellington at Disneyland. All of the spooky halls at the Mansion are decked out with spooky holiday decorations. This overlay tradition started in 2001 and it comes back each year. This transformation sticks around until the end of the Holiday Time celebrations. (This year it is until January 6th of 2019.)
Tip:
While riding the Haunted Mansion Holiday, be on the lookout for the gingerbread house. It is a different design each year! Disney is so creative. It is fun to see it each year!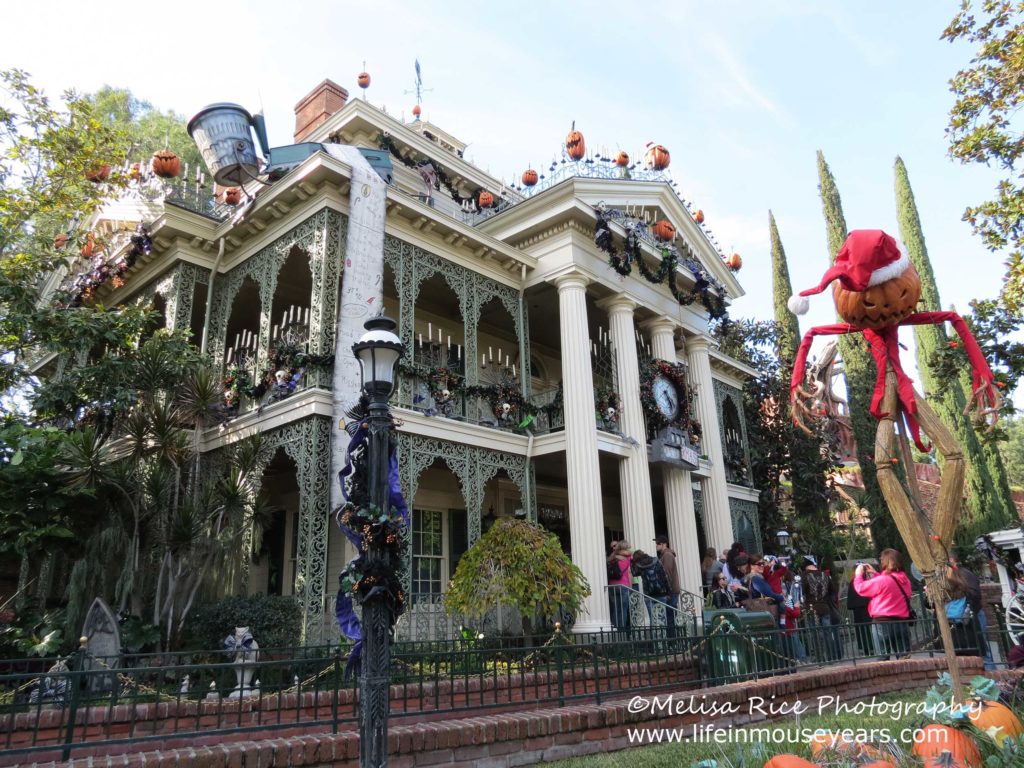 Next, It's a Small World in Disneyland becomes It's a Small World Holiday. The attraction, inside and out, gets all decked out for the holidays! There are tons of Holiday Time decorations throughout the attraction. In addition to the decorations, the music is Jingle Bells and Deck the Halls are sung which ties into it's a small world music. It blends together seamlessly.
If you would like to know more about It's a Small World, check out 10 Secrets of  It's a Small World here.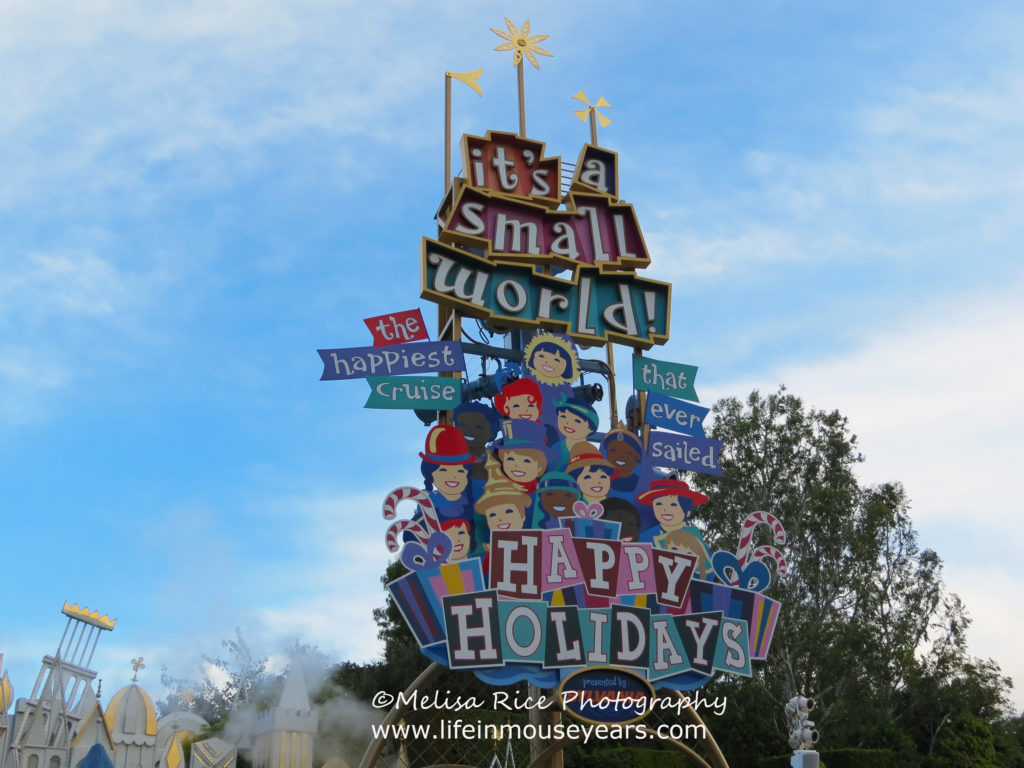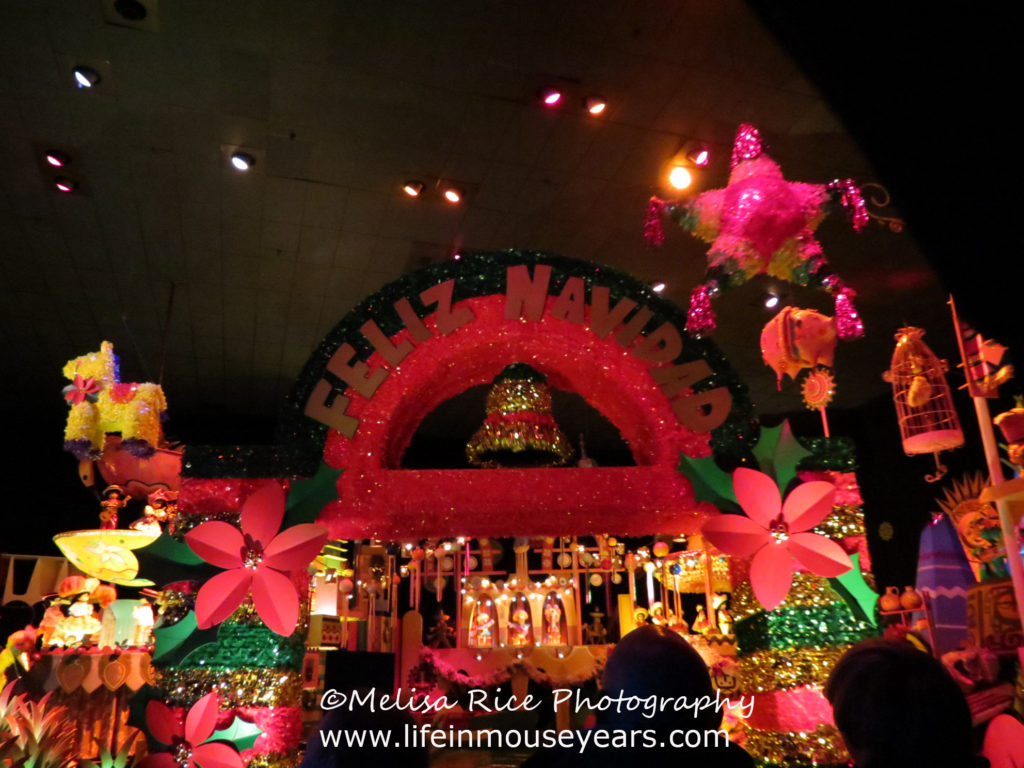 A Christmas Fantasy Parade
Next, let's take a look at the Holiday parade. Every year during the Holiday Time, Disneyland brings back this classic parade! A Christmas Fantasy Parade has gingerbread men, snowflakes, prancing reindeer and Disney Characters throughout! Woody and Buzz have a float. A wintertime parade wouldn't be complete without Elsa and Anna! They make an appearance as well.
Tip:
If you are planning on seeing this parade, the parade route goes along Main Street, U.S.A, by the Matterhorn Bobsleds and in front of It's a Small World. However, Main Street gets crowded really early. Therefore, try viewing the parade by Matterhorn or It's a Small World.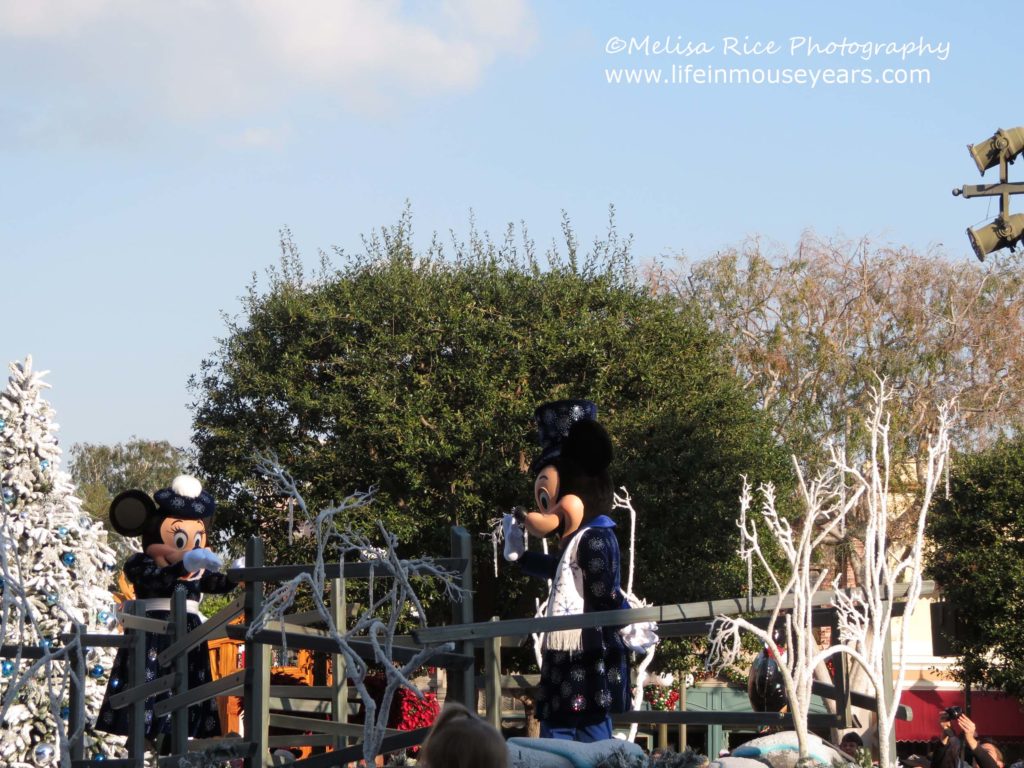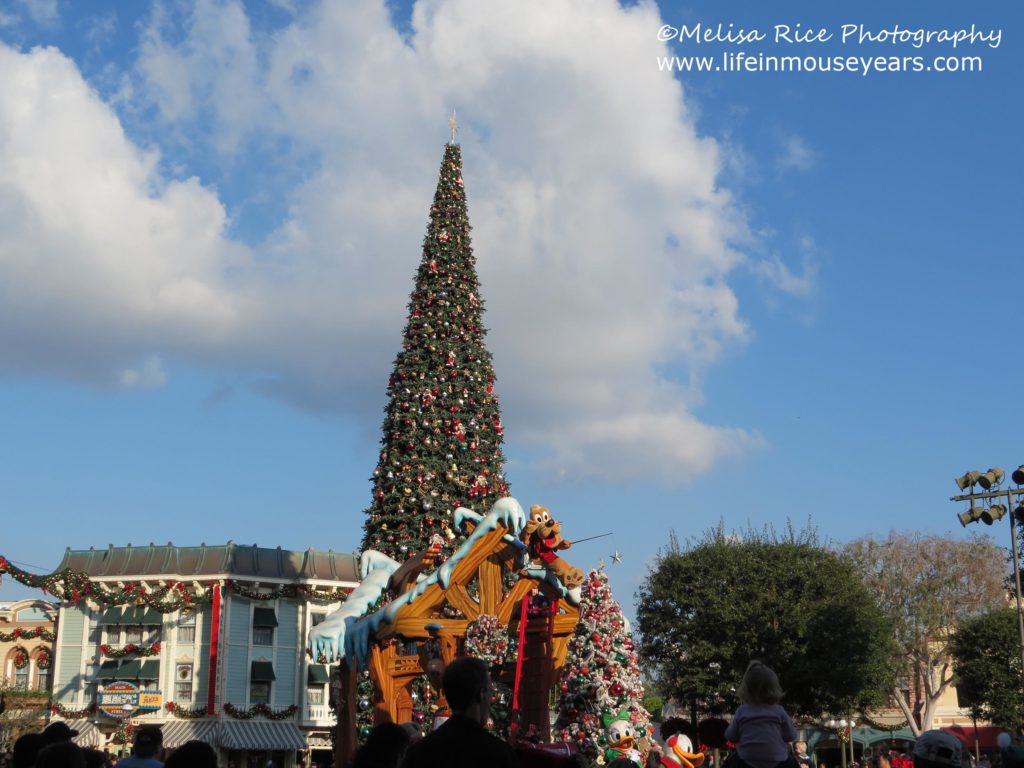 Believe… In Holiday Magic Fireworks
Another fun festive Holiday Time experience at Disneyland is the Believe… In Holiday Magic Fireworks. This firework show is one of my favorites! (My most favorite was the one from the 50th celebration.) However, this is my next favorite. The music, the fireworks, and the snow! It is a wonderful Disneyland Holiday Time tradition. One that you won't want to miss!
Tip:
The fireworks can be viewed from multiple locations around the park. Of course, Sleeping Beauty's Castle is the most popular spot, in addition to It's a Small World. However, if you can be at the Rivers of America and looking in the direction of Big Thunder Mountain Railroad, you will have a wonderful view of the fireworks.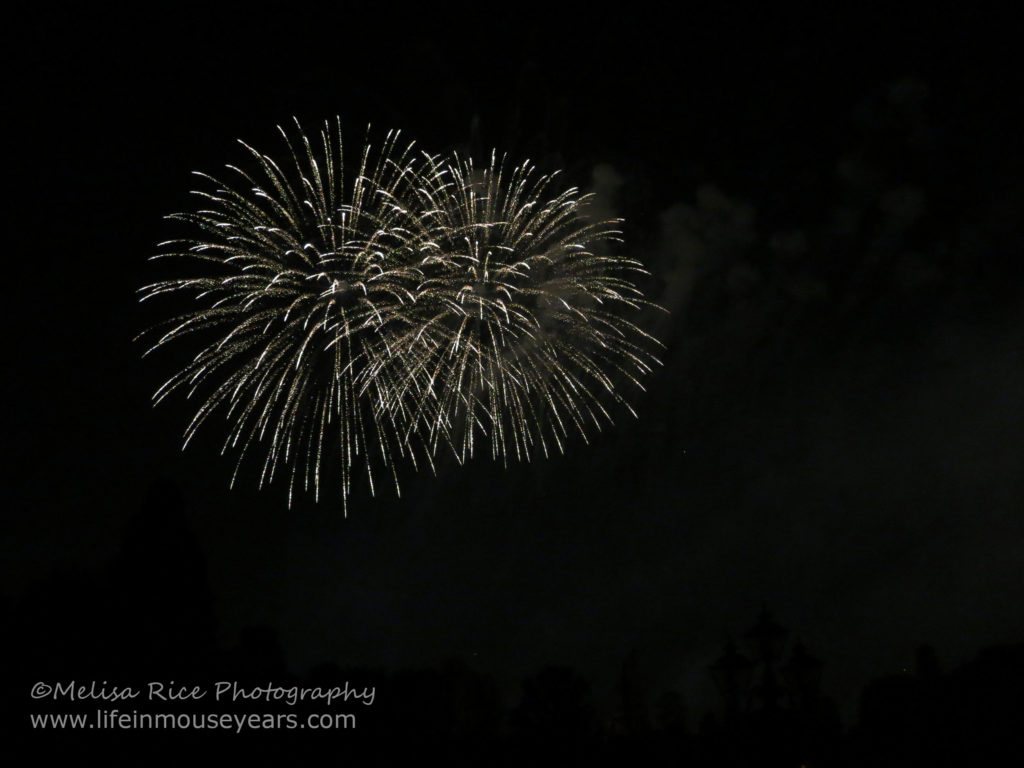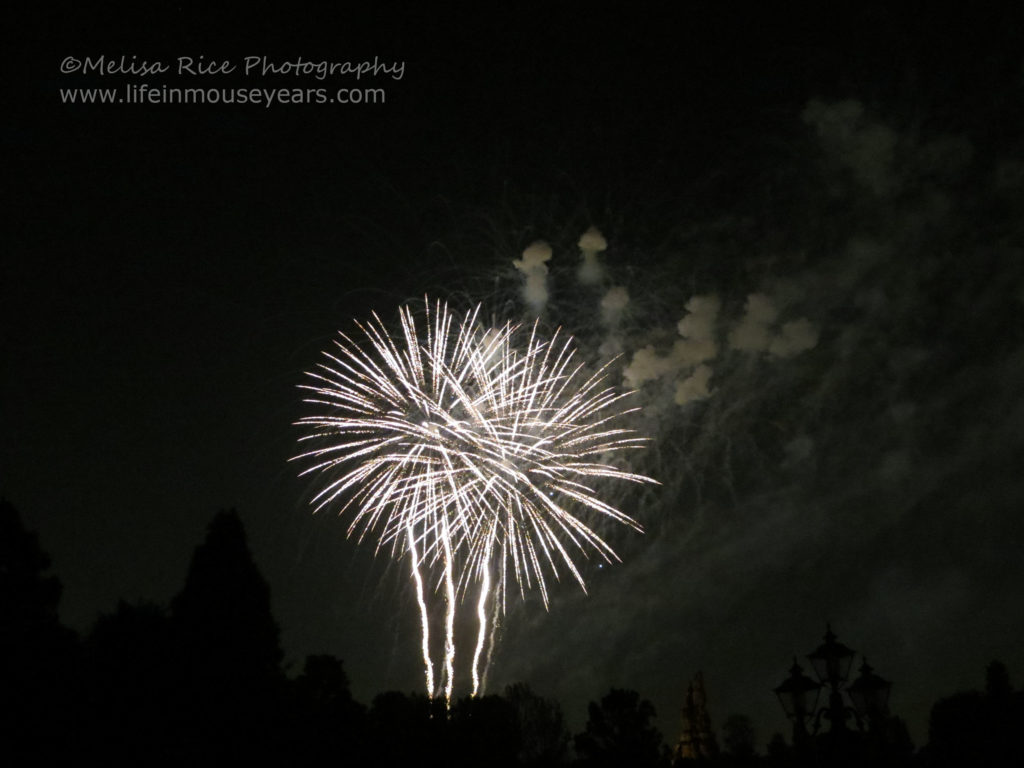 Be Aware
As with most anything at the Disneyland Resort, any shows, parades, etc. can be canceled at any time due to weather conditions.
Here are some fun Disney glow products that might interest you for the nighttime entertainment.
Tasty Treats
Next, it wouldn't be a vacation without having some tasty treats to make your mouth water! The food at Disneyland is pretty delicious and they continue to change up the food choices all the time. It goes with the seasons too!
I have talked about Candy Apples before (here), Holiday Time is no different! Disneyland offers themed candy apples around the Disneyland Resort. In addition to Mickey and Minnie Mouse having a Santa hat and a snowman wearing mouse ears. Disneyland also makes red, green and blue apples with a white snowflake on the front!
In addition to Candy Apples at Disneyland, they also have themed cake pops, rice crispy treats, and a yule log dessert! Just to name a few.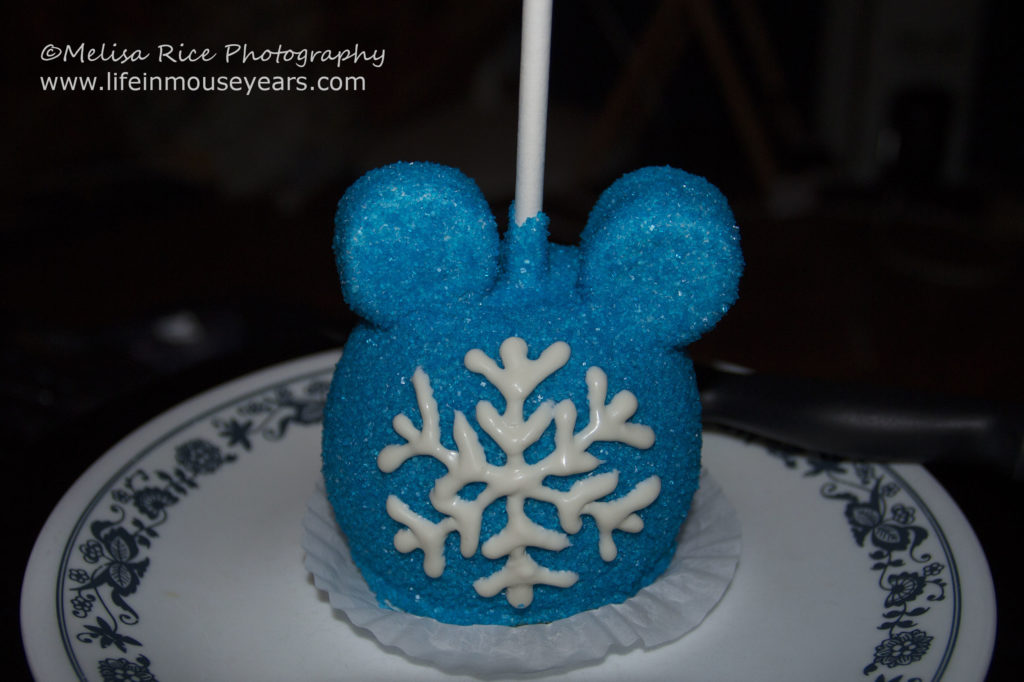 Merchandise
Finally, as always, a special celebration would not be complete without some festive souvenirs to take home with you! Disney character plush's, cups, mugs, shirts and mouse ears, etc. Therefore, the hardest part is deciding what to get!
In Conclusion
With all the changes to the resort for all the seasons, it can be difficult to decide when to visit the park! Therefore, I hope that all the information and tips in today's post will be helpful to you in deciding whether to go during Holiday Time and/or how to best plan out your stay with everything that is going on at the Disneyland Resort during the Holiday Time.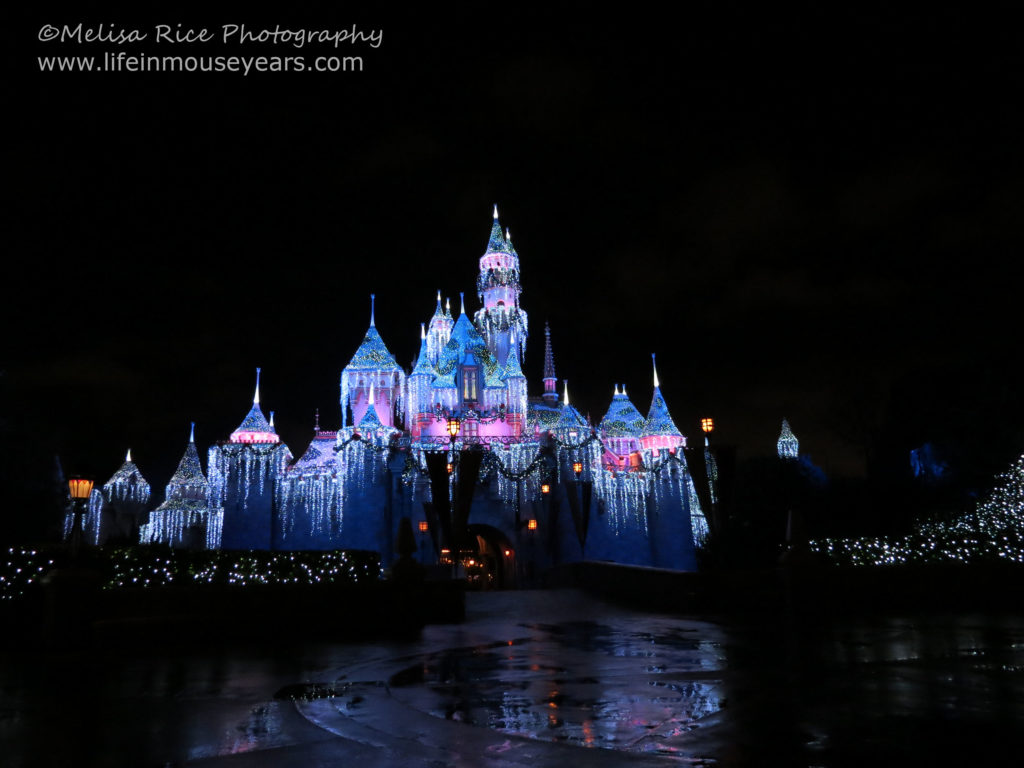 For more information about the Holiday Time season at the Disneyland Resort, go to Disneyland's official website here.
If you would like to find out what is happening in Disney's California Adventure this  Holiday Season, check out my recent article Holiday Fun at California Adventure here.
Questions or Comments?
If you have any questions or comments on today's post, please feel free to leave them below!
Thanks for stopping by Life in Mouse Years!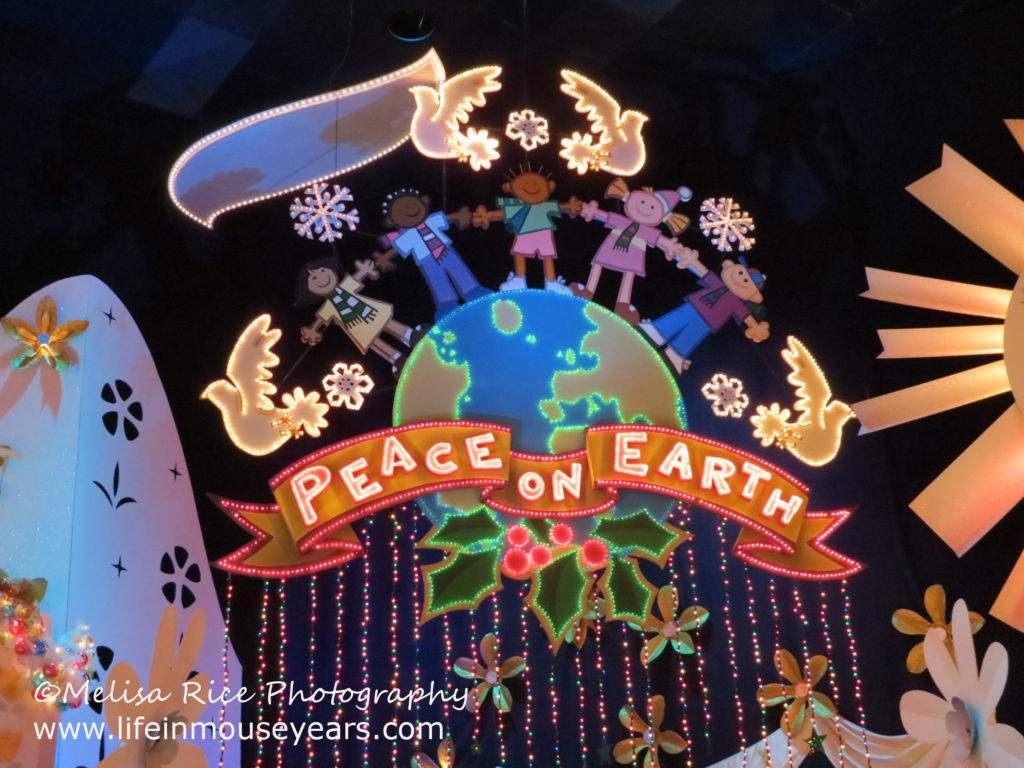 What would you like to see here?
Is there anything you would like to read about here at Life in Mouse Years? Let me know in the comments below! I would love to help!
Don't forget to sign up!
If you would like to stay up to date on new posts that come available, please sign up to receive email updates!
---