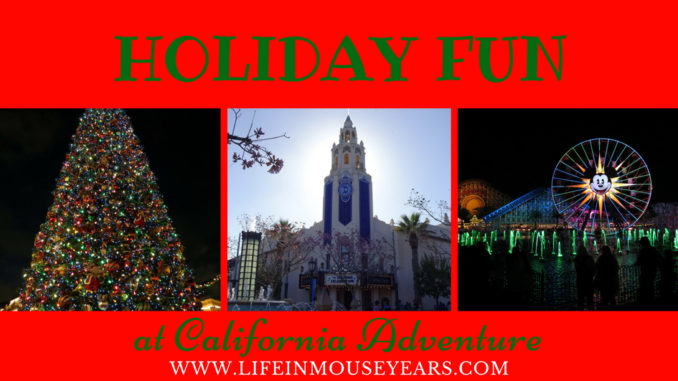 Holiday Fun at California Adventure! There is so much to see, do, taste and experience at California Adventure during the Holidays! Today I would like to talk about all the Holiday fun that will be offered at California Adventure during the 2019 Holiday season.
Holiday Fun California Adventure
Disneyland has its share of Holiday Time celebrations. (Holiday Time at Disneyland.) Likewise, California Adventure has it's own Holiday fun during the Holiday season. In the same way as Disneyland, California Adventure is a fun, festive and pretty time of year to visit the park! They have decorations, lights, holiday overlay on some of the rides, tasty treats and much, much more!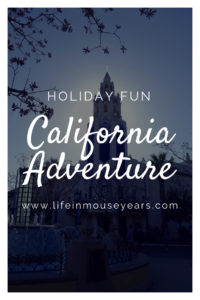 Holiday Fun Dates
First of all, let's take a look at when the Holiday season will be this year at the Disneyland Resort. Disney recently announced that the Holiday season will run from November 8-January 6. This is for the 2019 season.
---
---
Decorations
Sometimes the Disneyland Resort goes all out on holiday decorations. The Christmas holiday season is no exception! For example, during the Christmas holiday season, the entire Disneyland resort is all decked out with lights, Christmas trees, wreaths, Cast Member clothing, and music, Etc. In fact, even The Grand Californian Hotel has a giant gingerbread house that is made with real gingerbread!
Here are some places in California Adventure that you will want to check out for decorations:
Tree on Buena Vista Street

– On Buena Vista Street, in California Adventure, is a big Christmas tree. In addition to the Buena Vista Street tree, they have multiple decorated trees around the park. Make sure to check them out at night.

Cars Land

– Another Holiday fun decoration experience is Cars Land! You won't want to miss all the automobile-related decorations all over this land. The garland that goes across the street is made from tires and air filters. This is just part of the many Holiday decorations in this land. Therefore, you won't want to miss what else is in this land during this time.

Paradise Gardens

– Next, California Adventure has a celebration called Viva Navidad! I will get into this more down below. However, in the Paradise Gardens area in the park, there are Papel Picado banners and pinatas. Papel Picado banners are paper cut into elaborate and

intricate designs. It is Mexican folk art and it is beautiful! Therefore, I recommend that you visit this area and check it out.
Rides/Attraction Overlay's
In addition to all the decorations around the Disneyland Resort, some of the rides get a makeover during certain seasons.
First of all, Luigi's Rolickin Roadsters gets a Holiday overlay. It becomes Luigi's Joy to the Whirl. While you are inside of Luigi's Backyard, hop in one of the roadster's to join in the synchronized dance to the music. This Holiday fun experience has some festive music during this time.
Next, Mater's Backyard Jamboree becomes Mater's Jingle Jamboree. Join the dow-si-tow hoedown with a Holiday theme.
If you would like to know more about Cars Land in general sans Holiday fun, you can find a post I did here.
Tip:
Cars Land has a Holiday fun Photo opportunity! Right at the entrance to Cars Land is a sign that looks like an old postcard. During the Holiday season, there is a snow car out there that you can take a photo with. How fun!
Disney Viva Navidad!
Next, let's take a look at the Holiday fun celebration Disney Viva Navidad! Each year during the Holiday Season, Disney has a Mexican Holiday celebration. Decorations, street parties, dance, live music, and food are all part of this Holiday fun!
I haven't been able to experience Disney Viva Navidad! yet… However, I am looking forward to getting to see and taste this wonderful celebration this year.
Disney Viva Navidad Street Party
Another fun festive Holiday fun experience at California Adventure is the Disney Viva Navidad Street Party. Join the Three Caballeros (Donald Duck is one of them), Mariachi and Samba musicians, and dancers, in addition to, 12-foot tall mojiganda puppets. This street party is one that you won't want to miss!
Tip:
The Disney Viva Navidad Street Party takes place in Paradise Gardens Park.
Be Aware
As with most anything at the Disneyland Resort, any shows, parades, etc. can be canceled at any time due to weather conditions.
Food
Paradise Gardens Grill has some delicious food options to go with the Disney Viva Navidad! Celebrations. Make sure to stop in and try some of the Mexican traditional foods.
In addition to the tasty foods at Paradise Gardens Grill, California Adventure will be having Festive Food Marketplace kiosks around the park. Therefore, there will be lots of tasty options in celebration of many cultures and traditions during this time of Holiday fun at California Adventure.
Tasty Treats
Next, it wouldn't be a Holiday fun vacation without having some food to make your mouth water! The food at the Disneyland Resort is pretty delicious and they continue to change up the food choices all the time. It goes with the seasons too!
In the same way, Disneyland offers candy apples, cake pops, and rice crispy treats, California Adventure does as well.
Tip:
Be sure to visit Trolley Treats on Buena Vista Street to check out all of the tasty treats.
Merchandise
Finally, your Holiday fun would not be complete without some festive souvenirs to take home with you! Disney character plush's, cups, mugs, shirts, and mouse ears, etc. California Adventure has so many options for you to choose from!
---
---
In Conclusion
With all the changes to the Disneyland Resort for all the seasons, it can be difficult to decide when to visit the park! I hope that all the information and tips in today's post will be helpful to you in deciding whether to go during Holiday Season and/or how to best plan out your stay with everything that is going on at the Disneyland Resort.
For more information about the Holiday Time season at the Disneyland Resort, go to Disneyland's official website here.
Questions or Comments?
If you have any questions or comments on today's post, please feel free to leave them below!
Thanks for stopping by Life in Mouse Years!
What would you like to see here?
Is there anything you would like to read about here at Life in Mouse Years? Let me know in the comments below! I would love to help!
Don't forget to sign up!
If you would like to stay up to date on new posts that come available, please sign up to receive email updates!