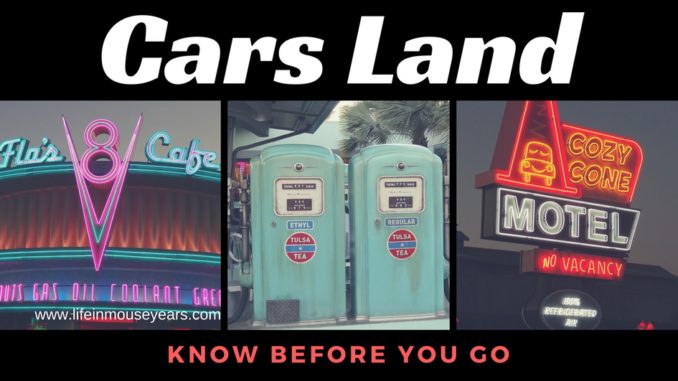 Cars Land is a wonderful land inside of Disney's California Adventure. It looks just like the town of Radiator Springs that is in the Cars movies. If you have been here to this land before, you probably will know most of this information. Although, if you are like me you will enjoy reading about it and seeing some photos. If you have never been to this land, then I hope this information will help you out! Know before you go!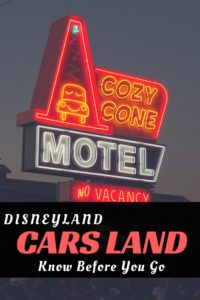 Cars Land-Know Before You Go
I grew up taking trips to Disneyland every year or two. As a result, I know the layout, attractions, shops, and restaurants like the back of my hand. When Disney's California Adventure first opened I felt like a fish out of water! It took me THREE trips (and a on a mission frame of mind) to finally find the Turtle Talk with Crush! I still haven't fully checked out all the other fun things that are in the same building. So don't feel bad if you have trouble getting around or finding things. Yes, they give you a map and/or an app to look at, but it can feel overwhelming during your first go around.
Hopefully, today's post will help you out!
About
As I mentioned before, Cars Land is based on the Cars movies. If you haven't seen any of them yet, (where have you been?), I highly recommend them. They are so fun, funny, and entertaining. 
Cars Land is designed to be the town of Radiator Springs. You feel like you just stepped into the movie! Disney did a great job with this land. There are rides, shops, restaurants meet and greets, and photo spots.
Tip: On your way through this land, make sure to look all around you. Cars Land has great decorations and car themes throughout the land. Check out the store windows on your way to Cars Racers. The window displays are great!
Rides
This land has three attractions for you to ride.
Mater's Junkyard Jamboree
Just after you enter Cars Land, Mater's Junkyard Jamboree is the first attraction on the left. For this attraction, you get on a trailer that is being pulled by a little tractor. When the ride is going, the vehicle whips and turns in a figure-eight pattern while music is sung by Mater. Hold on tight during this hoedown!
Luigi's Rollickin' Roadsters
When you enter this land from the main entrance, continue down the road just past the intersection (with a light) in town. On the left side of the road is a huge tower of tires. The building there is Luigi's Rollickin' Roadsters.
Here you board a car that resembles Luigi (a 1950's Italian minicar), spins and moves across a dance floor. As a result of the trackless system, the cars are all synchronized to move a specific way across the dance floor.
Tip: Even if you don't ride this attraction, it is fun to watch them dance!
Did You Know? 
The trackless system used on Luigi's Rollickin' Roadsters is the very first one at a Disney Park in the United States.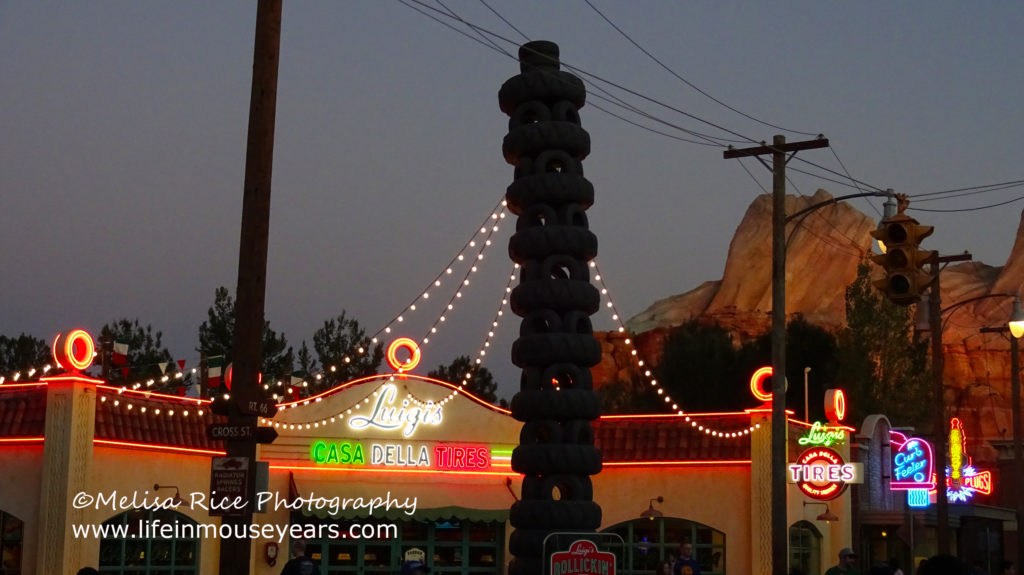 Cars Racers
Cars Racers is an attraction you do not want to miss! From the main entrance of Cars Land, continue all the way to the end of the road. Take a right turn and there is the entrance to Cars Racers. This attraction you go inside of a car and put a seatbelt on. Once everyone is belted, you start riding through Ornament Valley and past a waterfall before you head inside to prepare for your race!
Restaurants
Fillmore's Taste-In
Fillmore's is a snack stand in Cars Land. From the main entrance, Fillmore's is on your right just as you enter Cars Land. Here you can get various fruits, veggies, and snacks.
Cozy Cone Motel
Cozy Cone Motel is partway into the land on your left. The neon sign is on the road but the cones are set back from the road. However, you can't miss them! Just look for the bright orange giant cones. Each of the five cones has different menus (and names). They are Pop Cone, Cone Queso, Cone-Coctions, Churros, and Ice Cream Cones.
Flo's V8 Cafe
This is the only sit-down restaurant in this land. It is a quick-service restaurant. Designed after Flo's gas station from the movies, you go past the pumps and enter the building that is 50's/Cars themed. The menu online does not list most of the food options that are available. Think diner food. Pot Pie, Ribs, mashed potatoes and gravy, milkshakes and pies! Just to name a few.
There are tables inside or out on the patio for you to eat at.
From the main entrance of Cars Land, go to the intersection and Flo's is on the right.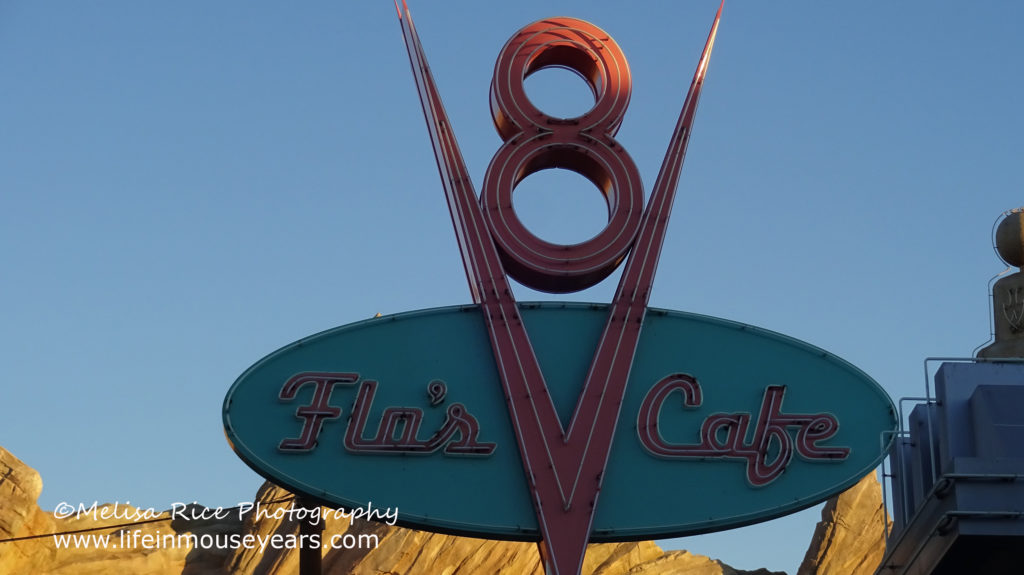 Meet and Greet
In front of the Cozy Cone Motel, Tow Mater, Lightning Mcqueen and some of the other Cars characters drive out and park for a meet and greet! It is a great photo opportunity here.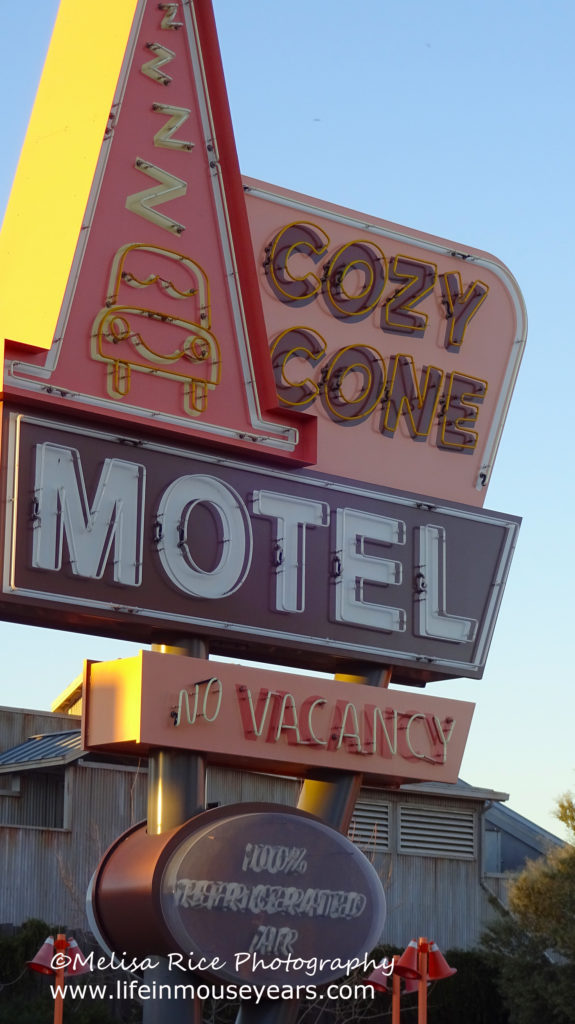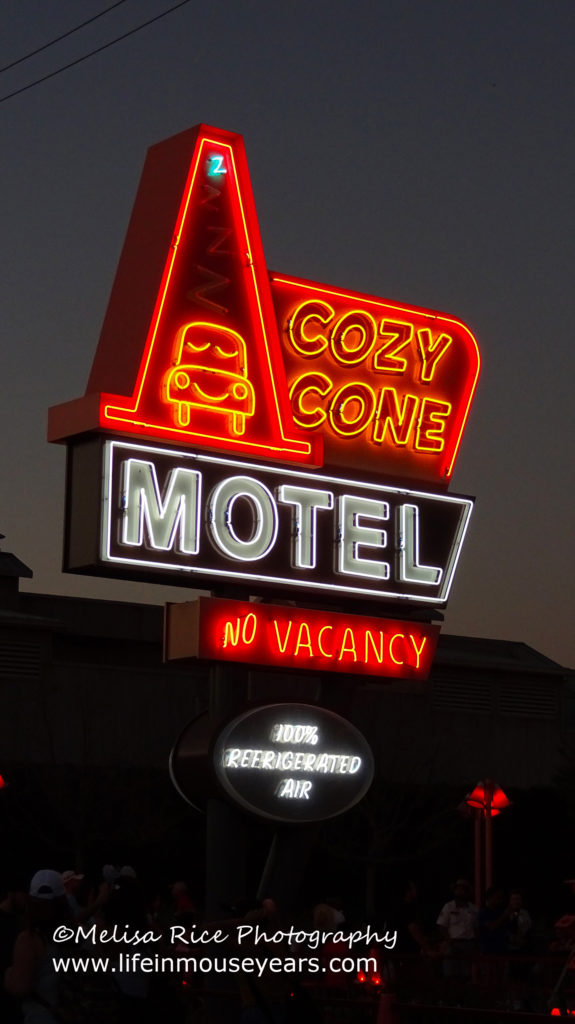 Shops
There are two shops in Cars Land. I thought there were three. Disney's website is only showing two right now. I am not sure if it has closed since my last visit or somehow it was left off of their website. At any rate, I will let you know about the two that are listed on Disneyland's website.
---
---
Sarge's Surplus Hut
Just past Fillmore's Taste-In on the right is Sarge's Surplus Hut. Here they have Cars themed clothes, toys, hats and of course cars!
Ramone's House of Body Art
To be honest, I didn't realize this was a store on my trip. But this building (decked out in neon), is just past the intersection on the right. Ramone's has clothing and other merchandise from Champions Custom Speed Shop and Low 'n' Slow product lines.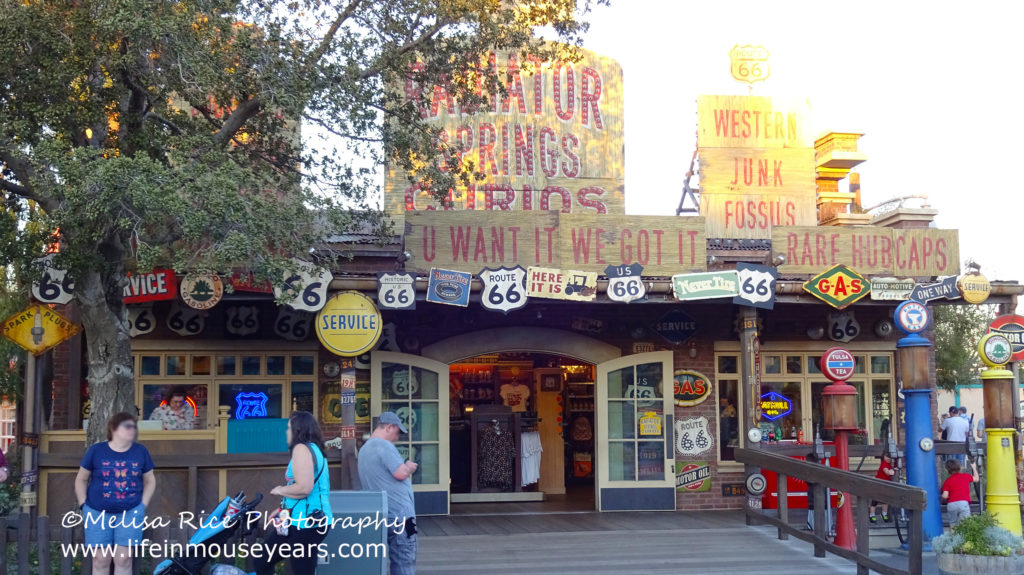 Night
Ok, so I don't know if neon is your thing, but this land is decked out in neon! It brings you back to the good old days down Route 66 that used to be all neon. If you have the chance to be in this land at night, do it! It is definitely a cool sight to see.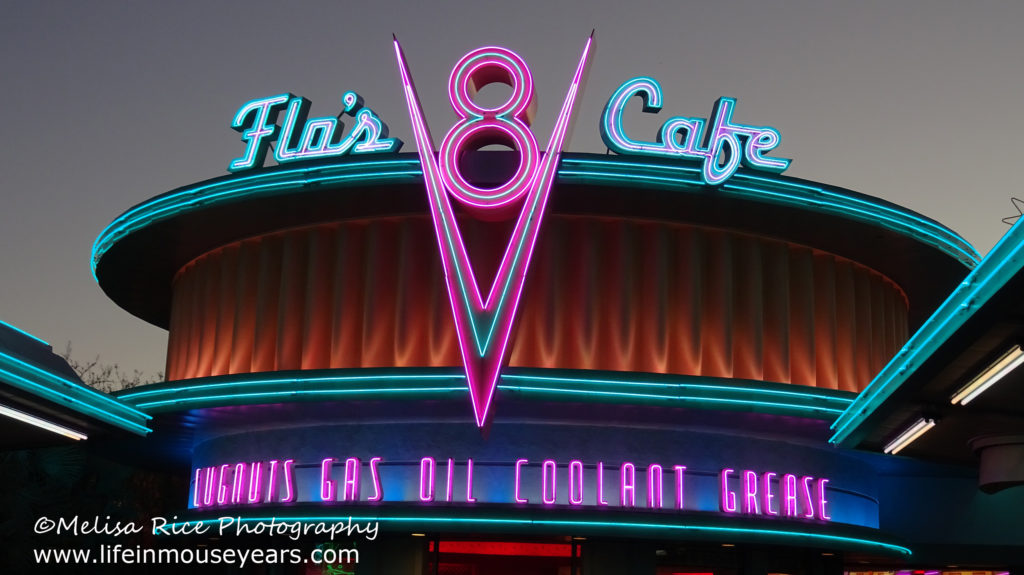 Tip:
Also, another cool thing to see is when the sun is starting to go down and they turn all the neon's on. That is a fun thing to witness when you are there. If you have a chance to experience it, I highly recommend it!
Another Nightime feature is the rock wall at Cars Racers. It is all lit up at night. It is so pretty!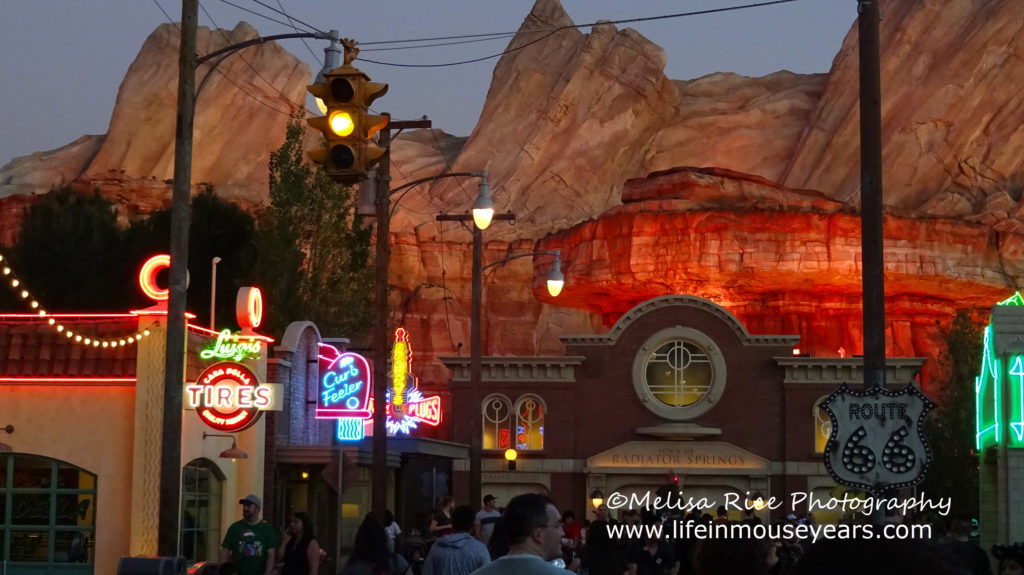 PhotoPass Spots
The Main PhotoPass location for this land is on the outside just before you enter the land. They have a big sign saying Cars Land that looks like an old-fashioned postcard. There is a Disney photographer stationed there to take pictures of you and your family. It makes a great souvenir to have that giant postcard behind you.
The next location is on the street just before the intersection. It is hit and miss as to when the Disney photographer is there. If you see them, take the opportunity to do it. Here you have the road, Route 66 painted on the ground, and the rock wall in the background.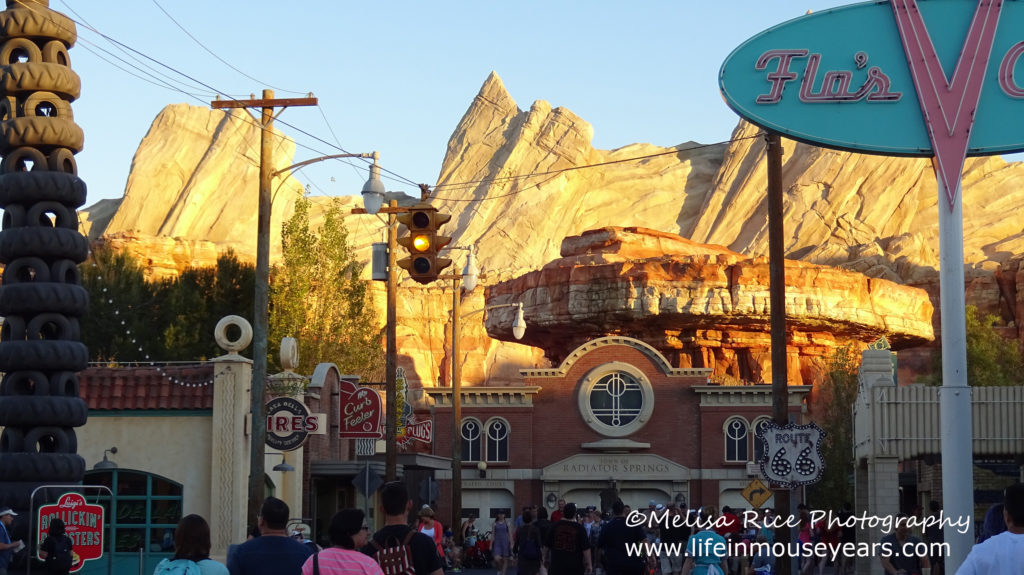 In Conclusion
Cars Land in Disney's California Adventure has so much to see and do! Fun rides like Cars Racers and Luigi's Rollicking Roadsters. Tasty food locations such as Cozy Cone Motel and Flo's V8 Cafe. Tempting stores like Sarge's Surplus Hut and Ramone's House of Body Art. In addition to lots of fun window displays, road signs, and decorations. I hope that you will take the time to explore this entire land on your next trip!
For more or current information and schedules, you can find it at Disneyland's official website here.
Questions or Comments
If you have any questions or comments on today's post, please feel free to leave them below. I would love to help!
Thanks for stopping by Life in Mouse Years!