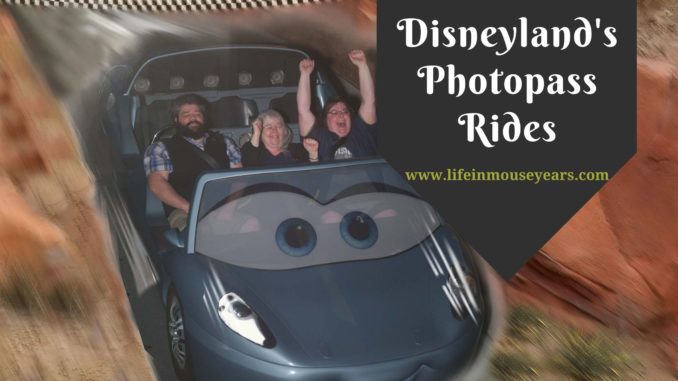 Disneyland's PhotoPass Rides are attractions at Disneyland that take your photo while you are on the ride. There are only a handful of attractions that offer it at the Disneyland Resort, however, it is a fun souvenir to take home from your trip!
Disneyland's PhotoPass Rides
Disney's PhotoPass gives you a great and fun opportunity to make memories with your family and friends during your trip. It also gives you the opportunity to have a keepsake to look back on later and remember the fun that you had. There are photographers around the resort to help you out, in addition, to some of the rides having a camera to snap that photo while you are enjoying a ride!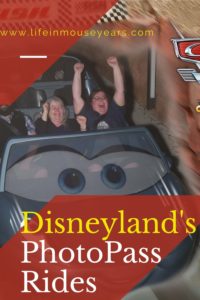 Disney's PhotoPass
First of all, I thought I would start with a little background as to what PhotoPass is. In case you haven't heard of it. Disney's PhotoPass is a service they offer when you visit. It is free to have the photos taken. However, if you would like a print or a digital copy of the photos, that is where it will cost. Disney offers a few ways of getting your photos. You can visit the camera shop to purchase prints. You can get the Max Pass added to your park ticket, which includes reserving FastPass tickets right from your phone. Or you can purchase a package called Disney PhotoPass+ One Week. This last option lets you have the digital downloads of ALL your photos from the entire week that you visit the park. 
If you would like to know more about Disney's PhotoPass options, here is a post I did on that here. 
Disneyland Park
Disneyland is the original theme park at the Disneyland Resort. Therefore, let's start here, where it all started, and see which attractions offer a photo while you are on it. 
Splash Mountain
First on the list of Disneyland's PhotoPass Rides is Splash Mountain. This attraction in Critter Country is a water log ride that takes you through the story of Brer Rabbit, Brer Fox, and Brer Bear. It even takes you up and out of the mountain to a 52.5-foot drop, right into the Briar Patch. As you are plummeting down this steep drop, that is when the photo gets taken! This makes for a great souvenir. Especially if you have never been on it before. 
After you exit the log and head through the exit, there is a wall of screens that will show the photos. When you find your photo, there is a number on the photo. You will need this to link it to your ticket/account. If you can take a photo of that number, it will help you to have the time you need to enter it in, (or to give to the Cast Member for ordering), as a result of the photo's staying on the screen for a short time.
If you have the Disneyland App and MaxPass, you can link everything right there in the App. It was great to have it during our last trip. Plus the Mobile Order... Lifesaver!!
Space Mountain
Next on the list of Disneyland's PhotoPass Rides is Space Mountain. This attraction is in Tomorrowland and has been entertaining guests since 1977. Space Mountain is a roller coaster ride in the dark! With so many twists and turns as you soar by planets and the stars. It is a thrilling ride that keeps you guessing. Even as to when the photo is taken! 
After the ride is over and you are going through the exit, there is a wall that has the photos on screens. In the same way that Splash Mountain does it, the photos come up for a short time and have a number on the photo. Just passed the photo screens is a counter that you can order the prints, get a souvenir, or get help with your photo from a Cast Member.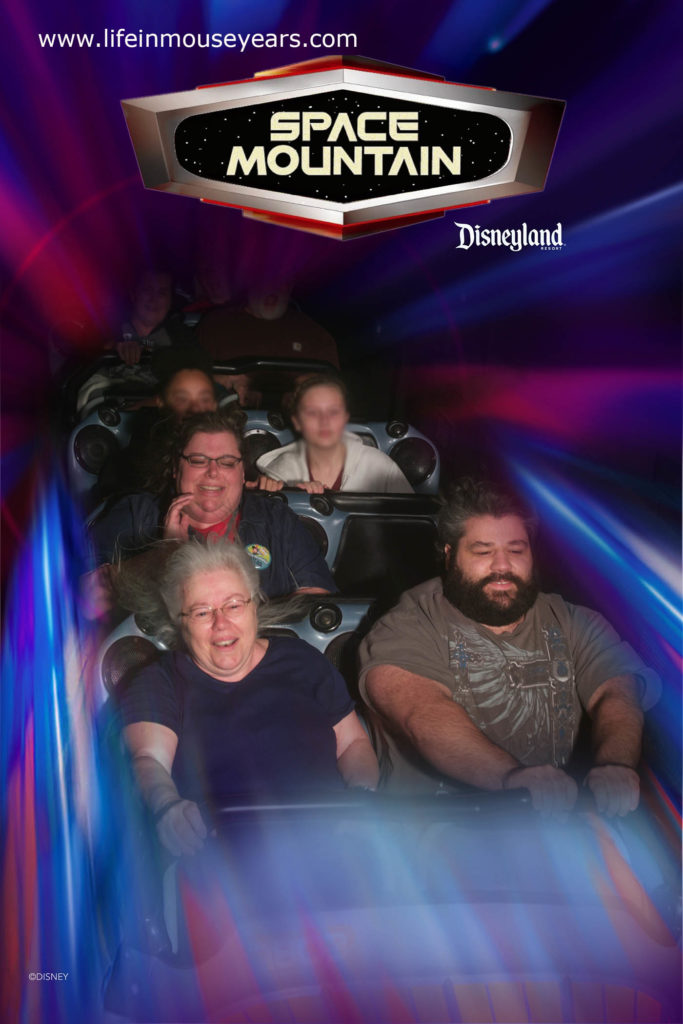 Buzz Lightyears Astro Blasters
Another attraction in Tomorrowland that offers a photo while you are riding, is Buzz Lightyears Astro Blasters. However, this attractions photo is FREE!! Yes FREE! When you are finished riding this attraction and exiting, you will come across some touchscreens. This is where you can search for your photo. When you find it, you can enter your email address and have it sent to yourself! Also, if you want to make sure it arrives, or have other people in your party that want it, you can send it to more than one email address. 
I love that this is an option. It is so much fun to have a ride photo. Not to mention one that is for free. 
Buzz Lightyears Astro Blasters is a two-seater ride vehicle that you have a laser gun to shoot at targets to help Buzz defeat Emperor Zurg. As you hit the targets, you earn points and compete with the person in the vehicle with you. When you get your photo, it shows the scores at the top of the photo so you can remember how many points you got.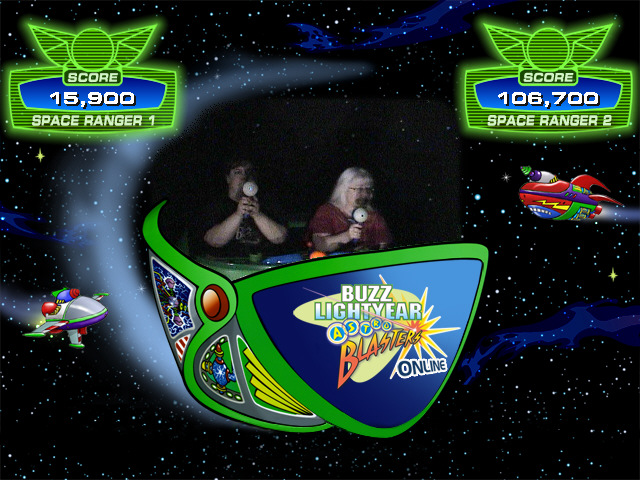 If you would like to know more about Buzz Lightyears Astro Blaster, you can find it here.
Disney's California Adventure
Now that we have taken a look at Disneyland's PhotoPass Rides, let's travel over to Disney's California Adventure and see which attractions offer this service as well. 
Guardians of the Galaxy-Mission: Break Out!
Another attraction on the list of Disneyland's PhotoPass Rides is Guardians of the Galaxy-Mission: Break Out! This attraction is a free-falling one. I have to admit, this is not my favorite thing. I do not like the feeling! However, that being said, I really enjoyed this attraction during our last trip to Disneyland! 
Before Guardians of the Galaxy took over this attraction, it was the Twilight Zone Tower of Terror. I still didn't like the free-falling… But, I really loved the theme of it! At the same time, I really loved Guardians of the Galaxy. The theme and the music, (the 80s!) Plus, with the new theme, it keeps you preoccupied that the free-falling didn't bother me as much as it used to. 
I'm getting side-tracked…
Anyway, being that you go up and down so many times, (it is different each time that you ride), I couldn't begin to tell you when the photo is taken. I am pretty sure it is when you are at the tippy top and looking outside.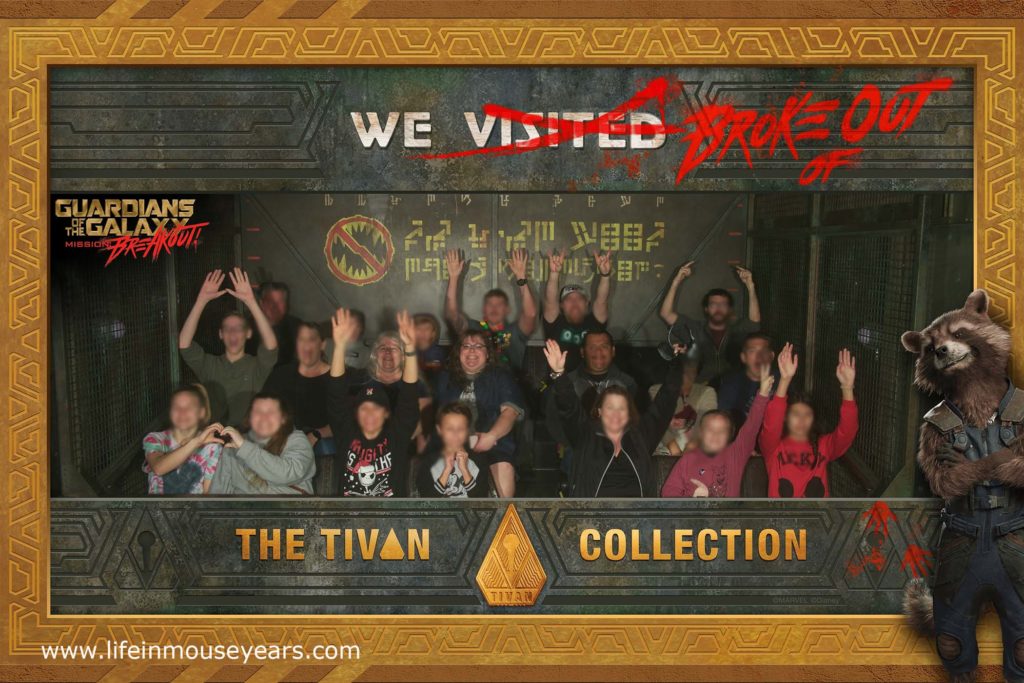 And as per the usual, there are screens at the exit with the photos and numbers. Then you exit into the gift shop, where you can also get photo help.

Shop Avengers Merchandise in the link below!
Incredicoaster
Incredicoaster is a roller coaster attraction in Pixar Pier. Being that this attraction goes upside down, I have never ridden it myself. (I get physically ill on the upside-down coasters.) However, I know people who have ridden it and I have seen it on video. The new Incredibles theme looks awesome! This attraction snaps a photo while you are riding. 
Once you are done and exiting there is a smaller building on the left that has the photo screens for you to look at and get your number.
Radiator Springs Racers
Finally on the list of Disneyland's PhotoPass Rides is Radiator Springs Racers. This is my all-time favorite ride at California Adventure! This attraction is in Cars Land and it is where you take a ride through Radiator Springs in a car and then you end up in a race against another car that is on the track. 
Oh my goodness it is so much fun!! Just before you finish the race is when your photo gets taken. 
And, as you can probably guess by now, the photo screens are through the exit with the number on them.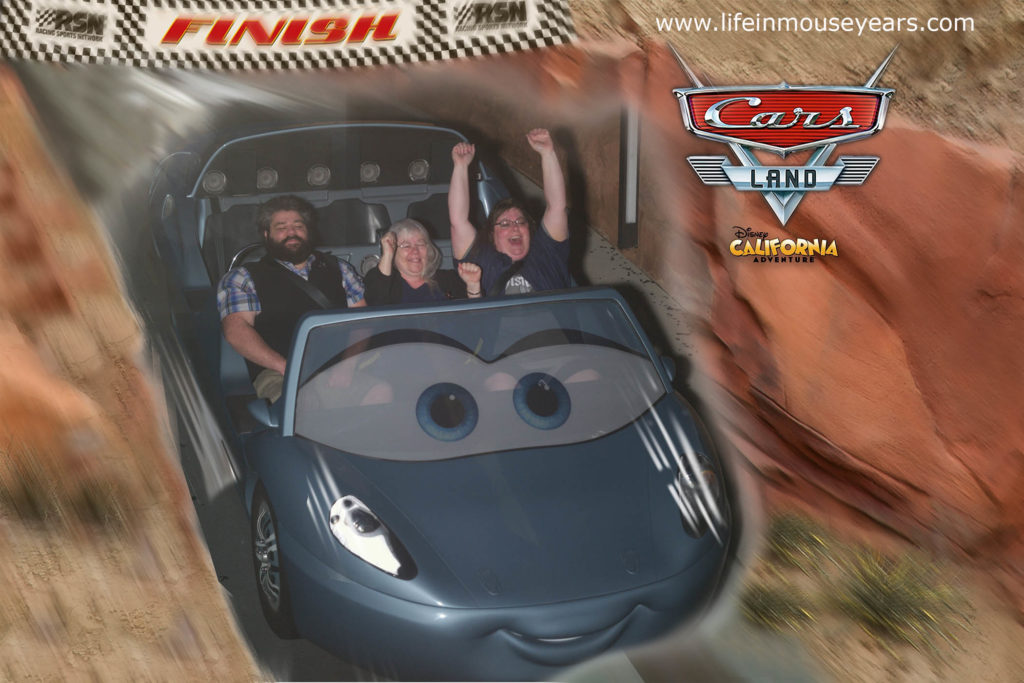 If you ride the attraction at the disability loading area, there is a screen there as you exit so that you can get your photo as well. If you have a disability that requires you to have more time to load and unload or if you are unable to do a lot of stairs, let the Cast Members know and they will direct you to that special loading area. My Mom has a knee problem and so we had to use it during our trip. It was nice for her not to stress about taking too long. 
In Conclusion
Even though there are only a handful of attractions that offer Disney's PhotoPass at Disneyland, it is still a fun item to keep and look back on after your trip is over. I hope that you will be able to use one or all of these Disneyland's PhotoPass Rides during your next trip to the Disneyland Resort!
Questions or Comments
Do you have any questions or comments on today's post about Disneyland's PhotoPass Rides? Please feel free to leave them below. I would love to help!
Thanks for stopping by Life in Mouse Years!

Find Tickets for Disneyland, Universal, and more at UndercoverTourist!