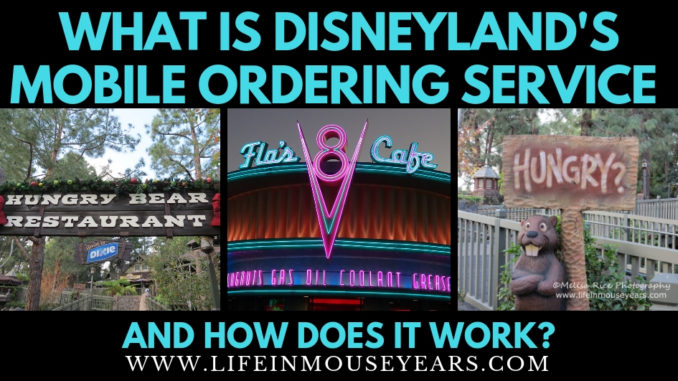 Disneyland's Mobile Ordering Service is a great way to save time while you are at the Disneyland Resort. In fact, with all the people that visit Disneyland every day, you could really use all the time-saving method's that you can. Especially if you can only go to Disneyland once every few years or longer!
What is Disneyland's Mobile Ordering Service and How Does it Work?
Today I would like to talk about what is Disneyland's Mobile Ordering service. How it works and what locations it is being offered at now as of November 2019.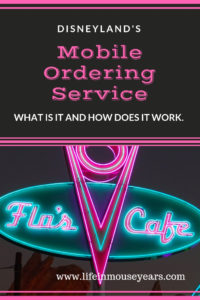 What is Disneyland's Mobile Ordering Service?
First of all, let's take a look at what Disneyland's Mobile Ordering Service is. This is a way for you to order your food from your phone from ANYWHERE in the park! Then once you reach the location, in the time frame you picked, tell them you are there then pick up your food! Think of it as a FastPass for food. Disneyland's Mobile Ordering Service is a way to save waiting in line to make your order.
Another perk is that once you arrive at the restaurant and tell them you are there, you can find a table that you would like to eat at. Get everyone situated while Disneyland Cast Members are getting your food prepared. Then send one person from your party to pick up the food when it is ready.
My family and I tried it out during our last trip to Disneyland. We LOVED it!! It saved us so much time! The one time we had to wait a long time, was during a Saturday afternoon during a special dance team that was visiting. We timed that one wrong. But other than that, it was AWESOME!! I highly recommend it.
---
---
How Does it Work?
Next, let's take a look at how Disneyland's Mobile Ordering Service works.
Download the Disneyland App
First, you will need to download the Disneyland App onto your phone. It is available on both the iPhone and Android phones. (Make sure to do this at home, before you go, to save on data and battery.)
Link Annual Pass (if applicable)
Second, tap on the link pass button so you can link your Annual Pass to the app. This way you will receive your Annual Pass discounts.
Third, add a payment method. Right now you can pay via a credit card or bank card.
Browse and Pick the Restaurant
Next, you can browse what restaurants offer the Mobile Ordering Service. To do this tap the "order food" button.
After you pick the restaurant you want to order from, next you choose the window of time that reflects the time you would like to pick up your food and drinks.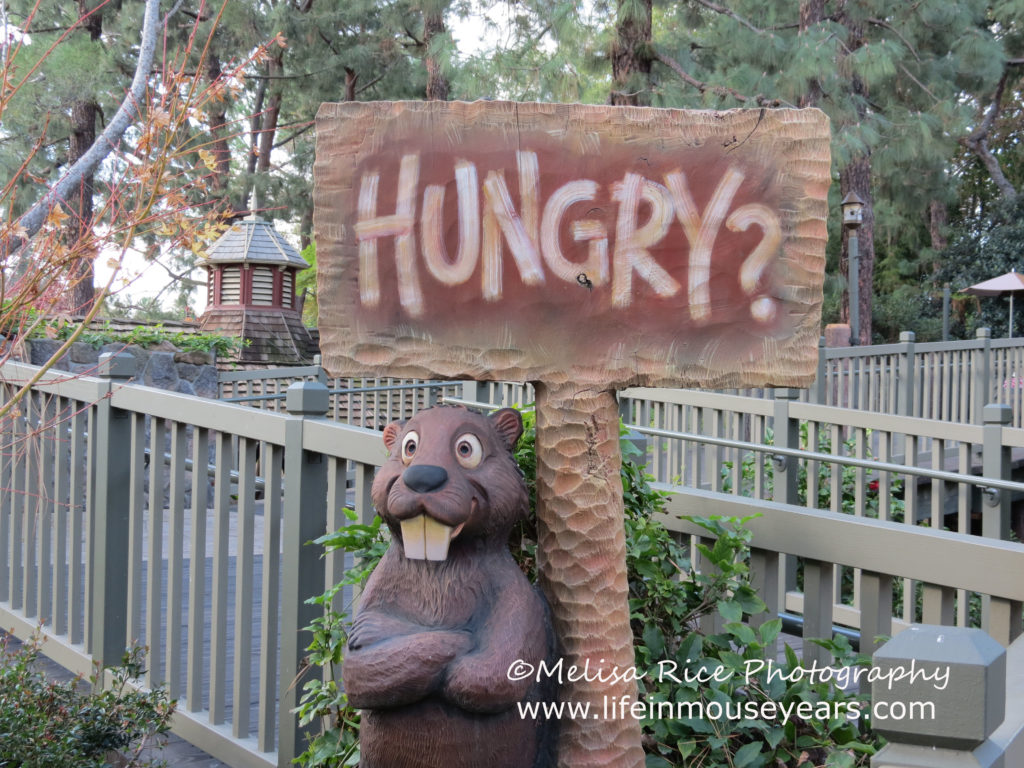 Place Order
Finally, after you have done all of the previous steps, you are now ready to order! In addition to some customizable options on the Disneyland app. You can also add sides, desserts, and drinks to your order. The next step is to arrive at the restaurant during your window time frame and tap "I'm Here". Now the Disneyland Cast Members will start building your order. When your order is ready your screen will tell you. Then, you can go up to the Mobile Order pickup spot and get your items.
I don't think I have to tell you the next step…. However, it is, eat your food and enjoy!!!
Locations for Disneyland's Mobile Ordering Service in Disneyland.
Disneyland's Mobile Ordering Service is available at select quick-service restaurants. However, they continue to add more locations to the list. Here are the places it is available at in Disneyland:
Main Street, U.S.A.
Gibson Girl Ice Cream Parlor

Refreshment Corner
Adventureland
Bengal Barbecue

Tiki Juice Bar
New Orleans Square
Royal Street Veranda

Mint Julep Bar
Critter Country
Frontierland
Golden Horseshoe

Stage Door Cafe
Star Wars Galaxy's Edge
Milk Stand

Docking Bay 7 Food and Cargo
Ronto Roasters
Fantasyland
Edelweiss Snacks

Red Rose Taverne

Troubadour Taverne
Tomorrowland
Galactic Grill

Alien Pizza Planet
Locations for Disneyland's Mobile Ordering Service in California Adventure.
Next, are the locations in California Adventure.
Buena Vista Street
Clarabelle's Hand-Scooped Ice Cream
Hollywood Land
Award Wieners

Hollywood Land
Schmoozies
Cars Land
Pacific Wharf
Lucky Fortune Cookery

Pacific Wharf Cafe

Cocina Cucamonga Mexican Grill

Pacific Wharf Distribution Co.
Ritas Baja Blenders
Sonoma Terrace
Pixar Pier
Adorable Snowman Frosted Treats
Paradise Gardens Park
Corn Dog Castle

Paradise Garden Grill

Bayside Brews
Grizzly Peak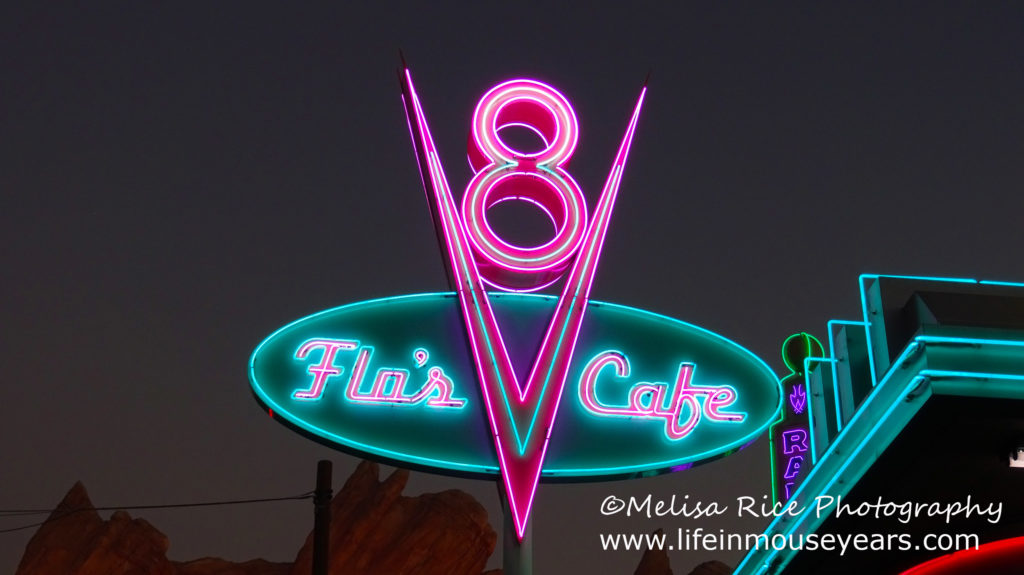 Mobile Service is also available at two of the Disney hotels.
Disneyland Hotel
Tangaroa Terrace Tropical Bar and Grill
Grand Californian Resort and Spa
---
---
In Conclusion
Disneyland's Mobile Ordering Service is a great way to save time during your Disneyland vacation. Time is definitely something you want to save while you are roaming all over the Disneyland Resort. This way you can enjoy more fun and magical things during your trip!
Your Thoughts?
Have you tried Disneyland's Mobile Ordering Service yet? What did you think? Do you plan on trying it during your next vacation? Let me know in the comments below. I would love to know what you think!
Thanks for stopping by Life in Mouse Years!
Don't forget to sign up!
If you would like to stay up to date on new posts that come available, please sign up to receive email updates!