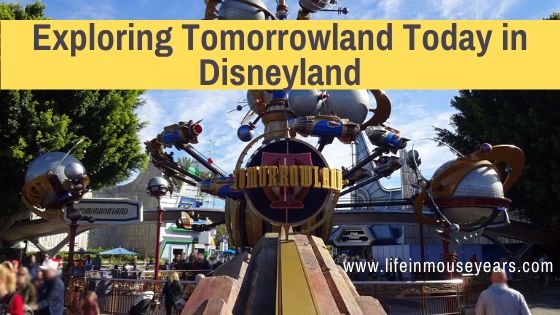 Exploring Tomorrowland Today in Disneyland is something I would like to share with you! Disneyland has so many fun lands to explore and Tomorrowland is one of them! This land has rides, shops, and restaurants just waiting to be explored.
Exploring Tomorrowland Today in Disneyland
After writing Discovering Tomorrowland's History at Disneyland, I decided to have a separate post about what is in Tomorrowland now. This land has so much history that I had to split writing about Tomorrowland into two posts!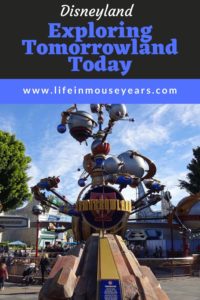 Rides and Attractions
First, on the list of Exploring Tomorrowland Today in Disneyland are the rides and attractions! Tomorrowland has seven rides and attractions. 
Star Tours
The first ride I would like to talk about is Star Tours! This attraction opened in 1986. Wow, it has been a while! However, it has had some changes in the last few years to go with the new movies.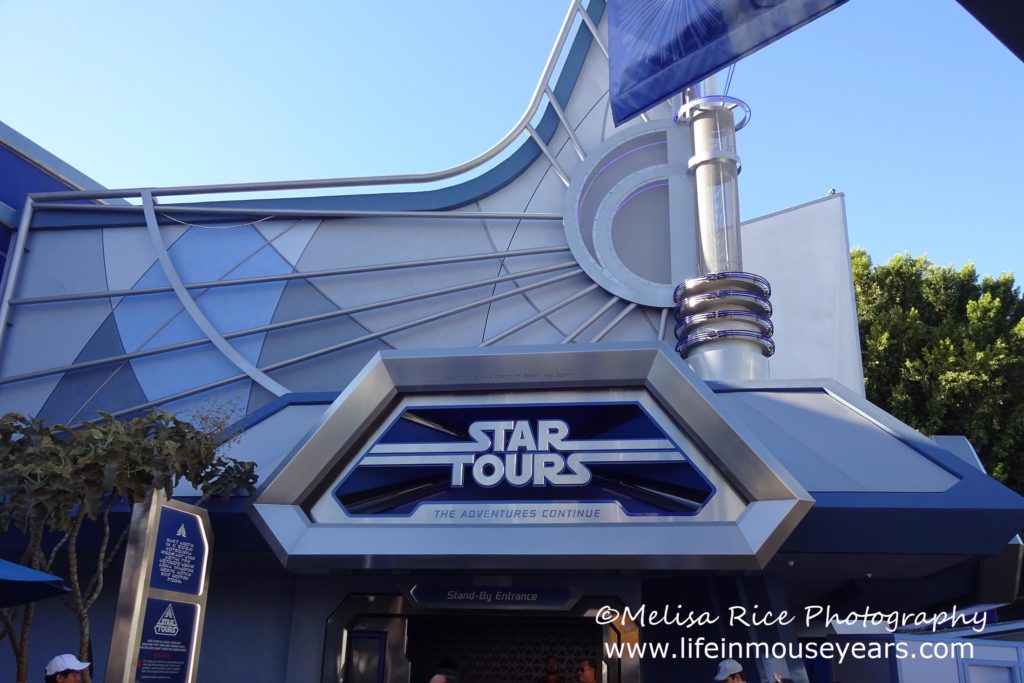 Star Tours is a motion simulator ride. It is also in 3D! Once you board and buckle up, you are off flying from one place to another from the Star Wars movies. Each time you ride this attraction, it has a different experience. Visiting different lands and seeing different characters. It is a great attraction to check out while you are at Disneyland.
Note: Due to this being a motion ride, if you have motion sickness, you will want to sit this one out. Unless something like Dramamine works for your motion sickness. For me, I have to start taking Dramamine at least 24 hours before I plan to ride. Then I am usually good after that. 
*FastPass Attraction
Space Mountain
Next on the list for rides while Exploring Tomorrowland Today in Disneyland is Space Mountain! This attraction is a roller coaster in the dark that opened in 1977.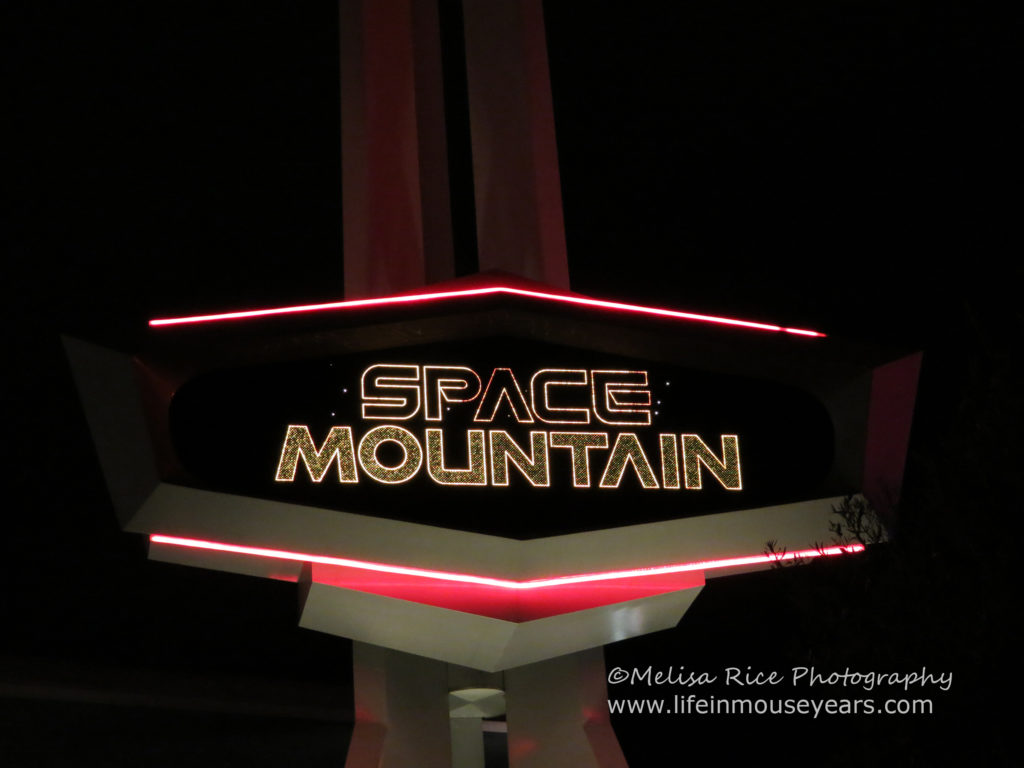 Space Mountain is a rocket themed roller coaster that takes you into space. You will see planets and stars as you are flying along the track at 35mph! There is also music and sound effects as you ride as well. 
One fun thing to know is that they take your picture on this attraction! It makes a great souvenir for your trip. (Check out my post about Disney's PhotoPass and MaxPass here.) 
In the same way that Haunted Mansion gets an overlay (temporary retheming), Space Mountain gets one too. Only you never know when it will happen. But, at times it will be Hyperspace Mountain. This is when it gets to be Star Wars themed.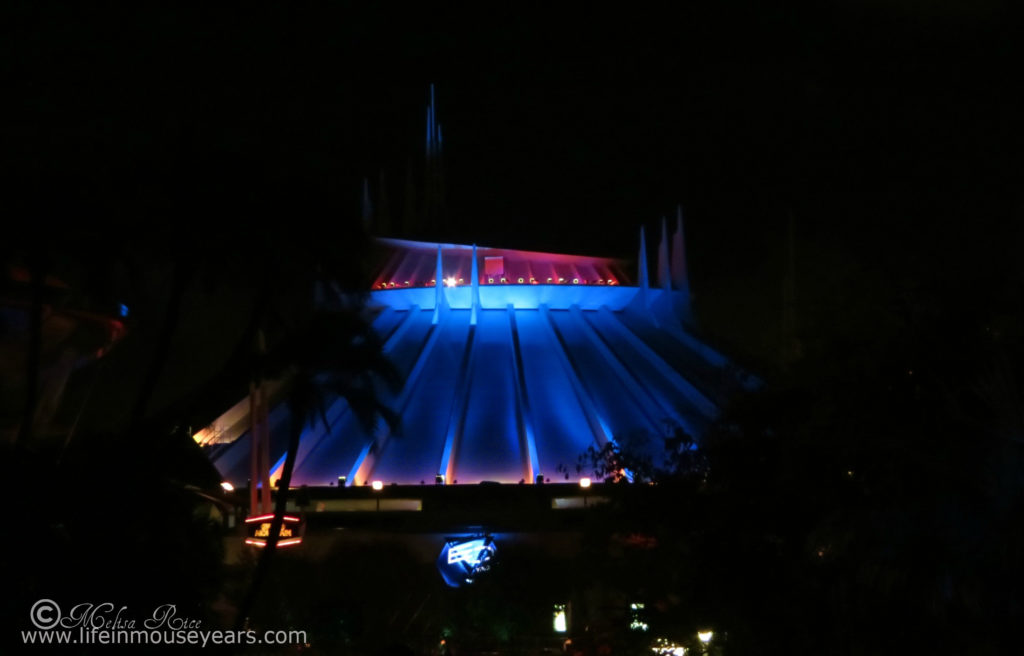 I have to admit, I was totally skeptical when I heard they were doing this the first time because I am a hardcore classic person. However, when I got to experience it first hand, I was blown away! This was by far the coolest thing ever! When you get launched into space, you see TIE Fighters while you soar in the middle of a battle! Lazer beams and all! It is so awesome. Wait times are excessive but so worth it! I would try for a FastPass early in the day if you can. That helps with the wait times. 
*FastPass Attraction
Star Wars Launch Bay
Next on the list for rides and attractions is the Star Wars Launch Bay. This is the place to go to visit the Star Wars characters for a meet and greet. Disneyland also has movie props and costumes on display. Star Wars video games can be tested as well as brows/purchase merchandise that is for sale.
Autopia
Another fun ride in Tomorrowland is the Autopia. This ride has been around since the park opened in 1955. It has changed a lot over the years. But it has stood the test of time. This attraction is miniature cars along a track that you or your little one can drive. (As long as they can reach the peddle or you can ride with them and you can press the peddle while they steer.) Along the track is a guide rail that is under the car so you can't go "offroading". At least not too far…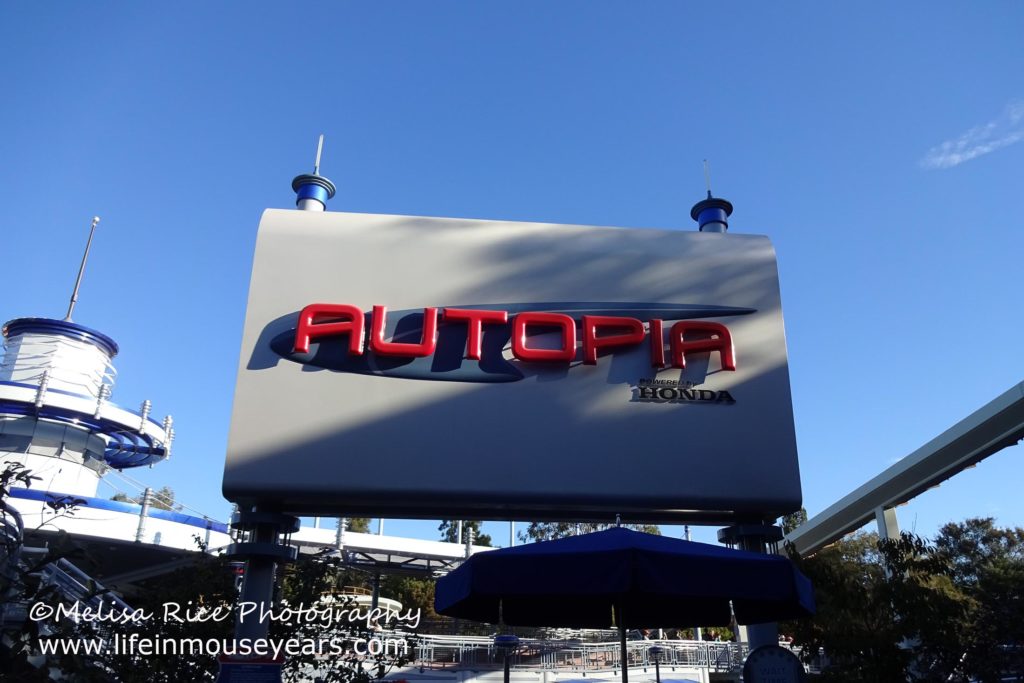 Autopia is sponsored by Honda at the moment. 
*FastPass Attraction

Find Star Wars items and more at Shop Disney!
Finding Nemo Submarine Voyage
Next on the list for Exploring Tomorrowland Today in Disneyland is Finding Nemo Submarine Voyage. For this attraction, you board a submarine and look through the portholes to see the characters from Finding Nemo. Watch and listen to Marlin and Dory as they hunt for Nemo. 
Note: This attraction has a narrow and winding staircase to go down and up in. If you are unable to navigate them, there is a place ashore for you to experience this attraction virtually. Just let a Cast Member know and they will show you where to go. This is also helpful if you are claustrophobic or if you have a fear of being underwater.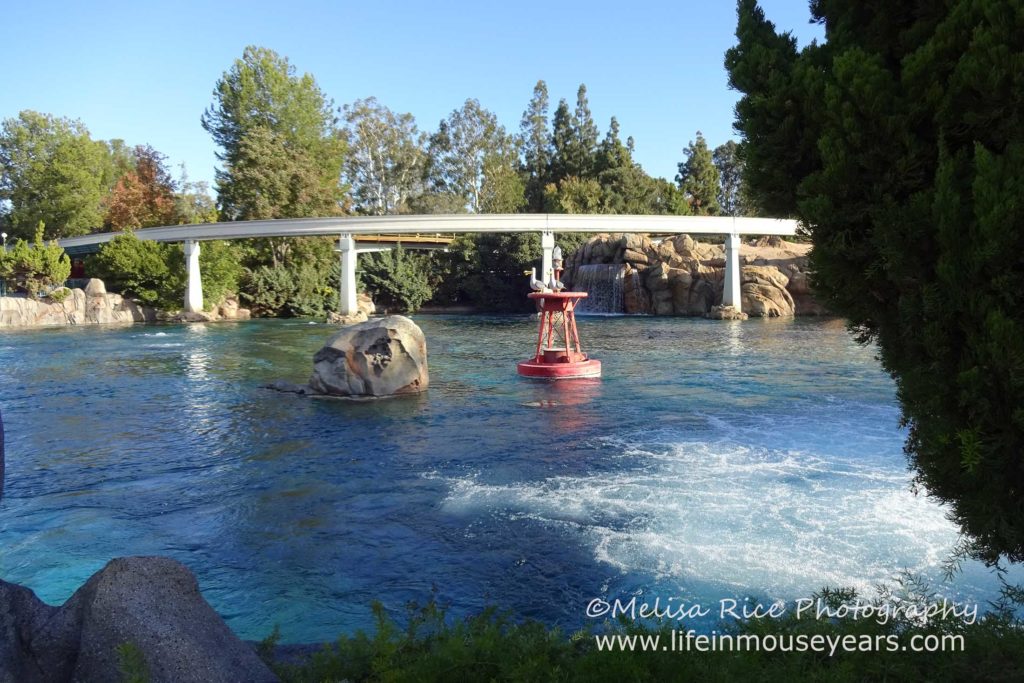 Buzz Lightyears Astro Blasters
Buzz Lightyears Astro Blasters is a Galactic Journey through space as you help Buzz Lightyear defeat the Evil Emperor Zurg. As you board your intergalactic vehicle, there is a laser gun you will use to shoot targets and gain points against your opponent that is next to you. (Yes, there is a scoreboard on your vehicle.)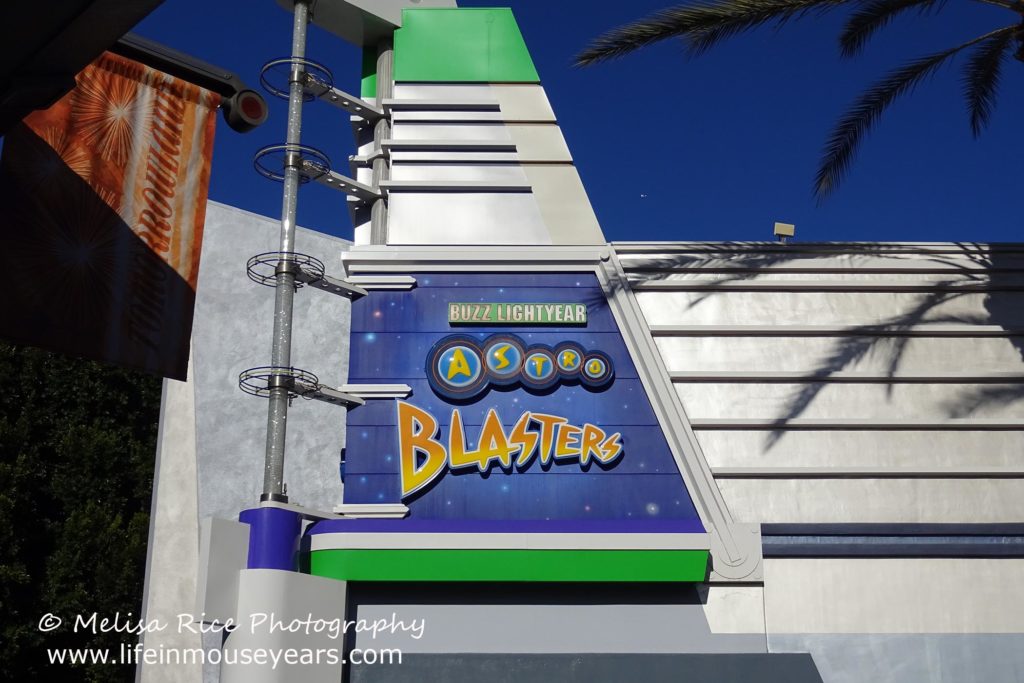 Buzz Lightyears Astro Blasters takes your photo during your journey. At the end of the attraction, there are computers for you to find your photo, and then you are able to email it to yourself. Another great souvenir from your trip!
If you would like to know more about Buzz Lightyears Astro Blasters, like how to get a higher score, check out my post on this attraction here.  
*FastPass Attraction
Astro Orbitor
Finally, the ride Astro Orbitor is the last attraction of Tomorrowland. This attraction sits out in front of the land. It is a rocket style ride that goes around and around. In each vehicle, there is a joystick of sorts that you can press it forward or backward to make your vehicle go up and down while it goes in a circle.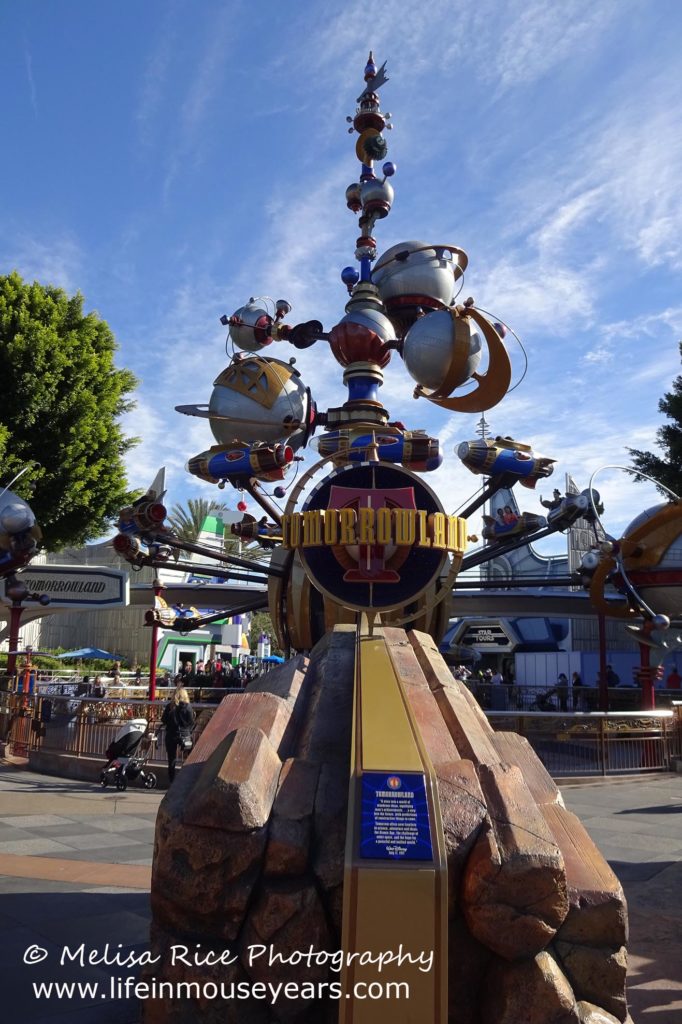 Beware if you have motion sickness!
Shops
Next on the list for Exploring Tomorrowland Today in Disneyland are the shops! There are two shops in Tomorrowland for you to explore.
Star Trader
First is Star Trader. This shop had always been a favorite of mine to go to and purchase souvenirs. I really enjoyed the selection they used to have. Now, it is all Star Wars merchandise. Don't get me wrong, it is great to have Star Wars items! However, I just miss the old Disneyland merchandise this store used to have. (I'm older and set in my ways I guess. Hee Hee.) I digress, Star Trader has got you covered with Star Wars merch! T-shirts, Sweaters, bags coffee mugs, toys, lightsabers, figurines and more!!  
Don't forget to check out the squished coin machines! Star Wars squished coins to add to your Disneyland coin collection.
Little Green Men Store Command
Next on the shopping list, is the Little Green Men Store Command. This shop is in the exit of the ride for Buzz Lightyears Astro Blasters. The merchandise in this store is mostly Pixar themed. They have plush characters and trading pins with accessories. (And more!) Check out the trading pins here. They have a great selection in this shop. 
Food! Uh… I Mean Restaurants
Another thing on the list for Exploring Tomorrowland Today in Disneyland is the restaurants! Exploring Tomorrowland can work up an appetite! Therefore, there are two locations for you to find food to refuel and continue on with your exploration. 
Galactic Grill
The first dining location in Tomorrowland is the Galactic Grill. This dining location has American fare and is $14.99 and under. They offer burgers, chicken sandwiches, chicken tenders, a veggie wrap, and a salad for lunch and dinner. They have breakfast, but there are only a couple of options for that. I have always enjoyed the burgers at this location and recommend giving it a try if you are in the mood for a burger. In addition to the burgers, the Galactic Grill offers desserts too! They have the Mickey Ice Cream Bar, Mickey Ice Cream Sandwich, Crispy Rice Treat, and a Strawberry Fruit Bar. However, the best one to go for is the Galactic Parfait! It is a layered parfait of chocolate cake, purple mousse, blue cheesecake, raspberry marmalade. It is topped with a chocolate truffle shell, glitter glaze, and edible silver stars.
Excuse me a moment while I wipe up the drool…
If you would like to check out the menu for Galactic Grill, you can find it here.
Alien Pizza Port
Alright, now for the final dining location in Tomorrowland. It is the Alien Pizza Port. This restaurant is themed with the little green aliens from the Toy Story movies. Alien Pizza Port has pizza, pasta dishes, and salads to choose from. Like the Galactic Grill, it is $14.99 and under as well.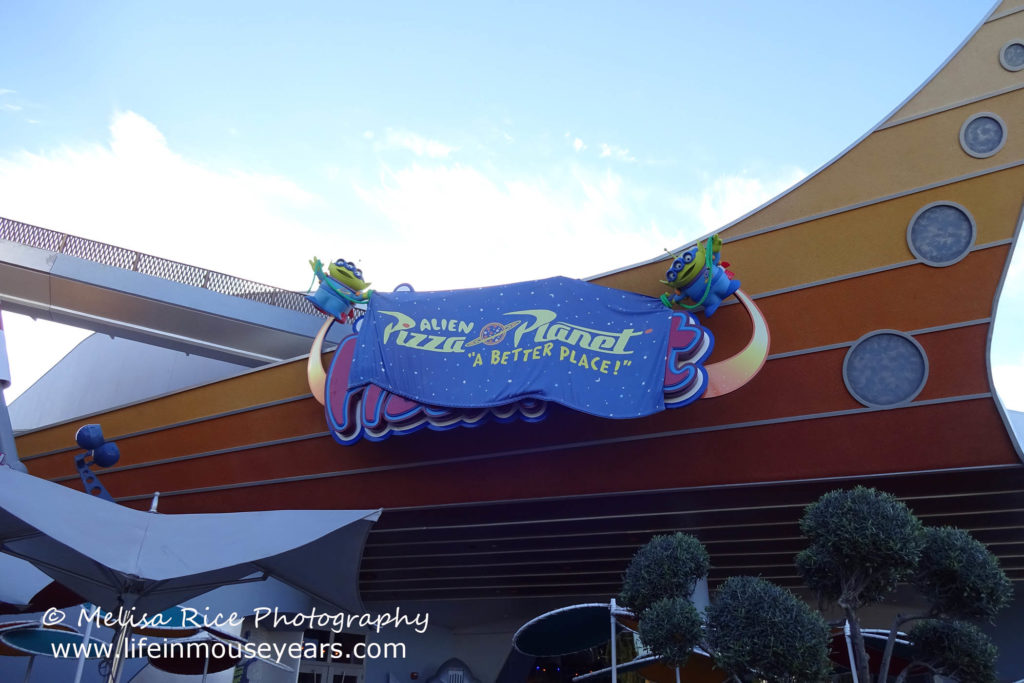 There is a Count Down Chicken Fussili Pasta. It has gilled chicken, parmesan cheese, creamy pesto sauce, and sun-dried tomatoes. Another pasta dish is the Tera Nova Vegetable Pasta. It has mini penne noodles, parmesan cheese, vegetable ragu, and seasonal vegetables.
Pizza at the Alien Pizza Planet can be purchased by the slice or by the whole pie. (Although, a whole pie will cost you $40-$44.)
For the full menu, check it out at Disneyland's official website here. 

Find fun Disney kitchen items to help you create your tasty treats!
In Conclusion
Today's post, Exploring Tomorrowland Today in Disneyland is a great way to help you get started in planning your time in Tomorrowland. There are so many fun things to see and do in this land. From the rides to the shops and even the food! I hope that you will check out some of these things during your next trip to the Disneyland Resort.
Questions or Comments?
If you have any questions or comments on today's post, please feel free to leave them in the comments down below. I would love to help!! 
Thanks for stopping by Life in Mouse Years!