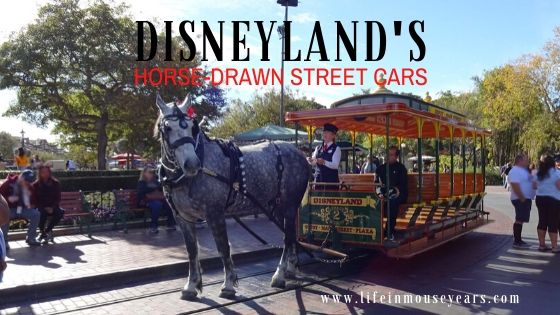 Discovering Disneyland's Horse-Drawn Street Cars is a fun way to start your day at the Disneyland Resort. Making your way down Main Street, U.S.A. is a slow but scenic way to travel. Today I thought I would share with you some fun facts about this attraction at Disneyland!
Discovering Disneyland's Horse-Drawn Street Cars
This attraction at Disneyland is one for anyone, of any age. It is an attraction that has been around since opening day! As a result, there are some fun facts to uncover.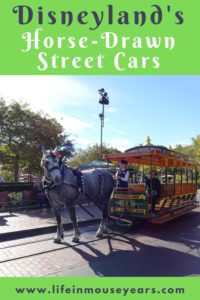 ---
Are you wanting to get a new item for your next vacation? Check out some of the Disney Parks items that you can order online from the link below. From shirts, hats, shoes, bags and more!
Make summer red, white & cool with Americana styles for the whole family. Shop vacation clothing at shopDisney!
---
History
First of all, on Discovering Disneyland's Horse-Drawn Street Cars, let's start off with a little history. I know, history can be boring. However, I find this history fascinating and I hope you enjoy it as well. I will keep it brief.
Disneyland's Horse-Drawn Street Cars have been around since opening day, July 17, 1955. That is a long time! However, even though this attraction has been around a while, it is still an entertaining attraction to check out! 
Back in the 1800s, horse-drawn street cars, like the ones in Disneyland, were a way to get around. Up until the 1900s when motorized vehicles were produced. The chassis uses metal rales in the street and metal wheels, which helps to make it easier for the horses to pull it down Main Street, U.S.A.
Disneyland has a few other vehicles that can take you from one end of Main Street to the other. If you would like to learn more about these vehicles, check out my post-Discover All the Modes of Transportation on Main Street, U.S.A.


Ride
Next on the list of Discovering Disneyland's Horse-Drawn Street Cars is information on the ride itself. This attraction is a one-way trip down Main Street, U.S.A. There is a stop right on Main Street near the Opera House and one in front of Sleeping Beauty Castle. Basically, from the Train Station entrance to the Castle.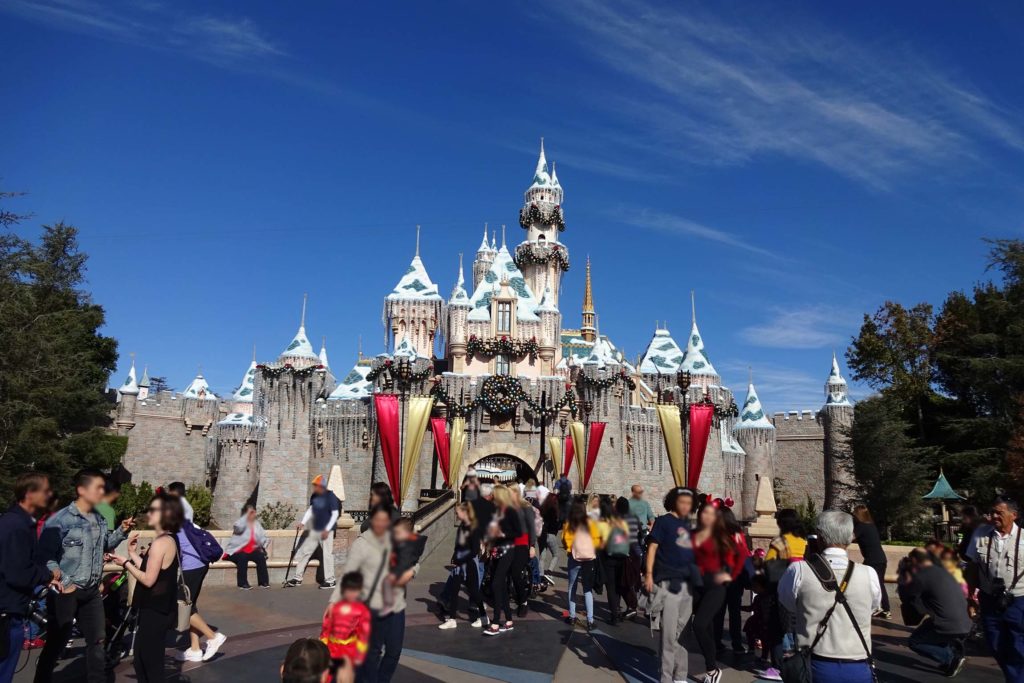 As you ride this Horse-Drawn Street Car down Main Street, you can take in the sites of the buildings, the stores inside and avoid any foot traffic that you would otherwise have to maneuver through. Because of the streetcar being pulled by the horse, you can enjoy a lot of the sites and take some photos, at a slow pace.
In addition to saving some steps on your feet, it is a nice break to relax for a few, hear the sound of the horse's footsteps, and smell the fresh waffle cones from Gibson Girl Ice Cream Parlor.
Horses
Third, on the list of Discovering Disneyland's Horse-Drawn Street Cars is the horses. These horses are trained and are considered Cast Members. (Employees.) When you are inside of the streetcar, a huge name tag is up front, with the horse's name on it. This is pretty cool in my book.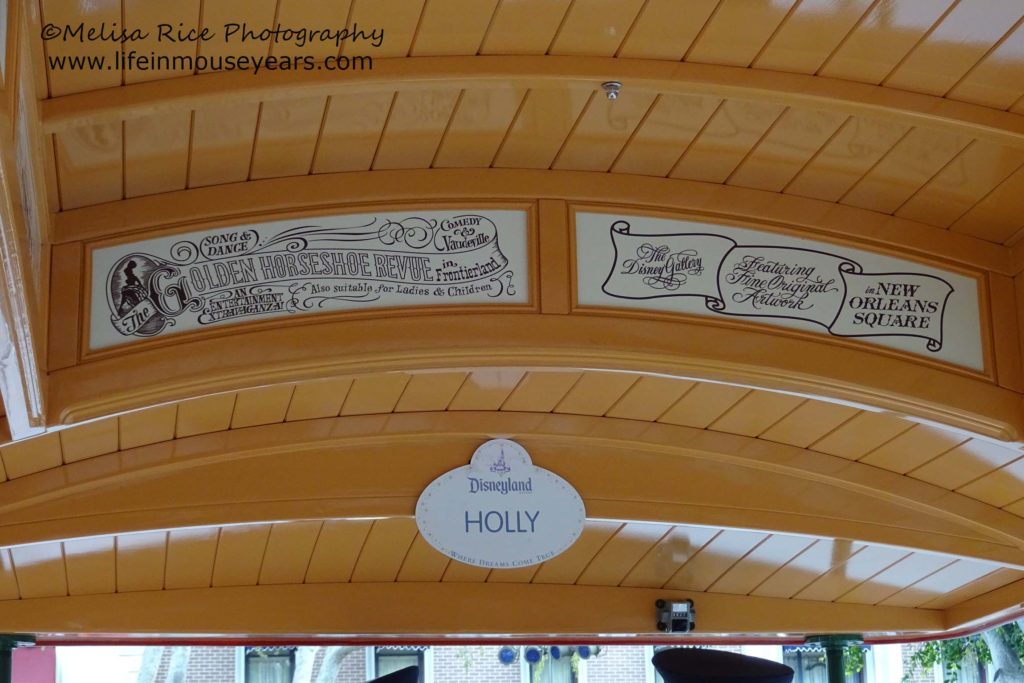 Before Star Wars Galaxy's Edge was being built, Disneyland had its own ranch in that spot. Now, the horses are brought in from a ranch nearby. 
After so many years of service, the horses are retired. Last December, two of the horses (they were siblings) retired after 11 years of service. A Cast Member adopted them and they are now resting on a ranch. 
During our last visit, the horse that was pulling our streetcar loved to have their picture taken. The conductor was telling us how he will turn and pose when he sees a camera. I was thinking no way. Well, in my photo below, a person came up to take a photo. The horse turned his head and when they put the camera down, he faced forward again! It was crazy to see, but yet very cool. I think the horse enjoys his job.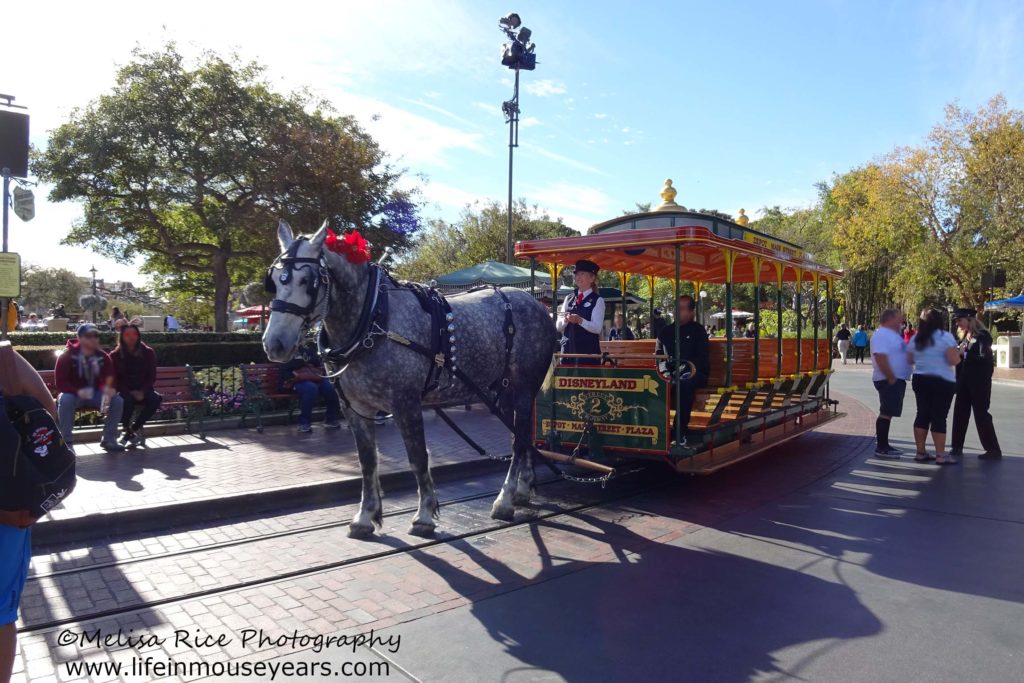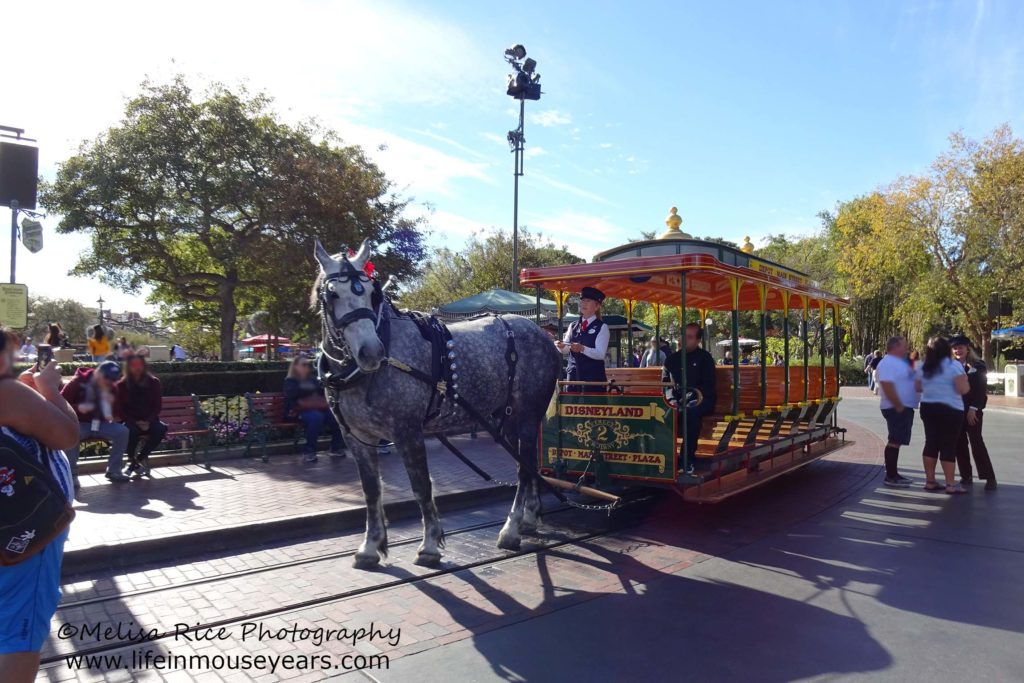 Inside the Carriage
Next on the list for Discovering Disneyland's Horse-Drawn Street Cars is to check out the inside of the carriage. While the seats are wood and not the softest of places to place your backside, it seems to be pretty comfortable as you ride it. 
As I mentioned above, the horse's name tag is up front for you to see. In addition, if you look up, there are some advertisement type of signs showcasing various shops and attractions on Main Street, U.S.A. These ads are done in a very old fashioned way to fit the theme of the Victorian type era that Main Street, U.S.A. is based on. Definitely worth checking out.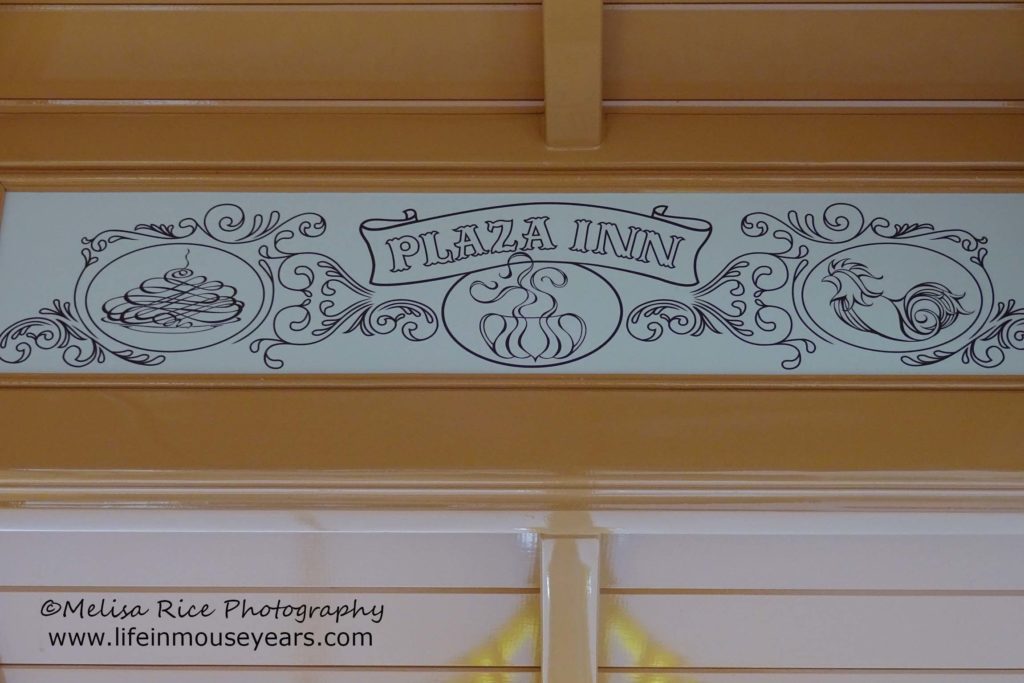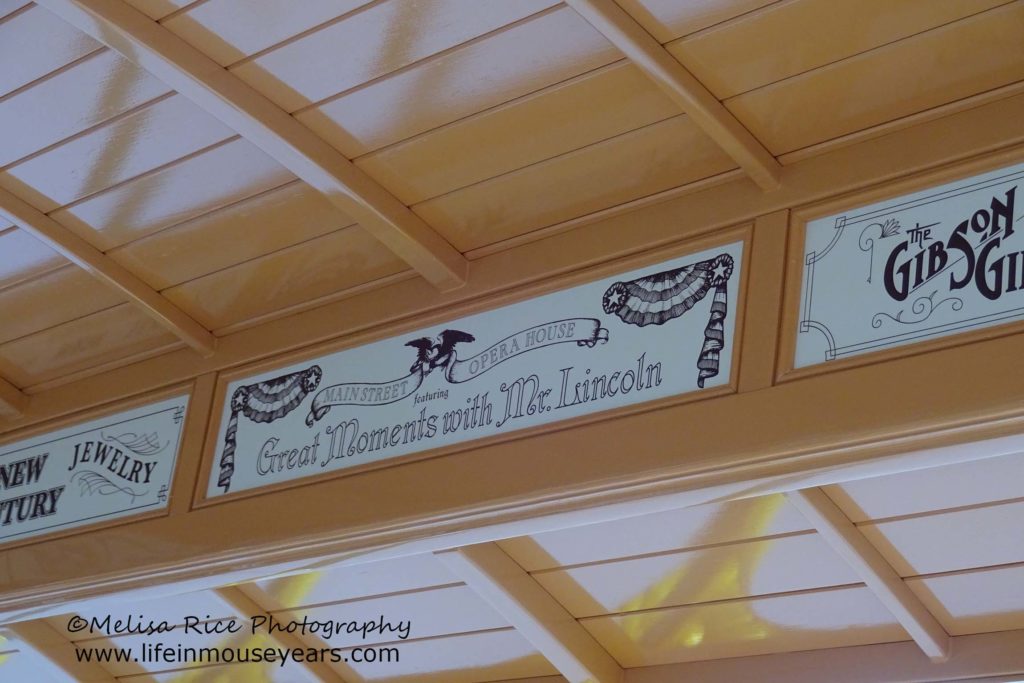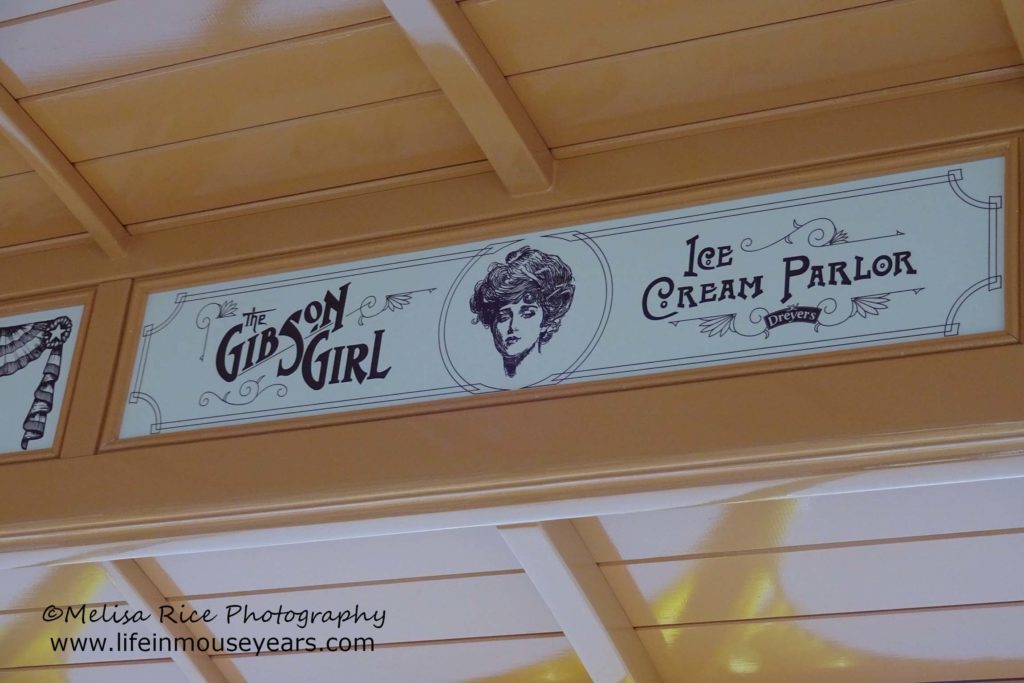 Hours
Unfortunately, Disneyland's Horse-Drawn Street Cars are not opened the same hours as the park. Due to various reasons, like the parade, this attraction may close intermittently or close early. At the time of this writing it is open from 8 a.m. to 3:30 p.m. Keep in mind that if it rains, Disneyland may close this attraction.
Dapper Dans Take A Ride
Sometimes, the Dapper Dans will stand on the sides of the carriage and sing as you make your way down Main Street. The Dapper Dans is a quartet that sings acapella. Having been around since 1959, they are a joy to listen to. They throw in some humor to their performances as well. Usually, they will perform at different spots along Main Street, U.S.A., however, there are some times they will ride down with you. I haven't had the pleasure to experience this for myself, but I have seen lots of videos of it. Hopefully, you are lucky enough to experience this during your trip!
ShopDisney has a limited release of Funko Pop! Vinyl Figures that you can purchase. You can check them out in the link below. They are so cute!
The Dapper Dans Pop! Vinyl Figure Set by Funko – Main Street U.S.A. – Limited Release
In Conclusion
Discovering Disneyland's Horse-Drawn Street Cars is a fun way to start your day at Disneyland or even a great way to save on walking during your trip. Being that it is for all ages, the entire family can ride this attraction. If you haven't ridden this before, or even if you have ridden it before, Disneyland's Horse-Drawn Street Cars are a fun and historical ride that is not to be passed up!
For current information on Disneyland, check out Disneyland's official website here.
Questions or Comments?
If you have any questions or comments on today's post, please feel free to leave them below. I would love to help!
Thanks for stopping by Life in Mouse Years!