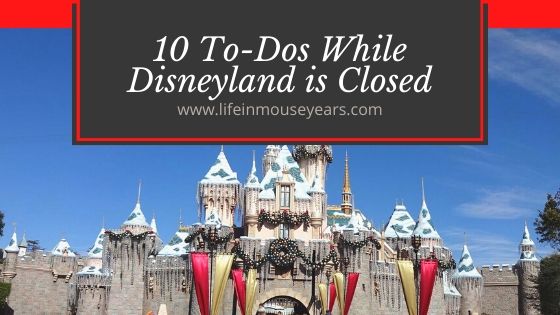 Wondering what to do now that Disneyland is closed and more states are issuing stay at home orders? Today I would like to share with you 10 To-Dos While Disneyland is Closed. These are things that you can do either alone or with your family to help pass the time and add some Disney to your days!
10 To-Dos While Disneyland is Closed
Staying at home day after day can get challenging. Especially if you have little ones that want to go out! Plus, with Disneyland closed, how do you add some Disney magic to your days? I hope to help you out with that today!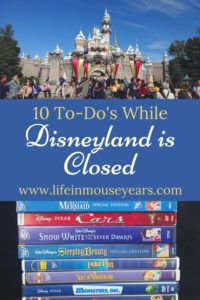 Order From ShopDisney
First on the list of 10 To-Dos While Disneyland is Closed is to get something from ShopDisney. This will bring a little magic home! However, you don't have to purchase, even just browsing what is available can be a fun way to pass the time. Especially when ShopDisney has a whole section specifically for the Disney Parks items! 
For example, they have a Minnie Mouse The Main Attraction line that has a themed Minnie Mouse Plush, coffee mug and more. Each month features a new attraction. The last one was Pirates of the Caribbean, and next month will be Alice in Wonderland. You can check it out in the link below.
Minnie Mouse – The Main Attraction Collection at shopDisney.com!
If you would like to browse other things that are on the ShopDisney site, just click the box below to get started on your adventure!
Color Disney Coloring Books
Next on the list of 10 To-Dos While Disneyland is Closed is to Color Disney Coloring Books. This activity is one that children and adults can do. Either alone or together! My Mom got us coloring books when I was little. The same book and we would color the same picture at the same time. This is something my Grandmother had started with my Mom. As a result, we still color things to this day! Now there are so many different options for coloring books. I have even seen and purchased Disney coloring books that have hardcovers! 
In the link below are some options from Amazon. There are so many options to choose from. Don't forget the crayons! 
This is a great way to pass the time, in addition, to help relax and relieve some stress that you all may be feeling. 
Put Disney Puzzles Together
Another thing to do while Disneyland is Closed is to put Disney puzzles together. This is another great way to pass the time at home. This is another item that has a lot of options as well. There are Disney puzzles with a small number of pieces with large size or lots of pieces with small-sized pieces. Likewise, there are Disney puzzles with just Disney characters or Thomas Kinkaid painting puzzles. Check out some of the options I found in the links below.
Go Through Past Disneyland Trips Photos and Videos
Next on the list of 10 To-Dos While Disneyland is Closed is to go through past Disneyland Trips photos and videos. This is one of my favorite things to do! To relive the magic when I can't be there at the parks! Another great thing to do as a whole family.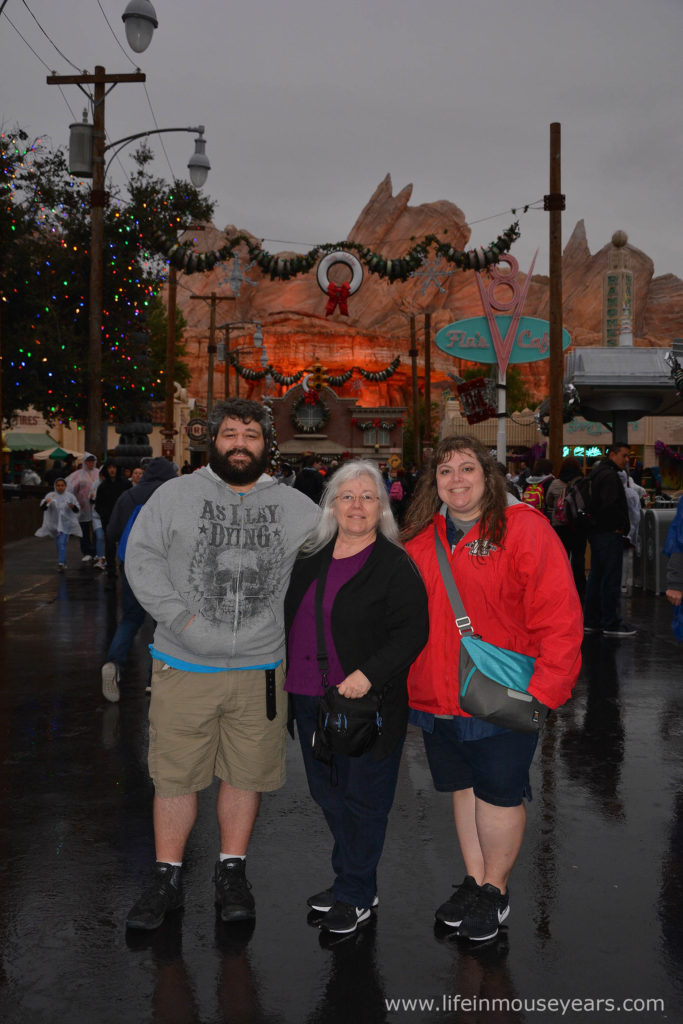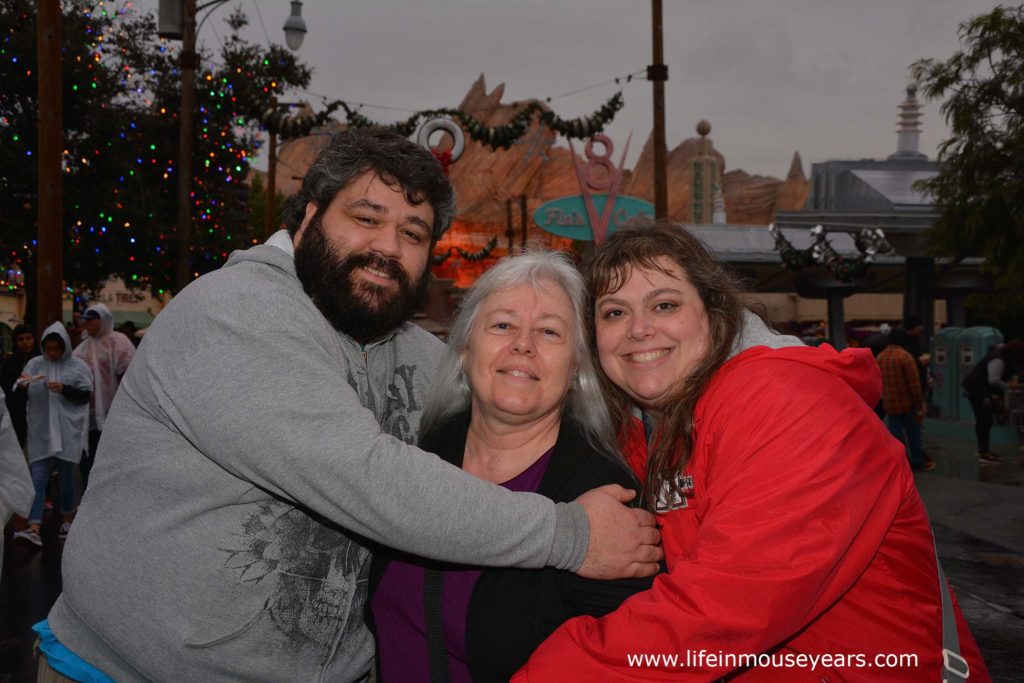 Watch Disneyland Ride Throughs on YouTube
Watching Disneyland ride throughs on YouTube is another great to-go while Disneyland is Closed. While I love to watch my own family videos, I now realize that the camcorder is just too old to do Disneyland justice! Especially after you watch some of the videos people have put out on YouTube. Therefore, watching some of these virtual ride throughs on YouTube is another great way to pass the time and bring Disneyland into your home. 
SoCal Attractions 360  has ride-through videos of all the Disney Parks plus some other theme parks as well. The videos are of great quality.
Sharp Productions has a playlist of POV Disneyland attractions.
Watch Disneyland Vloggers
While this next to-do is similar to the one above, it is slightly different. Watching Disneyland Vloggers is not just ride through. And a lot of times, they will show partial ride throughs. Which is great! But they will also share with you other parts of the park and talk about current foods and shows. 
Here are some of my favorite YouTubers that I enjoy that you may like as well.
Due to Disneyland being closed at the moment, some of their most recent content will be about that or other adventures and things that are going on with them during this. They are trying to adapt to the situation! However, they have lots of older videos that you can go back and check out. Lots of fun stuff to watch!
Recreate Your Favorite Disneyland Ride at Home
Recently I have seen online some people that are recreating their favorite Disney ride in their own home! There is so much creativity out there! This could be a really fun one to do especially if you have kids that can get in on it and help out! 
Here is one from a YouTuber I watch called Provost Park Pass. They are so funny and show how to involve your children.
Another idea might be to build a model of your favorite attraction. If you know how or have the supplies, or even improvise with cardboard or cake! 
Watch Disney Movies and Shows
Next on the list of 10 To-Dos While Disneyland is Closed is to watch Disney movies and shows. Whether it is DVD's or if you have a Disney+ Subscription, this is a very fun way to pass the time! Or to brush up on some classic movies. Disney+ has so many fun movies and TV shows, classic Disney cartoons and some documentaries about the Disney Parks!
Here is a post I did about Movies to Watch Before Visiting Disneyland. This way you will be ready for when the park reopens!
Play Disneyland Video Games
Playing Disneyland video games is another great way to pass some time while you are waiting for Disneyland. I have a Disneyland game for the Xbox 360. You can walk all over the park and play some games at the attractions. It is so much fun. Another Disneyland game is Minecraft. One of the Disneyland YouTubers (mrcheesypop) I watch showed the Minecraft Disneyland game. It looks so real! Definitely worth checking out if you are into video games.
The link below is for Xbox One.
Research and Plan Your Next Disneyland Vacation
Finally on the list of 10 To-Dos While Disneyland is Closed is to research and plan your next Disneyland vacation. 
I know that things seem so uncertain right now, and frankly scary! However, we will get through this. Together! And when things start to improve again, Disneyland will reopen! Can you imagine the excitement?
In the meantime, researching and planning your next Disneyland adventure can not only be a great way to pass the time, but also a great way to lighten the mood in the household. To bring joy into your house.
Below are some posts I have done that may help you in your Disney research and planning. 
Costco Disneyland Vacation Packages 2020
15 Best Items to Purchase Before Going to Disneyland
What is Disneyland's Mobile Ordering Service and How Does it Work?
11 Best Posts Disneyland Ride Tips
Ideas for Surviving Disneyland in the Rain
Top 10 Rainy Day Items for Disneyland

Have you checked out Undercovertourist for your Theme Park Tickets? Disneyland, Universal Studios and more!
Bonus To-Do
One more thing I wanted to mention, is to make a Disney shadow box. If you have the items, or if you can order some in, now is a great time to get your Disney souvenirs put together to put them on display. A shadow box is a great way to display items in addition to keeping them dust-free! Here is a post I did on How to Make a Disney Shadow Box. I also have a link in that post to my YouTube video if you would like a visual instead of just reading and seeing photos. 😉
In Conclusion
I hope this post 10 To-Dos While Disneyland is Closed helps you out to pass the time while being at home. Even though things are not ideal, there are some fun Disney related things that you can do to bring some Disney magic into your home. As well as bring some joy to your family! 
Visit Disneyland's official website here for current information.
Questions or Comments?
If you have any questions or comments on today's post, please feel free to leave them below! I would love to help out!
Thanks for stopping by Life in Mouse Years!