Do you have a favorite mode of transportation on Main Street? Disneyland's Main Street U.S.A has a lot of different ways to travel down towards Sleeping Beauty's Castle. Today I would like to talk about all the modes of transportation on Main Street that you can take.
Discover All the Modes of Transportation on Main Street U.S.A.
Main Street U.S.A. in Disneyland is designed to resemble a turn of the century, Victorian-style small town in the United States. Did you know that you can travel down Main Street in vehicles from that time period?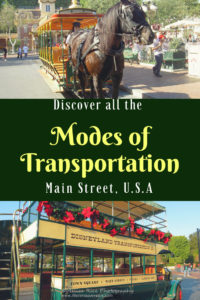 One of the original attractions from opening day in 1955 is these transportation vehicles. They are a Horse Drawn Street Car, Jitney, Fire Engine, and Omnibus.
---
---
Horse-Drawn Streetcar
The first mode of transportation on Main Street is the Horse Drawn Streetcar. The Horse Drawn Streetcar is a streetcar that glides along rails that are on the street. It is pulled by a horse! The horses even have a cast member name tag. It is on the inside of the streetcar. How cool is that?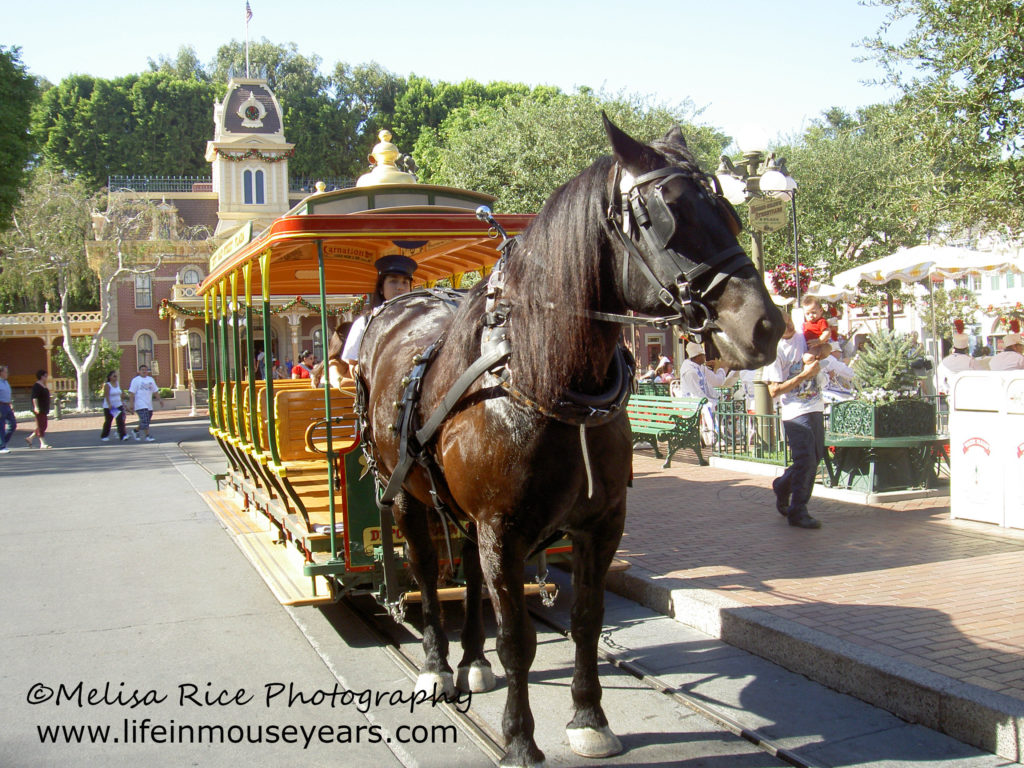 Jitney
The next mode of transportation on Main Street that you can ride is called Jitney. This vehicle first came out in the early 1900s and it started out as a bus. The car was like a taxi service back in the day. It is fun to check this car out. Then you can tell all your friends that you got to ride in a Jitney.
Fire Engine
The third mode of transportation is a Fire Engine. Now, it is by no means a fire engine that you would think of by today's standards. This one is one of the first fire engines that were made. A lot smaller than today's fire engines. This one is still a treat to try out.
Omnibus
The last mode of transportation on Main Street vehicle is the Omnibus. This is something like what you would see in movies that take place in London. It is a double-decker bus. Which means it has two levels. The stairs to go on the second level are on the backside of the bus. It is a bit of a circular staircase. (You can kind of see what I mean in the photo below) You can also be on the lower level. Either way, this vehicle is fun to ride as well.
One Way Trips
All of these vehicles are one-way trips. There are signs both at Town Square (right as you enter Main Street from the train tunnels) and at the Central Hub (right in front of Sleeping Beauty's Castle).
When I was growing up, we never rode these vehicles. I am not sure why we didn't. They are so fun to ride!
I think my favorite is the Horse-Drawn Streetcar. But a close runner-up is the double-decker Omnibus. The Omnibus is an experience. If you can get up to the second level, the view of Main Street from there is really something! You can see the building's second story from a new perspective.
Plus looking down on everything is a neat experience as well. Besides these vehicles being a fun way to enjoy Main Street, they can save your feet from a little bit of walking. Also, you can avoid fighting the crowds by riding these vehicles from one side of Main Street to the other. If you have been to Disneyland during a busy season, you know what kind of blessing these vehicles are.
Tips on all the Modes of Transporation on Main Street, U.S.A. in Disneyland
One thing you will want to keep in mind is that you must be able to walk some or be assisted by your party. There are steps up to get onto the vehicles. Wheelchairs can be folded up and put on the vehicles.
Something else to keep in mind is that these vehicles only run for certain hours of the day. Which I believe is from opening until dusk. (I have never seen them running at night).
In Conclusion
If you haven't tried out one of these modes of transportation options on Main Street U.S.A., make sure to give it a try on your next trip. It is a real treat!
Comments?
Have you tried out one of these modes of transportation vehicles? Which is your favorite? Drop a comment below and let me know which is your favorite and why.
What would you like to see here?
Is there anything you would like to read about here at Life in Mouse Years? Let me know in the comments below! I would love to help!
Don't forget to sign up!
If you would like to stay up to date on new posts that come available, please sign up to receive email updates!
For up to date information and ride schedules, check out the official Disneyland website here.
Thanks for stopping by Life In Mouse Years!
---
---