Discovering Buena Vista Street in California Adventure is something that I hadn't really taken the time to do in the past. During our last trip, I spent a little more time looking around Buena Vista Street and noticing some of the cool themes, decorations, designs, and shops. Hopefully, this helps you out to discover what is on Buena Vista Street during your next visit to the park!
Discovering Buena Vista Street in California Adventure
Buena Vista Street has so many different things to see and do. Today I would like to share some of the things I found during our last trip to help with your next adventure at California Adventure.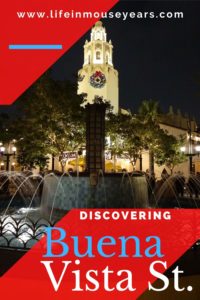 Dedication Plaque
First on the list of discovering Buena Vista Street is the dedication plaque. Just after you enter California Adventure, in the center are trees that surround the flag pole. At the bottom of the flagpole is the dedication plaque. Originally dedicating the park when it first opened in 2001 and then rededicated in 2012 when they redesigned the park. Including the main entrance and the addition of Buena Vista Street. 
ShopDisney has Disney Subscription Boxes
! Pick one of the three types of collections that you can choose from. It gets delivered right to you.
Buena Vista Street Buildings
Second on the list of discovering Buena Vista Street are the buildings. Being that Buena Vista Street is designed after California when Walt Disney first arrived in 1923, walking into California Adventure and down Buena Vista Street is like walking into the past! One of the first places you can see this is the buildings.
The buildings have so many details on them. Not only with the design but also with the names. For example, one of the shops is called Five and Dime. Oh man, if we only had stores that cheap nowadays. 
Themed Additions Along Buena Vista Street
Next, there are so many different themed additions all along Buena Vista Street. One is an old fashioned car sitting out in front of the gas station.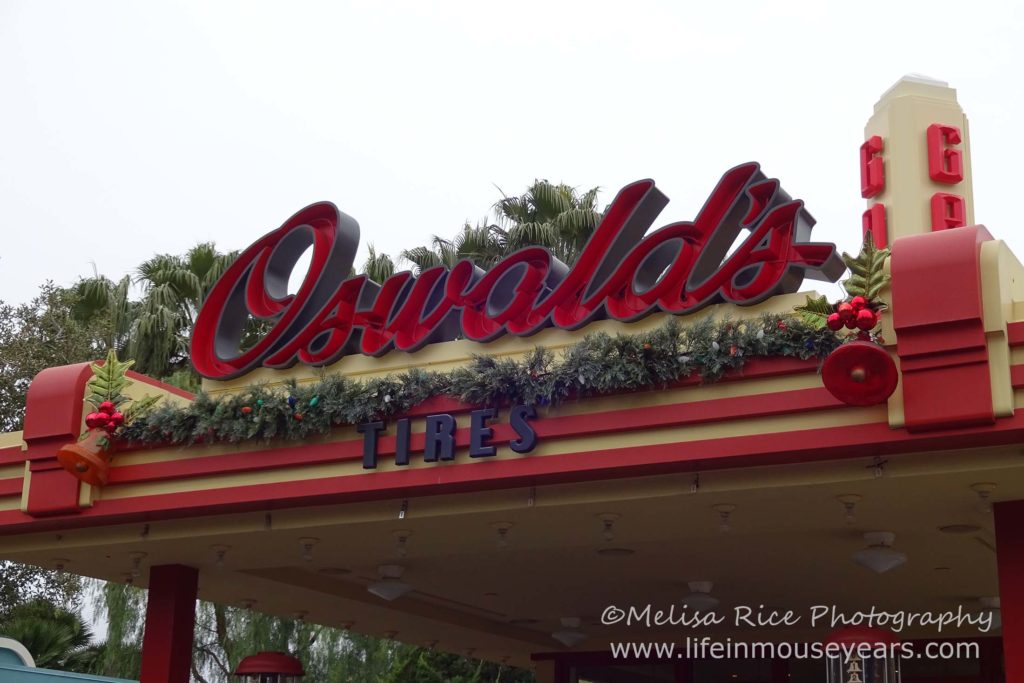 Another example is the trash cans that are all down the street.
If you would like to learn more about Disneyland trash cans, you can find it in a post I did here.
There are light poles that run down Buena Vista Street. This one has the street sign on it. 
Billboards to Murals
Next on the list of discovering Buena Vista Street is billboards and murals. On top of the buildings, there are some billboards like how we see billboards now on posts. However, there are also painted billboards on the walls of the buildings how they used to do them way back when. 
Another thing that is on Buena Vista Street is murals. Here is one that is made from tiles. 
Trolly
Running all along Buena Vista Street and Hollywood Land is a Trolly. (Check Disneyland's official website for closure information.) After you enter the gates of California Adventure, on the right is the first stop for the Trolly.
It is a one-way trip ride that goes to a stop at the Carthay Circle at the other end of the street. And then continue's to a stop in front of Guardians of the Galaxy: Mission Breakout. (This may change once the Trolly reopens and after Avengers Campus opens.) However, you can also board the Trolly and exit it at any of the stops. You just have to wait in line and reboard to go back the way you came. 
Rainy Day Fun
Unfortunately, while we were at Disneyland, there was a huge rainstorm that hit. While I am from Washington and used to rain, it can still damper your vacation to sunny California! Although, as we were discovering Buena Vista Street, we came to the candy store. In the same way, you can watch candy being made in Disneyland through the windows, you can do the same in California Adventure! Therefore, we stopped and noticed that they had drawn a photo and added a saying out of chocolate. It was so cute and it helped to brighten our spirits. Disney Magic is everywhere if you look up and around to discover it!
Here are some links to articles I have done if you would like to read more about Ideas for Surviving Disneyland in the Rain or what the Top 10 Rainy Day Items for Disneyland to be prepared in case it does rain while you are at the Disneyland Resort. 
Coffee in Disguise
Number seven on the list of discovering Buena Vista Street is Starbucks! I say coffee in disguise because both of the Starbucks locations that are in the parks, (one in Disneyland and one in California Adventure), were designed on the outside to fit the theme with a sign that says Starbucks somewhere on the building. For example, the one at the end of Buena Vista Street is called Fiddler, Fifer and Practical Cafe. It is really a Starbucks inside! This is a great place to go to get a Starbucks coffee with a cup that is Disney designed.
Clarabelle's Hand Scooped Ice Cream 
Next door to Starbucks, is Clarabelle's Hand Scooped Ice Cream. This is one of my favorites on the list of discovering Buena Vista Street. At Clarabelle's, you can get your choice of ice cream, hand-dipped in chocolate and if you would like, you can add sprinkles to it! These are the best hand-dipped ice cream bars. They even have special flavors at various times. Another item you can get is a kitchen sink ice cream. These are Mickey kitchen sinks that have ice cream and other toppings for a massive sundae! 
Water Fountain
Another thing on the list for discovering Buena Vista Street is the water fountain that is in front of the Carthay Circle Restaurant. I love to sit and listen, and watch, this water fountain in California Adventure. This water fountain is great to check out during the day or even at night. 
Carthay Circle Restaurant
Across from Clarabelle's is the Carthay Circle Restaurant. I have to admit, I have never eaten here, however, I know people who have and love it! It is just a bit too pricey for me. Personally, I prefer to visit the Blue Bayou Restaurant in Disneyland. (That is our expensive meal in the park each trip.) Therefore, we haven't gone to Carthay Circle. However, we do enjoy seeing the building at the end of Buena Vista Street. 
The Carthay Circle Restaurant building is a replica of the Carthay Circle Theatre that was in Los Angeles from 1926-1969. The original Carthay Circle Theatre was the location for the premiere of Walt Disney's first animated feature-length movie Snow White and the Seven Dwarfs. 
I think that it is a very nice way to bring not only movie history but also Disney history to California Adventure. 
In Conclusion
While discovering Buena Vista Street in California Adventure, I found a lot of different things that I hadn't noticed before. Make sure to take some time when you enter the park and check out some of these things, as well as, seeing what you can discover on Buena Vista Street during your next visit!
Questions or Comments?
Do you have any questions or comments on today's post? Please feel free to leave them below. I would love to help!
Thank you for stopping by Life in Mouse Years!