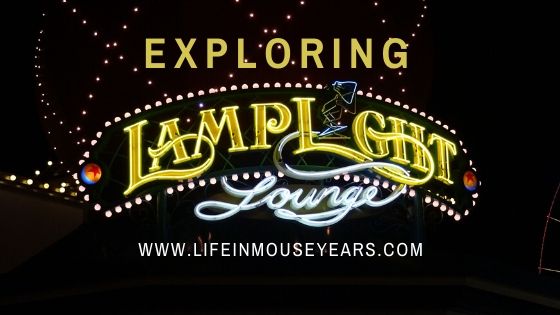 Exploring Lamplight Lounge is something that my family and I had the opportunity to do during our last trip to the Disneyland Resort. It was a really neat time. Checking out the theme, food, and drinks. 
Exploring Lamplight Lounge
Visiting Pixar Pier for the first time, I wasn't quite sure how I was going to feel about it. Surprisingly, we were able to get a last-minute reservation on a Saturday night for Lamplight Lounge. Therefore, we were able to check out this dining location in California Adventure. Today I would like to share with you what it looks like, how the food was and more!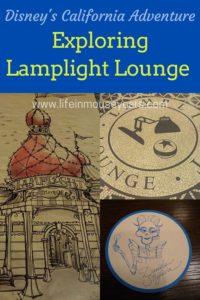 Theme
First on the list of Exploring Lamplight Lounge is the theme. The outside and inside are Pixar themed. This means there is the lamp and the yellow, blue and red star ball throughout the restaurant in addition to movie posters and pictures as well. 
Some of the Pixar movies are:
On the outside of the restaurant, in the middle of the sign for the restaurant, is the lamp that is at the beginning of Pixar movies. In addition, the ball is on each side of the sign. This is lit up at night. It is fun to see it. (Also, at night you will want to check out the Pixar Pier entrance sign. The lamp on top shines it's light and moves around.)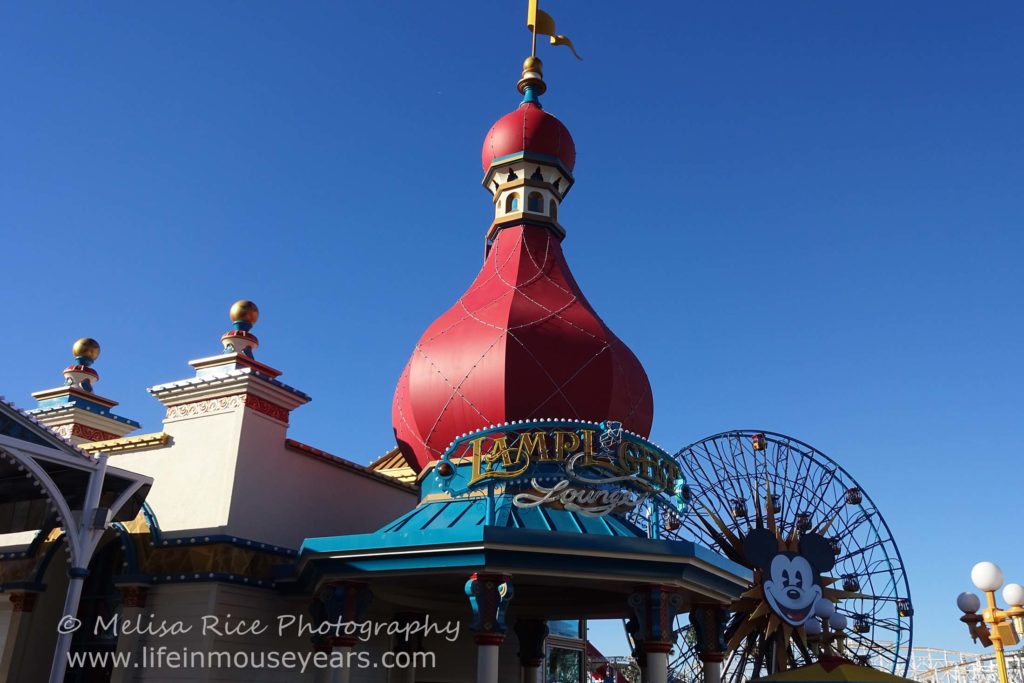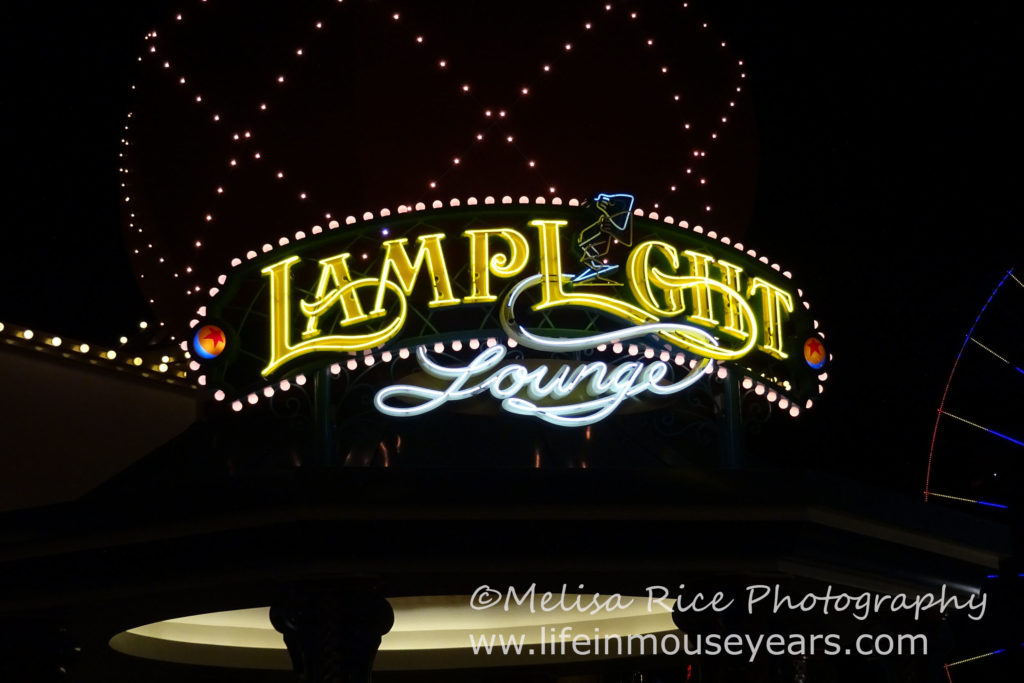 Lobby
Next for Exploring Lamplight Lounge is the Lobby. Once you walk in, the flooring is made up of small tiles in mosaic pieces that make the lamp, ball and spells out Lamplight Lounge. I think it may be like the icon for the restaurant, being, that this design is used in multiple places inside.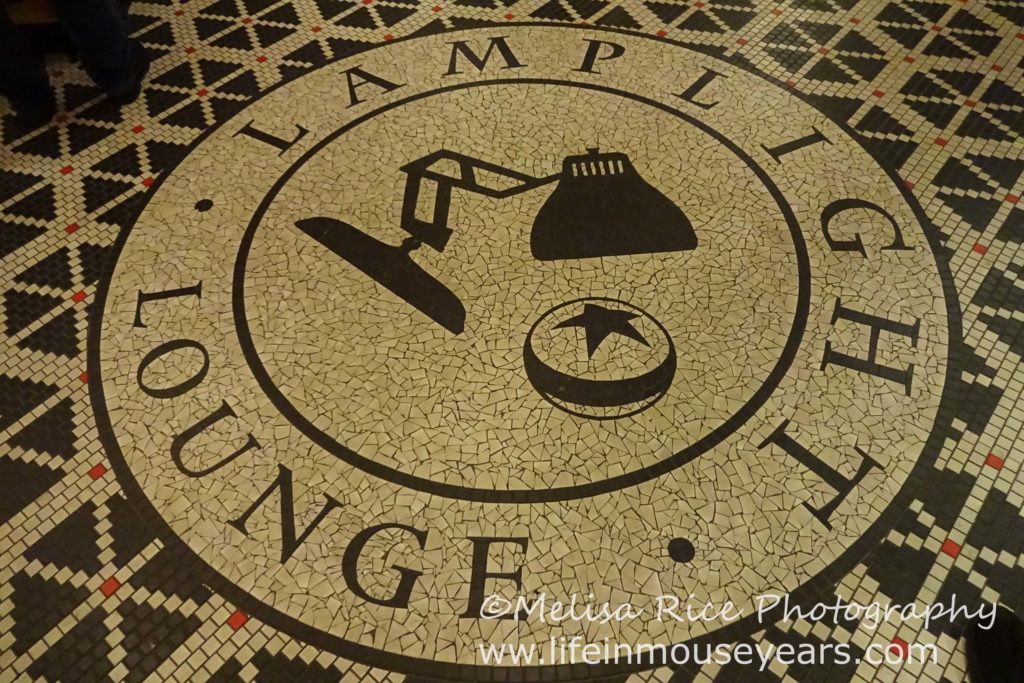 Also, there are a few "fancy" chairs around and a window that overlooks the Pixar Pier Lagoon. A little farther into the restaurant, Disney has part of the wall behind glass and inside are multiple rows of the Pixar balls lined up and lit up. 
Walls
Once we were seated in the dining area, we noticed all the decorations around the room. All along the wall behind me were posters and pictures of various Pixar movies. Some were signed by artists etc. It was a lot of fun to look at all the pictures along this wall. It helped set the mood like you were in a movie studio and walking down a hallway lined with posters and pictures. The Poster right behind me was from the movie Up. 
Drinks
Next on the list of Exploring Lamplight Lounge is the drinks. The front of the drink menu had that lamp, ball and Lamplight Lounge icon etched in the leather type cover. It is so detailed.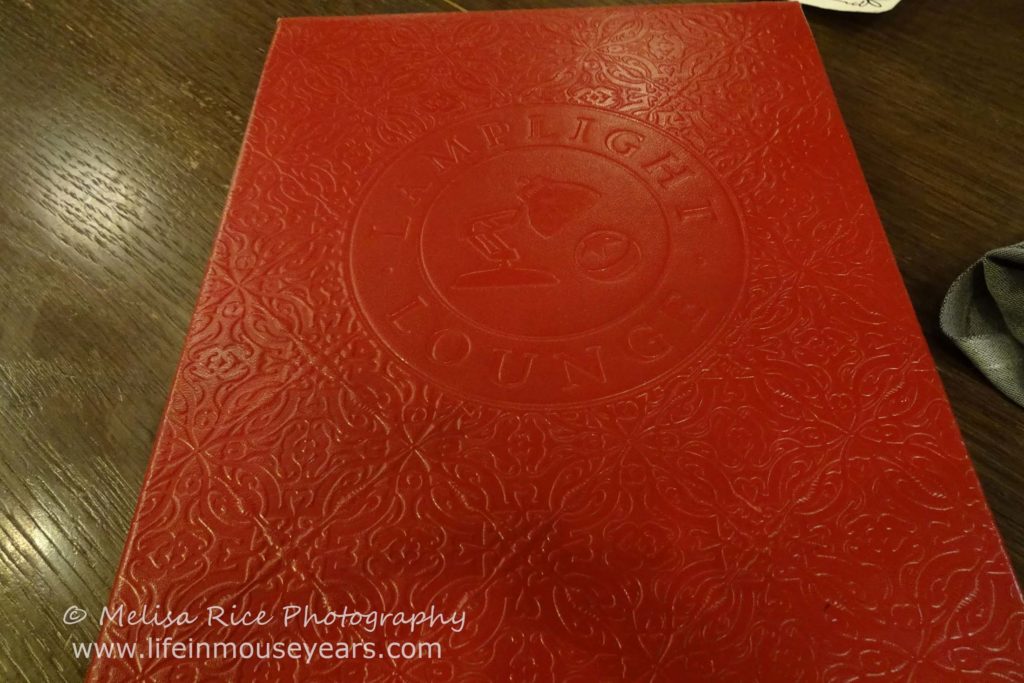 Inside is a good-sized list of drink options. There are alcoholic and non-alcoholic options. I opted for a non-alcoholic drink called Goofball Island. It has Simply Fruit Punch, Odwalla Lemonade and Raspberry Puree. This drink was so delicious! I would definitely order it again.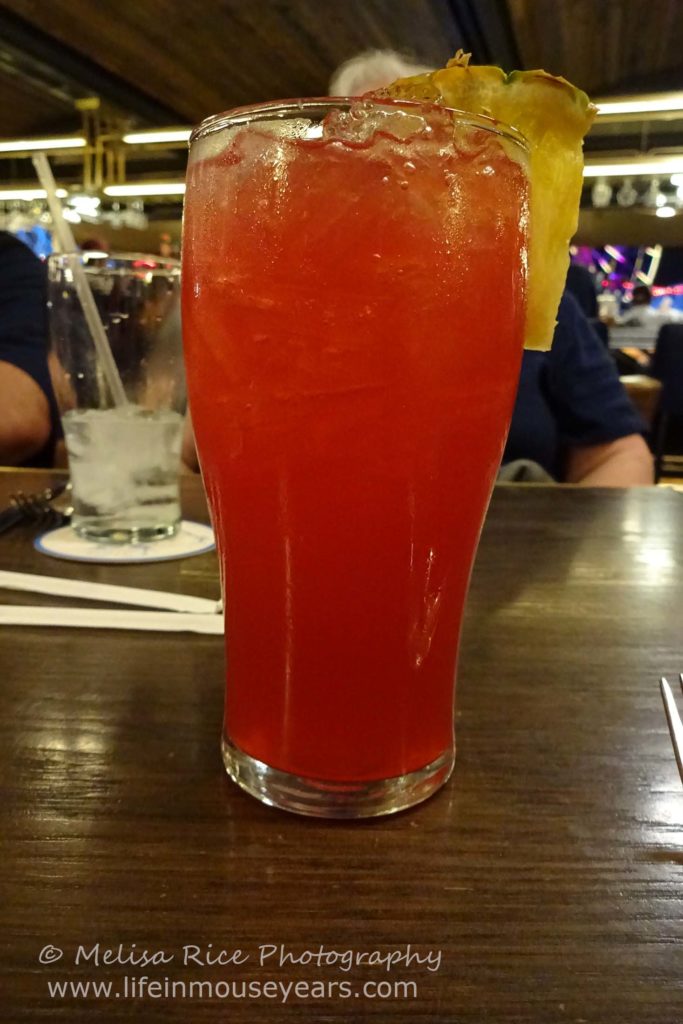 Also, the coaster they brought out has the lamp and ball icon as well. When you turn the coaster over, there was a drawn design of a Pixar character. Mine had one from Coco on the back.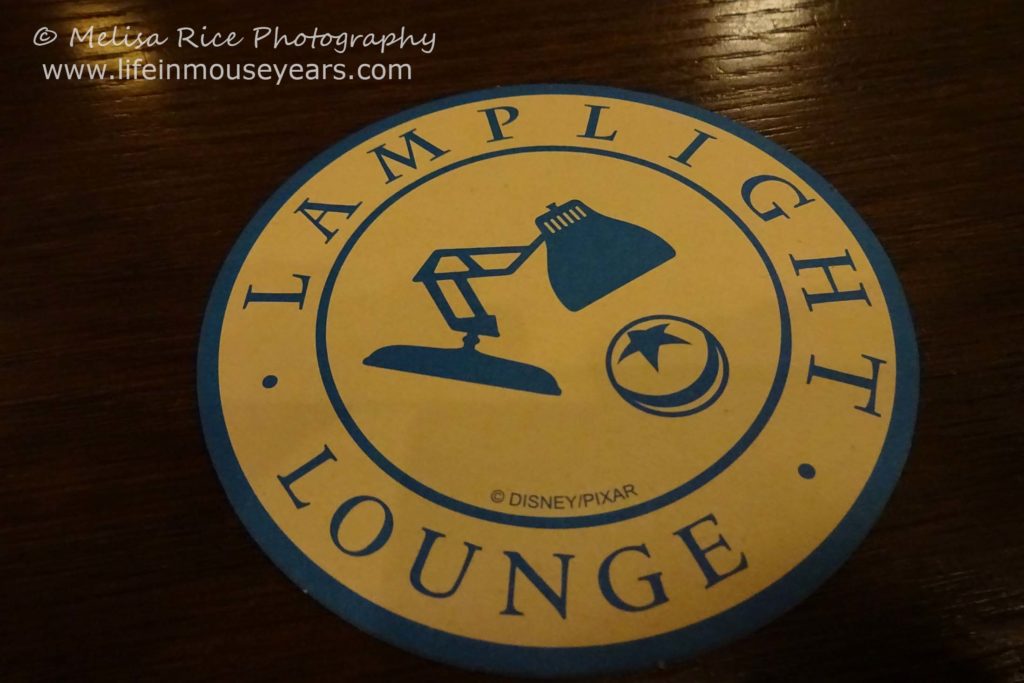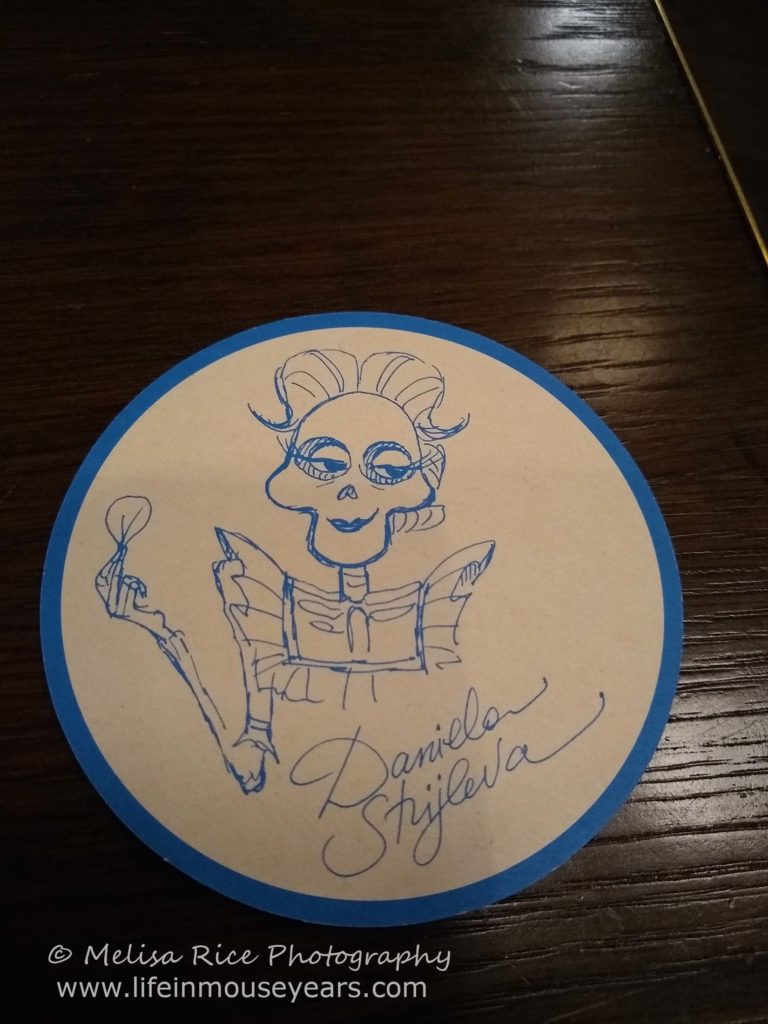 Food
Time for the food! This next part of Exploring Lamplight Lounge is a tasty one! At first, when we saw the menu for the food, we were disappointed in the lack of options. There are not many to choose from. I guess when you are in a lounge, it is more like bar food. But, with Disney, it is better than the usual bar food.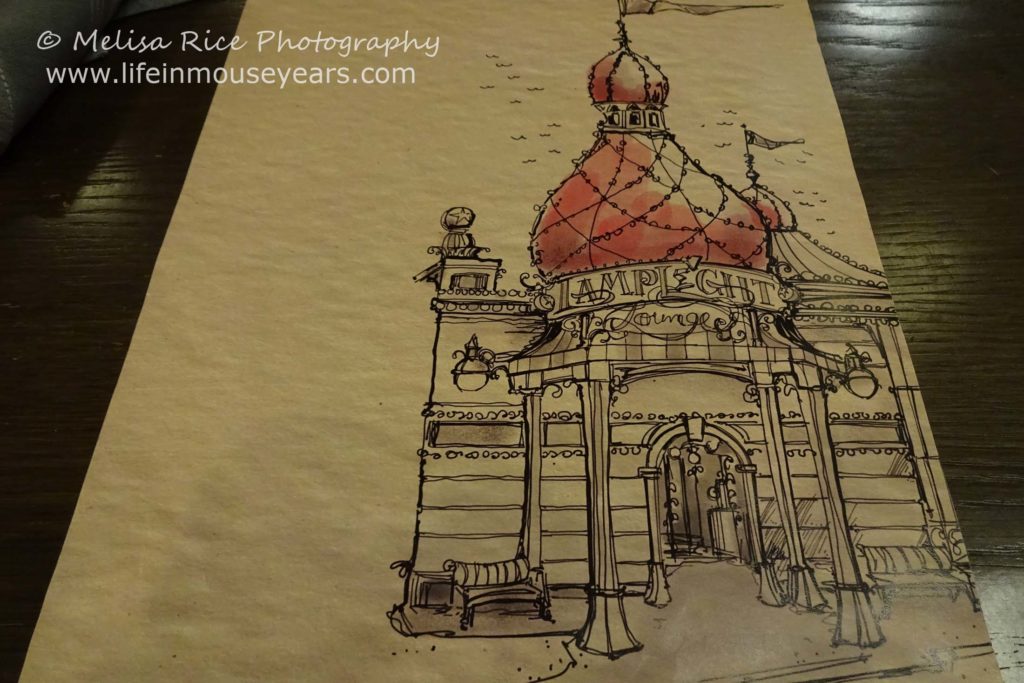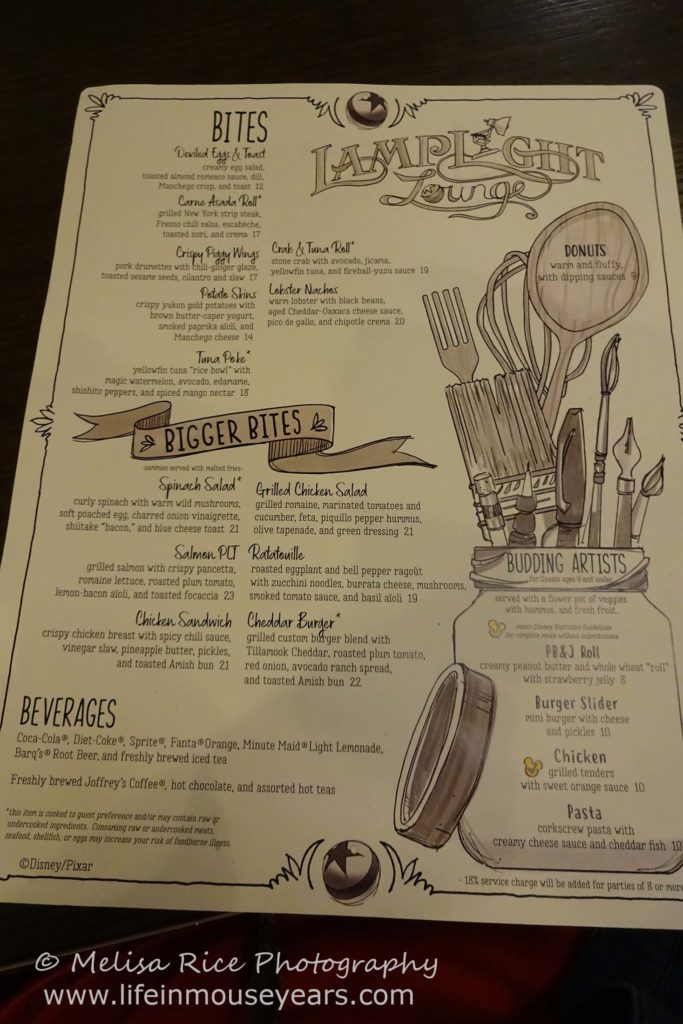 Are you looking for some Disney items for your kitchen? ShopDisney has you covered!
My Mom decided to try the Ratatouille. It is roasted eggplant and bell pepper ragout with zucchini noodles, mushrooms, burrata cheese, smoked tomato sauce, and basil pesto. She liked it. I tried a bite of it and I thought it was good as well.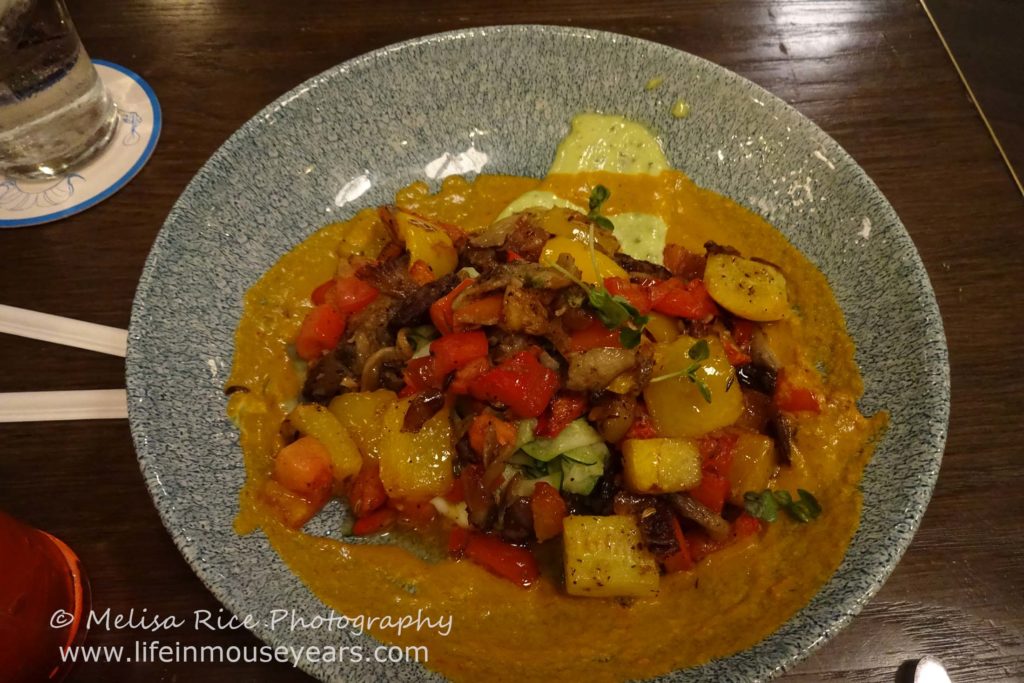 My brother and I ordered the same meal. It was a Chicken Sandwich. This sandwich is a crispy chicken with spicy chili sauce. (They had me at spicy.) It comes on a toasted Amish bun with vinegar slaw, pineapple butter, and pickles. It comes with french fries. I wasn't sure about the combination of what they put on the chicken sandwich, however, it was a delicious combination! This is a meal I would order again.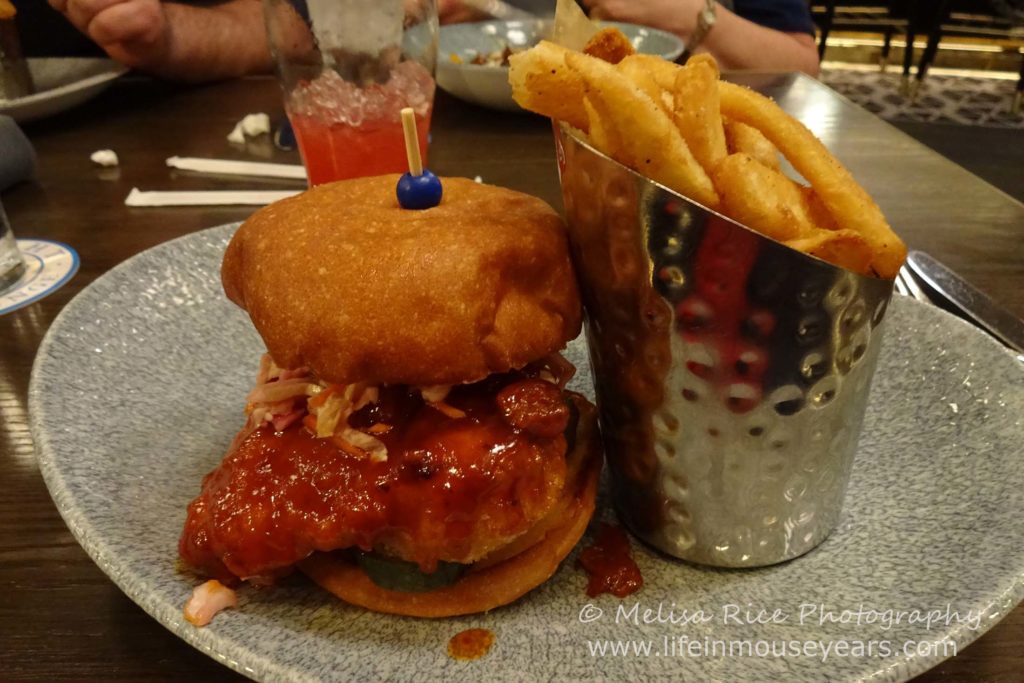 Dessert
Finally on the list for Exploring Lamplight Lounge is the dessert! I had watched some YouTube videos before our trip and they all raved about the donuts. Therefore, I had to give them a try! 
The donuts come out in a cute to-go container with the Lamplight Lounge icon. There are also two dipping sauces. One I think was raspberry. The other one, I am not sure what it was. They were both gone when the donuts were gone. The donuts were so soft and warm! If you have a chance to dine here, don't skip the dessert!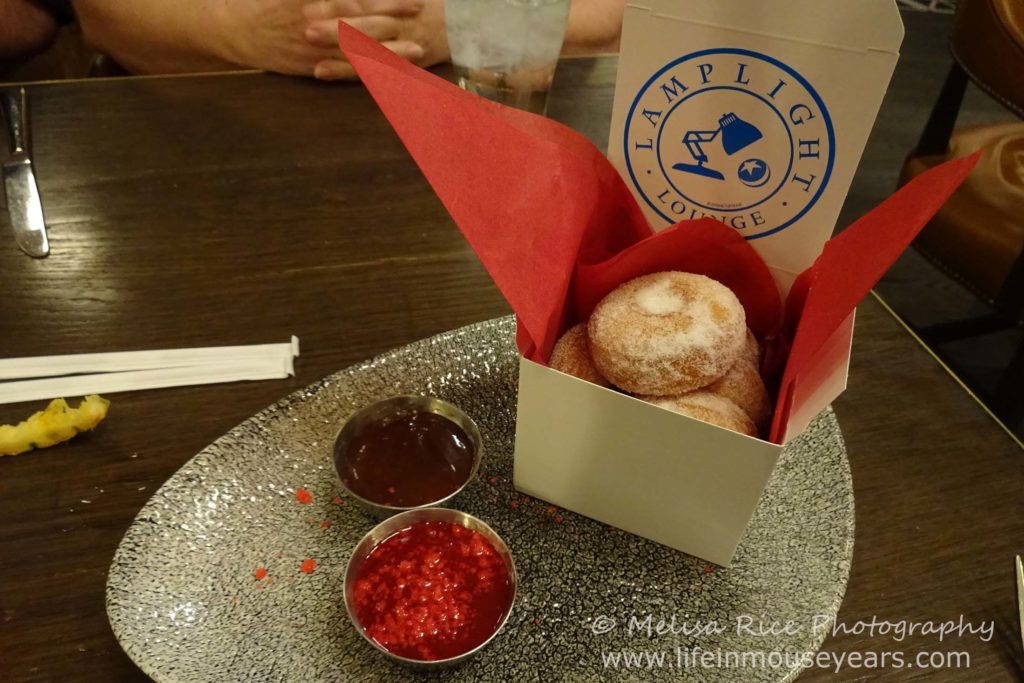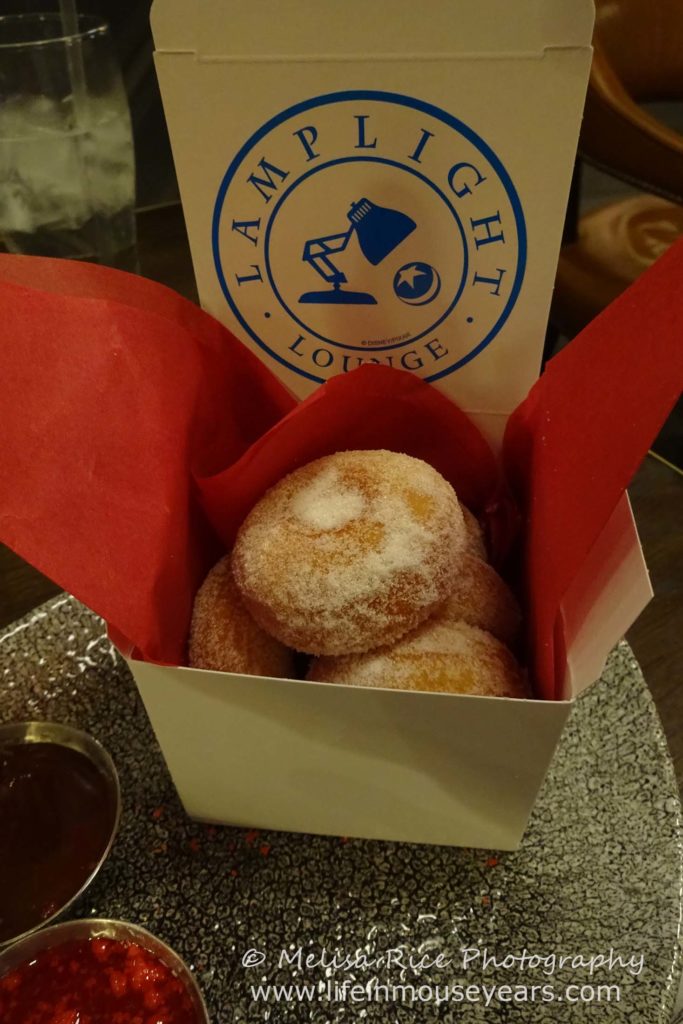 Elevator and Bathroom
A couple more things to check out while Exploring Lamplight Lounge is the elevator and bathroom.
First, regarding the elevator, because my Mom has a knee problem she was unable to do a lot of stairs during the trip. There are times they can be avoided if you let a Cast Member know. As a result of the restaurant having a big circular staircase to get to the dining area, we had to use the elevator. When the doors opened, we saw the walls all covered with Pixar characters! It was so cool! Being that not everyone can use it, if someone uses it while you are there, take a peek inside. 
Next is the bathroom. If you have seen my other posts, I have talked about the bathrooms being themed around the Disneyland Resort. Lamplight Lounge is no exception! My one regret is that I didn't take a photo. I wish I had. It had Pixar movie touches on the door and inside. I think that since it was my first time there, I felt awkward to photograph it. Next time I will take a picture though!
Final Tip
Being that Lamplight Lounge is called a lounge, don't think that you can't dine here if you have your little ones in tow. You can! They even have a kids menu that is called "Budding Artists". 
In Conclusion
Exploring Lamplight Lounge was so much fun during our trip. I am so thankful that we were able to get last-minute reservations for this dining location. Which, if you have the Disneyland App, you can check for availability and reserve right from your phone! You never know if there will be cancelations that work in your favor! The food, drinks, dessert, and atmosphere here were great! I recommend giving this spot a try during your next trip.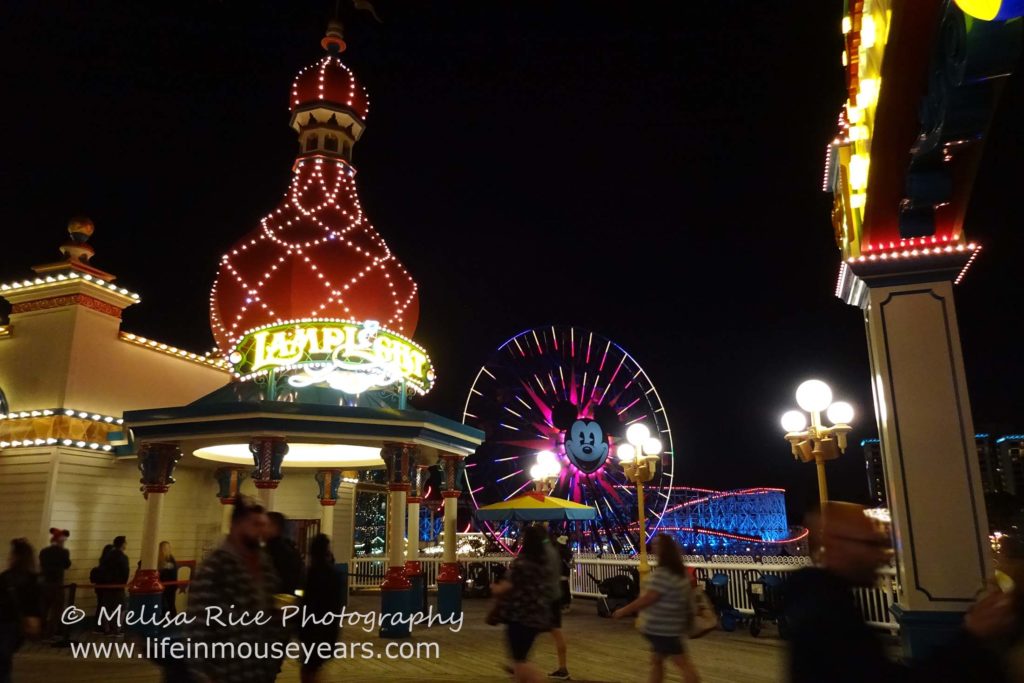 Questions or Comments?
If you have any questions or comments on today's post, please feel free to leave it below. I would love to help!
For the most current up-to-date information, check out Disneyland's official website here.
Thanks for stopping by Life in MouseYears!
Have you seen the Disney Subscription boxes that can be delivered to your door each month? Unbox a Magical Princess Experience Every Month with costume, storybook, activities, and more!

Click the box below for more information!