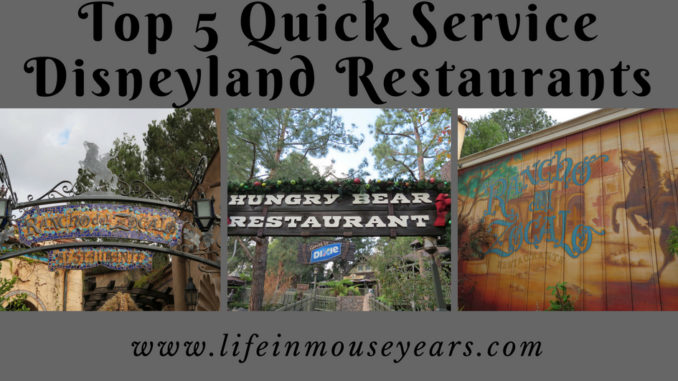 Quick Service Disneyland Restaurants are a great way to get food quickly so that you can continue on with your fun in the parks! Disneyland has a lot of places to choose from to eat. Today I am sharing my Top 5 Quick Service Disneyland Restaurants to help get you started!
Top 5 Quick Service Disneyland Restaurants
Quick service at the Disneyland Resort can mean a couple of things. First, it could mean the carts that are all over the resort where you get churros, popcorn, ice cream, etc. Second, it could mean the restaurants that you order and then wait for your food and pick it up right away. In a way, it is similar to a fast-food restaurant. However, the food quality at Disneyland is in no way like fast-food restaurants. It is still top quality Disneyland food!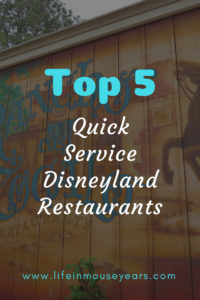 ---
---
Bengal Barbeque
First, on my list of quick-service Disneyland restaurants is Bengal Barbecue! This is my number one place to eat at during each trip to Disneyland. My friend and I joke all the time that we wish there was a way to have it delivered to us when we are back home! Seriously, we would so order it if we could!
The Barbecue skewers here are so delicious! Bengal Barbecue has different meat, sauce, and veggie options for the skewers. They have a spicy beef, a sweet beef, chicken, and an all-veggie option too! In addition to their skewers, Bengal Barbecue has some baked goodies that include a Mickey-shaped pretzel and a Jalapeno cheese filled pretzel.
If you would like to know more about Bengal Barbeque, check out my post here.
Plaza Inn
Next, on my list of quick-service Disneyland restaurants is Plaza Inn. It is my second favorite place to eat at Disneyland! They have the BEST fried chicken!
When you enter the Victorian decorated building, pick up a tray and cutlery. Next, check out the buffet-style layout and decide what you would like to eat. Then, walk up (or wait in line), and order. Once your meal is in hand, (don't forget the desert), pay at one of the registers.
There are places to sit and eat on both sides of the restaurant in addition to all the places outside of the Plaza Inn.
Between the food choices and the decor of this restaurant, it is a wonderful place to pick for lunch or dinner.
More on Plaza Inn here.
Hungry Bear Restaurant
Another great place on the list for quick service Disneyland Restaurants is Hungry Bear Restaurant. Tucked away in Critter Country next to the Rivers of America is Hungry Bear Restaurant.
Enjoy a tasty burger, refreshing salad or a "Beary" good funnel cake! I say beary because the funnel cake has berries on top and you are at Hungry Bear…
Bad joke. I know…
Anyway, Hungry Bear Restaurant has some tasty goodies for you to eat! It is definitely worth stopping by.
Tip: If you pick a table on the upper level and towards the back of the building, you can see the train as it passes by as well as the water traffic on the Rivers of America.
More information on Hungry Bear Restaurant here.
---
---
Jolly Holiday Bakery and Cafe
Another great dining location on the quick service Disneyland restaurants list is Jolly Holiday Bakery and Cafe. My Mom and I really enjoyed having lunch here during our last trip.
In addition to the various soups, salads and sandwiches options here, they have tons of baked goods to get here as well! For example, raspberry macaron, Matterhorn macaroon, cookies, candy apples, cheesecakes, etc.
More on Jolly Holiday Bakery and Cafe here.
Rancho del Zocalo
Finally, Rancho del Zocalo finishes the quick service Disneyland Restaurants list. Delicious American/Mexican style food with Mexican architecture and decor. This place is a good place to go for tacos, burritos, salads and more!
In the same fashion as Plaza Inn, Rancho del Zocalo is set up buffet style. Walk up to the type of food you are wanting and then order your food. Next, pay the cashier once you have gotten all your tasty goodies.
Rancho del Zocalo is in Frontierland and is next to Big Thunder Mountain Railroad. With indoor and outdoor seating, complete with flowers and a water fountain, it is a great place to have a quick meal during your visit to Disneyland.
More information on Rancho del Zocalo here.
In Conclusion
With all the quick service Disneyland Restaurants it can be difficult to choose which one to eat at! There are so many great places in Disneyland. With this list of my Top 5 Quick Service Disneyland Restaurants, I hope that it helps you to choose which place you would like to eat at during your next trip.
As always, for the most current information for Disneyland, check out Disneyland's official website.
Questions and Comments?
Do you have any questions or comments on today's post? Please feel free to leave them below. I would love to help!
Thanks for stopping by Life in Mouse Years!
---
---