Have you ever thought about self-care at Disneyland? Usually, you think about everything you need to bring for your spouse, kids, others you may be traveling with. What rides and attractions do you need to do for the kids and everyone. However, have you thought about you? Or have you thought about drinking water, eating on time, you or others being overwhelmed or overstimulated? Even if you think you have covered all bases there may be a few things you forgot to think of or that time got away from you. Here are some Top 10 ways for Self-Care at Disneyland.
Top 10 Ways for Self-Care at Disneyland
Disneyland is a lot of fun! What happens when you are having fun? Time Flies! Even if you think you have planned every detail of your vacation, there will be wrenches thrown in. Here are some ways for Self-Care at Disneyland to help you out when you encounter some wrenches.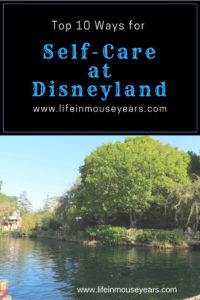 Drink Water
First on the list for self-care at Disneyland is to drink water! I can't stress this one enough. Even if you are at the Disneyland Resort during what Californians think is winter… (I live in the mountains.) You can get dehydrated!
It is so easy to do and it can happen before you know it! You are walking all over the park. Having lots of fun! However, before you know it hours can pass by. So make sure that you and everyone in your group stay hydrated. There are water fountains all over the park that you can use or fill a reusable bottle like this one. In addition to the water fountains, you can purchase water bottles. If you decide to eat at one of the quick-service restaurants, you can get a cup of water for free. All you have to do is ask them.
Water is so important!
---
---
Grab a Snack
Second on the list for self-care at Disneyland is to grab a snack. Again that pesky time flying by… You or someone in your party could end up hangry. Hangry is when you are so hungry you get angry/moody. Hangry is not fun!
Make sure to grab a snack. Disney allows you to bring in some snacks if you would like. (Not meals.) Disneyland has carts all over the resort selling popcorn, treats, and churros. While those are all yummy, they are not the healthiest of snacks. However, Disneyland has carts and stands all over the resort that sells fruits, veggies, and cheese. Therefore, you can be healthy while you get that snack into the hangry one.
---
---
Ride Transportation Rides to Get Around the Park
Third on the list for self-care at Disneyland is to ride the transportation rides to get around the park. This one can be a fun way to take care of those tootsies!
Disneyland is hundreds of acres and you can end up walking 10 miles or more in a day. (A lot of times you don't realize it until later when the feet are hurting.) While good shoes that are broken in ahead of time is super important, however, another way to help save your feet is to use some of the rides that transport you from one place to another.
For example, the Disneyland Railroad can take you to Main Street, U.S.A., New Orleans Square, Mickey's Toontown, and Tomorrowland. This is a great way to save on walking from one place in the park across to another.
If you would like to find out all the ways to save on walking the park, you might want to check out How to Walk Less at the Disneyland Resort.
Need a Moment? Find a Peaceful Spot.
Next on the list for self-care at Disneyland is to find a peaceful spot. As much as I LOVE Disneyland, and I do LOVE Disneyland, it can be overwhelming while you are there. All the noise, people, crowds, and sights. Did I mention people and crowds? Sometimes it can be a bit much and you or someone in your group may end up grumpy or have a breakdown. This is a good time to grab a drink and a snack and find a quiet spot at the park to wind down.
One of my favorite places to go to get away from the people, crowds, and sounds is Tom Sawyers Island aka Pirates Lair. Take the raft over and enjoy the island! Dirt paths, trees, and waterfalls. This is a great place to wind down. Even if there are others on the island they are all usually spread out in small groups. Therefore, making it easier to handle and wind down. There are picnic tables over there and restrooms. You will be set for a while! Enjoy!
You may want to check out my post on Tom Sawyers Island called Explore Pirate's Lair on Tom Sawyer Island.
Sit Down and Watch/Listen to a Show
Another great way for self-care at Disneyland is to sit and watch or listen to a show. This is a great way to rest your feet and body and just relax and enjoy watching a show. It is a nice break from waiting in line and riding the attractions. Disneyland offers so many different shows for you enjoy!
There is Mickey and the Magical Map in the Fantasyland Theatre, Storytelling at Royal Theatre, Dapper Dans on Main Street, Ragtime Piano at the Coke Corner and so much more! Giving you and your family lots of different options to pick from.
---
---
Leave Mid-Day
Next on the list for self-care at Disneyland is to leave mid-day. This option has pluses and minuses. This option is great because you can shop in a less crowded Downtown Disney. Go back to the hotel for a swim or even a nap! This is a great way to wind down and take a break from crowds, people, and sounds. It helps to refresh you to give you that boost you may need before you start your nighttime Disneyland fun! (Here is a fun post on what to do after dark in Disneyland.)
Now for the downside of leaving the park. When Disneyland is crazy busy and reaches capacity, (holidays, holiday seasons, summer, etc.), Disney will close the gates and not let anyone in the park until people leave. Even if your ticket has already been scanned. Just be aware if you are there during a busy time. If you are concerned just ask a Cast Member at the entrance before you leave. They would have a good idea if the park is anywhere near reaching capacity. Although, that is not foolproof, however, it helps you to know what to do instead of worrying about it. (I don't know about you, but, I am a worrier…)
Split From your Group
Another way for self-care at Disneyland is to split from your group. You may be reading this thinking WHAT?!?!?! But hear me out!
I know, I know. You are on a family vacation to be with family. However, sometimes it is nice for everyone to be able to go off and do what they want to do alone. (Providing they are old enough.) Even for the parents to get a little break is nice too. Family's love each other, and love vacationing together, but, it is nice to get a little break and recharge. Shopping in peace could be nice. Grab a Starbucks on Main Street, U.S.A. and then hit those shops! See, sounds nice right?
Go to the Spa
Did you know that Disney has a spa? At the Grand Californian Hotel, there is a spa you can go to and get a massage, pedicure or manicure. Therefore, this would be a great way for self-care at Disneyland. Get a break from the park, family and just relax.
However, this one requires a good chunk of mula. Therefore, if you decide to hit the spa, make sure you save up those pennies. Or uh more like save those dollars. But it is a wonderful option if you can afford it.
Or check out some home spa options below. Maybe for after you get back home.
---
---
Sit, Drink, and People Watch
Next on the list for self-care at Disneyland is to sit, drink and people watch. You may think I am crazy right now. However, this is a great option to just take a moment and take in the atmosphere.
My first trip to Disneyland after my Dad had passed was an extremely emotional trip! I am at my FAVORITE place and I was miserable. However, I ended up on a park bench on Main Street, with a bottle of water and I just people watched for a while. I was sad, but it gave me a reprieve. I listened to the music and just enjoyed the sites and sounds. It was like a reset button. Trust me. Give it try. If anything you are getting rehydrated and resting those tired tootsies.
---
---
Go with the Flow
Finally on the list for self-care at Disneyland is to go with the flow. I have been watching Fresh Baked on YouTube for a long time and one of the things they profess all the time is to let Disneyland Happen to you. Don't force it to happen. And it is so true!
All while I was growing up and going to Disneyland with my parents, I don't remember rushing all over the park, or rushing to get in line before anyone else, or trying to hurry and get everything done. I think as a society lately it is all hustle and bustle. Rushing here and rushing there. We all need a break from that and take a step back and just enjoy the moment.
As an adult, I have been guilty of rushing and hurrying around the park. However, there have been so many fun Disney magical moments missed!
Therefore, when you are at Disneyland, go with the flow! Have a basic plan, but, realize that the ride will still be there when you get there. It is not going anywhere. You do not have to be first in line. While you are walking on Main Street and see a Disney character out there, stop by and say hi on your way. If you walk in New Orleans square and the band is playing, stop and enjoy them. They won't be around all day and you may not catch them when they are out there again.
Disneyland is a place to be a kid, enjoy things with your kids and to be in the moment. Put those phones away and just enjoy those moments while you can! (Unless you are taking a picture.) You don't know how many more of those moments you may get.
In Conclusion
Disneyland is a fun and magical place! However, make sure that you take care of you and those in your group so that your entire trip is fun and magical! I hope that these Top 10 Ways for Self-Care at Disneyland helps you out during your next visit to The Disneyland Resort.
Questions or Comments
If you have any questions or comments on today's post- Top 10 Ways for Self-Care at Disneyland, please feel free to leave them below. I would love to hear from you and help out!
Thanks for stopping by Life in Mouse Years!
Join Life in Mouse Years
Have you signed up to receive updates via email? I do not send out a ton and I try to combine multiple articles in one email so that you are not bombarded. If you are interested in staying updated, please sign up today!