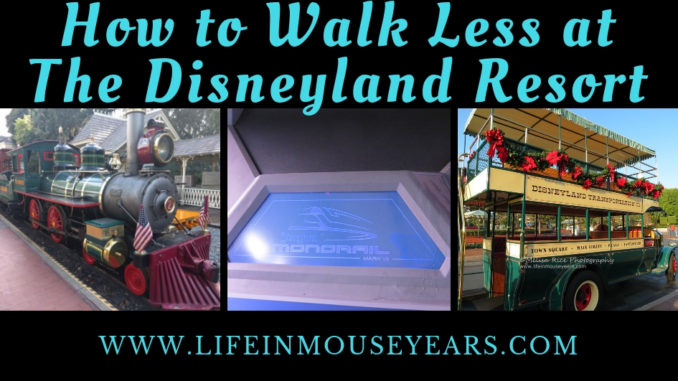 If you have been to the Disneyland Resort then you know how much walking is involved when you visit. If you have never been, you need to know that there is a LOT of walking involved. While Disneyland is a place for you to be a kid, unfortunately, we are not actually kids. Therefore, we are not allowed to ride in a stroller. (Not fair!) However, today I have some tips to share with you on ways to walk less at the Disneyland Resort to save your tootsies.
How to Walk Less at The Disneyland Resort
First of all, to give you a perspective on how big the Disneyland Resort is, I will compare it to the size of a football field. So take Disneyland and California Adventure combined, they are 160 acres. A football field is 1.32 acres. It would take approximately 121 football fields to fill the space that Disneyland and California Adventure occupies. This doesn't count Downtown Disney or any of the Disney Hotels. This is why this post-How to Walk Less at the Disneyland Resort is very important!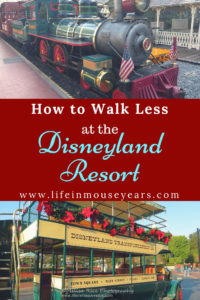 Back in the Day, Skyway
From 1956 to 1994, Disneyland had an attraction called the Skyway. This was a gondola ride that took you back and forth from Tomorrowland to Fantasyland and vice versa. Besides transporting you across the park, (which saved on walking) it provided some wonderful birdseye views of the park. Especially at night!
If you would like to learn more about this gone but not forgotten attraction, here is a post I did on the attraction called Once Upon a Time-Skyway.
---
---
Take the Monorail into Disneyland
First on the list of how to walk less at the Disneyland Resort is to take the Monorail into Disneyland. The Monorail station is in Downtown Disney. If you are staying at The Disneyland Hotel or Paradise Pier Hotel, the Downtown Disney Monorail station is on the way to the entrance to the parks. The Monorail will take you right to Tomorrowland! Therefore, by taking the Monorail into Disneyland from this spot, you are saving a lot of walking.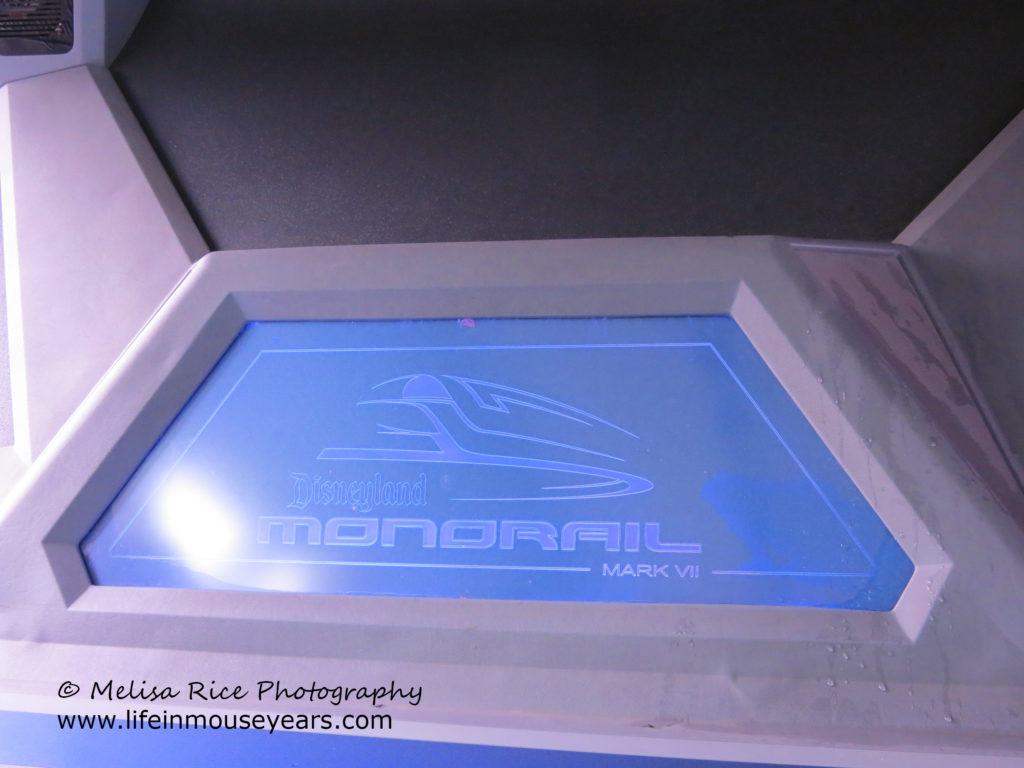 Ride the Disneyland Railroad
Next is to ride the Disneyland Railroad. Besides having fun riding a train, this is a great way to get around the park! The Disneyland Railroad has multiple stops all over Disneyland. Here are some of the places the Disneyland Railroad stops:
Main Street, U.S.A. (Not Handicapped accessible.)

New Orleans Square

Mickey's Toontown

Tomorrowland (The least crowded.)
Therefore, in my opinion, I think that the Disneyland Railroad is the best way to walk less at The Disneyland Resort. Being that it has so many stops at different areas around the park.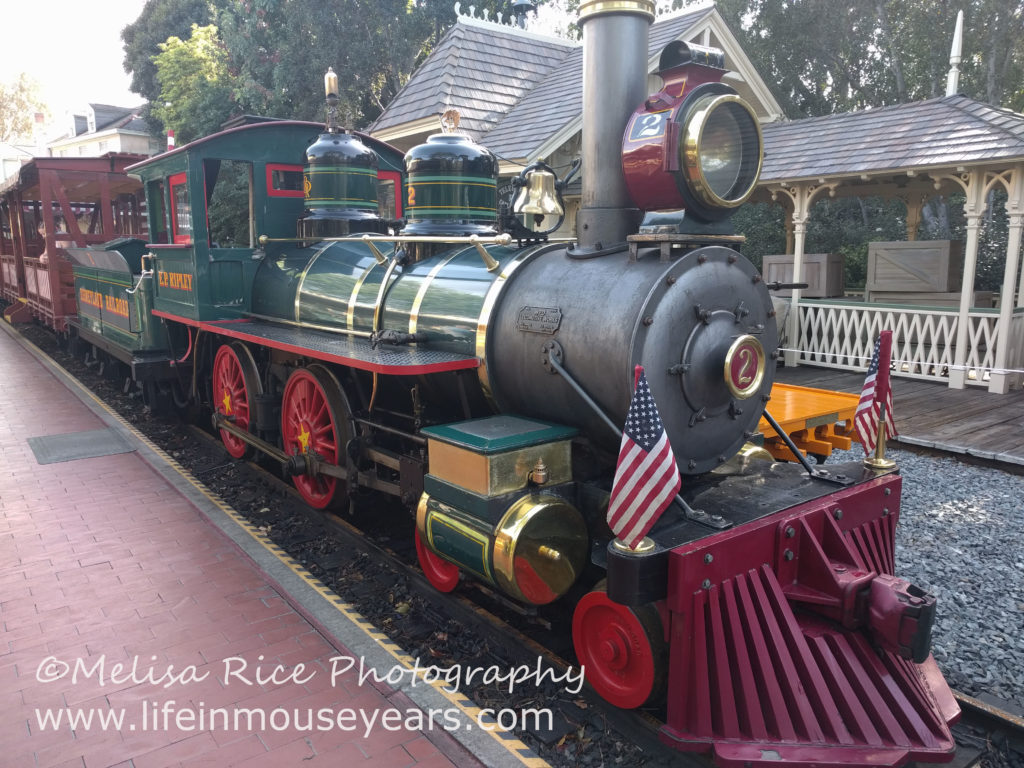 If you are interested in learning some fun facts about the Disneyland Railroad, you can find it here.
Take one of the Main Street Vehicles
Another way to walk less at The Disneyland Resort is to take one of the Main Street vehicles.  Disneyland has multiple ways to travel on Main Street, U.S.A. Discover all the Modes of Transportation is a great post to check out all the fun information about these vehicles:
Horse-Drawn Streetcar

Jitney

Fire Engine

Omnibus
These vehicles are a fun way to walk less at The Disneyland Resort! Especially if you are on the second story of the Omnibus. Make sure to check it out even if you aren't saving the tootsies.
Ride the Red Car Trolley in California Adventure
Finally, over in California Adventure, is the Red Car Trolley. This is a great way to walk less at The Disneyland Resort. While California Adventure doesn't have very many ways to do this like Disneyland does, however, the Red Car Trolley goes the distance! It starts just inside the entrance of California Adventure and goes down Buena Vista Street to the hub in front of Carthay Circle. Next, it continues around the fountain and goes all the way down Hollywood Boulevard with a short stop at the Animation building to let the other Trolley pass by. After that, it continues down Hollywood Boulevard to Sunset Boulevard to reach its final stop near Guardian's of the Galaxy Mission: Break Out.
Tip: The Red Car Trolley is a one-way trip. If you have a wheelchair or an Electronic Conveyance Vehicle, you will not be able to ride this. There are steps into and out of the Trolley. If you are able to maneuver them, you can ride this attraction. Being that it is a one-way only ride, ask the Cast Member ahead of time about going back. If anything, there are benches at the stops that you can wait at for the next Red Car Trolley. However, if it is not too crowded, they are happy to accommodate your needs.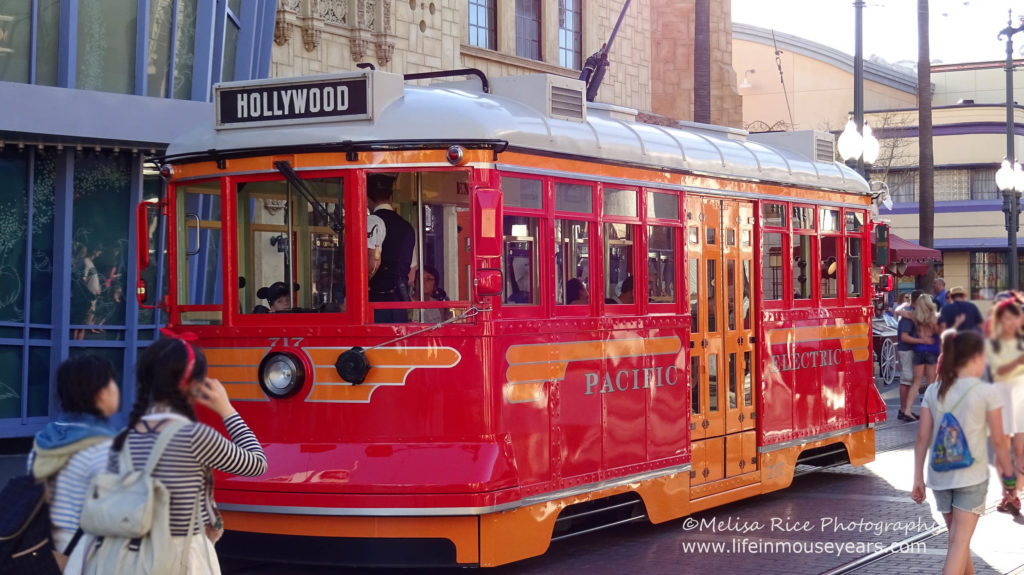 In Conclusion
The Disneyland Resort is a huge area of land that requires a lot of walking. However, I hope that today's post-How to Walk Less at the Disneyland Resort helps you out during your next trip to the Disneyland Resort!
Don't forget to sign up!
If you would like to stay up to date on new posts that come available, please sign up to receive email updates!
Thanks for stopping by Life in Mouse Years!