The PeopleMover was a great attraction that was at Disneyland for many years! One that I still wish would come back to the Disneyland Resort. To continue a series I started about attractions that no longer exist, I thought I would share some fun facts and talk about this gone but not forgotten attraction. I hope you will enjoy today's post Once Upon a Time-Peoplemover.
Once Upon a Time PeopleMover
Back in the early days of Disneyland and Tomorrowland, the focus of this land was not only the future but as a world in motion. A lot of the attractions back then were in motion drawing your attention to them. There were the Autopia, Rocket Rods, Submarine Voyage and in the late '60s there was the PeopleMover.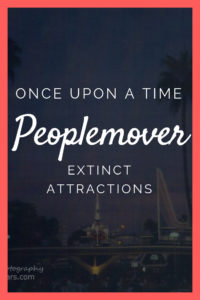 PeopleMover
PeopleMover first opened on July 2, 1967. It was originally designed to be a form of transportation sometime in the future. This attraction was a type of train that was propelled along a track with the tires and engines being in the track and not inside of the ride vehicles.
---
---
Location
In the heart of Tomorrowland, a two-story platform was built to house the entrance to the PeopleMover with the Rocket Rods being on top of the loading area. From there the track would move towards the front of Tomorrowland and take a left turn going inside of the Adventures Through Inner Space attraction building. (Currently Star Tours). It would continue around the outer area of the land going inside and out of the buildings, going over Autopia and around the Submarines before going inside the Circlevision Theatre building (Buzz Lightyears Astro Blasters), and then coming back out at the front of Tomorrowland and coming back down the center of the land and circling the platform.
Constantly in Motion
Another interesting fact about PeopleMover is that it never stopped moving. It would continuously move the vehicles along the track. Even while you were loading and unloading it would still be moving.
Therefore, because it would continuously move, a lot of people would be loaded up and on the attraction in a short amount of time. In the same way that Haunted Mansion does. In addition to the fast loading times, the PeopleMover was considered a high-capacity attraction. It was able to handle 4885 guests per hour!
That is a lot of people each hour! This is really something Disneyland could use right now. With all the crowds, high capacity would be their friend.
Interesting Facts 
Next, the PeopleMover would travel at a max speed of 7 mph. While it is not a fast attraction, it was a great attraction to rest your feet and enjoy a fabulous view of Disneyland from above for 16 minutes! In addition to resting your feet, you would also get out of the sun and have a nice breeze. This was because each train had a roof overhead and it was open all around the top half of the train.
Another interesting fact is that each PeopleMover train had its own speaker system. Therefore, as you went along the track music could be heard. In addition to hearing announcements as to where you were, what building you were in, and hearing promotional announcements.
Next, is being that the ride system was an updated version of the one used for Skyway which was sponsored by Ford Motor Company, Disney asked them to sponsor the PeopleMover. Ford declined because they didn't want to support a transportation system that would replace motor vehicles. As a result, Disney asked Goodyear Tire Company to sponsor. Goodyear said yes and continued to sponsor the attraction until December 31, 1981.
---
---
Ride Vehicles
PeopleMover Trains could seat 16 people per train and there were 62 trains on the track. Through the years the trains would get some makeovers. At first, they were painted red, green, yellow, and blue. All the trains had white roofs. Then in 1968 Disneyland installed partial railings on each section of the train to detour people attempting to leave the attraction in the middle of the ride. However, due to more issues with people getting out, Disneyland installed full railings all around in 1985. Next, in 1987, all the trains were painted white with a stripe of color horizontally towards the bottom of the vehicles.
If I remember correctly… It was a long time ago… I want to say the strip of color was dark purple? But don't quote me. They may have been multi-colored and I only remember the purple because it is my favorite color…
---
---
Ride Changes
Through the years, Tomorrowland had changed. Therefore, Peoplemover had to be changed as well.
1967
The PeopleMover traveled inside of and by Adventures Through Inner Space, Tomorrowland Theatre, Carousel of Progress, Skyway, Autopia, Submarine Voyage, CircleVision 360, and the Mary Blair tile murals.
1973
The carousel of Progress closed, however, Progress City was still visible during the ride.
1976-77
Disneyland closed the PeopleMover in January of 1976 until May of 1977 while Space Mountain was being built. After it reopened, the PeopleMover went inside the Space Mountain ride building.
In addition to going inside Space Mountain, it also went along a new track along the Carousel of Progress building. Going through a Superspeed tunnel. Using wrap-around movie screens, it used projection to give the effect of going faster than you were going.
1982
Tron was a new film at the time. Disneyland changed the Superspeed tunnel to be the Tron racing scenes and you went through.
Closed
Unfortunately, Disneyland closed the PeopleMover in 1995. It was during the time that Eisner was doing a campaign of closing classic attractions to use the money to run newer attractions.
I was very sad when this attraction closed. It was one of my favorites at Disneyland. One that I still miss today and wish that they would bring back. Personally, I was thinking it would make a nice futuristic transportation to Star Wars Galaxy Edge.
Hint, hint Disney.
Photos
If you would like to see more photos of this attraction (I couldn't find mine), here is a great site to check out.
In Conclusion
PeopleMover is one of many attractions that are gone but not forgotten. It was a great attraction at Disneyland that survived 28 years! One day I hope that Disneyland will revive this attraction. Especially since there is one in Florida at Disney World that is still running and still very popular.
Questions or Comments?
Do you have any questions or comments on today's post? I would love to hear them and to help you out! Please leave them in the comment section down below.
Want to know more about Disneyland?
If there is any subject you are wanting to know about Disneyland and I haven't written about it yet, please let me know down in the comments what you would like to see!
Thanks for stopping by Life in Mouse Years!
---
---