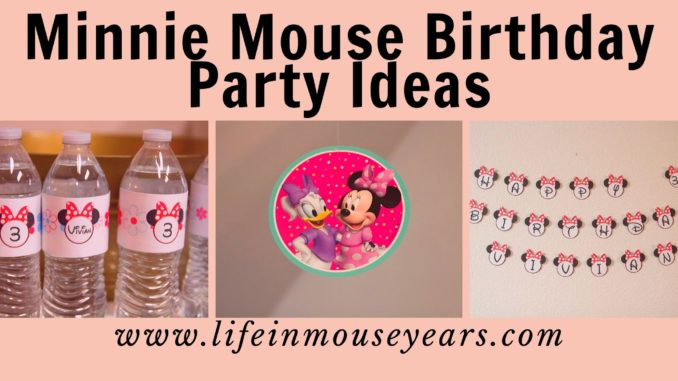 Minnie Mouse birthday party ideas is what today's blog is about. If you have a little one or a big one, that would love to have a Minnie Mouse themed birthday and you are looking for ideas, then you have come to the right place! From decorations to cake, today's post should be able to help you out!
Minnie Mouse Birthday Party Ideas
In the past, I have done a Minnie Mouse themed baby shower. And just recently, my friend did a Minnie Mouse birthday party for her daughter's third birthday. Let me tell you, the decorations for Minnie Mouse have come a long way! I had to make most of my decorations for the baby shower eight years ago. In fact, for my friend's daughter's Minnie Mouse birthday party, she bought some items and I helped by making some items. Either way, it is totally doable and lots of fun! Let's see what my friend did for her Minnie Mouse birthday party.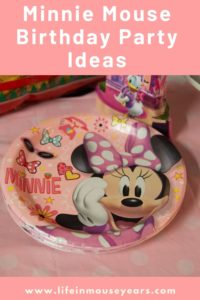 Decorations
First, let's start with the decorations. My friend found this Minnie Mouse party pack on Amazon. 
It comes with paper plates, napkins, plastic cups, paper straws birthday hats, party favor bags for sixteen guests. One tablecloth, nine balloons, and forty-eight assorted tattoos. This party pack was a great way to get started on the Minnie Mouse birthday party.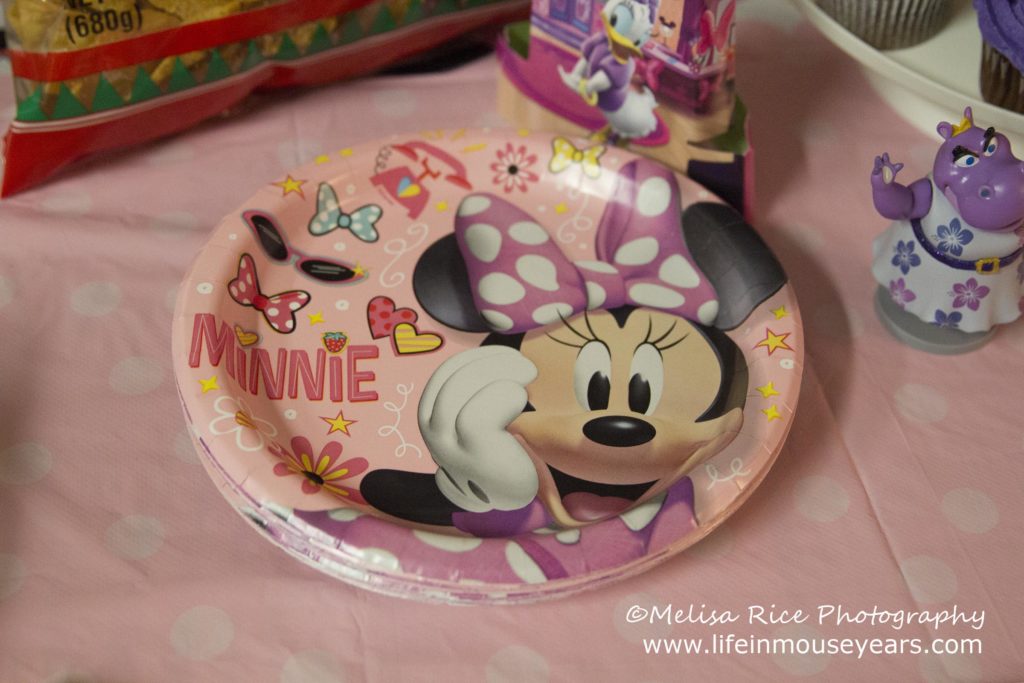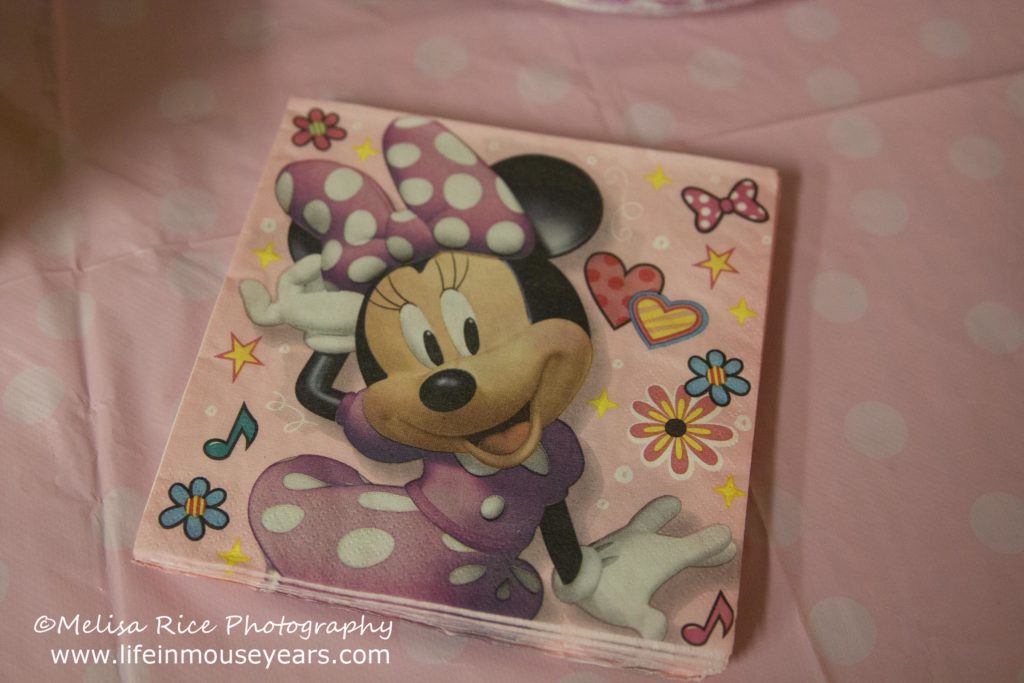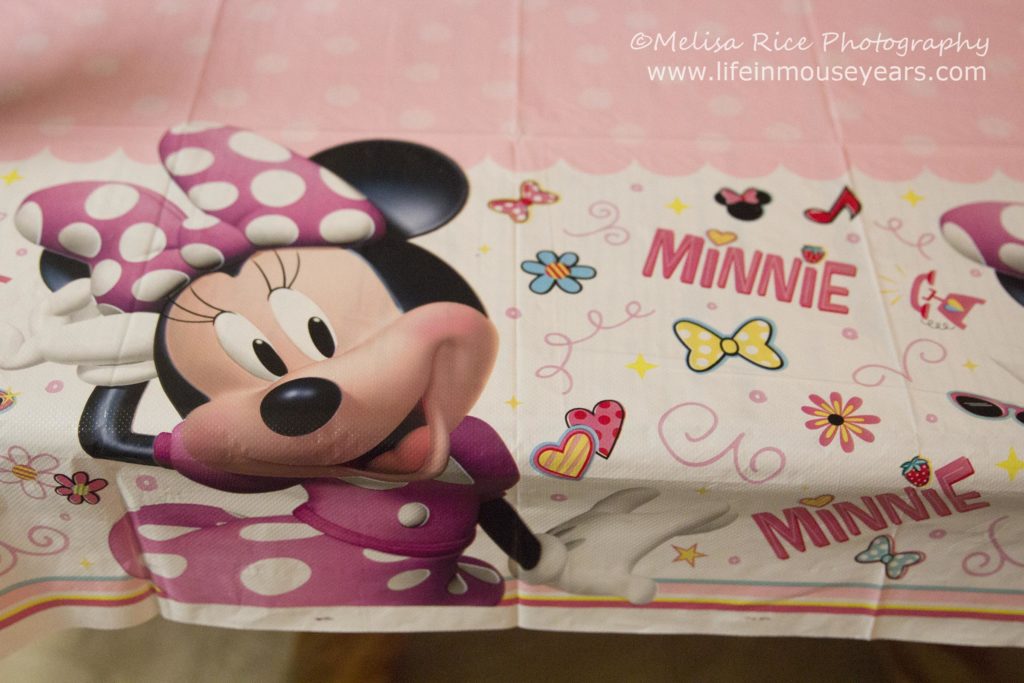 Amazon has other party packs and decoration styles for Minnie Mouse. Check out some of the links below!
---
---
As always, by ordering through the affiliate links, I may receive a small commission at no extra cost to you! This helps to keep the Disney love going and I thank you very much!
Amazon also has these hanging swirl decorations. They add a nice touch to the party for decorations.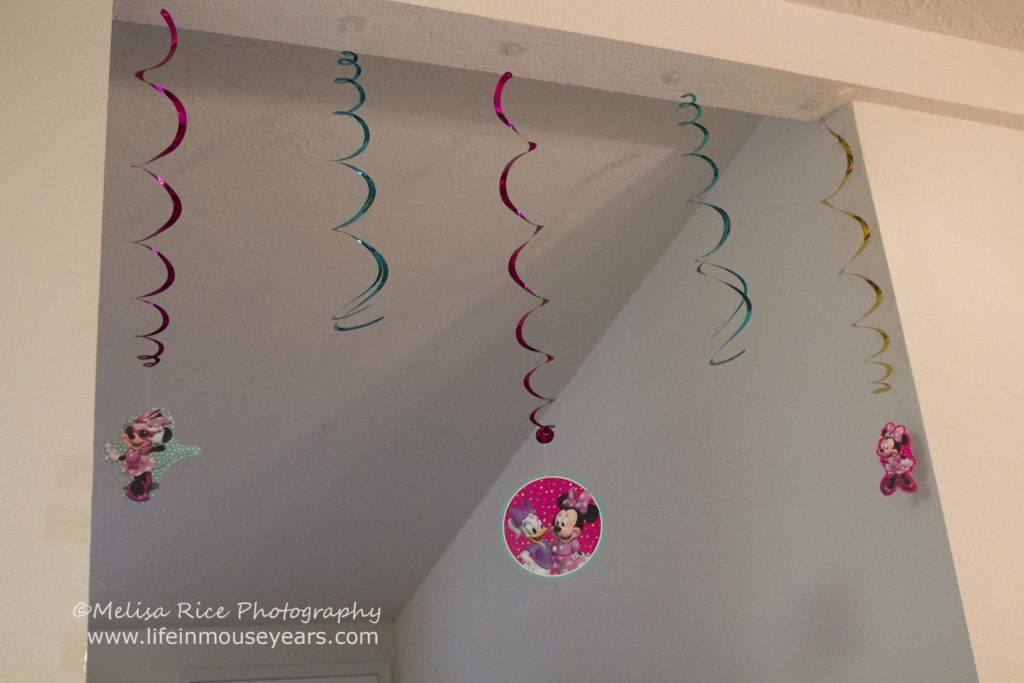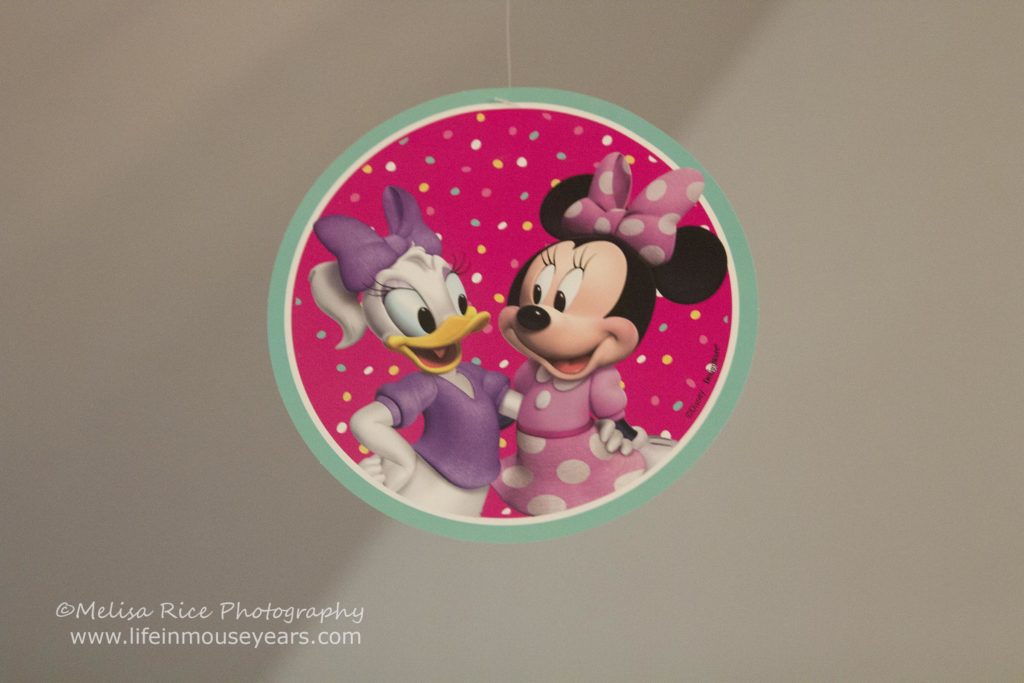 DIY Hanging Minnie Mouse Sign
Next for the Minnie Mouse birthday party ideas, is a DIY hanging Minnie Mouse sign. I downloaded a pdf of Minnie Mouse's head and Waltograph Disney font to make the hanging sign. Both of these downloads are free but be advised, the Disney font is for personal use only. So do not make things and then sell them.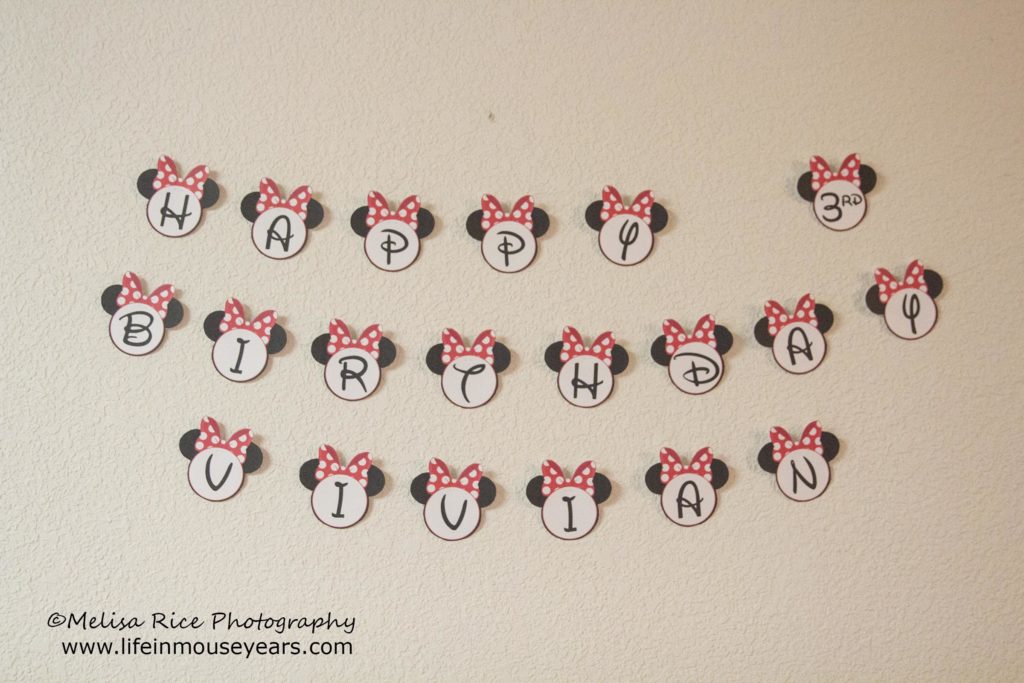 I like to use PowerPoint and make the slides paper size, (8 ½ x 11). Because with PowerPoint I can control where I place each layer. 
Once I made enough Minnie's to spell out "Happy 3rd Birthday Vivian", I then added text boxes and put a letter inside of each of Minnie's heads.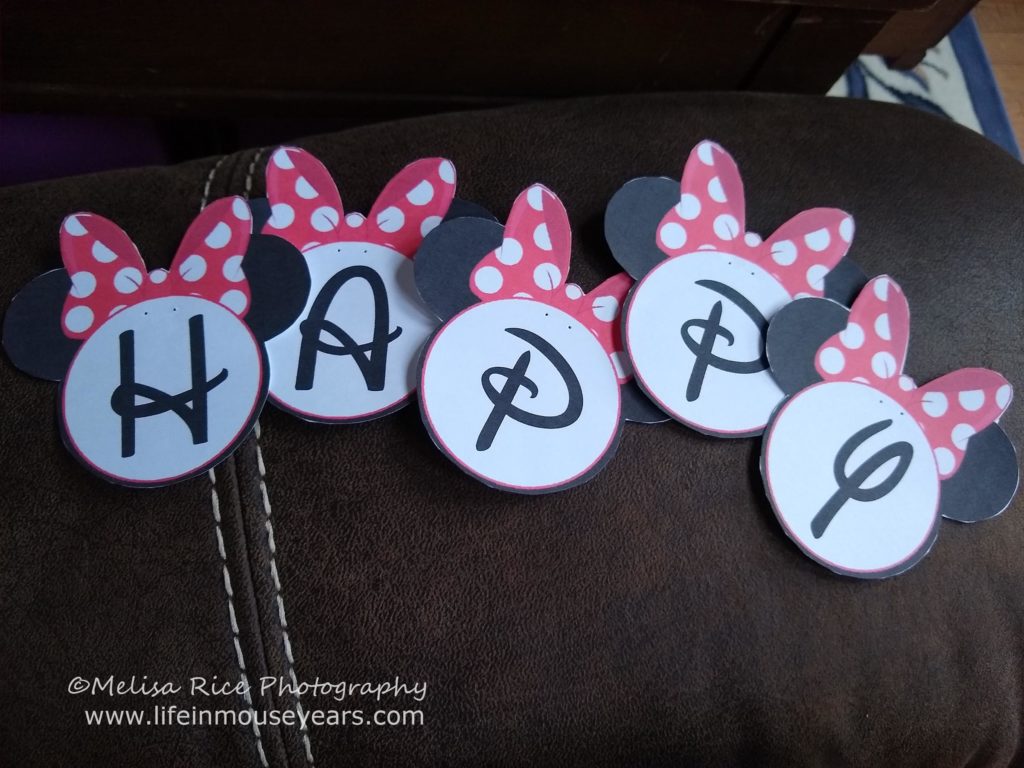 Once they are printed and cut out, take a sewing needle and punch two holes in each one. Next, take some fishing line and thread it through. Start with going through the back to the front, then in the next hole go from front to back. Continue stringing each letter. Doing it this way and with fishing line, the letters sat snug where you place them and they don't slide all over. At the same time, you could also use a small hole punch for the holes and use ribbon to add some color.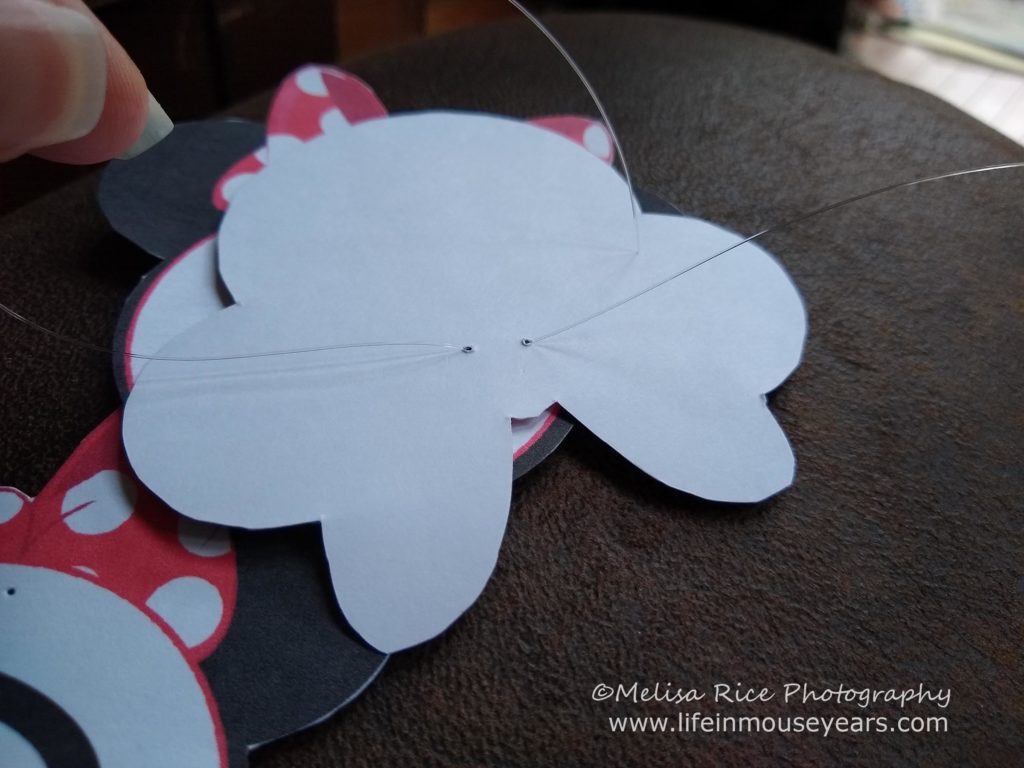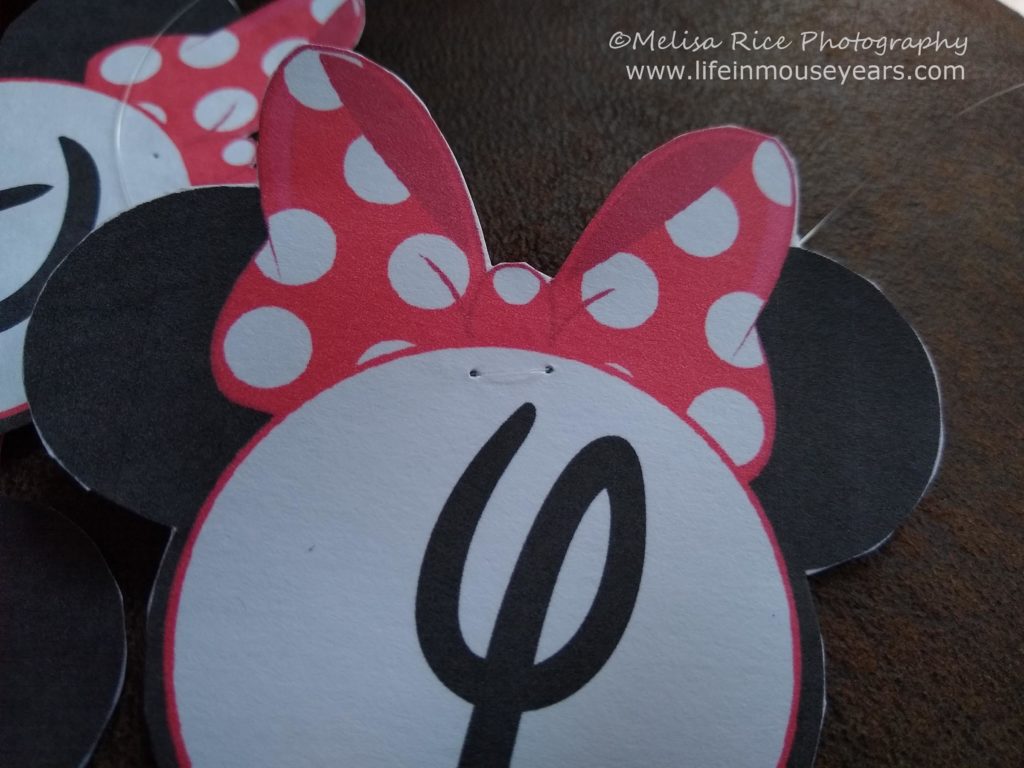 Personally, I had three separate rows. One for each word, adding the 3rd to the "Happy" line. 
If I had more time or more, if I had thought of it sooner, I would have made some fans and added them to each end of the hanging signs. I talk about making fans for the DIY Lion King Baby Shower I threw here. 
Don't want to DIY a hanging banner? Here is a Minnie Mouse hanging sign you can purchase.
DIY Water Bottle Labels
Next on the list for Minnie Mouse birthday party ideas is DIY water bottle labels. There are a lot of cute Minnie Mouse water bottle label printables out there. (Just search in Google images "Minnie Mouse water bottle label printables"). Some are free, and some are not. I decided to put two images together to make my own. Online, I found a cute Minnie Mouse border that had flowers but it also had a small Minnie Mouse on them. (I have searched for hours trying to find this image for you. Unfortunately, I have been unsuccessful in finding the specific one I used.) Next, I took the Minnie Mouse head image and placed it in the center of each border. Making four on each page. Then I personalized the message in the Minnie Mouse heads.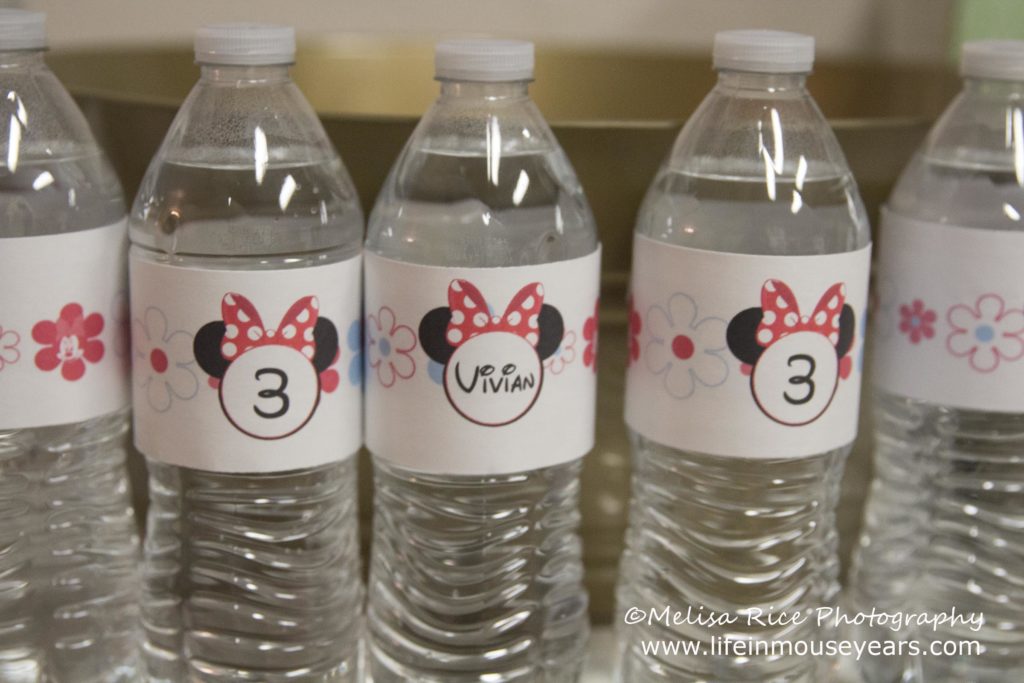 I couldn't decide which message I wanted, so I did two different ones and we alternated them when displaying the bottles. 
---
---
Minnie Mouse Cake
Another Minnie Mouse birthday party idea is a Minnie Mouse cake! It's a party, so you gotta have cake right??? I have a full post on how to make this Minnie Mouse themed cake here.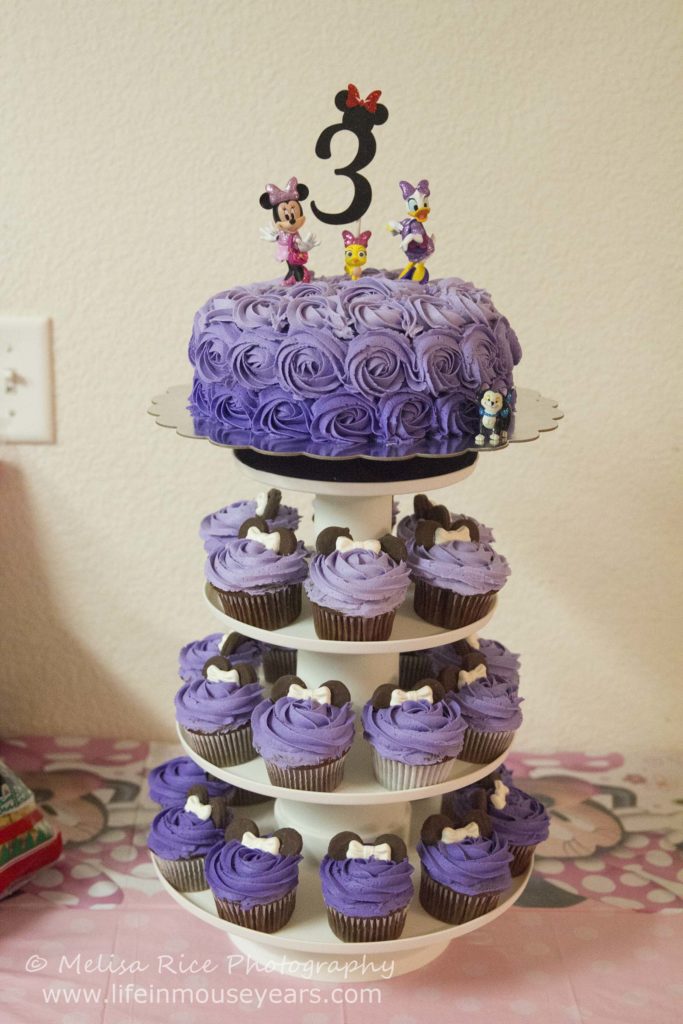 There are so many fun cake ideas on the internet. As a result, it can be hard to decide what to do! I like to get figurines when I can to help decorate my cakes. The cake round was done in rosettes and I added the Minnie Mouse figurines to the top. I also found this Minnie Mouse cake topper to add to the cake round as well. The cupcakes were done in rosettes, fudge dipped oreo thins for Minnie's ears and I made Minnie's bow's with Wilton candy melts and a bow candy mold. 
Minnie Mouse Favor Ideas
Next for Minnie Mouse birthday party ideas are the party favors! My friend found some fun things on Amazon and some items came from Walmart, to put together for the party favor bags. The bags were filled to the brim!
At Walmart, she found slap bracelets. Mickey for the boys and Minnie for the girls. In addition, they also had Mickey stamps. There were four in a package and each one was a different shape. 
Amazon has Mickey Mouse and Minnie Mouse headbands. Both in one package! This way the kids could choose, or have Mickey for the boys and Minnie for the girls. 
My friend got hot cocoa packets from Costco, mini marshmallow in individual bags from Walmart I think, and put them in the favor bags. Likewise, she found caramel-filled marshmallows with chocolate on the bottom. Thinking it sounded like a good hot cocoa topper, (which it does), she put a couple in a Ziploc bag and added Minnie Mouse stickers to the bags. These stickers are sized to go on the bottom of Hershey's Kisses. (Which she did that too.) However, they also work to dress up bags or other things. 
Minnie Mouse Birthday Stickers
For the Hershey's Kisses, she put the stickers on the bottom and then put a few in a sealable plastic bag, and had some more stickers on the bag as well. Some have just Minnie Mouse on them, and others said: "Thank You". It really was a nice touch!
Other Favor Ideas
Whenever I think of party favors or foods for parties, my brain always goes to desserts. I don't know why. Maybe I think it is easier to theme desserts. 
As a result, a couple of other ideas would be Minnie Mouse shaped rice crispy treats, or Minnie Mouse decorated cookies. Or you could have undecorated Minnie Mouse cookies and include some frosting, candies, and sprinkles so that the kids can decorate their own. Minnie Mouse cake pops could be fun too. 
Add Minnie Mouse Touches
When I did the Minnie Mouse baby shower years ago, there weren't any Minnie Mouse decorations like there are now. Therefore, I made the decorations for that party. Confetti, hanging decorations, etc. They were Mickey shapes but they were pink and black. 
Sometimes, you can purchase items that would fit the theme, but then add some Minnie Mouse touches to them. For example, for the Lion King baby shower I did, I made hanging fans out of animal print scrapbook paper, printed out baby Simbas and attached them to the center of the fans, in addition to adding Lion King figurines around the food counter. Therefore, getting pink polka dot print scrapbook paper to make the fans and adding Minnie Mouse to the center would be a great touch.
Just like with this party, how I made the water bottle labels and the hanging Minnie Mouse sign. Little details like that can really add to your Minnie Mouse birthday party.
Another way to add themed touches to the Minnie Mouse birthday party would be to print out Minnie Mouse food cards to label the foods you have set out.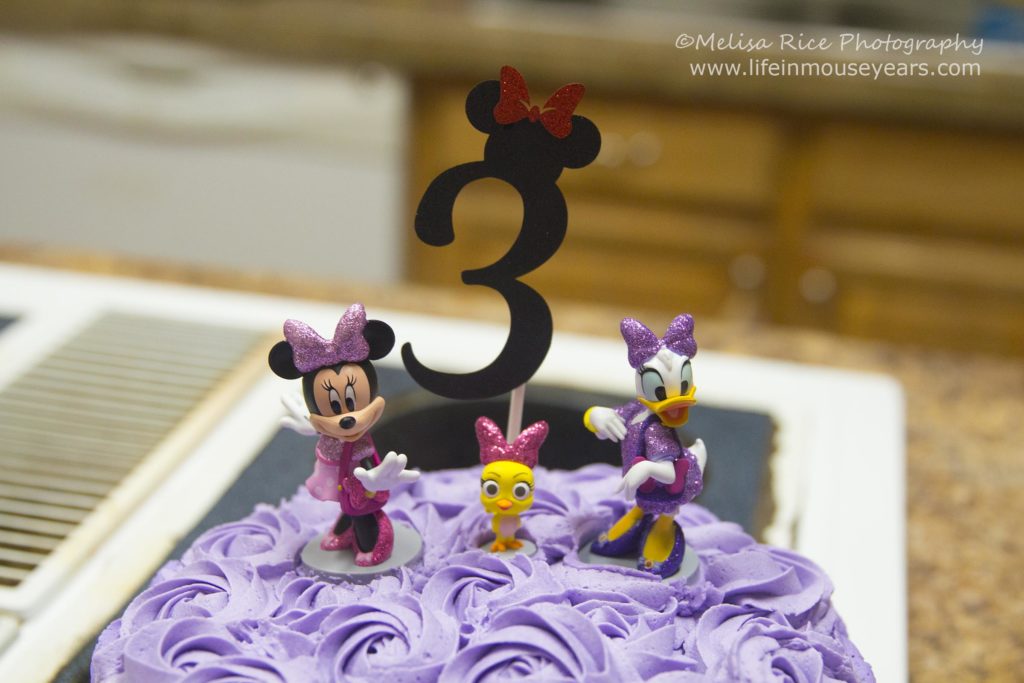 In Conclusion
There are so many fun ideas to decorate, plan, and add some Disney magic to your parties. Whether it is for a child or an adult, from decorations to cake, you can create a Minnie Mouse birthday party to please any age! 
Questions or Comments
I hope that you enjoyed today's post-Minnie Mouse Birthday Party Ideas and that it gives you ideas for the next party that you throw. If you have any questions or comments on today's post, please feel free to leave them below. I would love to help!
Thanks for stopping by Life in Mouse Years!