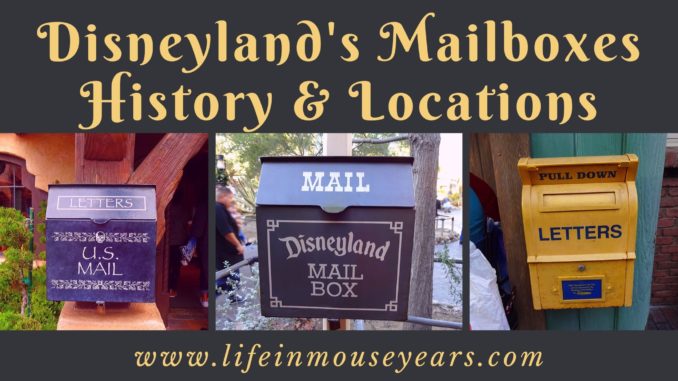 Disneyland's mailboxes are all over both parks! During my last trip to Disneyland, I made it a point to find some of the mailboxes inside of both parks to photograph and talk about them for you! Boy was I surprised at how they are EVERYWHERE!
Disneyland's Mailboxes History and Locations
Today I would like to share about Disneyland's Mailboxes. Talk about some history of them, and share some of the locations. Including photos of course! And yes! You really can mail your letters from those boxes!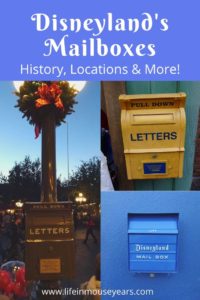 History
Disneyland's mailboxes started in the '50s and were used as a draw to investors of the park. Having the capability to mail important letters while you were in the park, helped to save time from going to the post office to mail them while vacationing. 
Disneyland used to have their own Post Office, up until the late '70s or early '80s. Prior to its closure at that time, any mail that was put into Disneyland's mailboxes had a special postal mark that was Sleeping Beauty's Castle. How cool was that? 
Unfortunately, after the Disneyland post office was closed, the letters no longer had that special postal mark.
However, Disneyland's mailboxes are still around in Disneyland (and California Adventure) and can still be used to mail letters! While it no longer has the special postal mark, it can still be a fun way to send mail to family and friends back home. Or if you are like me, mail one to yourself. Just knowing that it was mailed from inside the Disneyland Resort can be fun all in itself.
Send Letters to Family and Friends
As a result of Disneyland's mailboxes being all over Disneyland and California Adventure, you have your choice of locations to mail your letters from. Send them to family members, friends or even to yourself! I am going to do this on my next trip. I don't know why I didn't think of this before!  My nieces and nephews would totally love to receive mail from Disneyland.
Just keep in mind, Disneyland does not sell stamps. Therefore, you will need to bring stamps with you on your trip so that you do not have to leave the resort to purchase stamps. 
Tip:
Looking for some Disney postcards or cards? Amazon has a good selection. Check out some of the links below.
As always, my post may contain affiliate links. This means if you decide to click and order, at no extra cost to you, I may receive a small commission. For more on my affiliation, click here.
---
---
Pick Up: Who and When
The USPS does not pick up the mail directly. Disney Cast Members will empty the boxes and then it gets taken to the post office.
It is said that Disneyland's mailboxes are emptied each weekday night. As a result, it may take some time for your letters to get delivered to their destination. It is something to keep in mind. If there is something that is time-sensitive to mail, I would take it to the post office directly, or give it to the front desk of one of the Disneyland Resort Hotels. (Providing this is where you are staying at.)
Locations in Disneyland
So many locations, so little time! I truly was surprised at how many mailboxes are all over the Disneyland Resort! Here are some that I found in Disneyland:
First Location: Tomorrowland
The first one that I found was in Tomorrowland. We usually start our trip out in Tomorrowland, as a result of riding the Monorail into the park. This mailbox is on the way to the restrooms that are near the Autopia entrance.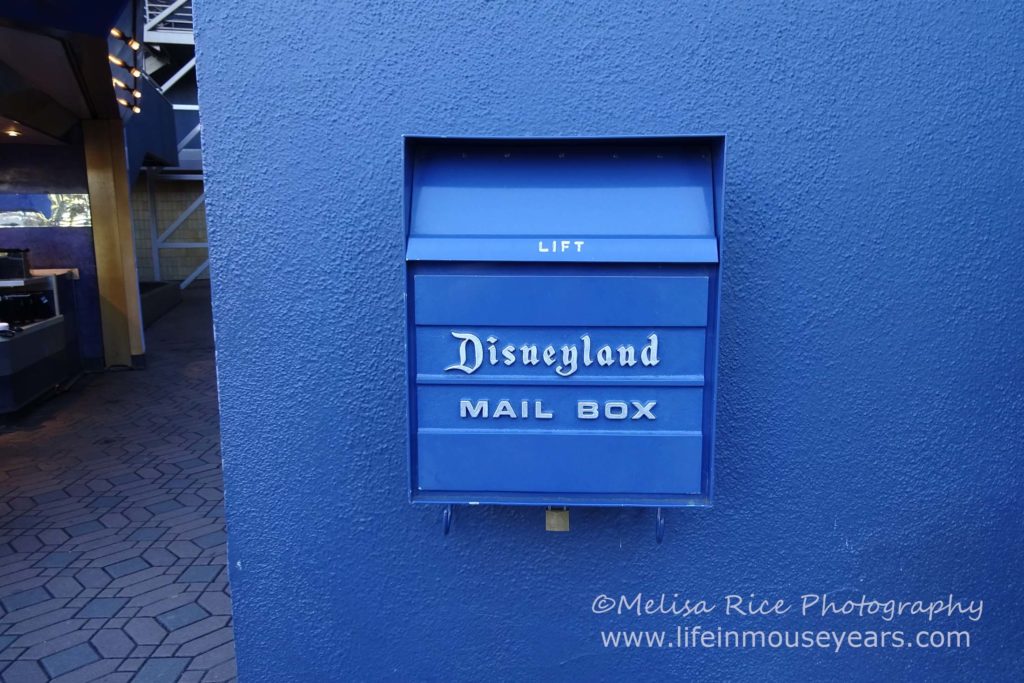 Second Location: Adventureland
Next on the list of Disneyland's mailboxes is one in Adventureland. This one is on the wall between the Bazaar and the seating for Bengal Barbeque.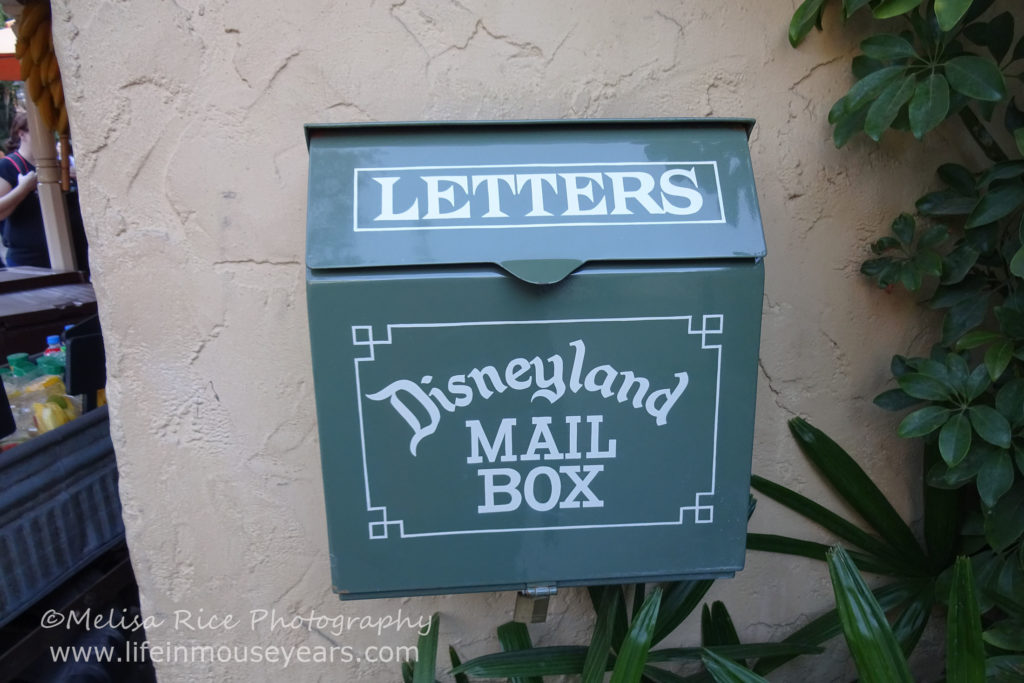 Third Location: Fantasyland
Fantasyland is the next mailbox location on the list. As you enter Fantasyland through Sleeping Beauty's Castle, head towards the right side of the land. Before you reach Peter Pan's Flight is a shop. The mailbox is near the entrance to the store.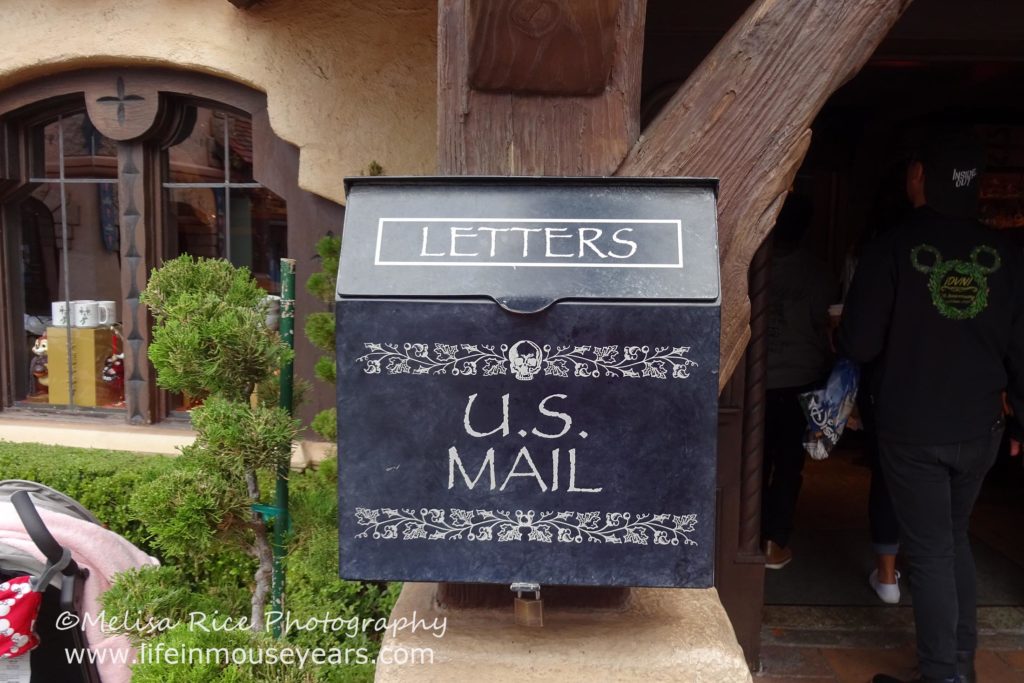 ---
---
Fourth Location: Main Street, U.S.A
Main Street, U.S.A. has multiple mailboxes all down the street. However, the one I photographed is right at Town Square. Enter through the tunnel on your right and head for the street. It is on one of the light poles in front of the Main Street Opera House.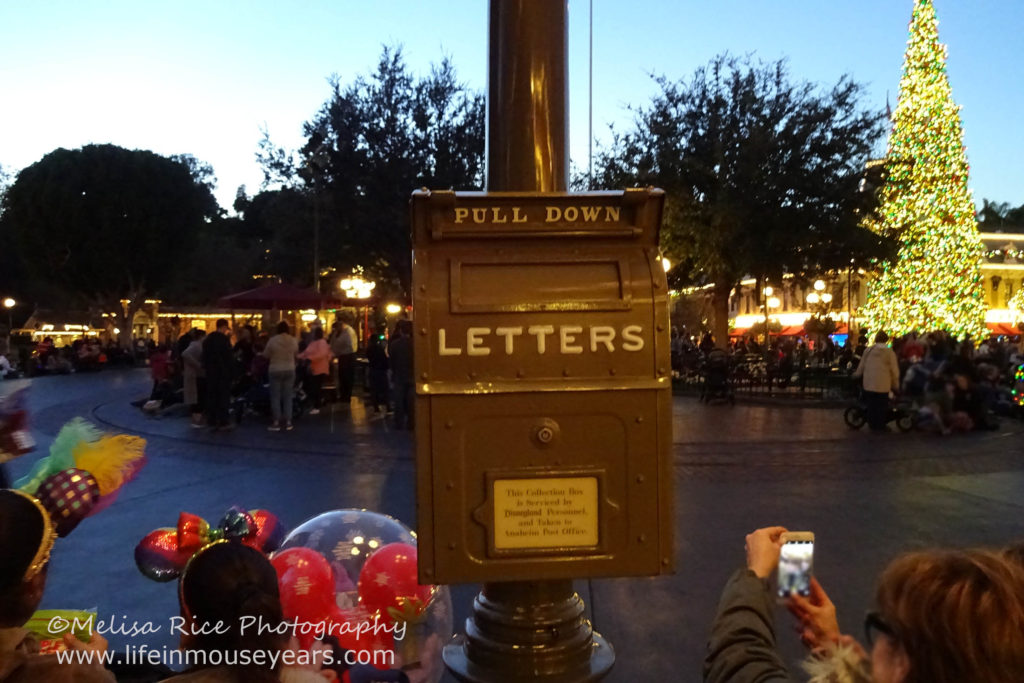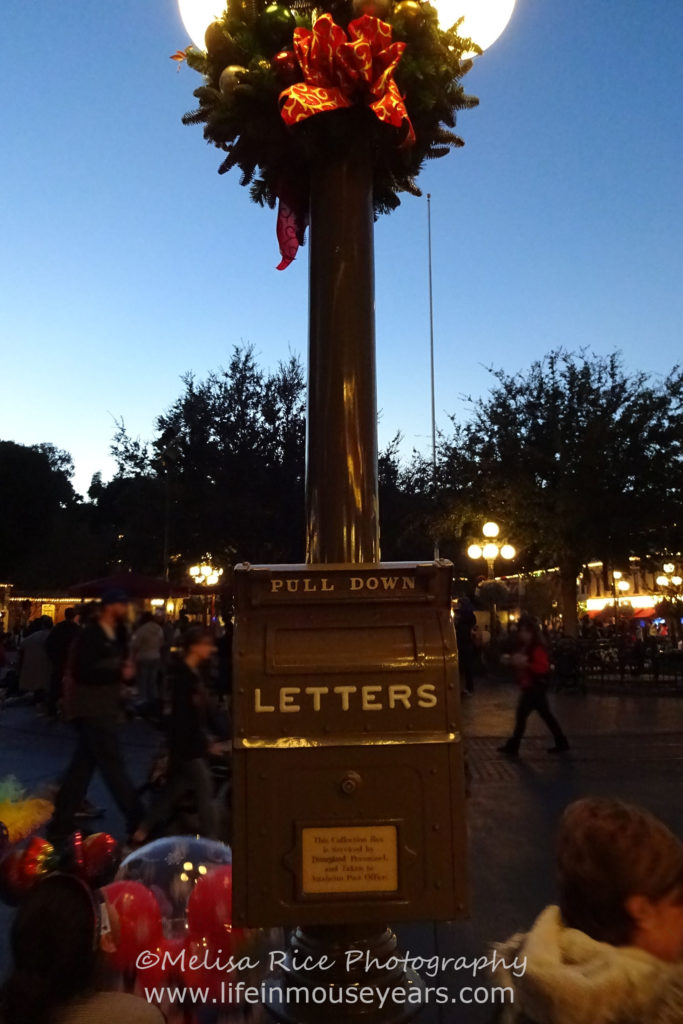 Fifth Location: Frontierland
The final location in Disneyland (that I photographed) is in Frontierland. This one is on the light post on the wooden sidewalk that lines the shops just before the Golden Horseshoe Saloon.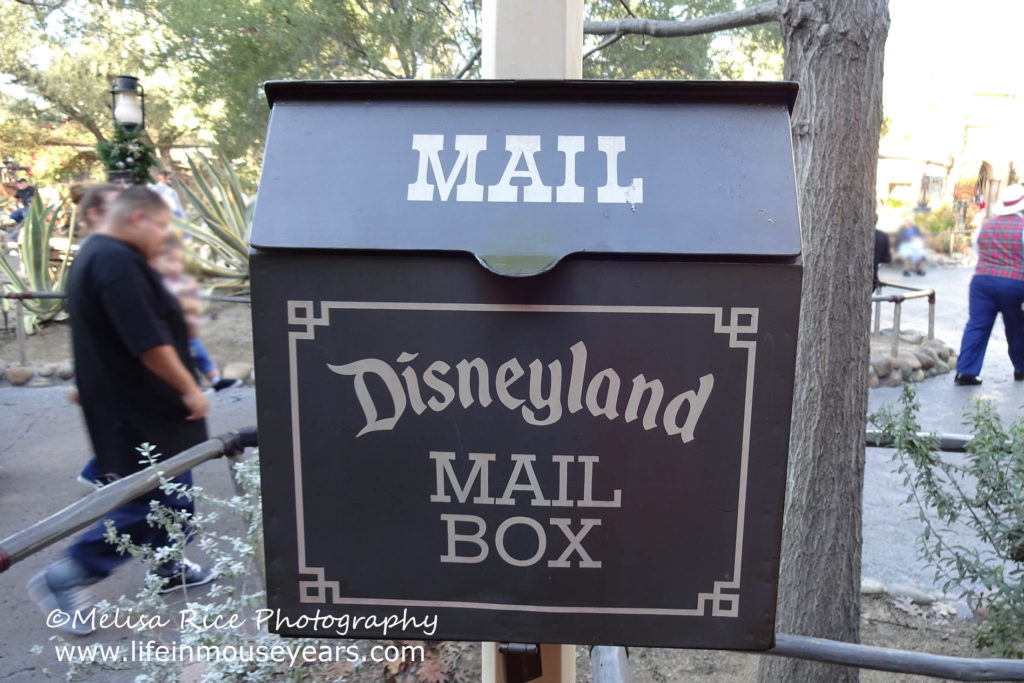 ---
---
Locations in California Adventure
While I only found two locations in California Adventure this last trip, there are a lot more around the park. (I think I was really distracted while we were in California Adventure.) This way I won't spoil all the locations and it also leaves it to you to find more locations in California Adventure.
First Location: Pixar Pier
Inside of Pixar Pier, they have Games of Pixar Pier. When you look at the row of games, on the right side of the last one is where you will find the next box on the list of Disneyland's mailboxes.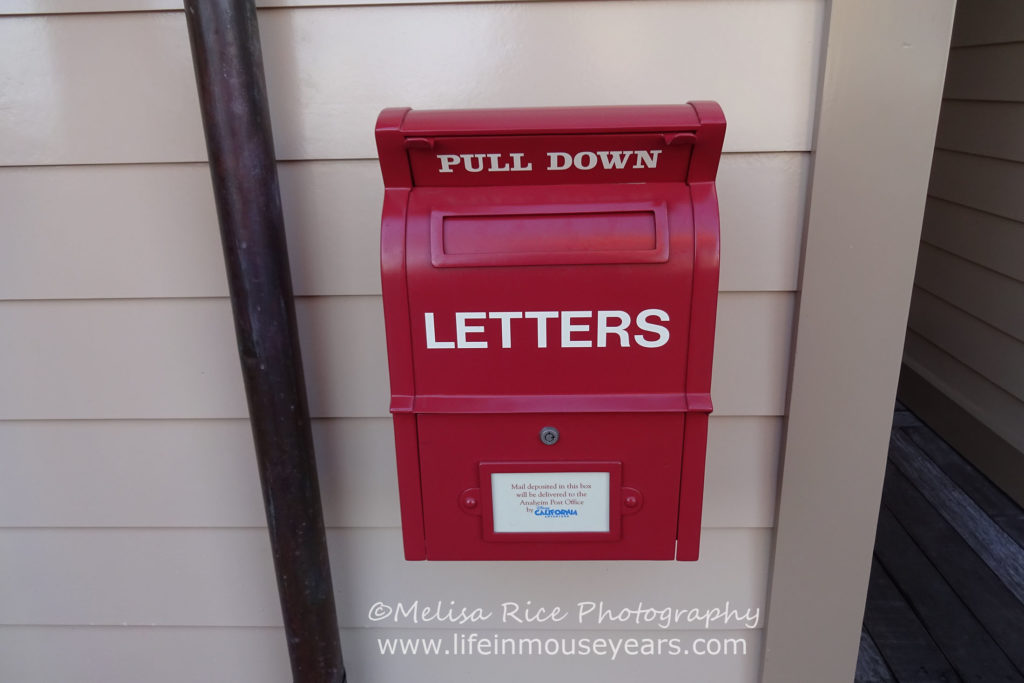 Second Location: Pacific Wharf
Finally, on the list of Disneyland's mailboxes is in Pacific Wharf. This last mailbox is just down from Ghirardelli Soda Fountain and Ice Cream Shop. I have to say it was a tasty find. 😉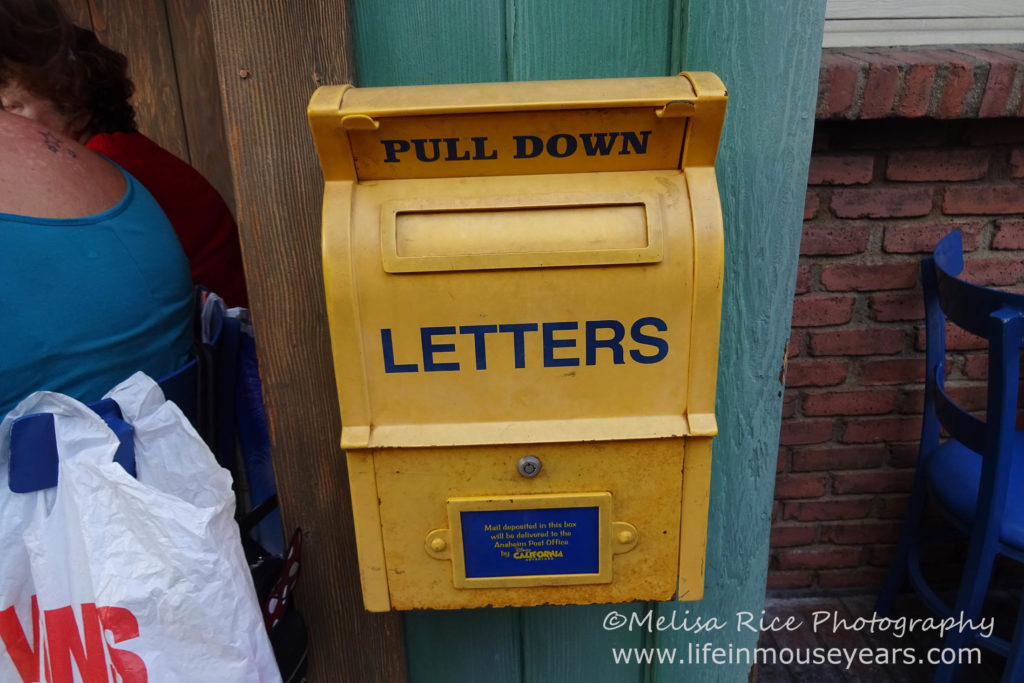 In Conclusion
Disneyland's mailboxes are a way to mail letters to family, friends, or yourself! With all the locations around the Disneyland Resort, you will have a hard time deciding which one to use. Have you noticed Disneyland's mailboxes during your trip? It is a fun time to try and locate as many as you can.
Questions or Comments?
Do you have any questions or comments on today's post-Disneyland's Mailboxes? Please feel free to leave them in the comments below. I would like to help! 
Thanks for stopping by Life in Mouse Years!
For more information on mailing items at the Disneyland Resort, you can find it here.