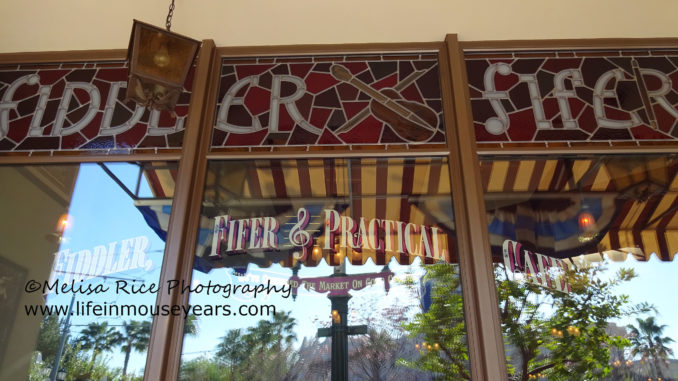 Disneyland and California Adventure has so many dining options all over the park. As a result, it can be hard to choose which place to go to. Today I would like to tell you about Fiddler, Fifer & Practical café, which is on my Dining on a budget list.
---
---
Fiddler, Fifer & Practical Café
Fiddler, Fifer & Practical Café can be extremely popular due to the fact that it is also a Starbucks location. In fact, it is the only one in Califonia Adventure. There are multiple locations around Disneyland Resort. Two in Downtown Disney and one in Disneyland.
Theme
Fiddler, Fifer & Practical Café is inspired by a Walt Disney animated short titled The Three Little Pigs, Fiddler, and Fifer from 1933. The characters from this animated short were inspired by three real-life sisters that performed in the 1920s. They loved coffee so much, they opened their own coffee shop!
Here inside of this Cafe, memorabilia from the sisters adorn the walls. Including black and white publicity photos. Other decorations around the café include musical instruments. Even in the stained glass.
The Café offers outdoor seating in addition to the indoor seating. My mother and I enjoyed the outdoor seating area that is on Buena Vista Street. It was a nice spot to sit and relax while looking at and hearing the Carthay Circle Fountain with the beautiful cherry blossom trees.
Breakfast
Fiddler, Fifer & Practical Café offers Starbucks breakfast items. Some of the sandwich and wrap options are spinach, feta, and egg white breakfast wrap, a seared steak egg, and tomatillo wrap or a  Gluten-free smoked Canadian bacon and egg sandwich.
Another type of breakfast from this café is pastries! Some of these tasty treats are a blueberry muffin, chocolate cream cheese bar, a classic coffee cake, scones, chocolate croissant and their signature cinnamon roll with cream cheese icing.
---
---
Desserts
In addition to the pastries, (if they aren't sweet enough for you) Fiddler, Fifer & Practical Café offers dessert options as well. How does an iced lemon pound cake sound? Or how about a chocolate chip cookie, sugar cookie, or a vanilla bean whoopie pie sound? (I need to try that one on my next trip!)
Coffee
We can't forget about the coffee! If you like Starbucks, this is the place to go in California Adventure. Fiddler, Fifer & Practical Café has all the Starbucks drinks here. Including refreshers and the seasonal drinks as well.
Lunch and Dinner
For lunch and dinner, this Café still offer breakfast sandwiches. However, they also offer sandwiches and salads too! You can get a roast beef or a turkey sandwich. Both are served with fresh fruit. The salad they offer is an apple and cheddar salad either with or without turkey.
And coffee! Coffee, coffee, coffee, java, espresso… Did I mention they have coffee??? Starbucks!
Price
Fiddler, Fifer & Practical Café fits in the $14.99 or under category. Therefore, it makes it one of the more affordable locations inside of the Disneyland Resort.
In Conclusion
Fiddler, Fifer & Practical Café is a great spot to get coffee and a pastry or a light meal when you are in California Adventure. The style and theming of this location make it a timeless spot to relax and enjoy your morning (or afternoon/evening) cup of joe. Especially if you like Starbucks like me!
Menu offerings are subject to change at any time. Check Disneyland's official website here for current offerings.
Questions or Comments?
I hope you enjoyed today's post! If you have any questions or comments, please feel free to make them below. I would love to help!
Interested in another post about dining in Disneyland on a budget? Check out this post that gives a list of locations around the Disneyland Resort. Some have links to articles like this one you just read!
What would you like to see here?
Is there anything you would like to read about here at Life in Mouse Years? Let me know in the comments below! I would love to help!
Don't forget to sign up!
If you would like to stay up to date on new posts that come available, please sign up to receive email updates!
Thanks for stopping by Life in Mouse Years!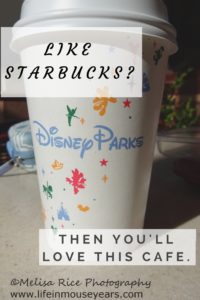 ---
---