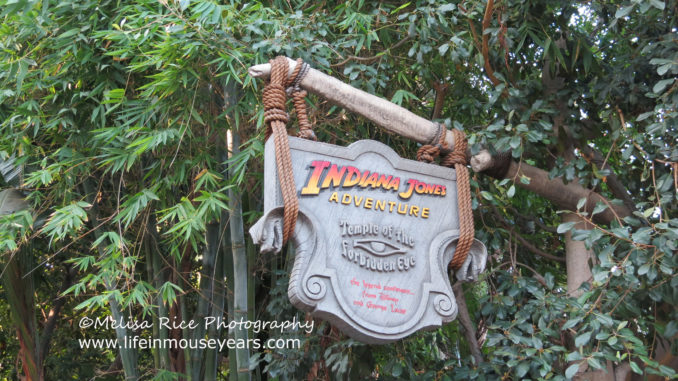 There are so many fun and adventurous things to do at Disneyland in California. Today I would like to talk about the Indiana Jones Adventure because it turned 25 over the weekend.
Indiana Jones Adventure Disneyland Turns 25
The attraction Indiana Jones Adventure officially opened to the public on March 3, 1995. The original title of the attraction was Indiana Jones Temple of the Forbidden Eye. While the name has changed, this ride remains virtually the same. It has had some enhancements over the years, but that just helps to improve the experience.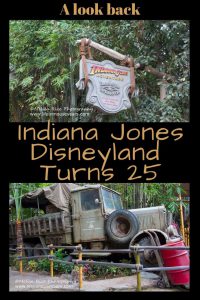 History
Indiana Jones Adventure was one of four collaborations between Disney and Lucasfilm. The other attractions that they worked on together were Captain EO (a 3D show starring Michael Jackson), Star Tours (a motion-simulated attraction), and Indiana Jones Epic Stunt Spectacular! (in Florida).
Did you know?
In the concepts at the beginning of this attraction, they considered it being a walk-through adventure. Another idea was to have it be a high-speed mine car adventure.
Ride System
The ride system for Indiana Jones Adventure was unlike any other at the time. Disney filed for a patent on the ride system on November 16, 1995. The vehicles can go just over 14 mph. Which may sound slow. However, in an open-air vehicle and the simulations, it is anything but slow!
In addition, the vehicles for Indiana Jones Adventure are called enhanced motion vehicle or EMV for short. They are designed to look like troop transport vehicles. Each vehicle can hold 12 guests. Three rows per vehicle with four seats per row.
The troop transport vehicle is a motion simulator. This means it moves up, down, left, right, and shakes, etc to make it feel like you are riding upstairs, over rocks, going around corners, and moving backward. As a result, it can be one rough ride! But oh so much fun!
Actors Reprise Their Film Roles
Harrison Ford and John Rhys Davies reprised their roles for the Indiana Jones attraction. I really think it is great when the actors do that. It is so nice to have real voices during the attraction to make it more authentic. Like you are in the movie!
Indiana Jones Adventure Backstory
Indiana Jones Adventure takes place in the Lost River Delta in India circa 1935. Indiana Jones is heading an archaeological excavation for archaeological research. Consequently, his funding for the project has run out. Indiana Jones's friend Sallah has started guided tours to help with the funding. However, some tourists went missing inside the temple! Indiana Jones went inside to search for the missing tourists and he hasn't come back himself. They are continuing the tours in hopes that the next tour will find Indiana Jones.
Line
While the Indiana Jones Adventure attraction is a thrilling experience, the line for this attraction is one of the most interactive lines at the park.
First of all the line starts outside. Winding around a troop transport truck. Many sites on the web claim it is an actual prop from the movies, however, there is no proof of that fact. Yet, it does look authentic.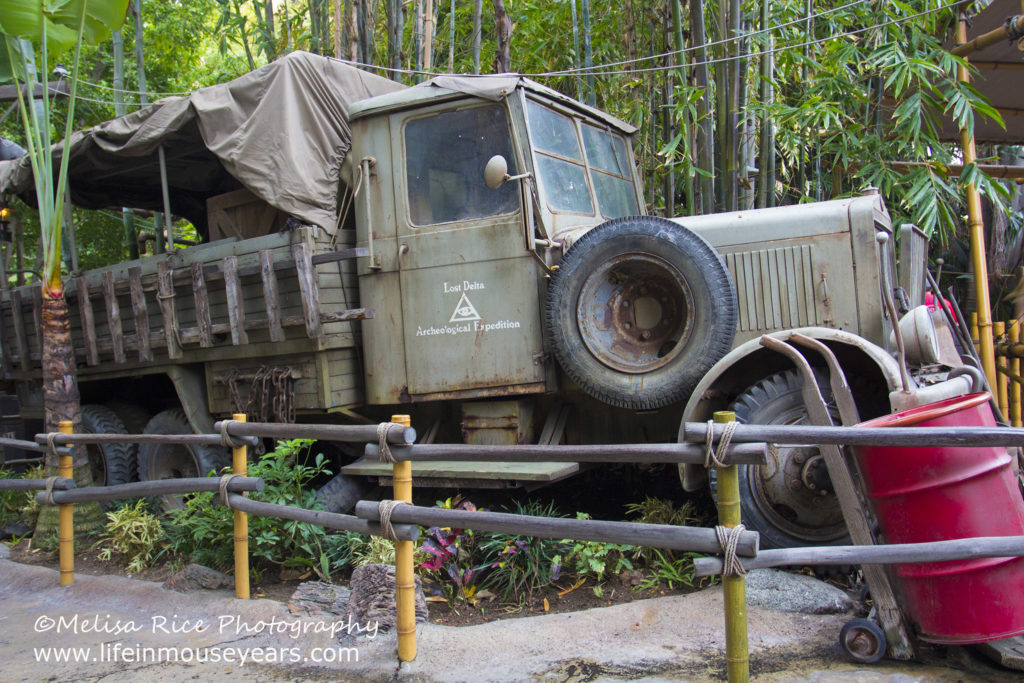 Next, once you are inside the temple, there are petroglyphs all on the walls. Warning guests of danger and rewards that can be found in the temple.
---
---
Did you know?
When Indiana Jones Adventure first opened it was sponsored by AT&T. The cast members would hand out little cards to guests that had the decoder to the petroglyphs. That way you could decipher the messages while you waited in line. I wish they still did this.
Another interactive part of the line is the "spike room". When you move the right bamboo that is helping to support the ceiling, the room makes sounds to make it appear that the ceiling is caving in on you!
Finally, as you are in the excavating room, there is a spot where an archaeologist has rappelled down and is being held by a rope. There is a sign by the rope that says
"Caution
Do Not Pull Rope!
Handling Fragile Artifacts!!"
Hint
This is one sign you should ignore. Pull the rope hard and hear what happens next!
If you would like to find out more about the lines at Disneyland, you can read more in a post I did here.
Ride Restrictions
Due to the simulated nature of Indiana Jones Adventure, there are restrictions on who can ride this attraction.
Guests must be 46" or taller

Children under the age of 7 must be with a person that is 14 or older

Most of all, you should be free from high blood pressure, heart, back, or neck issues, and motion sickness

If you are pregnant, you should not ride
Final Facts
Indiana Jones Adventure line is half a mile long.

The attraction is housed in a 50,000 square foot show building.

Disneyland broke ground for the Indiana Jones Adventure attraction in August 1993.

There were more than 400 Imagineers that worked on the design and construction of Indiana Jones Adventure.
Most Noteworthy
With all the ride variations, while, some are big and some are small. There are almost 160,000 possible ride combinations.
Wow!
In Conclusion
Indiana Jones Adventure has been delighting guests for 25 years! It is still just as popular today as it was 23 years ago. Therefore, I hope that you will get a chance to experience this thrilling attraction on your next trip!
For current up to date information on Disneyland, you can find it on their official website here.
Questions or Comments?
I hope you enjoyed today's post! If you have any questions or comments on today's post, please feel free to leave them below. I would love to help you out!
Thanks for stopping by Life in Mouse Years!