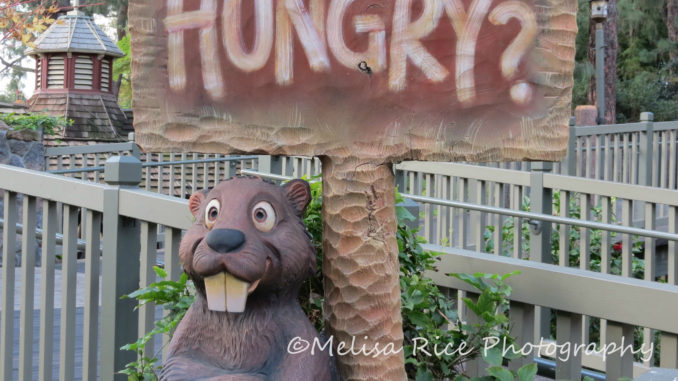 Let's talk about food for a bit. Shall we? There are so many food options throughout the Disneyland Resort. (So many options, so little time.) But what if you have food restrictions? Or a food allergy?  What then? Well, let me tell you. Don't stress over it! There truly are options for everyone. And Disney helps to make it less stressful for you. Today I talk about Dining in Disneyland with Food Restrictions.
Dining in Disneyland with Food Restrictions.
Types of Dining Locations
The first option is to get food at carts located all around the parks. Those mostly offer popcorn, churros, turkey legs (plan to share! No joke!), chimichangas, ice cream bars, and drinks. They also have stands that offer fruit, vegetables, and dill pickles. And this is just to name a few! The pickles are one of my favorites…
The next option is the restaurants. This one breaks down into different categories. First, you have Counter Service. This is where you walk up to order and wait for your food. Then sit down. The second category is Table Service. This one is where you are seated and have a Waiter/Waitress serve you. This one usually requires a reservation.
---
---
Counter Service restaurants have many different choices throughout the park. You can get all different kinds of burgers at Hungry Bear Restaurant in Critter Country. Clam chowder at Harbour Galley by Rivers of America. Sandwiches and soup at Jolly Holiday Bakery Cafe on Main Street. Street tacos or a burrito at Rancho del Zocalo Restaurante in Frontierland. Aliens Pizza Planet in Tomorrowland has a gluten-free pizza option. These are just a few options at each location. They offer so much more than what I listed here.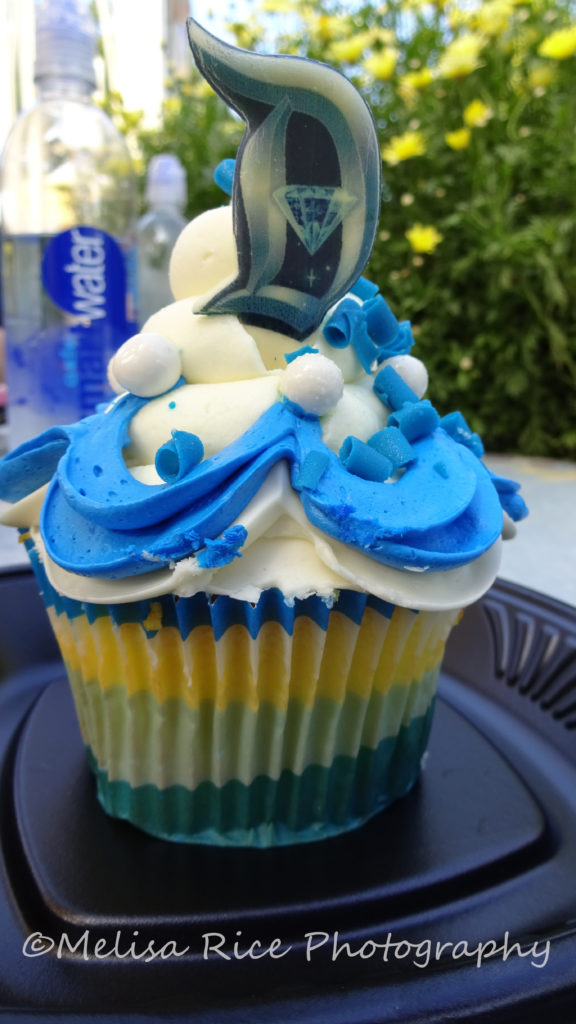 Table Service
For Table Service, I would like to start by letting you know that you will need a reservation. (Disney Dining Information here.) They book up fast! Especially if it is a busy time of year. It is so easy to book your reservations. They can be done over the phone or even online! Sometimes technology is great! It is also nice that when you are on Disneyland's website and you have multiple reservations, they show them all on one page! This was a new feature that was very beneficial during our last trip. They book up pretty fast. You can start reserving 60 days prior to your trip. Don't forget!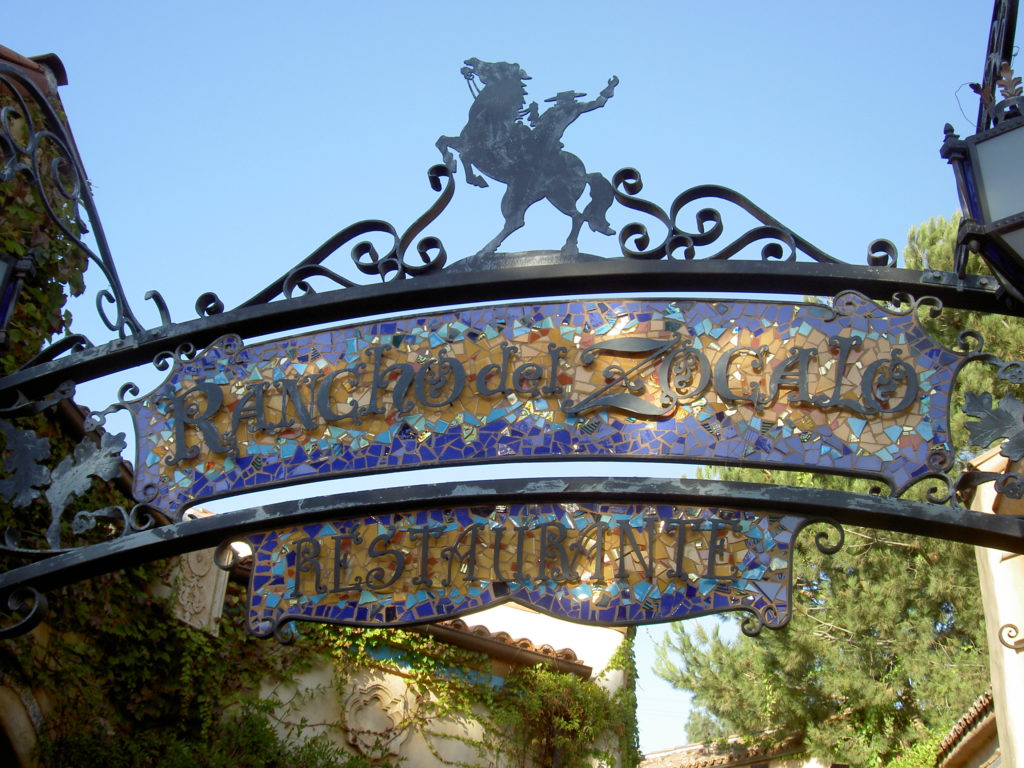 Entrance to Rancho del Zocalo Restaurante in Frontierland.
Tip
Now the other cool thing about making a reservation for Table Service dining is that you can tell them if someone at your table has a food allergy and what food it is. Then they make sure that the food stays away from your table.
Talking to the Chef
What I thought was awesome with this, is that you can ask to see the Chef regarding your concerns. For instance, our last family trip with my Dad was in 2011. He had already gone through multiple surgeries for his cancer. There were foods that he couldn't eat. We always loved to eat at the Blue Bayou Restaurant in New Orleans Square. But, he needed a vegan meal. So, when I made the reservation I told them we needed a vegan option. They informed me that I can ask to see the chef when we are seated.
---
---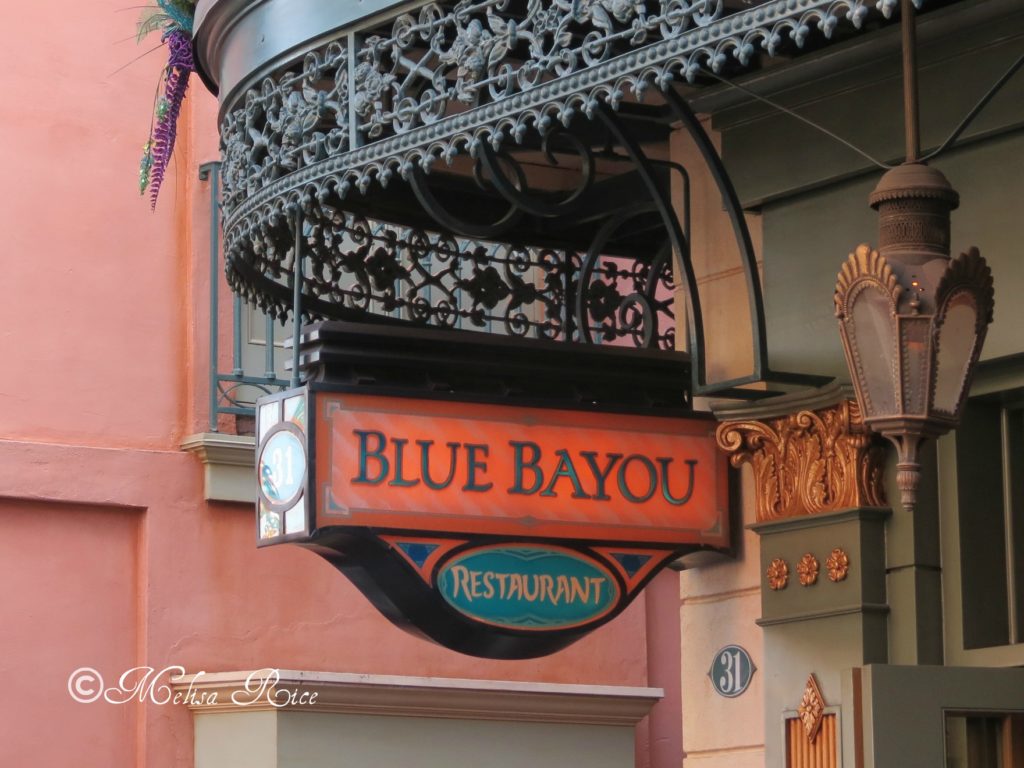 The sign for Blue Bayou Restaurant in New Orleans Square.
We felt a little weird and nervous. But, the chef came out. He was so nice and so helpful! He knelt by my Dad and asked him some questions. Then he came up with three different dishes he could make for him. Not only did he come up with a vegan dish, but three of them so that my Dad had multiple options to pick from. How cool is that!
So don't be afraid to ask. A lot of times there are options you may not know of otherwise. For reservations check out Disneyland's website here.
In Conclusion
Remember to make reservations prior to your trip. There are so many options, no matter what your needs are. Ask questions and enjoy eating your way through the parks. Hey! It's your vacation. Savor the flavors during your trip! 🙂
Questions or Comments
If you have any questions or comments about today's post on Dining in Disneyland with Food Restrictions, please feel free to leave them below. I would love to help!
Thanks for stopping by Life in Mouse Years!
What would you like to see here?
Is there anything you would like to read about here at Life in Mouse Years? Let me know in the comments below! I would love to help!
Don't forget to sign up!
If you would like to stay up to date on new posts that come available, please sign up to receive email updates!
Thanks for stopping by Life in Mouse Years!
---