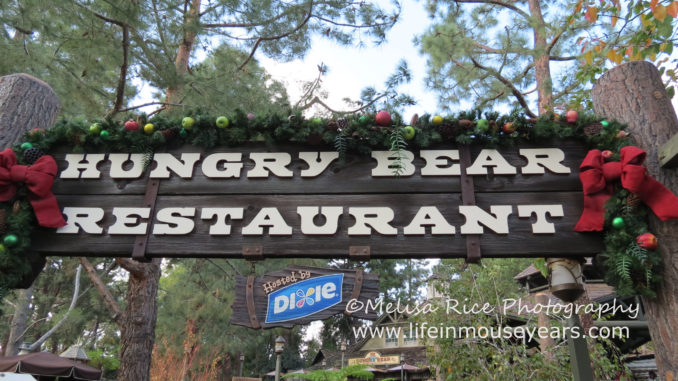 If you are in Disneyland and find yourself hungry as a bear… The Hungry Bear Restaurant is the place to go. It's not just for bears!
Discover the Hungry Bear Restaurant
Hungry Bear Restaurant is located in Critter Country. Once you enter this land, continue past the front of Splash Mountain. In front of you will be the entrance to the restaurant. It is themed after the country bears which used to perform right next door before Winnie the Pooh came.

Hungry Bear is one of the dining locations I mentioned in my Tips on dining in Disneyland on a Budget post. It is in the $14.99 or less per person category.
My family and I used to eat here every trip. It's one of our favorite places to eat. Partly due to the food, but also the outdoors theming and the ducks that hang out on the water right by the seating area.
---
---
My favorite dish was moved to Cafe Orleans. I was disappointed during our last trip. It now costs more and it is at a location you have to make a reservation. I opted not to make a reservation because we already had quite a few reservations for our trip. We like to leave most of our dining choices open to spontaneity. Depending on what we feel like eating, where we are at, and if we want to return to a previous dining spot. Besides all of this, we still enjoy this dining location.
Food Options
Hungry Bear has American Cuisine. Hamburgers, wraps, salad, and desserts. There are so many options! Just a few of what they offer here is a cheeseburger, chili cheeseburger, bison blue-cheese burger, crispy chicken sandwich, turkey caesar wrap, and a picnic salad.
You might need to visit here more than once to try out more than one item!
The picnic salad is turkey breast, strawberries, Feta cheese, cranberries, roasted almonds and jicama on mixed green lettuce. It is served with a strawberry vinaigrette.
Since my favorite dish has moved (it was a fried green tomato sandwich with roasted veggies and a delicious sauce!) my next favorite is the crispy chicken sandwich. It has tomatoes, lettuce, and a honey mustard sauce. It is delicious!
Kids Meals
If you have some hungry cubs in tow (or ones that just keep following you around calling you Mom and Dad for some reason) they have some good food options for them as well. There is a kid's power pack, hamburger, or chicken breast nuggets. This location has a toddler meal too! It is a cheesy macaroni with applesauce and low-fat milk.
---
---
Desserts
I had also mentioned earlier that they have desserts. Let's not forget about those right??? How does a house-made funnel cake sound? What about a churro funnel cake? Or how about a milk and honey funnel cake. Hungry Bear also has a blueberry-honey creme pie.
I just made myself hungry!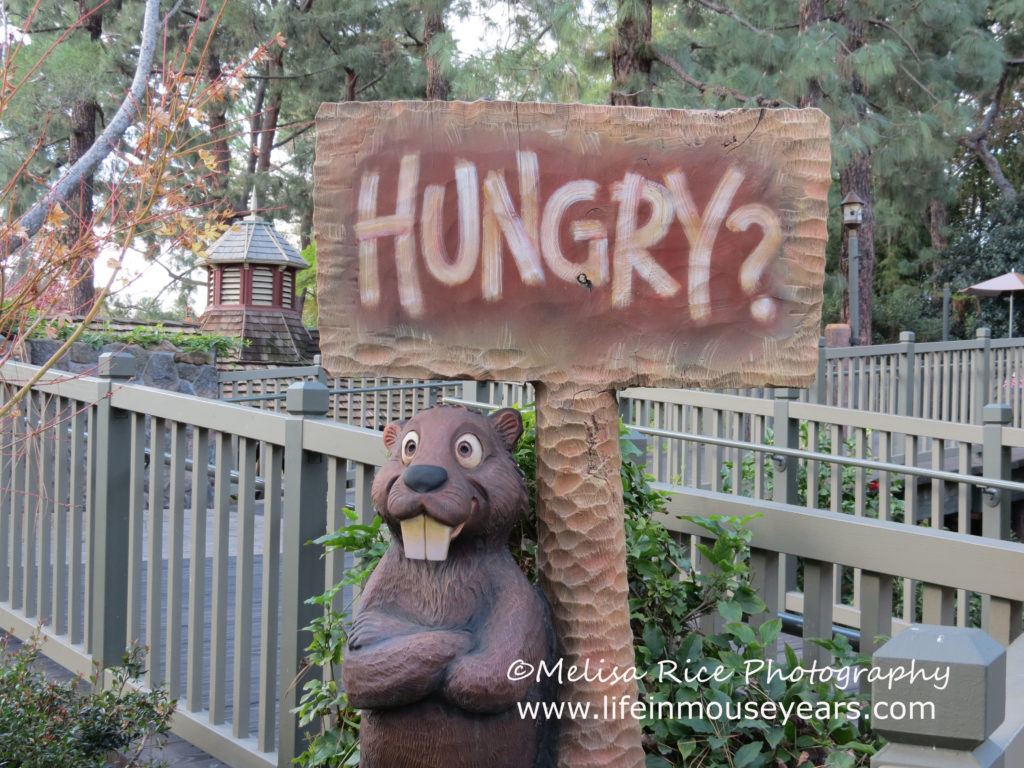 Seating Area
After you get your tasty treats, now it is time to find a place to sit. Hungry Bear has two stories of seating for you to choose from. The upstairs level is what you are on to start with and there is also a downstairs too. You can sit and watch Mark Twain, Sailing Ship Columbia, and even the canoes go by while you dine. The ducks love to hang out here and wait for a handout.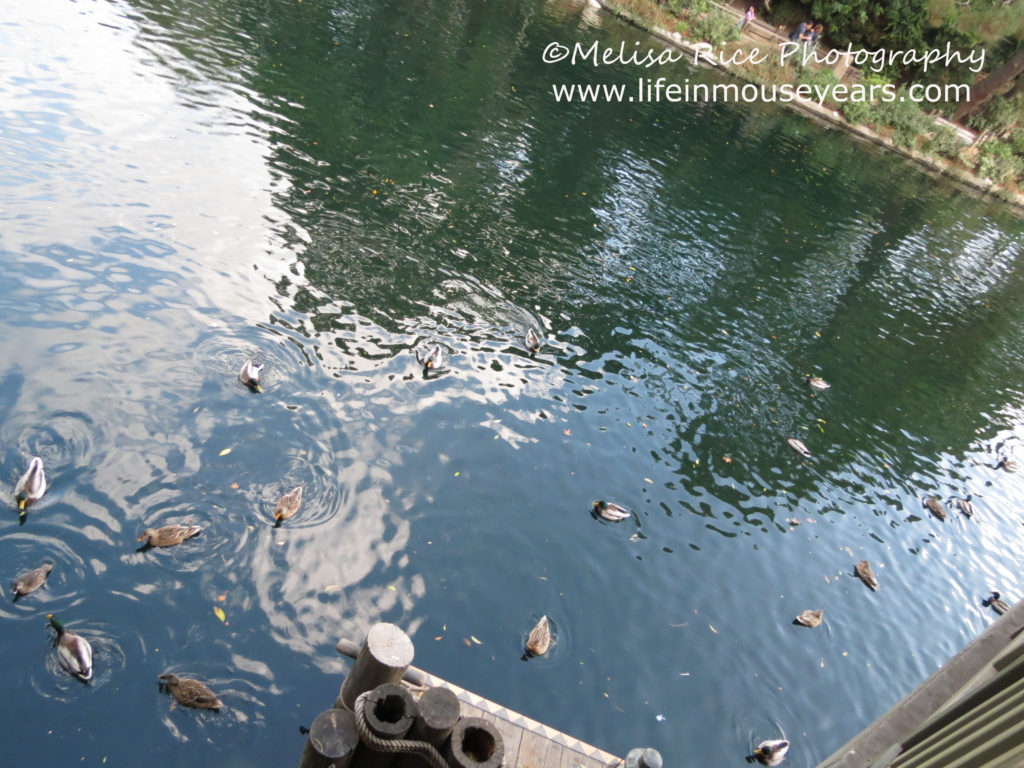 The restrooms are on the lower level. They are outdoors themed and they are very well done. Worth giving them a try. Generally… The lines are not bad here.
In Conclusion
I definitely recommend this location for a quick bite when you are at Disneyland. It is one of my favorite spots in the park. I hope that you will enjoy it as well.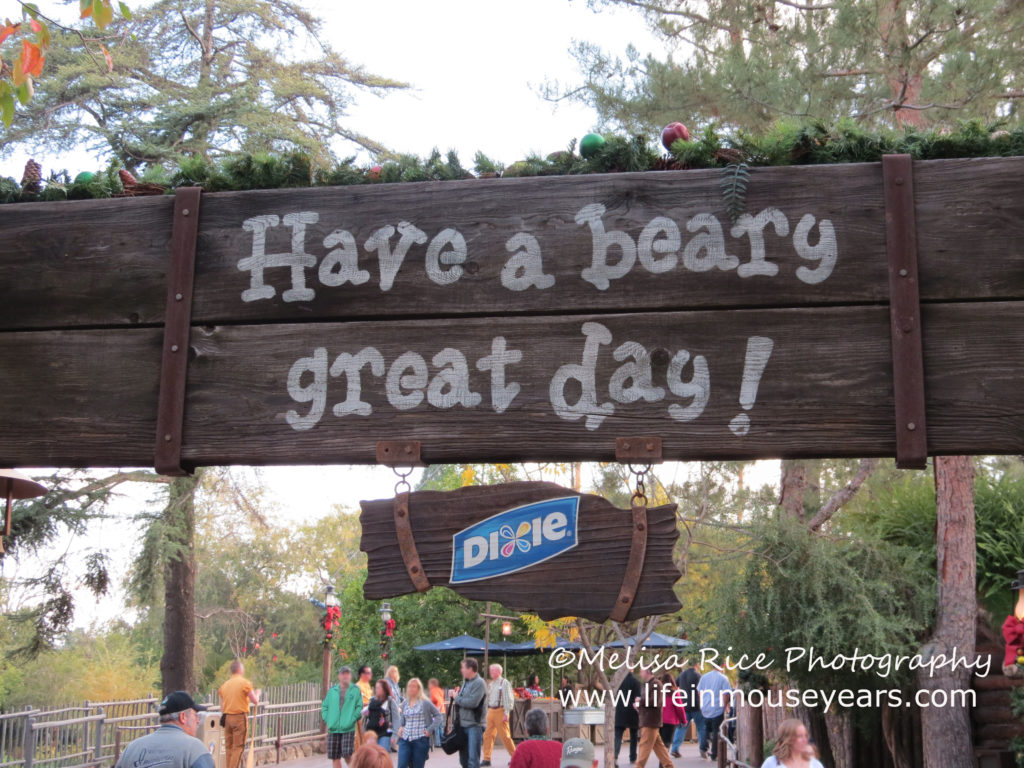 Please leave any questions or comments you may have down below.
What would you like to see here?
Is there anything you would like to read about here at Life in Mouse Years? Let me know in the comments below! I would love to help!
Don't forget to sign up!
If you would like to stay up to date on new posts that come available, please sign up to receive email updates!
As always, thanks for stopping by Life in Mouse Years!
---
---