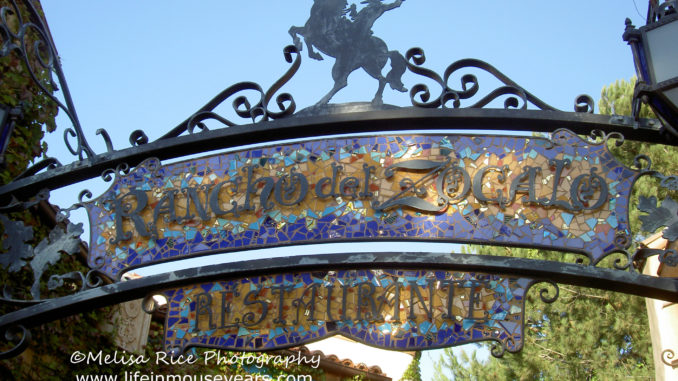 Do you like Mexican Food? I know I do. Did you know that Disneyland has a Mexican Restaurant? They do! It is called Rancho del Zocalo Restaurante. It is on my Dining in Disneyland on a Budget list. Which means it is $14.99 or less per adult.
Dining Tips Rancho Del Zocalo Restaurante
Rancho del Zocalo is located inside of Frontierland. You walk through the main entrance of the land and go to the right. It is before the entrance to Big Thunder Mountain Railroad.
When you arrive, there is a wrought iron sign overhead made with colorful mosaic glass/tile pieces. It has a silhouette of a person on a horse on top.
If you take the walkway underneath the sign, you will see the adobe arches with plants, the beautiful water fountain doorways, painted tiles and lanterns. I love the style of this walkway. It always feels peaceful and relaxing to me.
---
---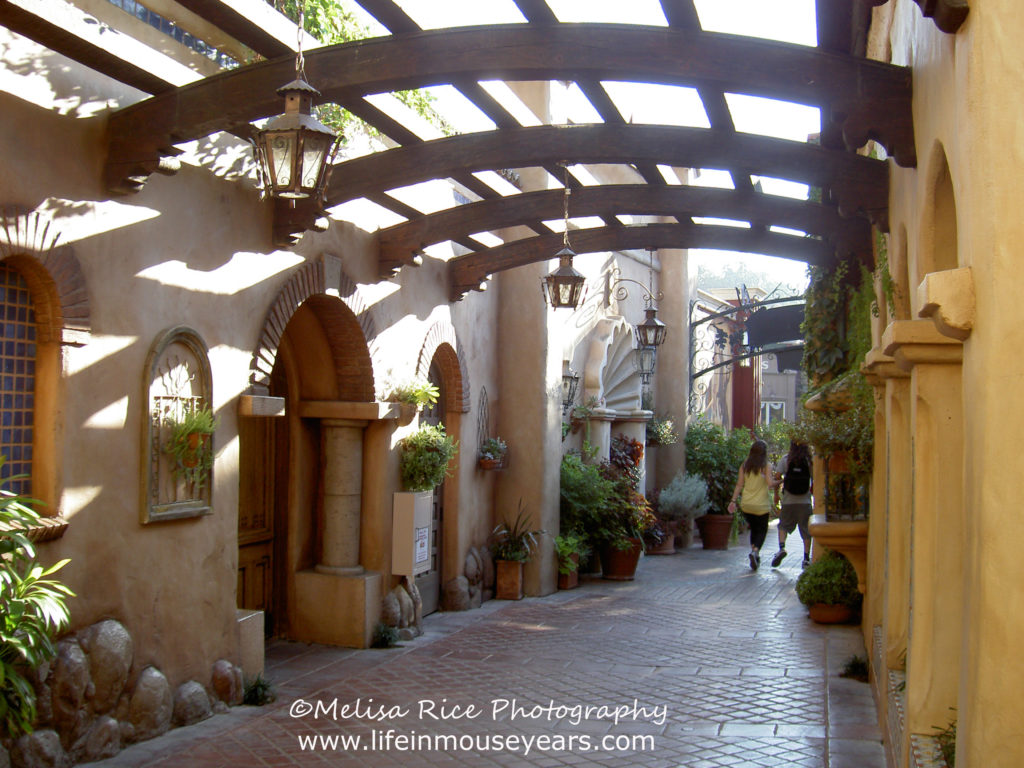 When you are inside the restaurant in the indoor seating area, make sure you take a look at the lights. They are Mexican glass lanterns that are star-shaped. They are so pretty! This restaurant also has an outdoor seating area to eat at as well. There are plants and flowers around there too.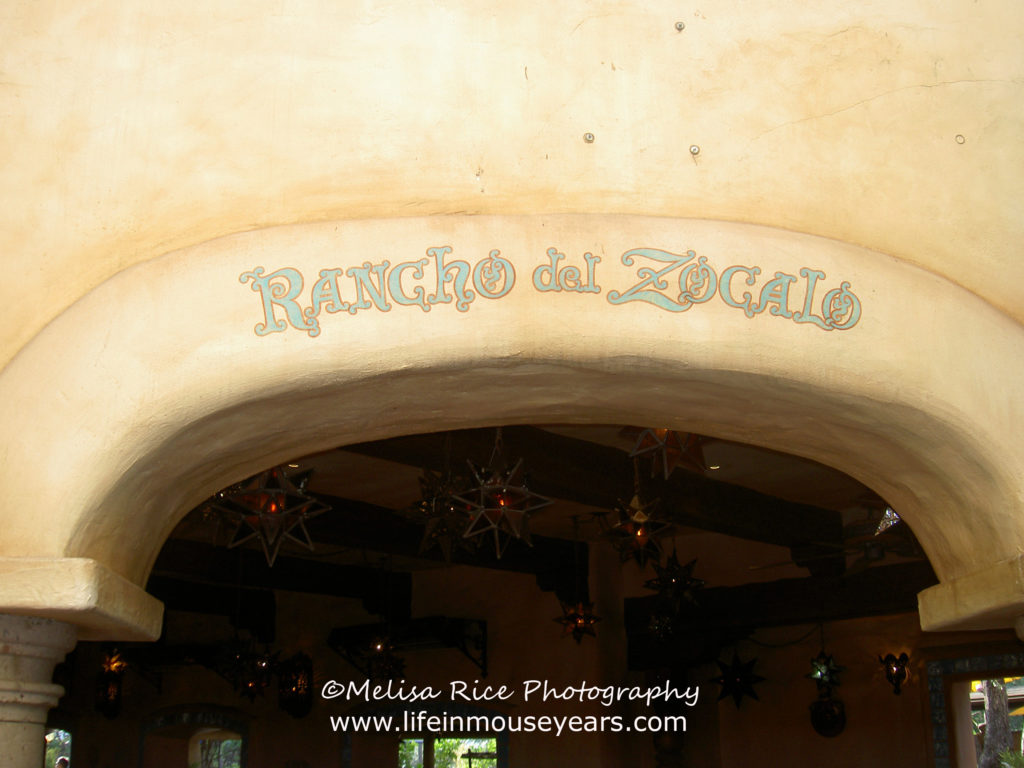 Rancho del Zocalo offers American Mexican cuisine. Let's take a look at what they offer here.
---
---
Breakfast
Let's start with breakfast. They offer a traditional breakfast menu and a Mexican inspired breakfast menu. For a traditional breakfast, you can get biscuits and gravy, scrambled eggs with breakfast potatoes, pancakes, and eggs, or a Mickey Mouse pancake.
If you would like to go with a Mexican inspired breakfast, they have a fajita beef breakfast platter, tamale plate, chilaquiles or a chorizo and egg burrito. Chilaquiles is corn tortillas layered with refried beans, scrambled eggs, green sauce. It is topped with cilantro, onions, queso fresco, and sour cream.
I haven't eaten here for breakfast before, however, I think I will make it a point to try it on my next trip. It sounds pretty good.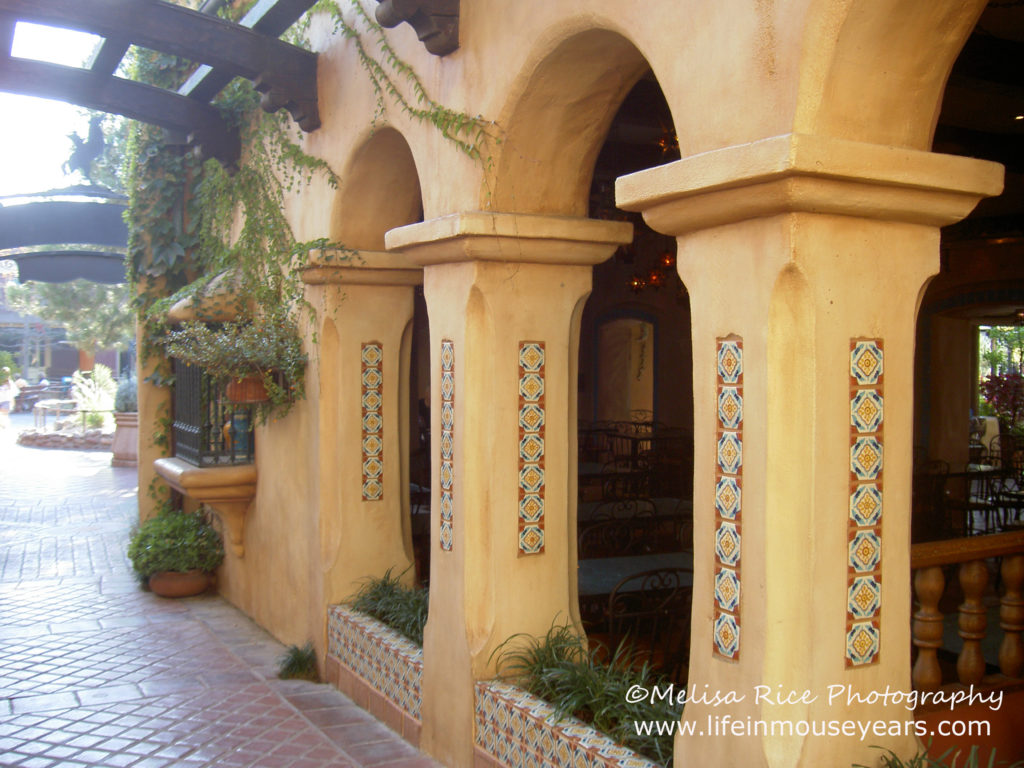 Lunch/Dinner
Now let's take a look at the lunch and dinner menu. So many choices here. Citrus fire-grilled chicken, red chile enchilada platter, a trio of street tacos, chile Verde, carne asada and red chile enchilada platter, burrito Guadalajara. Just to name a few.
Rancho del Zocalo has some salad options as well. They have a tostada salad with marinated beef, tostada salad with chicken and a hacienda caesar salad.
Kids Meals
For any little ones that you may have in tow, they offer a bean and cheese burrito or a chicken taco. This location has toddler meals too. Chicken and rice or beans and rice. Both choices and served with applesauce and milk.
Don't forget to ask for an allergy-friendly menu here. It is available upon request in case anyone in your party should need one.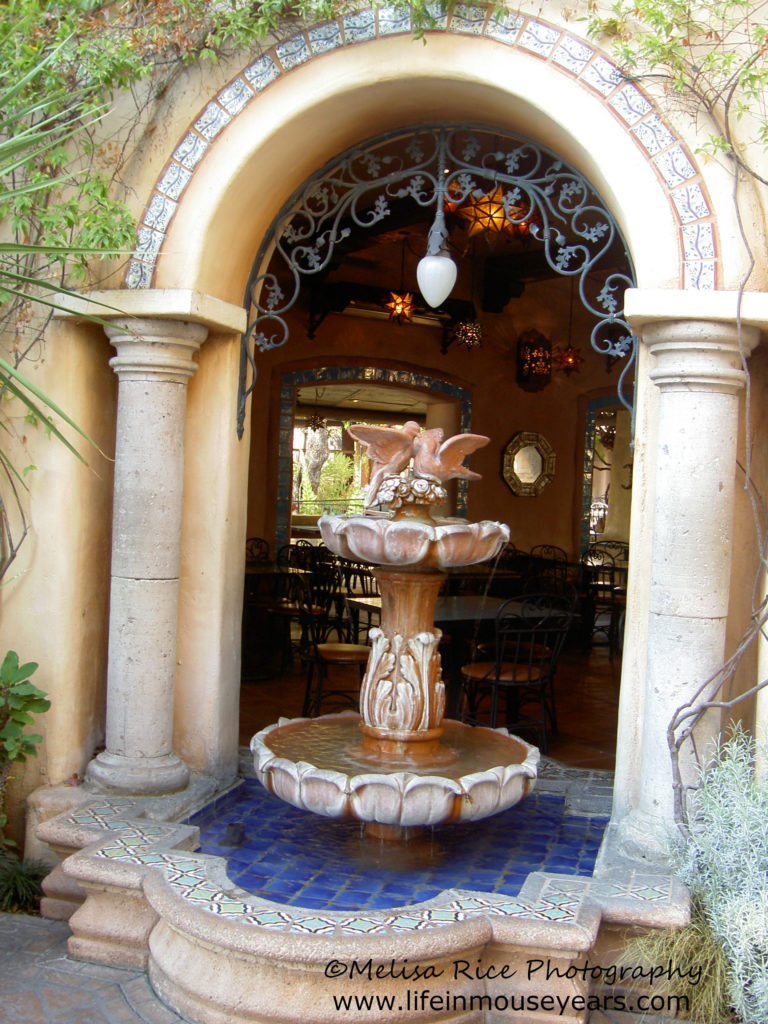 In Conclusion
Rancho del Zocalo Restaurante in Frontierland is a lovely place to sit and eat. It is colorful and relaxing. Especially if you get to be near the water fountain. The food is delicious too! I hope that you have the opportunity to visit it soon!
What would you like to see here?
Is there anything you would like to read about here at Life in Mouse Years? Let me know in the comments below! I would love to help!
Don't forget to sign up!
If you would like to stay up to date on new posts that come available, please sign up to receive email updates!
Thanks for stopping by Life in Mouse Years!
---
---