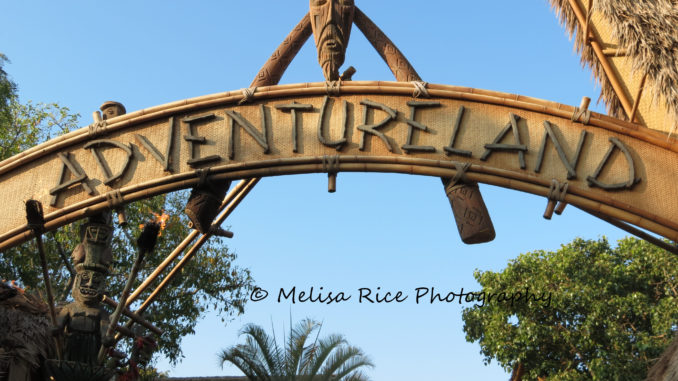 Since my post "Tips on dining in Disneyland on a Budget", I have been thinking that from time to time I will write about each restaurant in that post. Giving more details to help you decide if it is a dining location you might want to visit. Not too often though. I don't want to bore anyone with the same thing for every post. Variety is the spice of life right?
There are so many different places you can eat at in Disneyland, that it could make it a little difficult to choose which restaurant. I will say, no matter which restaurant you pick, rest assured that you are in for a great meal! Knock on wood, we have always had excellent food and service throughout the Disneyland Resort.
Today I am going to talk about one of my favorite places that is always on my must eat at list. The number one pick is Bengal Barbecue.
Dining tips-Bengal Barbecue in Disneyland.
Quick Service
Bengal Barbecue is located in Adventureland in Disneyland. This location is a quick-service restaurant. Which means you walk up to a counter to order and pick up your food. Then you can take it and eat on the go or eat at one of the tables that are right next door to the Bengal Barbecue. They now have indoor seating! Which makes it nice to get out of the sun and cool down a bit. Or stay warm and out of the rain. Depending on the weather when you are there.
---
---
Theme
The seating area is themed to fit in with Adventurland. Jungle, and safari type items are displayed along on the walls. As well as some Jungle themed pictures too. Don't forget to always look around and up when you are in the resort. You never know what you may see!
Menu
The menu for Bengal Barbecue states they are a snack location. But, if you get a skewer plus one of the extra provisions, it can keep you like a meal.
Bengal Barbecue offers barbecued skewers. They have two different beef skewers. One is in a  sweet sauce, and the other is a hot and spicy sauce. There is a chicken skewer and even a vegetable skewer. Through the years I have tried each of these options listed above. I have not been disappointed with any of them. They are delicious and I highly recommend eating at this location.
---
---
Some of the other provisions that they offer is a breadstick, hummus with fresh vegetables, and an Ahi Poke spring roll.
If you would like to see the menu for Bengal Barbecue, you can find it here. One thing I have noticed is their menus are partial lists. So when you are in the park, you will usually find other items available as well. For example, with this location, they also have fruit, chips, and yogurt.
My favorite (if they still offer it) is to get a jalapeno cheese filled pretzel. It is so good! If you are not into the spicy cheese, they also offer a Mickey-shaped pretzel and you can add the regular dipping cheese. I have to admit, I always feel torn about which pretzel I choose. I like the jalapeno cheese-filled one, but I feel like I should get the Mickey-shaped pretzel. The reason for that is because where else can you get a Mickey-shaped pretzel than at a Disney park?
Tips
Bengal Barbecue's line can really get long at times after it opens. I recommend trying to stop in at off dining hours. Sometimes it will be a tad shorter for the wait. Keep in mind though, the line does move fairly quickly. So that is a plus. One other tip is to make sure you do not stop in to close to closing time. If you end up still in line after the close time, they tend to rush the cooking on the skewers unless they were already cooking the items you order.
In Conclusion
I hope that you will check out this dining location next time you are in the park. Be careful while you are in Adventurland. It is a jungle out there.
Questions or Comments?
If you have any questions or comments on today's post, please feel free to leave them below.
Thanks for stopping by Life in Mouse Years!
What would you like to see here?
Is there anything you would like to read about here at Life in Mouse Years? Let me know in the comments below! I would love to help!
Don't forget to sign up!
If you would like to stay up to date on new posts that come available, please sign up to receive email updates!
---