Mark Twain Riverboat in Disneyland is a classic attraction that has been in operation since opening day in 1955. It is an attraction that I have enjoyed riding each time I visit. (Aside from our last trip. It was closed.) The middle deck or even the top deck can give you a bird's eye view as you go around Tom Sawyer Island. Today I would like to talk about some of its histories and give some secrets about Mark Twain Riverboat that you may not have known before.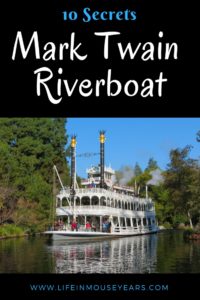 10 Secrets of Mark Twain Riverboat
When Walt Disney was designing the first Disney Park that was going to be across the street from his Burbank Studios, he wanted to have a Riverboat attraction. So when the plans were changed and they started working on Disneyland in Anaheim, the plans for the Riverboat attraction were kept. Walt Disney had a love for the writings of Mark Twain and was inspired to have a Paddlewheeler in Disneyland for other's to enjoy.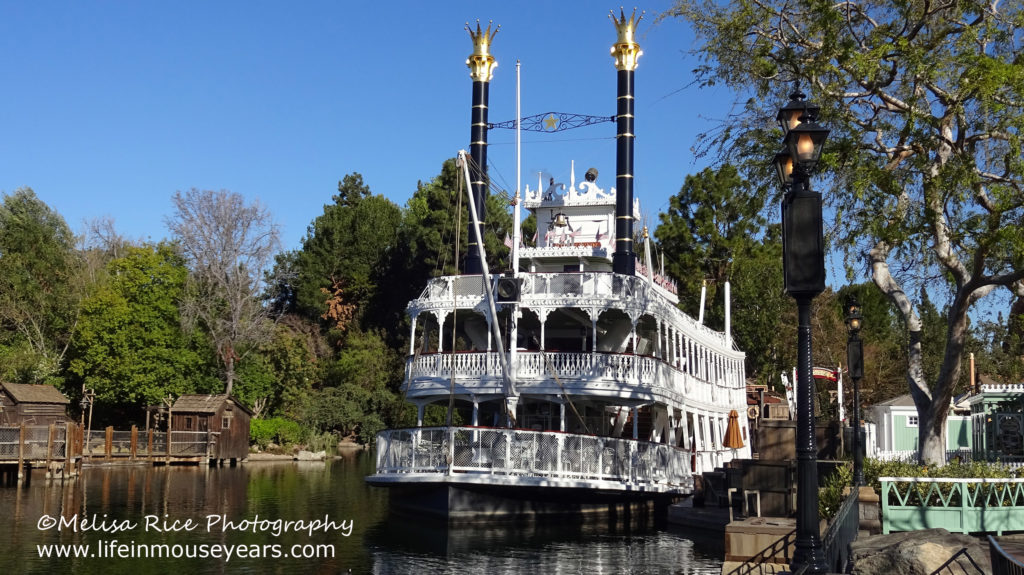 First Secret
Walt Disney wanted the Mark Twain Riverboat so badly, that after the corporate funding ran out, he funded the riverboat out of his pocket.
Second Secret
When the designers were looking into how to build a replica of a Paddlewheeler, they had to do extensive research because there had not been a Paddlewheeler in operation in 50 years!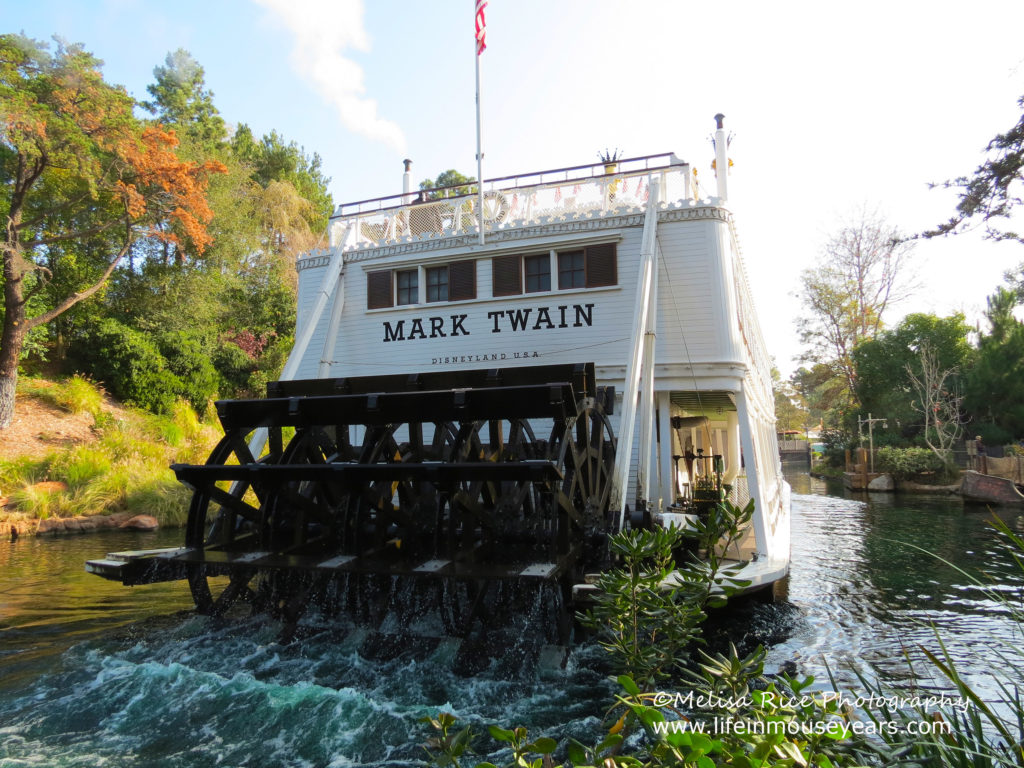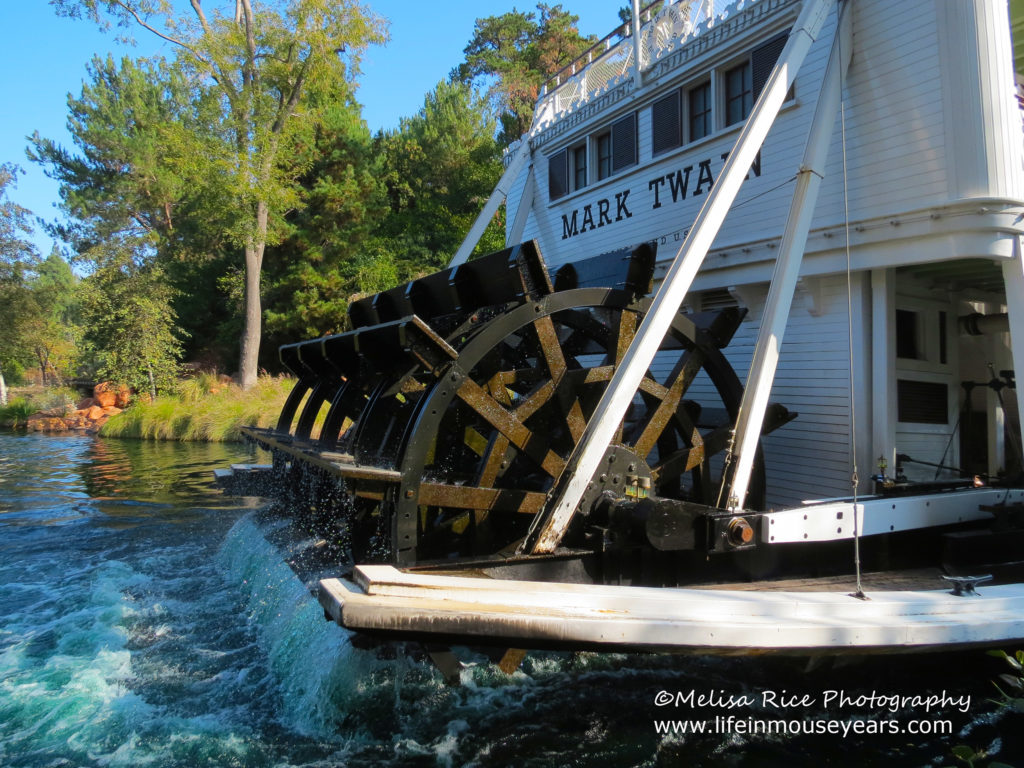 Details on Mark Twain Riverboat
Mark Twain Riverboat is 108 feet long and 28 feet tall. It has beautiful woodworking throughout the boat. The weight of this Riverboat is 150 tons! There are four decks on Mark Twain Riverboat.
Main Deck

Texas (Sun) Deck

Promenade Deck

Pilothouse
There is limited seating on the Mark Twain Riverboat. However, if you can, you will want to explore the Mark Twain riverboat during your cruise! They have so much for you to see on this boat.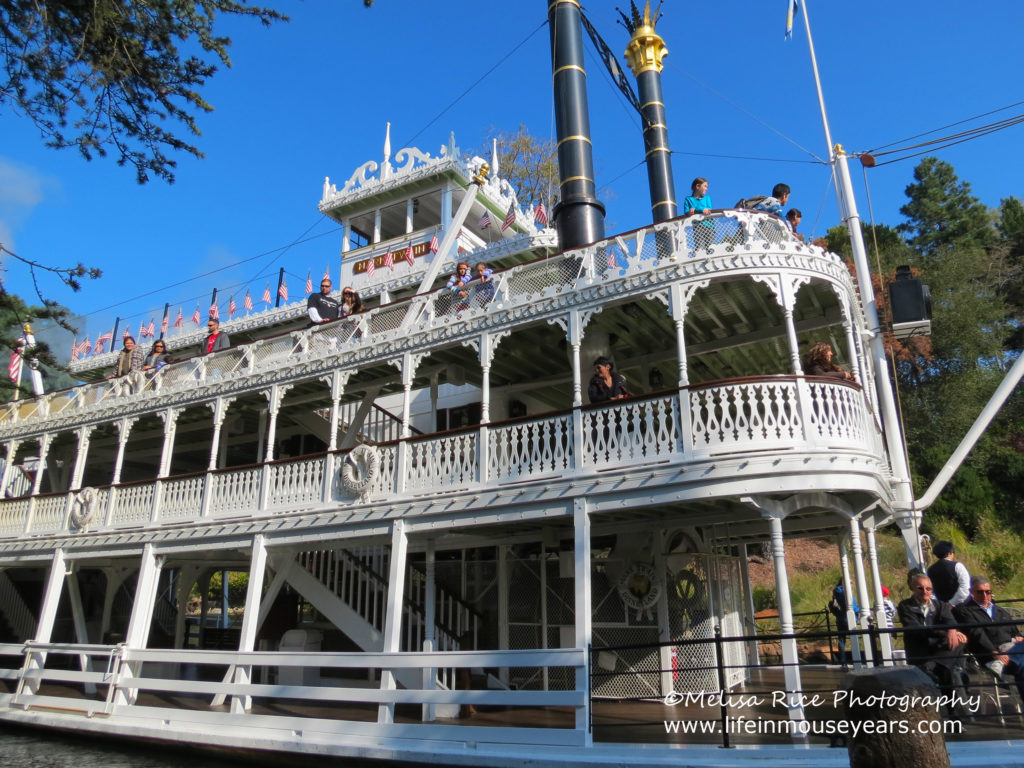 On the Main Deck, you can see the boilers and pistons that run the boat. The Texas (Sun) Deck is out on the front of the boat. This uncovered spot has some chairs you can sit on as you ride. Next is the Promenade Deck. To get to this deck you need to climb upstairs. (It is a bit narrow). Disney has a collection of photos and maps on this deck. The final deck is the Pilothouse. This one is on the very top of Mark Twain Riverboat. It has the Captain's Quarters and the Wheelhouse.
Third Secret
The Captain doesn't steer the boat around the river. It goes along an I-beam that is in the water. However, the Captain does watch for the other water traffic. For example the Davy Crockett Canoes, and the Tom Sawyer Island Rafts.
View from Mark Twain Riverboat
During your Mark Twain Riverboat cruise, you can hear a narration of new travel discoveries from the past. In addition to the narration, the view of Disneyland and Tom Sawyer Island is amazing! Some of the sights to see along the journey are The Golden Horseshoe, Pirates of the Caribbean, Haunted Mansion, waterfalls, cabins, an Indian Village, and the Disneyland Railroad. Also, keep an eye out for animals along the way. You never know what wildlife will be out and about.
Fourth Secret
The Construction Supervisor, Joe Fowler, insisted on having a dry dock there at the River of America in Disneyland. Walt Disney wasn't happy with how much space it took up. He started calling it Joe's Ditch. Later it was named Fowler's Harbour. In my opinion, having their own dry dock has probably saved money trying to get the boat to another location for repairs.
---
---
Mishaps
Mark Twain Riverboat has had its share of mishaps. (There were a lot on the opening day of Disneyland). But this attraction has prevailed for almost 63 years now.
Fifth Secret
When Disneyland first tried to fill the River's of America, the water all soaked into the soil. The soil stabilizer didn't work. Joe Fowler found a supply of clay to line the riverbed. As a result, they were able to keep the water in the river.
Sixth Secret
Four days before Disneyland opened, Walt and Lillian Disney celebrated their 30th anniversary by having a party on the Mark Twain Riverboat. 300 people were there. Mark Twain had it's maiden voyage that night. Everyone went to one side of the boat to look over. The boat tipped and water came up over the deck. They didn't know what the maximum capacity was.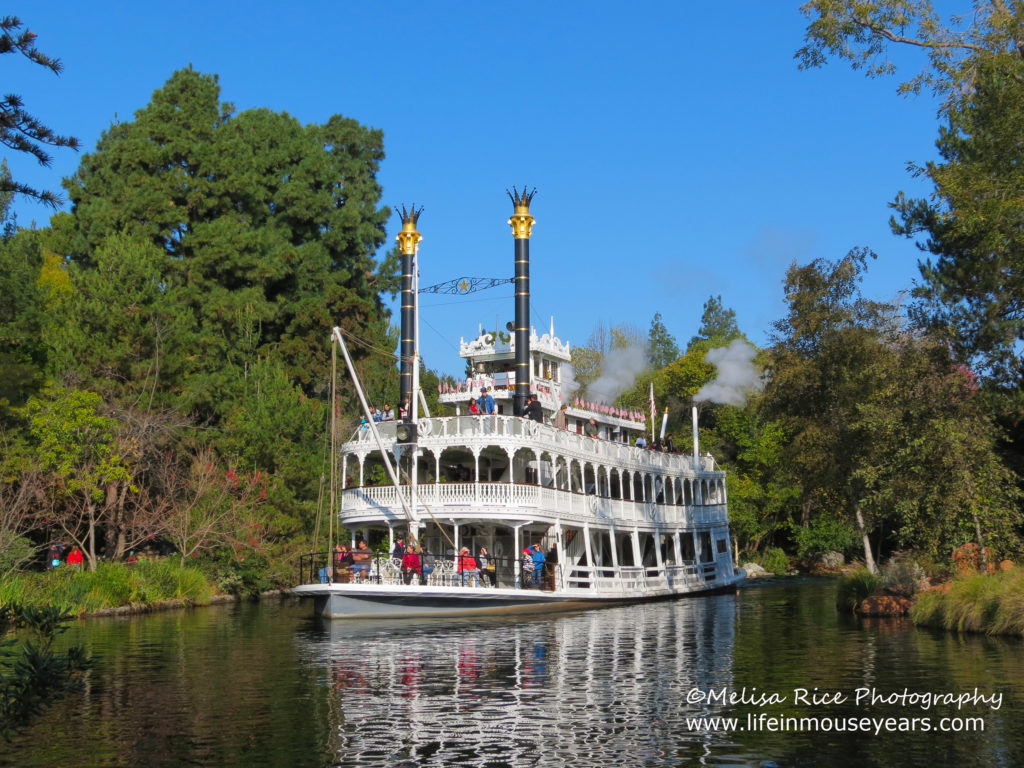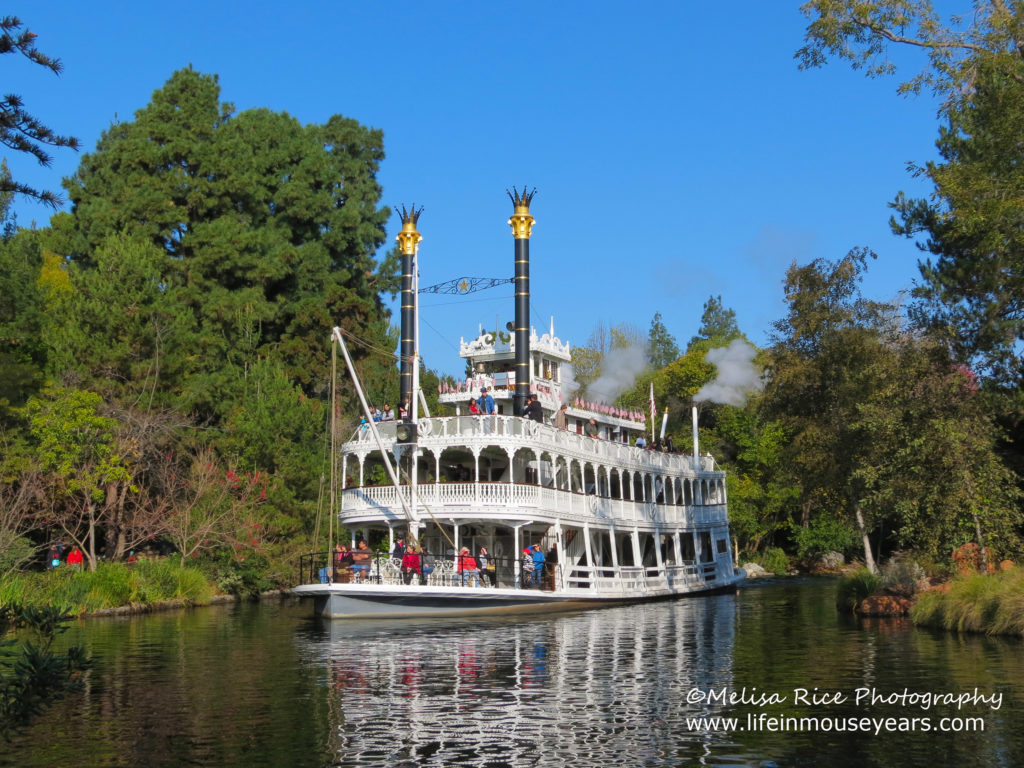 Seventh Secret
On opening day, the ride operators let 500 people on board. As a result, the boat almost sank! It got stuck in the mud. From that day on, the capacity has been 300 people.
Eighth Secret
Walt Disney had a bottle of water filled with water from major American rivers, that was going to be used to christen the boat. The actress from Showboat, Irene Dunne, had trouble getting the bottle to break. (I have seen the footage from the opening day. She had a really hard time breaking that bottle.)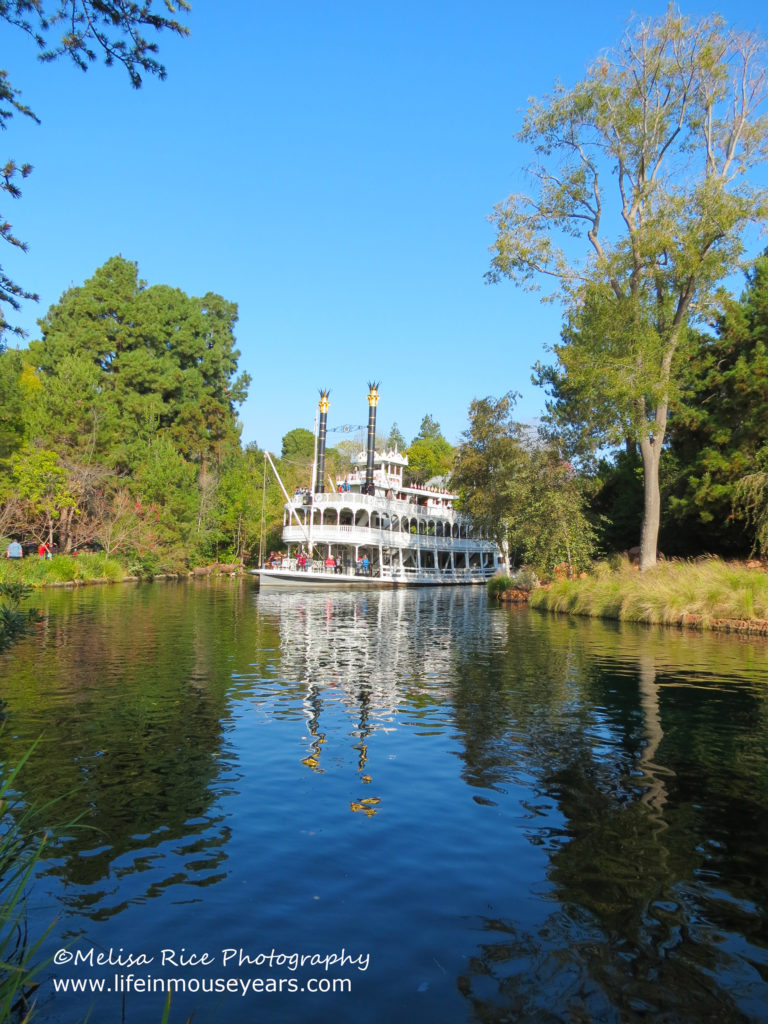 Ninth Secret
When the Mark Twain Riverboat was first in operation, you were able to buy non-alcoholic Mint Julep's. That must have been really cool! I wish they would do that again.
Tenth Secret
Walt Disney named the riverboat Mark Twain after the pen name of Samuel Langhorne Clemens. Walt was inspired by these writings. When Samuel Langhorne Clemens was young, he was a pilot of a riverboat. He took on the name Mark Twain which is a riverboat term that means "vessel is at a safe depth."
Ride Time
Ride time for Mark Twain Riverboat used to be 25 minutes. After the recent construction to make room for Star Wars Galaxy's Edge, it is now 14 minutes long. I am bummed about the change. Mostly because the design of the island and river was Walt Disney's. All things considered, I feel that it was well done. However, I wish the new trees were a bit larger and fuller to match the rest of the riverway. One day they will be.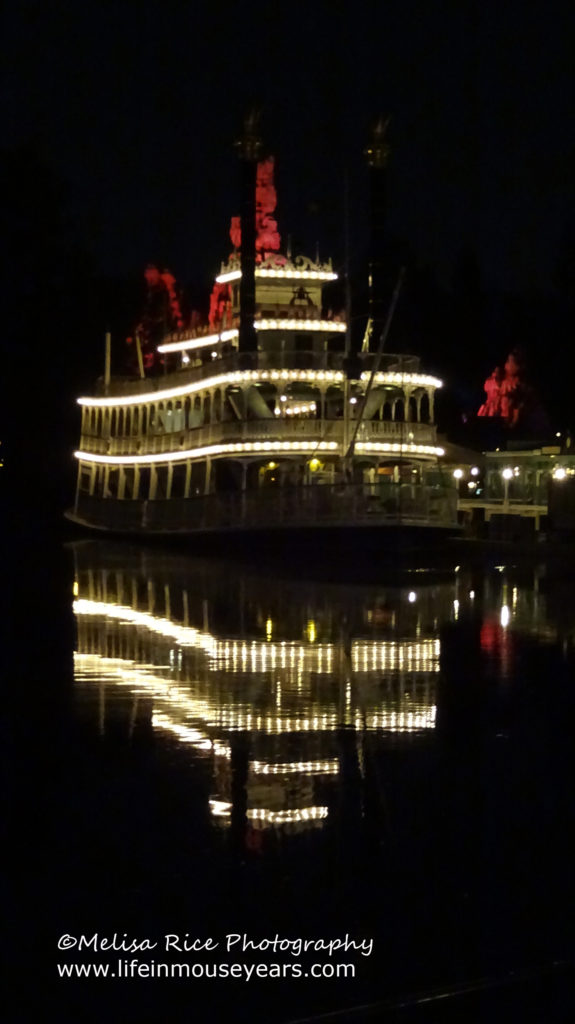 In Conclusion
Mark Twain Riverboat has a lot of history, mishaps, and secrets. However, it is an attraction that has survived regardless. Therefore, I hope that you will check out all the Mark Twain Riverboat has to offer on your next visit to Disneyland.
Questions or Comments?
If you have any questions or comments on today's post on Mark Twain Riverboat, please feel free to leave them below. I would love to help!
Thanks for stopping by Life in Mouse Years!