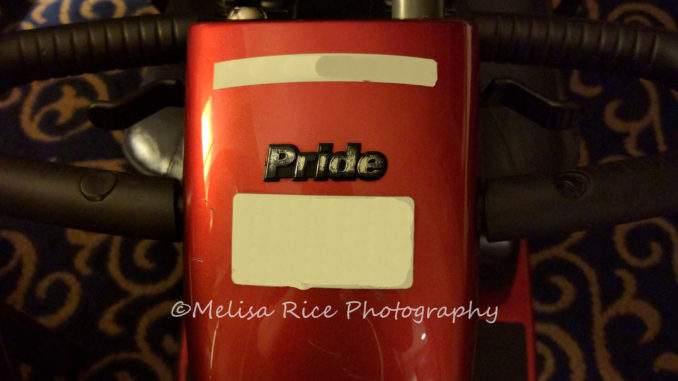 Vacationing with a Disability can be stressful, frustrating and tiring. Even with researching ahead of our vacation, we had no idea how things fully worked until we experienced it. Today I would like to discuss some things that happened to us during our trip and give some tips on the electric scooter to help you out should you need to travel to Disneyland with a disability.
Vacationing with a Disability
My family and I have traveled to Disneyland numerous times over the years. It is my favorite place to visit. There have been lots of changes over the years. (That is an understatement of the year…)
In February of 2016, my family and I went to Disneyland. This trip was different in a couple of ways. It was our first family trip since my Dad passed away. Needless to say, It was a difficult first trip.
---
---
The second thing that was difficult was that my Mom was recovering from surgery to repair a broken ankle from a fall in October. So now we were going to see what it was like to vacationing with a disability. Thankfully she was able to walk some. But it was still very painful to walk even a short distance.
I tried to research traveling with a disability before we went. I had found some things out ahead of time, but even with all the research, sometimes you end up learning the hard way, as you experience it. Because until you go through it, you just don't realize what it is like or what all is out there to help your situation.
I want to share some of our experiences to help you out if you are ever in the same boat. Which if you are in a boat, you would want it to be a boat in Pirates of the Caribbean. Right?
Electric Scooter vs. Wheelchair
Ok, so let's get started with a discussion of electric scooters. Why not rent a wheelchair? It is cheaper to rent a wheelchair vs. an electric scooter. And when you are spending mula all over the park, you want to save some mula while you can. Well, here is what we learned. The hard way…
While it is cheaper to rent a wheelchair, and it is a little easier to move through the crowds. Unless you have an army of strong people to push the wheelchair all over the park or parks (if you have a park hopper,) your family members will be exhausted after a short time. The parks are big. You do a lot of walking. And I do mean a lot. There are hills around the parks and inside of the rides. Trust me when I say it is worth the extra money on this one.
The Downside of the Electric Scooter
The downside to the electric scooter is moving through the crowds. Sometimes it was impossible to move through them. You have the guests that are walking around, face glued to their cell phones not paying attention to their surroundings. This can be so bad in so many ways. It got to a point one time that I stopped walking and just stood there. This guy got literally within a couple of inches from my face before he realized he was going to walk right into me. Now put that in front of my Mom driving the electric scooter. Pure frustration.
Then you get the guests that don't look down. (I feel sorry for kids) And they just bolt right in front of the electric scooter. Or you get the other guests that are walking next to you. Notice you and get a little ahead of the electric scooter and dart right in front of it. So many near misses. And one was not so near for a different guest driving a scooter. Crash.
Now, you can rent an electric scooter outside the entrance to Disneyland. Looking at the turnstiles of  Disneyland, you would go to the right. They rent strollers and electric scooters.
Reserve Electric Scooter at a Disney Hotel
What I didn't fully realize prior to our trip, is we could have reserved an electric scooter to rent from our hotel. We were staying at the Disneyland Hotel. I would assume this is the same for all the Disneyland Resort Hotels. But never assume. Research! You can find more information at Disneyland's official website here. Things can change at any moment too. So check there for the most current information.
When you reserve a scooter prior to your trip, they will have one at the Bell Desk for you. It is an outside company that provides the scooter rentals at the hotel. It costs you to rent them of course. But with these scooters, you can take it up to your room. And you can go through Downtown Disney with it. And of course to the Disneyland Resort Parks.
---
---
Reserve Before  Your Trip
Because we didn't reserve an electric scooter ahead of time, we had to wait to get one. But when we did get it… Oh, it was such a blessing to my Mom(and my Brother and me) to have that electric scooter. It was days…. before we found out. We learned the hard way. So hopefully I can save you from learning the hard way as well.
Make sure to reserve before your trip! Just like with the Dining reservations. Reserve before you go.
Hotel Scooters vs. Park Scooters
The electric scooters at the hotel are different from the ones at the Disneyland entrance. The ones at the hotel are smaller. And they can turn a lot easier than the bulkier ones at the park entrance. Especially inside Disneyland. You see Disneyland is Grandfathered in. Since it was built prior to the ADA. This is where you enter through the exits of most of the attractions. Whereas in California Adventure, you can wait in the lines with everyone else. (Which we preferred this due to some very rude guests that say mean things to you. Accusing you of not having a disability and somehow we were getting special fast treatment. So NOT the case. 
Here is another blog I wrote on the Treatment of Guests with a Disability by Cast Members.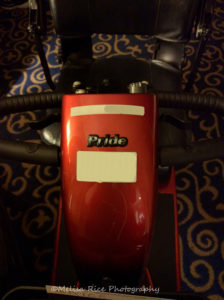 If you ever have to experience the parks with a disability (which I hope you do not have to.) Just know that there are things that can help you when you go.
Keep in mind, it is best to reserve the electric scooter before your trip. That way it is there when you get there. If you do not reserve ahead, you can request one when you get there. Just keep in mind it will take at least a day to get one. So be prepared….(see what I did there? Lion King fans will understand.) 😉
In Conclusion
Some important things to remember when Vacationing with a Disability is to be patient, stay calm, take your time, realize it will take more time. There are rude guests out there and not all cast members are created equal. Focus on the positive! Which believe me. After this trip, It is not always easy!
Questions or Comments?
If you have any questions or comments on today's post "Vacationing with a Disability", please feel free to leave them below. I would love to help!
Thanks for stopping by Life in Mouse Years!
---