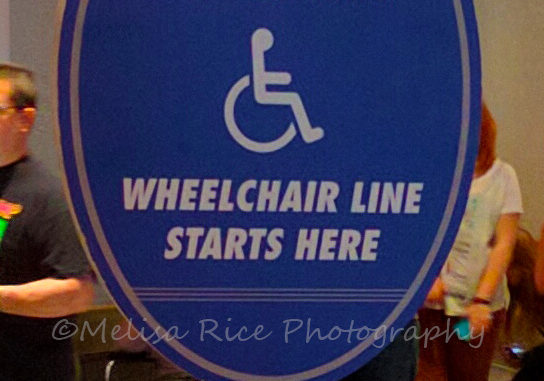 My family and I have traveled with and without disabilities. We have traveled a couple of times with two different disabilities. One time was with the old handicapped system and one time was with the new Disneyland handicapped system. Today I would like to discuss the new and a little about the old to help you out when you travel to Disneyland with a disability.
How the New Disneyland Handicapped System Works
We visited Disneyland in February of 2016. So this is the experience at this time. (In case they do change the process. One could hope). Like with everything with Disney and the parks, things can change at any time without warning. As I always say, check the Disneyland website for the most current information.
Because people were abusing the old Disneyland handicapped system. Disney changed it. They were hiring people with a disability to take them around the park and get them on the rides. There was virtually no line back then for the handicapped entrance.
The new system, I feel, is very flawed and it definitely needs help. I feel I can say this because of experiencing the park as a regular park guest, with my Dad with his disability at the time of the old system, and now with my Mom and the new system.
---
---
As I always say to my friends and family, just like the show Undercover Boss, the people running businesses need to go in undercover as a regular guest and as a disabled guest and see what it is like to visit the park. No special treatment as the head honcho. I feel they will see things in a new light. What may look good on paper in an office somewhere, is not always what is productive or good down in the park.
I had no idea, fully, what it was like to be in the parks as a disabled guest. I still don't know fully what it is like. But experiencing it with someone in your party being disabled, definitely is an eye-opener.
The Old System
Let's start with a bit of the old system. In December of 2011, we went to Disneyland with my Dad. At the time of our trip, my Dad had just gone through multiple surgeries due to his Cancers. (He had more than 1 primary). We still went to the parks. It was so hard on him. But he loved Disneyland so much.
We tried before and during the trip to have him let us rent a wheelchair or a scooter. But he was determined to walk it. It was so difficult for him to walk and especially to stand for long periods of time. Besides other medical issues that made lines hard for him.
---
---
The evening before our last day, I had a negative experience at one of the stores in California Adventure. We went to Guest Services. During that discussion with the Cast Member, they found out about Dad's disability and hardship with standing, etc. They were very discreet and were asking us questions. We didn't even realize what they were getting at.
So, they gave Dad a pass that allowed him(and my Mom and Brother and I) to be able to get on the rides at the exits. It was so incredibly helpful! If only we had known that at the beginning of our trip. It would not have been so hard.
The New System
The way the new Disneyland handicapped system works now is you go to the entrance/or exit (depending on the ride). You go to the cast member. They scan your park entrance ticket. Then they tell you what your return time is. Then when you return, you wait in the handicapped line.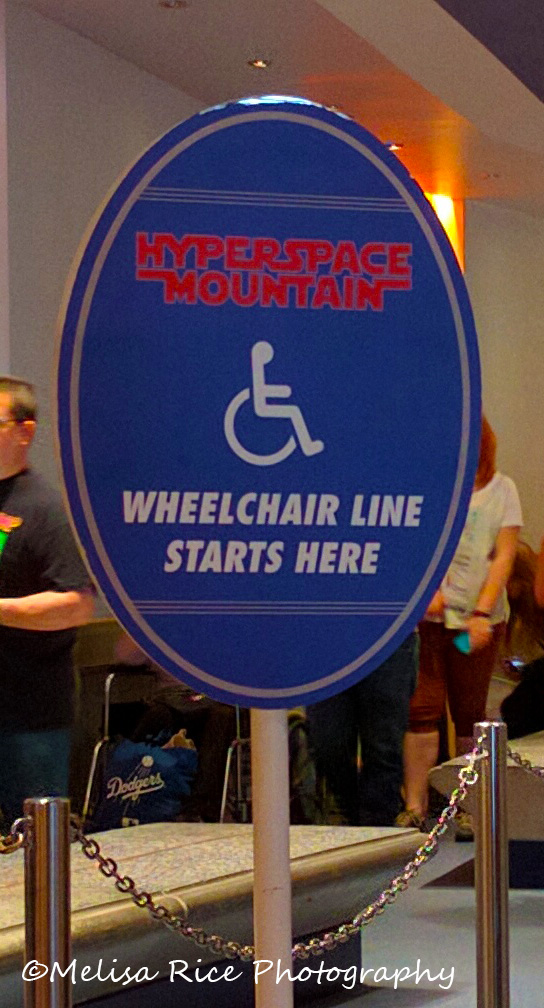 Issues with the New System
So essentially it is like having a fast pass. Now, one of the problems with this system is that your return time may be an hour or more from the time you go to that attraction. So now you have a lot of time to kill. Like a fast pass, you can only have 1 pass at a time. However, unlike with a fast pass, you cannot pass the time by riding another ride. Because of being in a wheelchair or scooter, you cannot go into the regular line to ride the rides. But you can't go to the handicapped entrance unless you have a return time. So we had a lot of sitting and waiting to ride the rides.
Then after waiting 1+ hours for your return time to come around, then you still have to wait in line for 20 minutes or more depending on the ride. Depending on your disability, and the ride, this could be very difficult.
The next issue with this is that it is not just handicapped people in the handicapped line. There would be people with a stroller going in the handicapped line. One time, another handicapped person in line with us questioned the woman. And she said that she had a stroller pass. Now I had never heard of this and I tried to research it on the Disneyland site. I didn't find any information on this pass.
There could also be single riders. I have seen full groups going on as single riders.
The worst ride with this issue was Indiana Jones. The way they run the line, they group the handicapped, parent swap, and single riders all in one. So now the handicapped line is really long. It was a mess.
FastPass
We did find out a couple of days before our trip ended that you can get a fast pass while having a return time. Only one of each. But that still was problematic. One reason being,  you are running here, running there, then running back again. It is extra tiring. Also, there are only so many fast passes given in a set hour and a set number all day. Which depending on the ride, your fast pass return time could be 3 hours from the time you get it.
In Conclusion
The system needs help. It has kinks. All this being said, would this stop or detour us from going back and doing it again? No way! After all, it is Disneyland, the Happiest Place on Earth. And even though sitting and waiting gets old(There are only so many times you can look in the same stores) But by sitting and waiting, it forces you to slow down, pause, relax, and people watch. Enjoy your surroundings(stay off the electronics people). Enjoy each other, your conversations and atmosphere, food, etc. You never know when you will be back.
I did a post on the Treatment of Guests with a Disability by Cast Members that you can check out. It shows how helpful the Cast Members can be.
Questions or Comments?
I hope you enjoyed today's post! If you have any questions or comments, please feel free to make them below. I would love to help!
For more information on the Disneyland Resort, you can check the official website here.
Thanks for stopping by Life in Mouse Years!
---