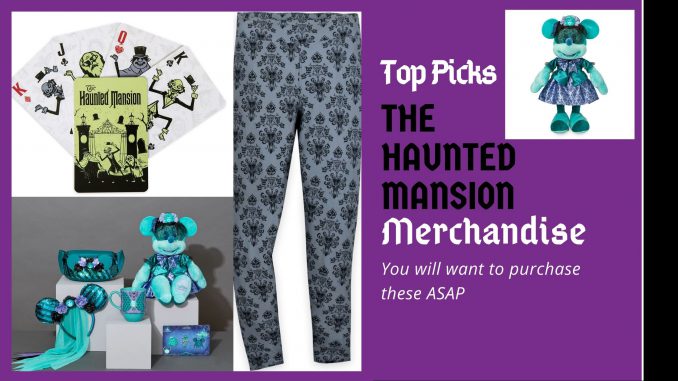 It is that time of year… Time to get everything all set up for fall and the first of many holidays! (Including costumes!) To help get things going, I thought that I would share with you some of the many fun items on shopDisney right now that you can add to your collection. This post is the Top Picks for The Haunted Mansion Merchandise!
Top Picks for The Haunted Mansion Merchandise
The Haunted Mansion is one of my most favorite attractions at Disneyland! Going inside of the grand Mansion in New Orleans Square, boarding a "Doom Buggy" and having a hauntingly good time! As a result, I found some items on shopDisney that I would love to have myself and thought I would share them with you! Let's see if there are any that you would like to order and add to your Disney collections. 
Disney does not disappoint when it comes to merchandise!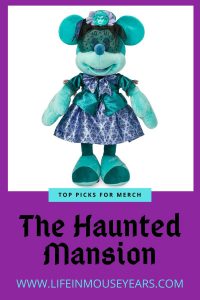 Please Note: My posts may contain affiliates links. Therefore, if you use the links, it won't cost you more. However,  I may receive a small commission to help keep the Disney love going! Life in Mouse Years participates in the shopDisney.com affiliate program through CJ Affiliates. It is a program that is designed as a means for us to earn a commission off of sales from the links provided in the blog posts. 
The Game of Life Haunted Mansion Disney Theme Park Edition
First on the list of Top Picks for The Haunted Mansion Merchandise is The Game of Life Haunted Mansion Disney Theme Park Edition.
My family has always been big on playing board games. The Game of Life is one of those games. I had gotten one year as a gift, for…e…ver… ago! I found this Haunted Mansion version on shopDisney and thought how fun would this be to have! 
Some of the features this version has are Hidden Mickey's on the board and the cover and Doom Buggy Pawns with glow in the dark pegs! Some of the buildings for the gameboard are The Haunted Mansion and Phantom Manor from Disneyland, The Magic Kingdom Park, and Disneyland Paris, a crypt, Grounds Keeper shack, and a carriage house. There is also a bridge and some mountains to go on the board as well. Another feature that I think is really fun, is that there are glow in the dark elements on the board. How fun is that! 
Check out the link to find out more and to purchase this fun Haunted Mansion themed game!
If you would like to know more about The Haunted Mansion, check out a recent post I did-Fun Facts About The Haunted Mansion here.
Haunted Mansion-The Main Attraction-Minnie Mouse Plush
Next on the list for Top Picks for The Haunted Mansion Merchandise is this Haunted Mansion Minnie Mouse Plush. 
It is from The Main Attraction line that is released each month. Each month is another new attraction Minnie Mouse plush. It is a limited release product, which means there are only so many available to purchase. So when they are sold out, they are gone. This also means… click the link and order fast! You won't want to miss out on these cute collectible Minnie Mouse plushes. Minnie Mouse is wearing a satin dress with The Haunted Mansion wallpaper print. She also has a matching bow. Her shoes are simulated button-up shoes. Minnie's hat features a photo of Madame Leota and it has a fishnet veil. 
I have to say, Minnie Mouse is so cute in this outfit and would make a great addition to your fall decor!
Minnie Mouse The Main Attraction Ear Headband 
Sold Out!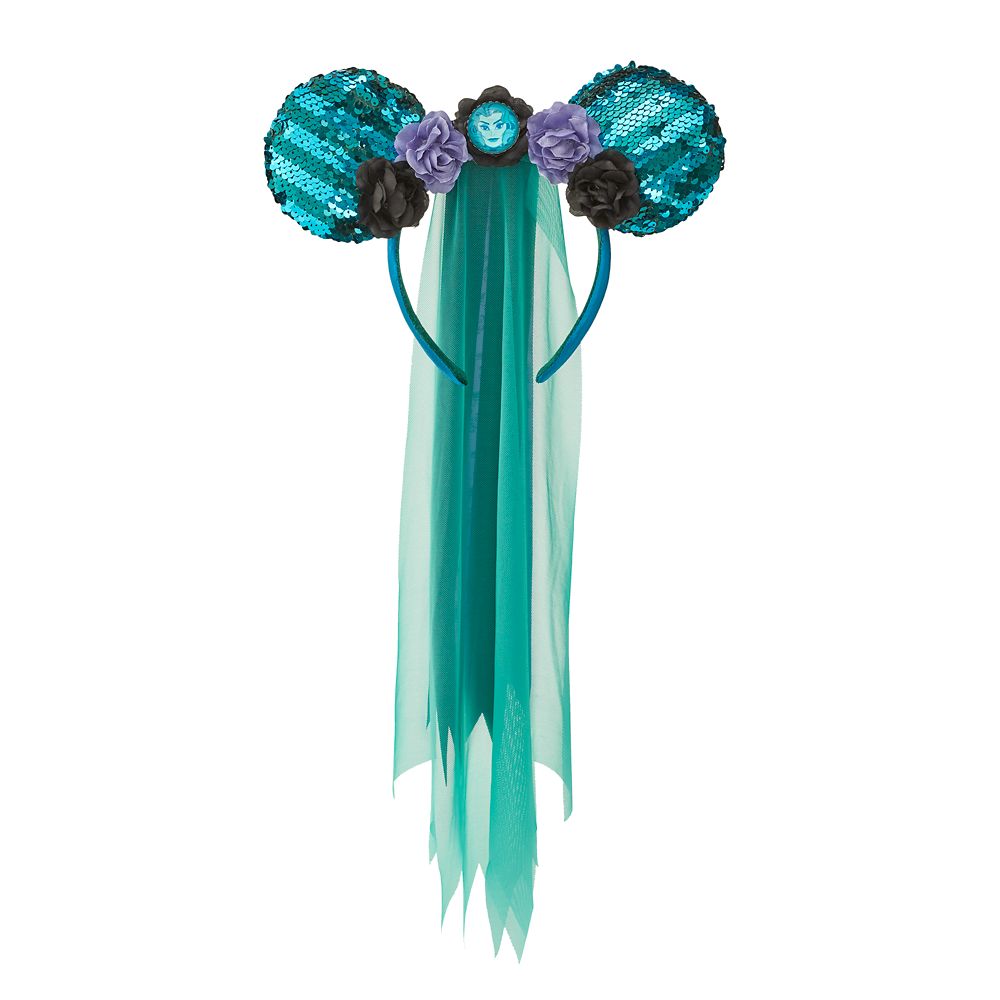 Another fun item on the list for Top Picks for The Haunted Mansion Merchandise is the Minnie Mouse Ear Headband for adults. It is from The Main Attraction line and matches the Minnie Mouse plush too!
Ear headbands are so much fun to wear, either while at the Disney Parks, Disney stores, Downtown Disney, while out and about, parties, or even at home! Anytime is a fun Disney time when you wear Disney themed ears. 
These The Haunted Mansion Minnie Mouse ears features at a cameo of Madame Leota in the center with purple and black florettes on each side of her. The ears are padded with sequins all over and the veil is made with green mesh and purple ribbons. Blue satin fabric covers the headband.
The headband is also a limited release, so click the link and order fast to get yours today! Now Sold Out!
The Haunted Mansion Wallpaper Leggings
Let's talk about clothing that can be worn…ANYWHERE! The Haunted Mansion wallpaper leggings can be worn at home, while shopping, at restaurants, and of course while at Disney!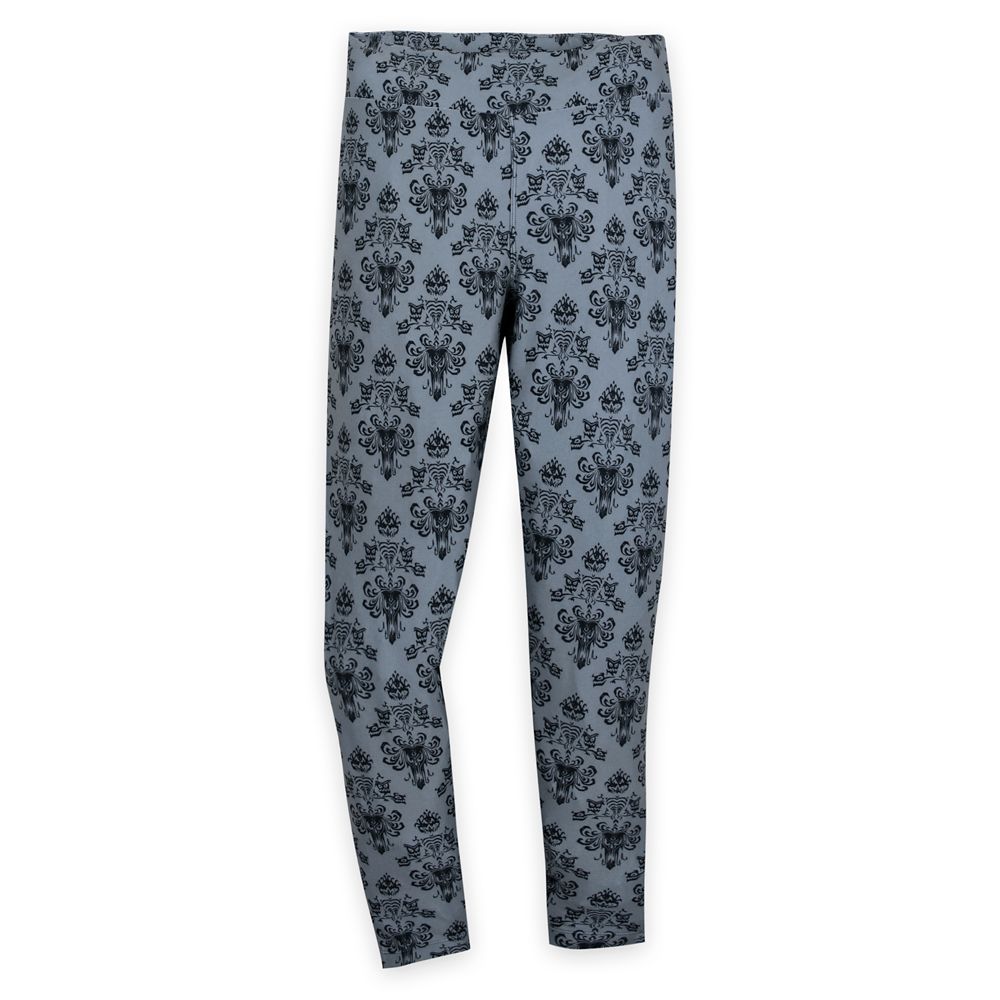 These cute themed leggings are the wallpaper print that is inside of The Haunted Mansion attractions. (It is also a Disney Parks Products) This widely popular purple and black print are all over the leggings. They are stretchy and feature an elastic waistband for comfort. The Haunted Mansion Wallpaper leggings are made from 88% polyester and 12% elastane. I don't know about you, but I LOVE to be comfortable in leggings, and now is a GREAT time to be warm and comfortable! 
Find The Haunted Mansion Leggings here.
The Haunted Mansion Logo Tees for Adults
Next on the list for Top Picks for The Haunted Mansion Merchandise, at shopDisney.com is this The Haunted Mansion Logo Tee.
This is a screen art tee that is inspired by The Haunted Mansion. Therefore, it features some of the 999 happy haunts that are inside of the classic Disney attractions. They are the Ballerina, the Bride, Madame Leota, Hatbox Ghost, the Singing Busts, and the Hitchhiking Ghosts. The Haunted Mansion Tee also features Master Gracey and The Haunted Mansion Logo.
The Haunted Mansion Tee shirt is made from 100% cotton. (I would hang dry to avoid shrinkage. It is something I do with all my 100% cotton shirts.) It is jersey knit with a ribbed crew neck and short sleeves. This is also a Disney Parks items. If you are like me and you can't get to a Disney Park, ordering online and having these items sent directly to you is a wonderful feature from shopDisney! Check out the link to get this spooky tee today! 
The Haunted Mansion Playing Cards
Finally on the list of Top Picks for The Haunted Mansion Merchandise is The Haunted Mansion Playing Cards.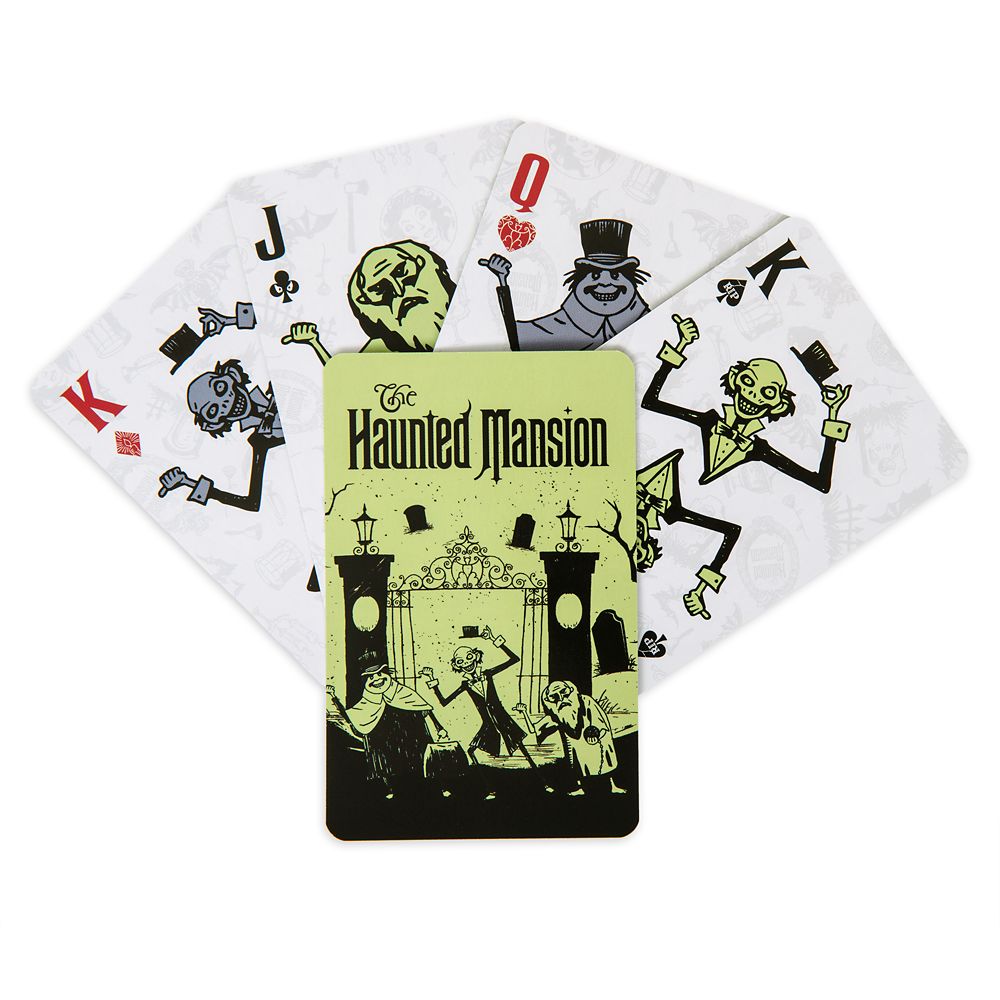 Do you like to play Solitaire? Or how about Rummy or Go Fish with the family? I know there are ways to play electronically, however, sometimes it is just nice to play games the old fashioned way. Hands-on! The Haunted Mansion Playing Cards are a great way to play and have it Disney themed with a  classic attraction that has been around since 1969!
The Haunted Mansion Playing Cards is a regular deck of 52 cards. (Kids, don't let your parents or older sibling trick you into a game of 52 card pick up… just say no! ) The cards feature the Hatbox Ghost, Hitchhiking Ghosts, the Caretaker, and more! The cards are 3 ½ in high by 2 ¼ in wide. One of the best things, besides getting the cards with the ghosts on them, is the case that they come in! It is made from plastic and paper and is shaped like a coffin. It also has a purple satin bedliner! Talk about theming! Check out the cards here.
A few years ago I had gotten The Haunted Mansion drink coasters that came in a similarly themed box. Little details like that go a long way! 
Wanting to Get Items On-Time for Oct. 31st?
There is a timeline to get these items, costumes, and more before Oct. 31st. Therefore, don't wait till it is too late! 
Cutoff Days:
Standard Shipping- 10/18
Expedited Shipping- 10/26
In Conclusion
There are so many fun items at shopDisney to check out and get today! They have special items for the holidays, classic attractions, characters, items for the home, and so much more! Check it all out today! Thank you for all your support!
Thanks for stopping by Life in Mouse Years!