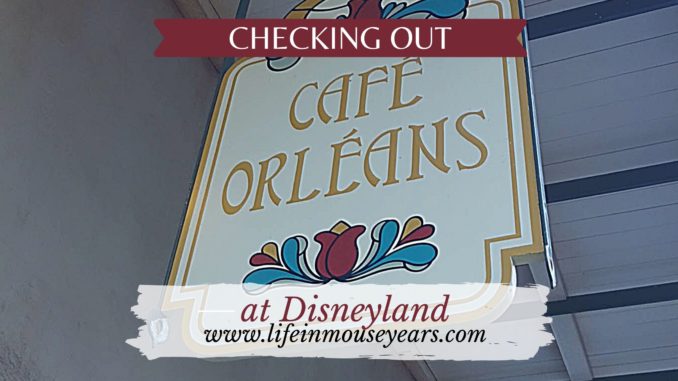 Checking Out Cafe Orleans in Disneyland was something I wanted to try during our last trip to Disneyland. I had never had the opportunity to eat there before. As a result, it was one of the dining locations on my list! Today I would like to share with you what we ordered, and our thoughts!
Checking Out Cafe Orleans in Disneyland
Cafe Orleans in Disneyland has been around since 1966 and is still going strong today serving up Cajun and Creole dishes. Whether you dine inside or outside, you will definitely enjoy this table service dining location in Disneyland!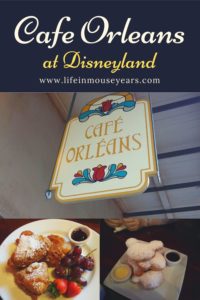 Location
First for checking out Cafe Orleans is the location. As you go past Pirates of the Caribbean, as if you are heading towards Haunted Mansion, on the left is the first walkway for New Orleans Square. Continue past that first walkway and the next walkway is the one you will want to turn down. On the left is the entrance to Cafe Orleans.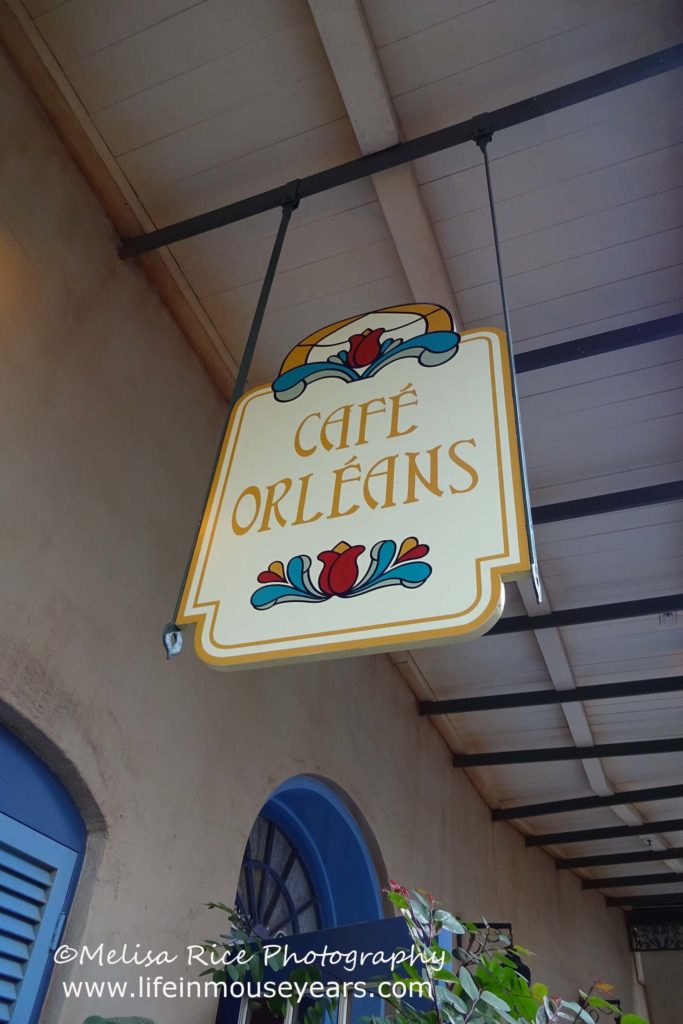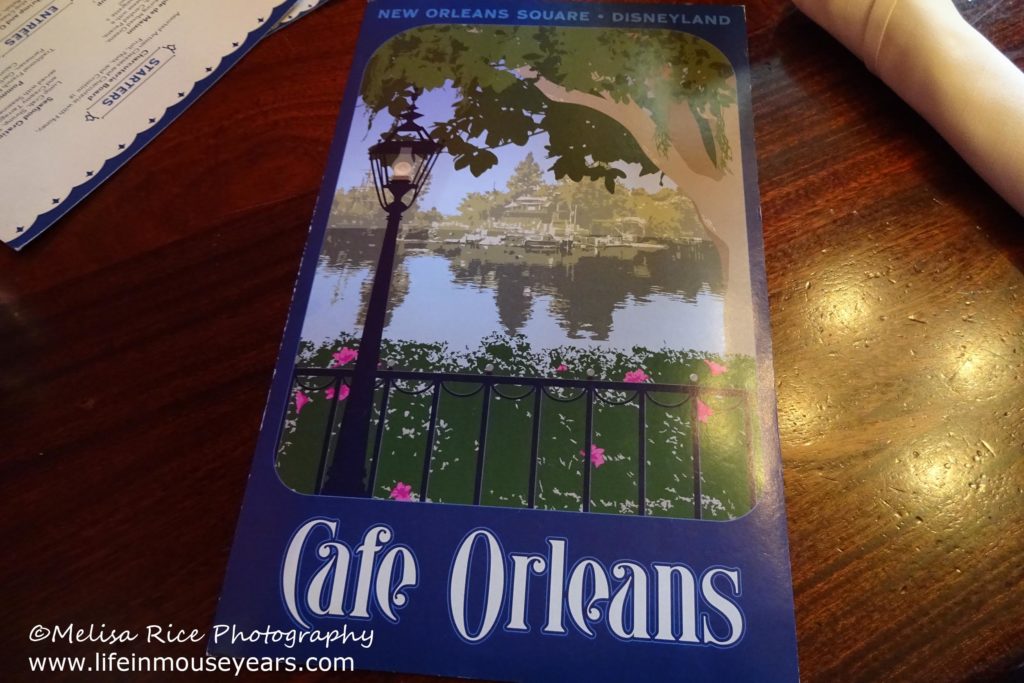 Reservations
Next, if you plan on dining at Cafe Orleans during your trip, you will need to make a reservation ahead of time. Disney allows you to make reservations up to 60 days in advance. Cafe Orleans is a popular dining location with limited seating. (More so after COVID 19.) As a result, you will want to make those reservations early to make sure you are able to dine there. 
History
When Cafe Orleans opened in 1966 it was called Creole Cafe (until 1972). Walt and Lillian Disney purchased an old espresso machine in Italy to put into the Cafe. Unfortunately, Walt passed away before he would see this dining location open. However, he did get to use the espresso machine and it is still there inside the restaurant to this day!
Cafe Orleans in Disneyland has changed back and forth from table service to counter service. Since 2006 Cafe Orleans has been a table service restaurant. 
Atmosphere
Next on the list for checking out Cafe Orleans is the atmosphere. Inside of this dining location, there is a lot of dark cherry wood on the walls and ceiling. Stained glass surrounds the Cast Member locations as well as the walls in the center of the room. Walt Disney picked out an Ice Cream Parlor style counter to be inside as well as the antique espresso machine from Italy that I mentioned earlier. 
Cafe Orleans has some new additions to the design. Some of the characters from Princess and the Frog are at various places inside this dining location.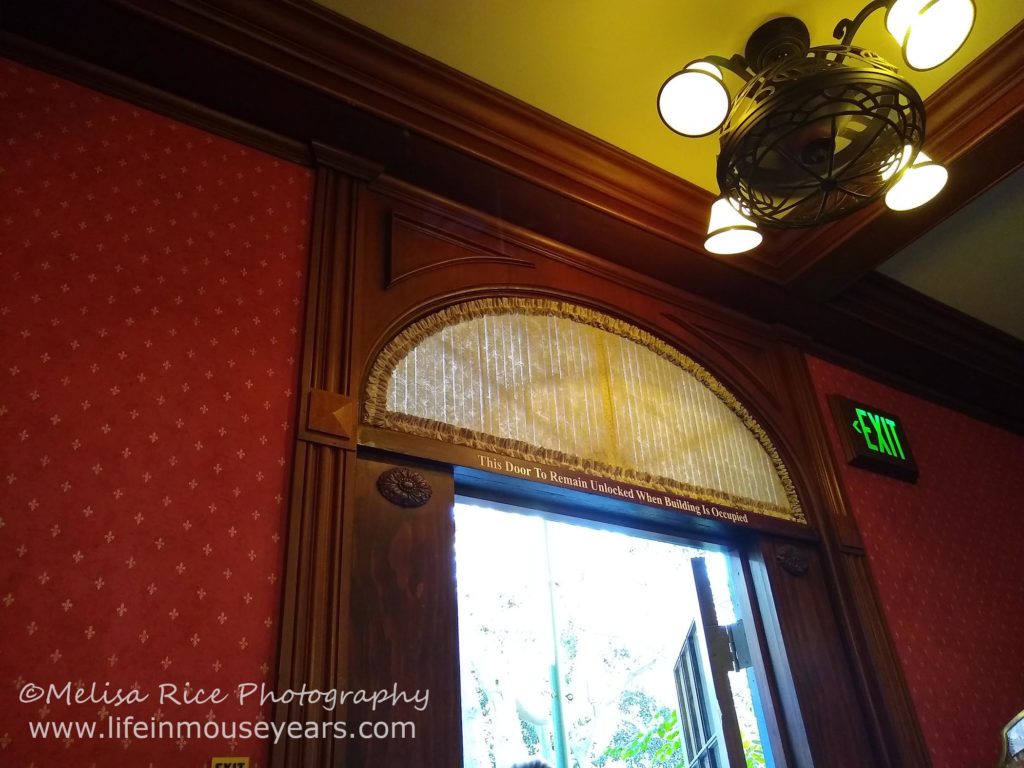 During our visit to Cafe Orleans, we got to eat indoors. I was torn as to whether to be hoping for inside or outside dining. Being that it was my first time there, I didn't know which one to wish for! I was slightly disappointed as to where we were seated. We were just inside the entrance door in the corner. However, I was just happy to be able to eat there and see what it was like. 
Food
The best thing on the list for checking out Cafe Orleans is the food!! Being that it is Cajun/Creole style food, it is going the leave your mouth watering each time you think about your dining experience. I can't wait to eat here again!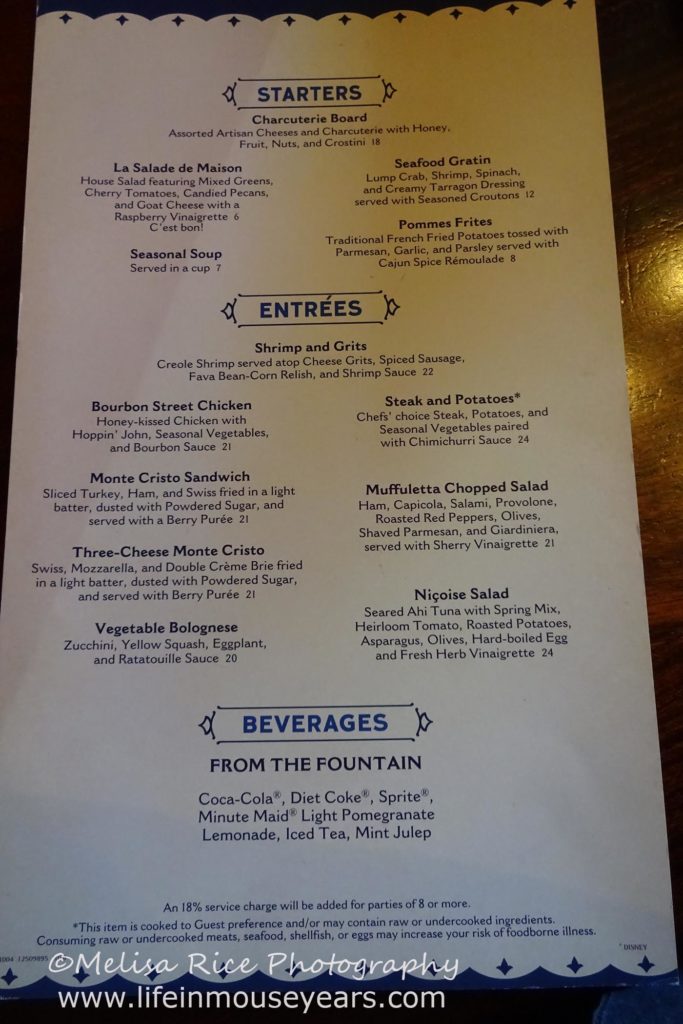 Appetizer
First up on checking out Cafe Orleans in the food department is the appetizers. We had decided to try the Charcuterie Board. I had heard it was the appetizer to try. Therefore we gave it a go. Unfortunately, the menu did not list all the items that were on the board. We do not eat pork products and there were a few pork items on there. (Plus I didn't know what exactly Charcuterie was at the time.) Nevertheless, we did enjoy all the other items that were on the Charcuterie board.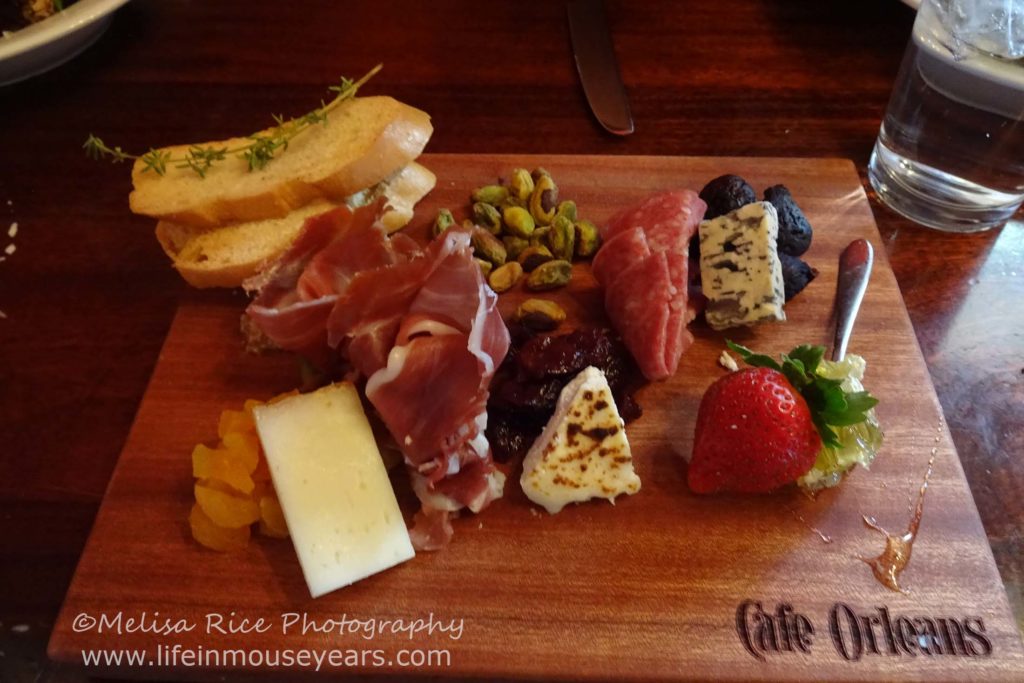 Various cheeses, dried fruit, nuts, crostini bread, honeycomb, and a strawberry. It was so delicious! 
Another appetizer that everyone loves is the Pommes Frites. I wish we could have tried this one as well. Maybe next time… It is french fries covered in parmesan, garlic, and parsley and comes with a Cajun remoulade dipping sauce. 

Find lots of fun Disney items at Shop Disney today!
Main Course
Next on checking out Cafe Orleans in Disneyland is the Main Course!
I have always wanted to try a Monte Cristo Sandwich. It is a Sliced Turkey, Ham, and Swiss Cheese sandwich that is fried in a light batter. Then it is dusted with powdered sugar and served with a berry puree. Although I was not sure if they could make it minus the ham, I asked our waiter when we ordered. They could make it with just turkey and swiss! I was so excited that I could try it out.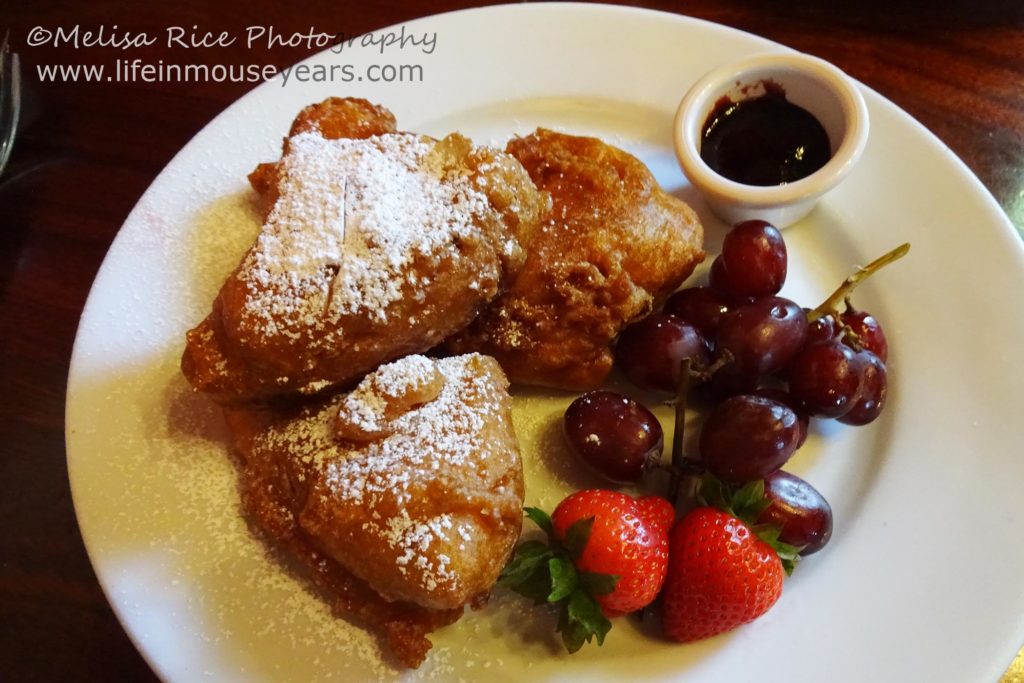 It was so delicious!!! I was wishing we could eat here again during our trip so that I could have it again. I now know why people talk about it all the time! It is a great combination and the cheese is all melted. Then dipping it in the sauce….
Yummy!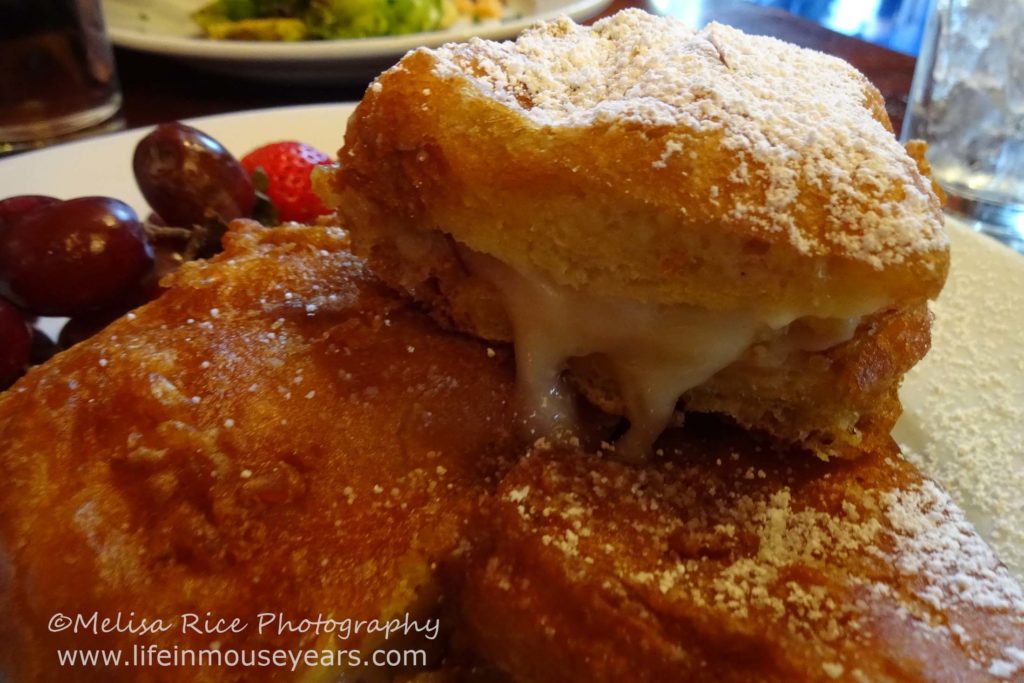 Cafe Orleans also has a Vegetarian option for the Monte Cristo Sandwich which is a Three-Cheese Monte Cristo. It has Swiss, Mozzarella, and double creme brie. This one sounds good too! 
My brother ordered the Bourban Street Chicken meal. It is chicken, Hoppin' John (Carolina peas and rice), seasonal vegetables with a bourbon sauce. He said that he liked it.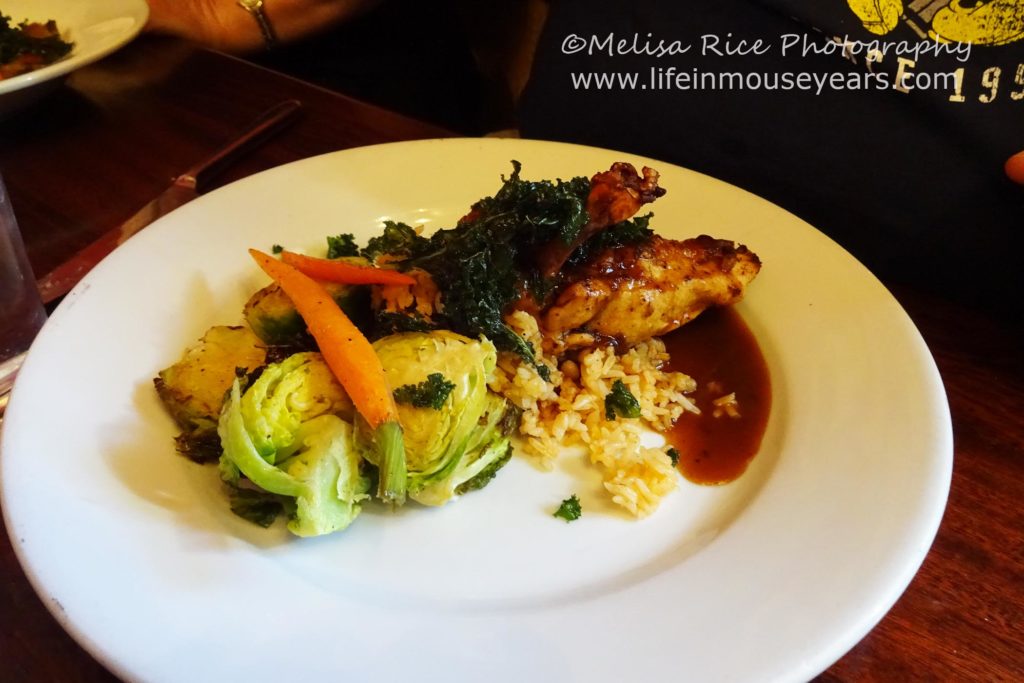 My Mom ordered the steak and potatoes. It was steak (chief's choice), potatoes, seasonal vegetables with a chimichurri sauce. She liked her dish as well.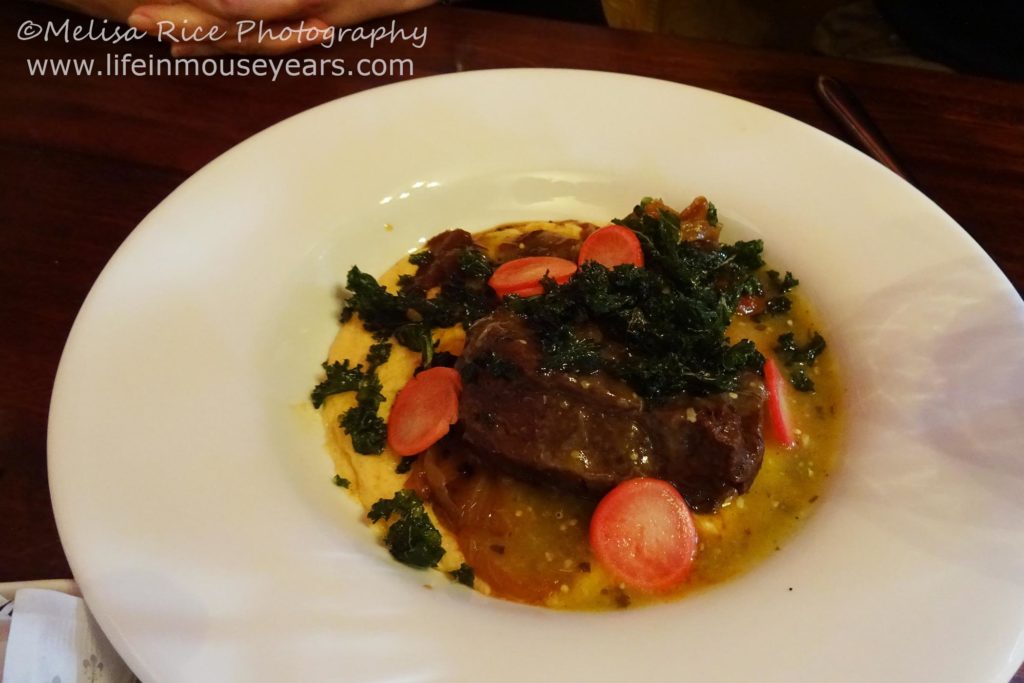 Dessert
Finally on the list for checking out Cafe Orleans is the dessert!!! The main dessert I was wanting to try was the Mickey Beignets! Believe it or not, of ALL the times I have been to Disneyland, I had NEVER had a Mickey Beignet. As a result, I was on a mission to try them out. And we did!! The Mickey Beignets at Cafe Orleans comes with two dipping sauces.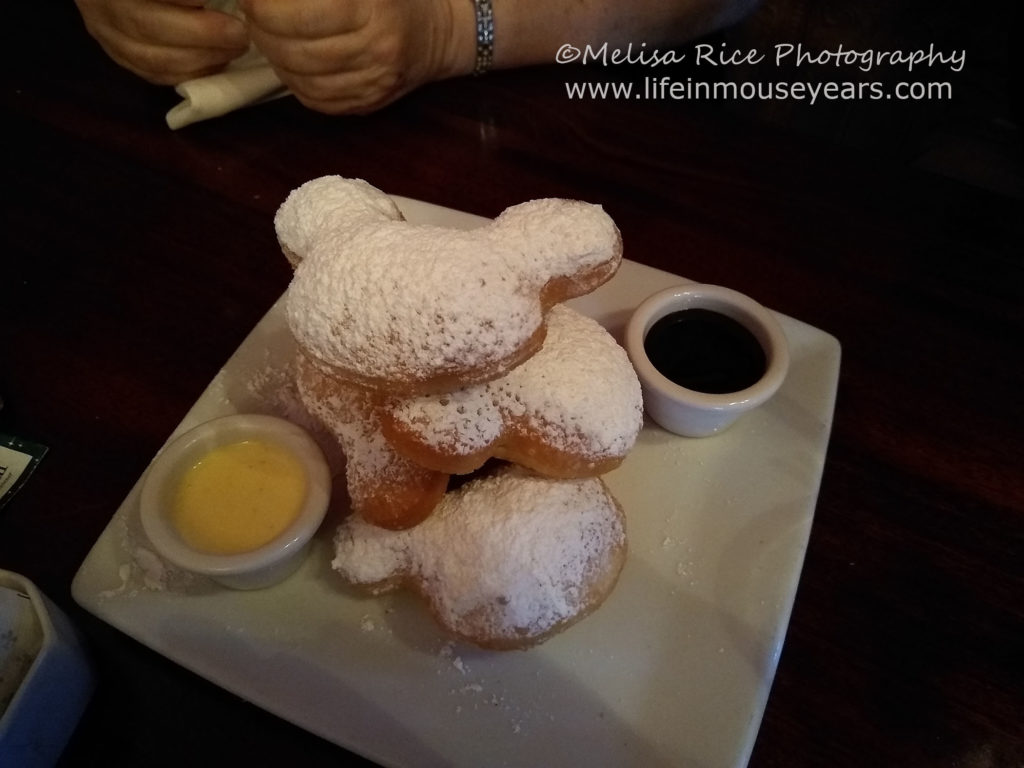 We all loved the beignets! They are so soft. If you have never had a beignet before, they are like a doughnut, just very airy and light and oh so delicious! 
At different times of the year, Disney offers different flavors of the Mickey beignets. Usually, they are at the Mint Julep Bar in New Orleans Square. While we were there, at Cafe Orleans, they had chocolate coal beignets with peppermint ice cream. This dessert, unfortunately, was not something we would ever get again.  But the presentation was nice. 
Wanting to try your hand at making some Mickey-shaped beignets? Check out the ingredients and tools below to get you started!
In Conclusion
Cafe Orleans in Disneyland is a great place to go for a meal while you are visiting the parks. The food is delicious, the atmosphere is great and the dessert is something that you won't want to miss out! Make sure to check out Cafe Orleans during your next trip to the Disneyland Resort!
If you would like to know more about Cafe Orleans, check Disneyland's official website here.
Questions or Comments?
Do you have any questions or comments on today's post-Checking Out Cafe Orleans in Disneyland? Please feel free to leave them in the comments below. I would love to help!
Thank you for reading and… 
Thanks for stopping by Life in Mouse Years!

Find Disney Theme Park Tickets, hotels and more at Undercover Tourist!