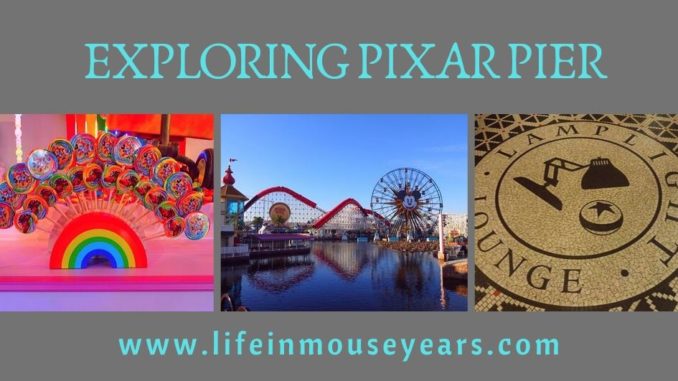 Exploring Pixar Pier is a great way to spend some time at Disney's California Adventure Park. There is so much to see and do around this land. During my last trip to Disneyland, I visited this section of the park and took photos, visited the shops, ate at the restaurant, and rode some of the rides. Let's see what I discovered.
Exploring Pixar Pier
Whenever changes are made at the Disneyland Resort, I end up being skeptical and sad. Because of losing something that was sentimental or loved will be gone. However, sometimes it turns out to be something great! As a result of the changes at what once was Paradise Pier, Pixar Pier is a lot of fun with great theming!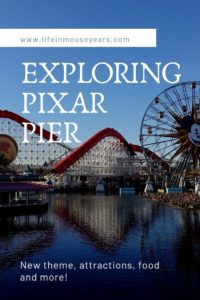 The Entrance
First of all, let's take a look at the entrance to Pixar Pier. Once you cross the bridge you pass under the sign for Pixar Pier. It is painted the colors of the Pixar ball that is featured in the Pixar movies. Blue, Red, and Yellow. At the top center of the sign, they have an animatronic lamp. The lamp you see at the beginning of the Pixar movies and shorts. This lamp is so cool! It moves and is lit up at night! Make sure to check it out during your next trip.
---
---
Theme
The second thing to check out while exploring Pixar Pier is the theme. I know, obviously, it is Pixar themed. However, they have a lot of different characters, references, and paintings around the land for you to see.
For example, the covering between Lamplight Lounge and Knicks Knacks shop has the Pixar characters etched out in the ironwork.
Another example is along the boardwalk they have huge billboards with Pixar characters from their movies.
The umbrellas all over the land are the Pixar ball, Buzz Lightyear has his own churro stand, and Anger from Inside Out has a hot dog stand called Angry Dogs. These are just a few examples of what can be found in this land.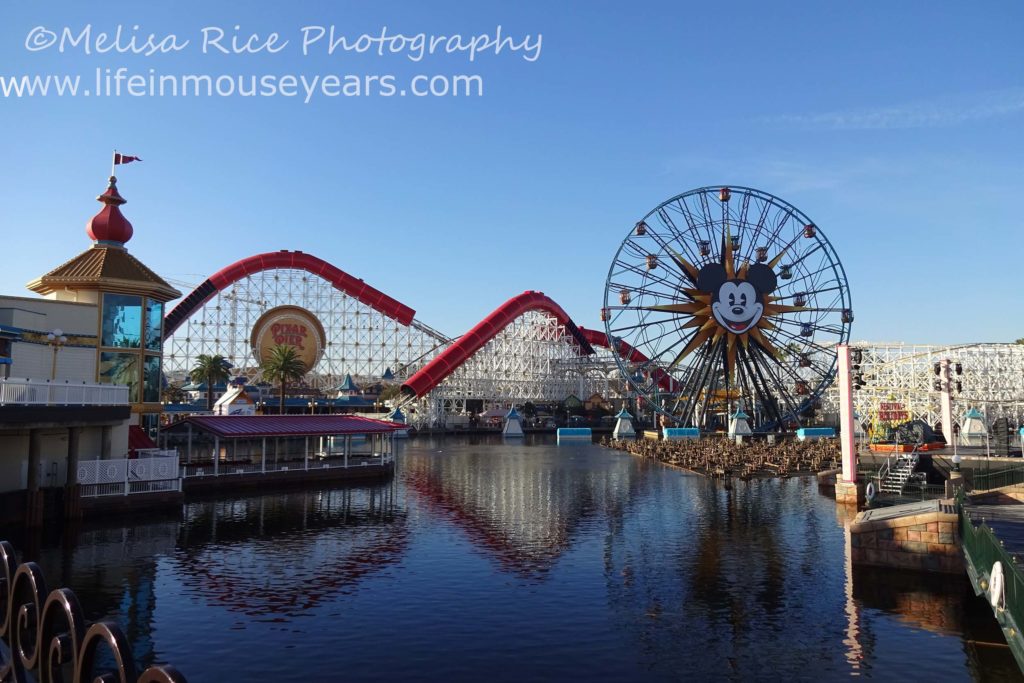 Lamplight Lounge
Another thing to check out while exploring Pixar Pier is Lamplight Lounge. This restaurant/bar took the place of Ariel's Grotto. Unfortunately, I didn't have the opportunity to experience Ariel's Grotto. However, during our last trip to Disneyland, my family and I were able to get a last-minute reservation and try this place out!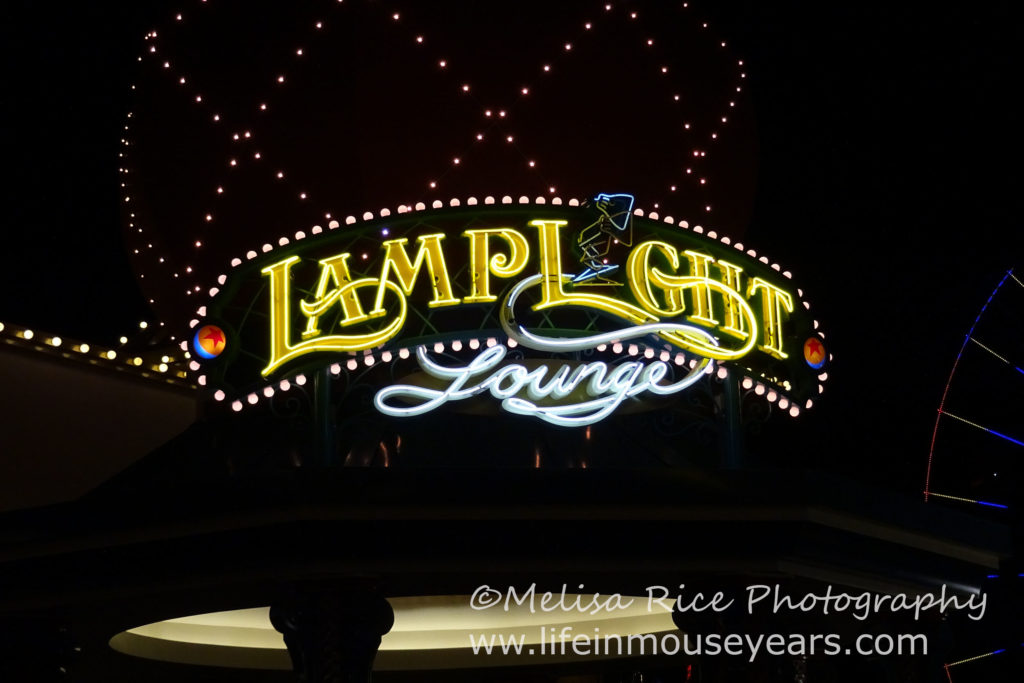 The theme of the restaurant is great! From the floors to the walls. Even the bathroom! The food was good and the drinks as well. You could spend a good amount of time just looking at all the photos on the wall.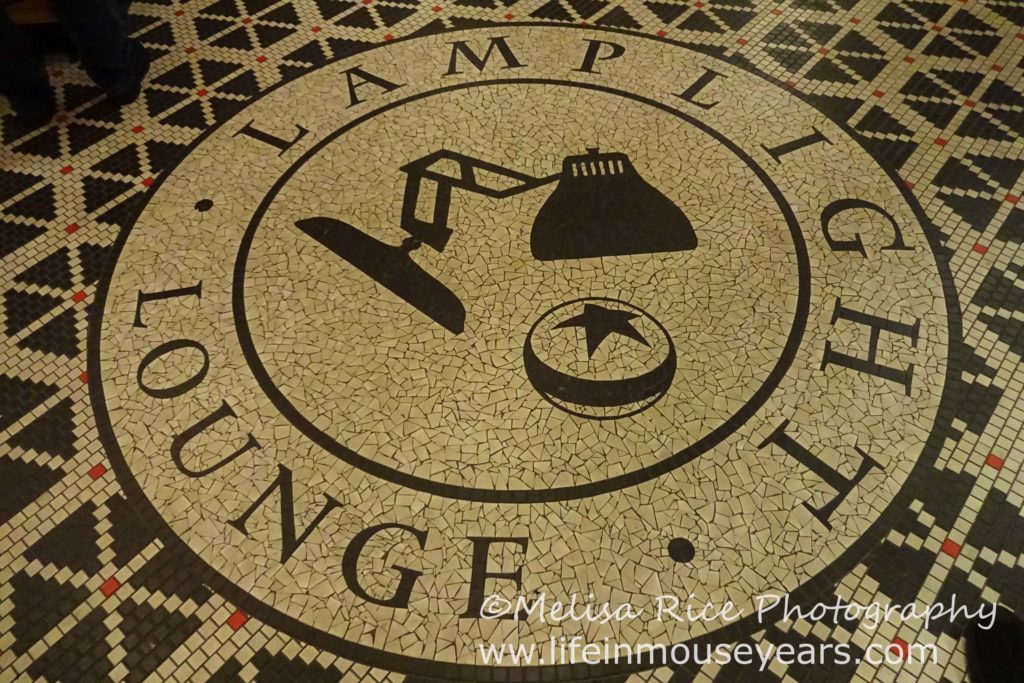 Shops
The next thing to check out while exploring Pixar Pier is the shops. There are two places for you to check out.
Knicks Knacks
First is called Knicks Knacks. This store on the outside has the little snowglobe with the snowman inside from one of the Pixar cartoons that were shown before one of their movies. Inside you can find all sorts of merchandise. T-shirts, plushes, magnets, keychains, and, much much more. All Pixar themed of course.
---
---
Bing Bong's Sweet Stuff
Second, is Bing Bong's Sweet Stuff. Bing Bong was a character from the movie Inside Out. This character would cry candy. As a result, the theme of the store is sweet stuff. Featuring or course, candy! There are numerous flavors of taffy, various candies, multiple flavors of popcorn, in addition to plushes, shirts, and more.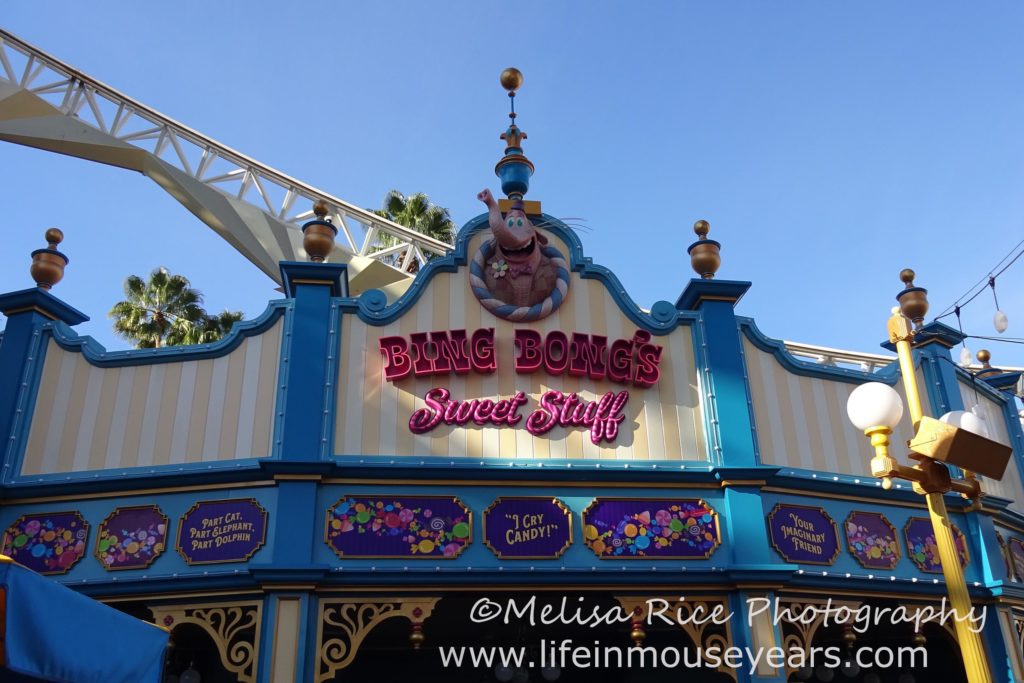 The decor in this shop is amazing! From rainbows on the ceiling to candy on the floor with a giant Bing Bong in the center of the shop surrounded by candy. Even if you don't buy anything, this is one place you will want to check out while exploring Pixar Pier.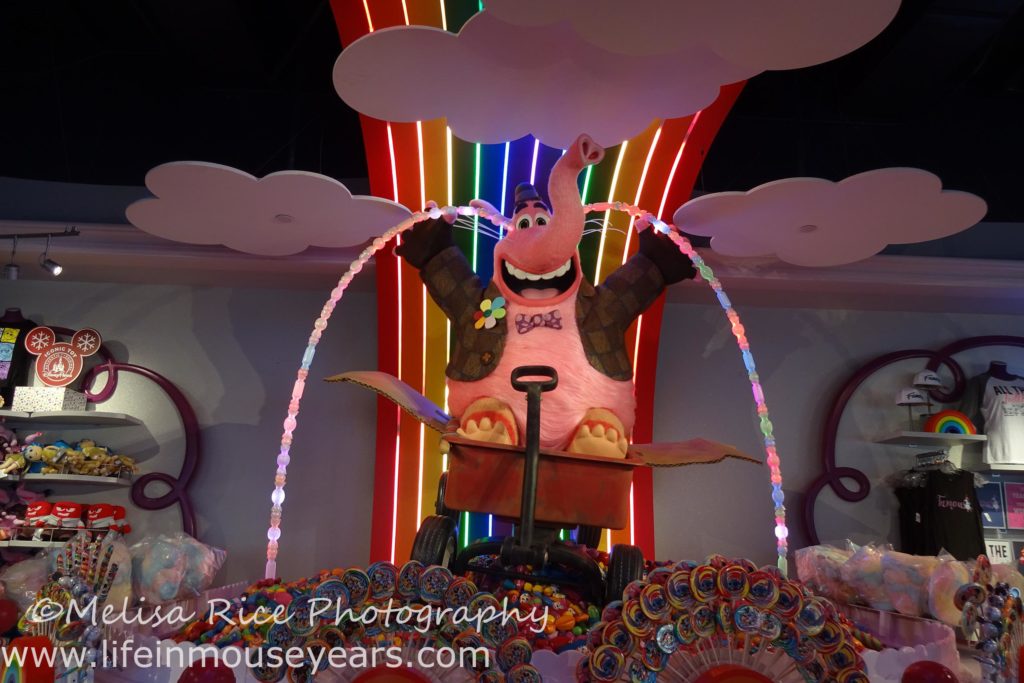 Rides
Next, on the list of exploring Pixar Pier, are the rides. At the moment there are three rides in Pixar Pier. With two more coming soon. now open!
First
First is the Incredicoaster. Originally this attraction was called California Screamin'. However, when they started to retheme the land to Pixar, Disney made it Incredibles themed. I personally haven't ridden this attraction, (I can't handle upside down coasters), but, I have seen videos of a ride through and it looks pretty… well, incredible! 😉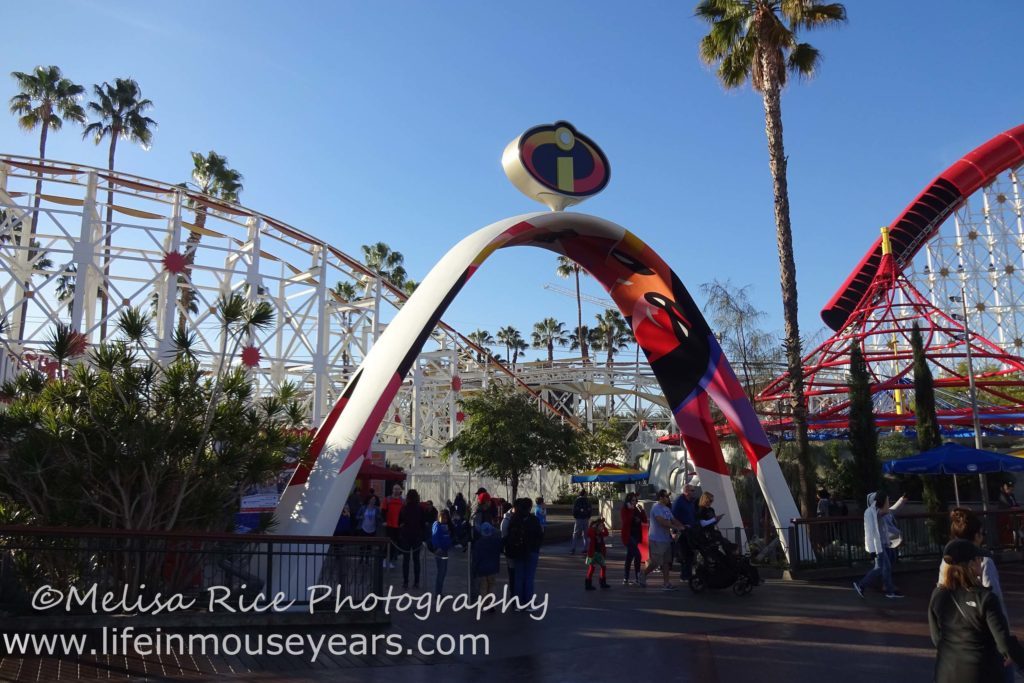 Second
Another ride to check out while exploring Pixar Pier is Toy Story Mania. This attraction is a 3D ride where each person is equipped with a cannon with a pull string. As you go through the attraction you are placed in front of a giant screen and play various carnival-type games. For example, Break the plates, pop the balloons, ring toss, etc. All Toy Story themed. You compete with the person next to you as well as the entire vehicle. The ride calculates your scores at the end. This attraction is so much fun!
Third
Finally for rides to check out while exploring Pixar Pier is Pixar Pal Around. This ride is a giant Ferris wheel. Some of the gondola's swing and others are stationary. Be aware, the swinging gondolas REALLY swing.
Coming Soon Attractions
Next, on exploring Pixar Pier are two coming soon attractions.
Jessie's Critter Carousel
The first one is Jessie's Critter Carousel. Jessie the Yodeling Cowgirl was in the Toy Story movies. Now, she is going to have her own carousel of woodland creatures for you to ride. This attraction will be opening soon. 
*Now Open!
Inside Out Emotional Whirlwind!
The second attraction that will be opening is called Inside Out Emotional Whirlwind! This attraction will be similar to Fliks Flyer's that was in Bugs Land. It looks like it will be very colorful and emotional when it opens later this year.
*Now Open!


Food
There are multiple places to get food in Pixar Pier. Including snack foods and treats!
First is the Adorable snowman. Here you can get some lemon and vanilla-flavored ice cream and drinks.
Next is The Poultry Palace. This is shaped like a to-go box. Serving… you probably guessed already, but chicken!
Another place I mentioned earlier called Angry Dogs. Here you can get a regular hot dog or a spicy beef dog. They have a row of spicy condiments to add to your dog. Not into spicy? Don't worry. They still have the classics. Ketchup, mustard, and relish.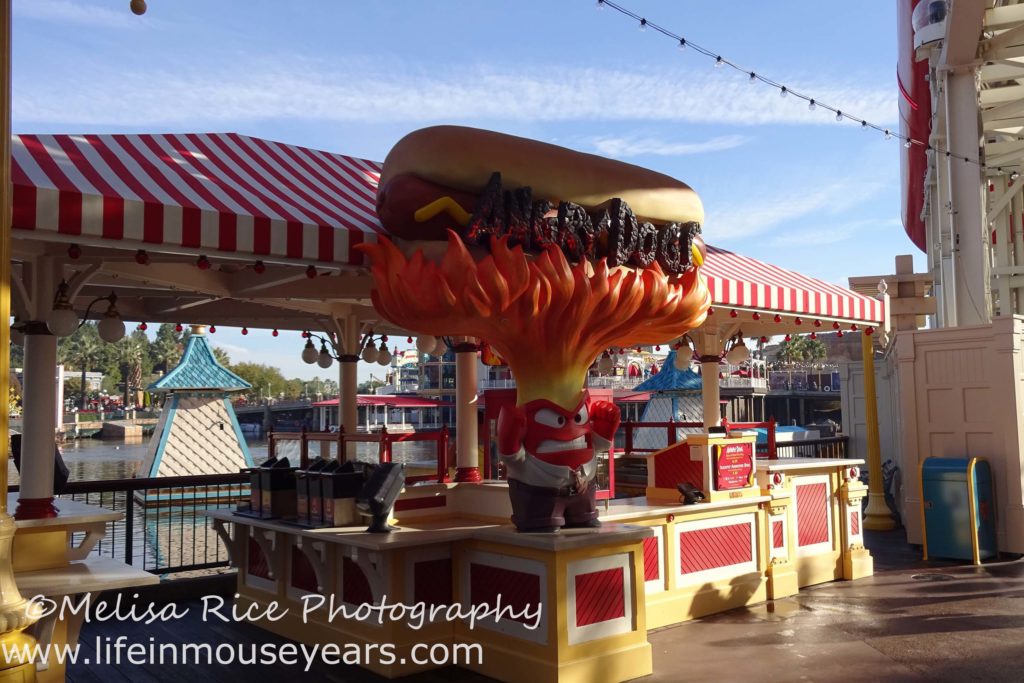 Finally, there is Senior Buzz's Churro Cart.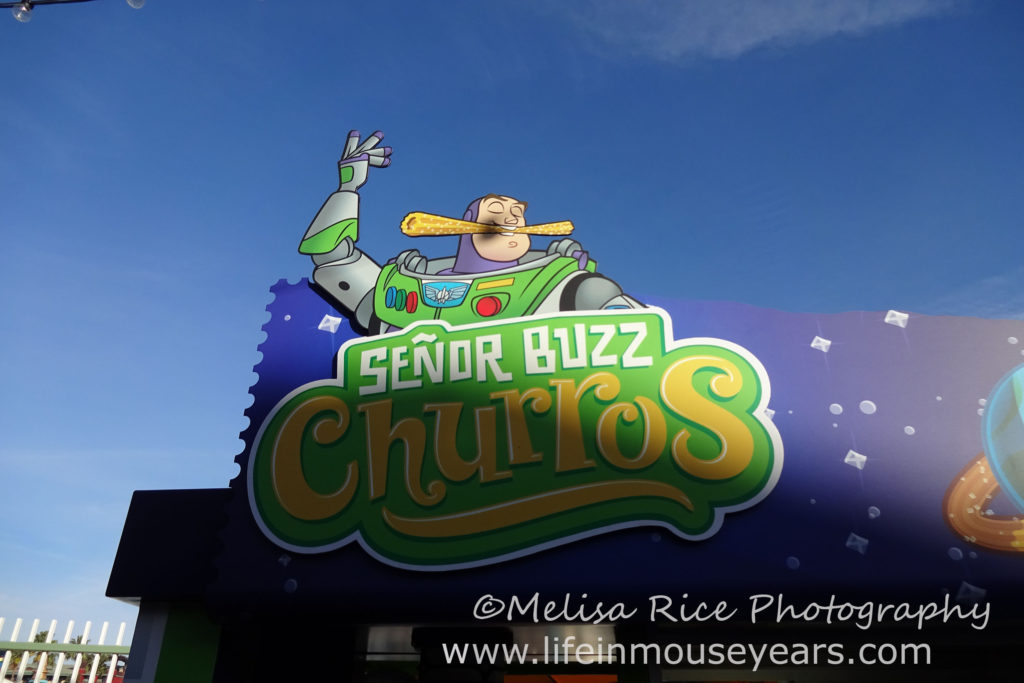 Here you can get a churro with a very cool wrap. It is like a pouch with Buzz on it. The bottom is sealed. As a result, it saves a lot of sugar from going everywhere. I don't know why they don't have this at Disneyland!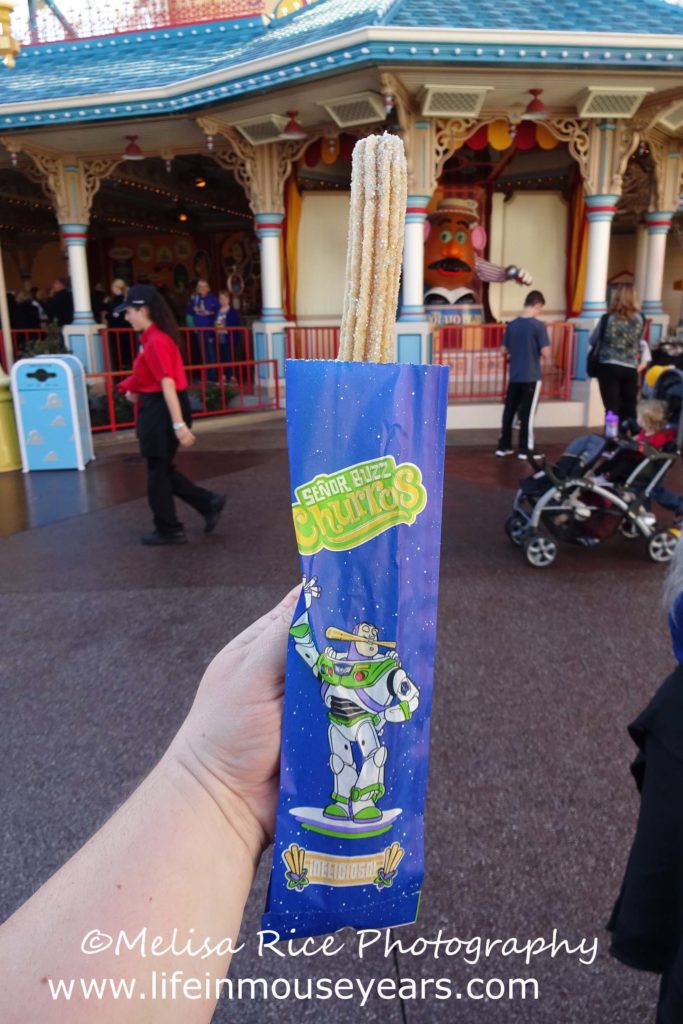 ---
---
Pixar Promenade
Another thing to check out while exploring Pixar Pier is the Pixar Promenade. It is right across from Pixar Pal Around Ferris wheel. It is a very colorful area where at certain times of the day, performers come and play for you. This is a fun thing to check out.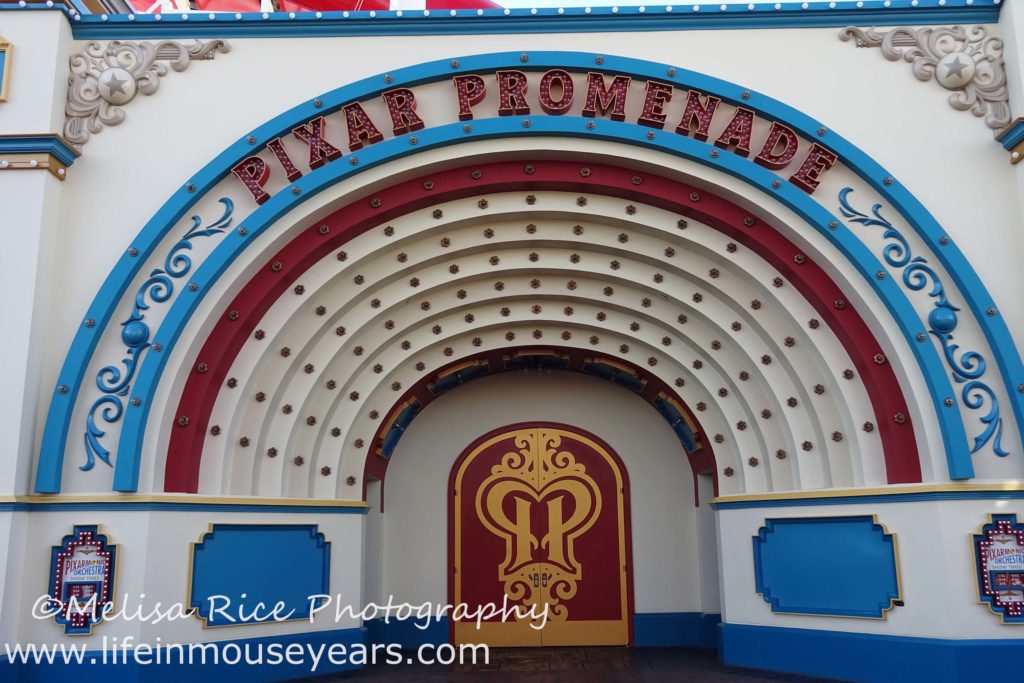 Games of Pixar Pier
Next on the list to check out while exploring Pixar Pier, is the Pixar games. Along the boardwalk are some fun carnival-style games that you can play. All four are all Pixar themed.
La Luna Star Catcher
Heimlich's Candy Corn Toss
WALL-E Space Race
Bullseye Stallion Stampede
In order to play the games, you use one of the dispensing machines in front of the games and put money on a card. Then you take the card to the game you are wanting to play. The Cast Members are there to help get everyone set up and lined up with other players to compete against. If you win, you get a prize. Good Luck!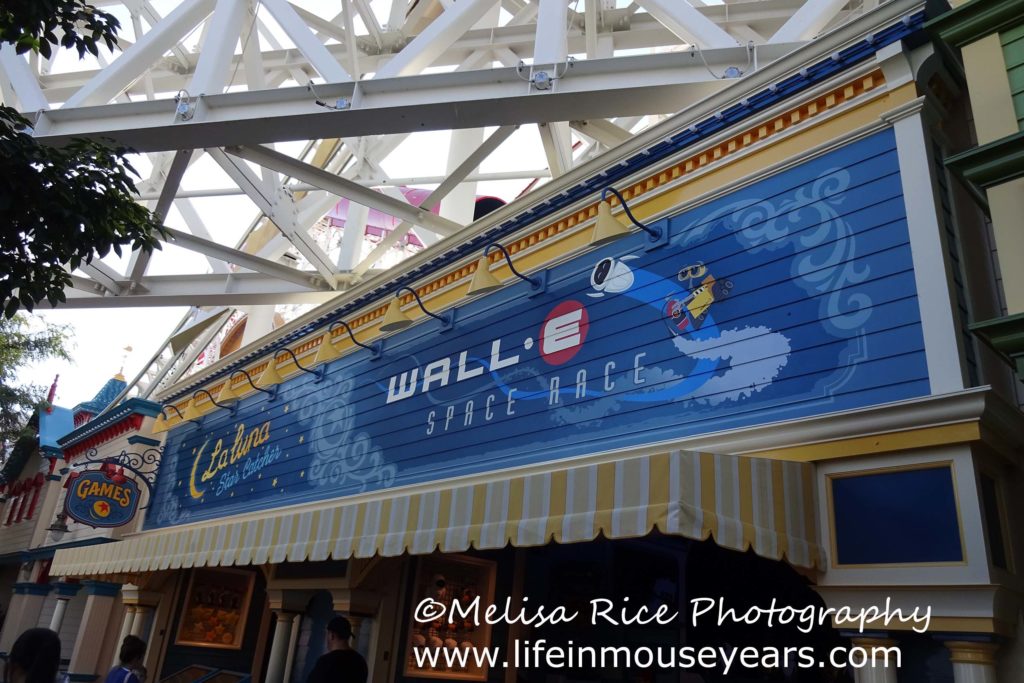 In Conclusion
While a part of me misses Paradise Pier, however, I feel that Pixar Pier is a great new theme in California Adventure! Therefore, I hope that you enjoyed today's post on exploring Pixar Pier and that it helps you to get started on exploring Pixar Pier.
Questions or Comments?
Have you had a chance to explore Pixar Pier yet? What are your thoughts about this lands new theme? Feel free to leave them in the comments below.
Thanks for stopping by Life in Mouse Years!