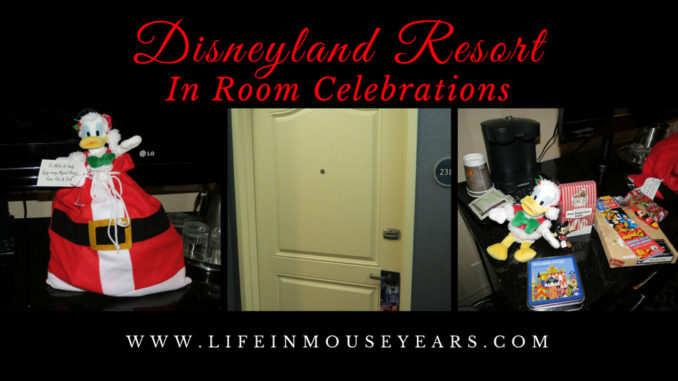 At the Disneyland Resort, not only is there so much to see, do, and experience during your trip, there are also lots of ways to celebrate special occasions during your visit. Today, I thought I would share about the Disneyland Resort In-Room Celebrations.
Disneyland Resort In-Room Celebrations
Did you know that you can give a gift to family or friends that are staying in a Disneyland Resort Hotel? Or, did you know you could give a gift to a child, parent, or spouse during your trip? Not only that, but these special gifts can be left inside of their room to have a nice surprise upon returning from the park!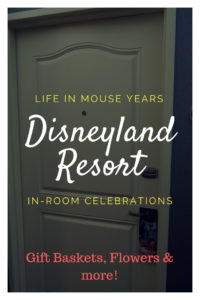 *Due to covid, many things at the Disneyland resort may still be closed. The link to the flower and gift shop is below. It says to keep checking the site to see when it reopens. Find Disneyland Gifts Here
What are In-Room Celebrations?
First of all, the In-Room Celebrations are Disney decorations and souvenir items that are displayed all around your room. For example, it could be character plush, coffee mugs, snacks, balloons, mouse ears, pins, banners, or bins, etc. Therefore the Disneyland Resort In-Room Celebrations makes a great gift to add to whatever occasion that you are celebrating. Even if you are not celebrating a specific occasion, In-Room Celebrations are fun to get!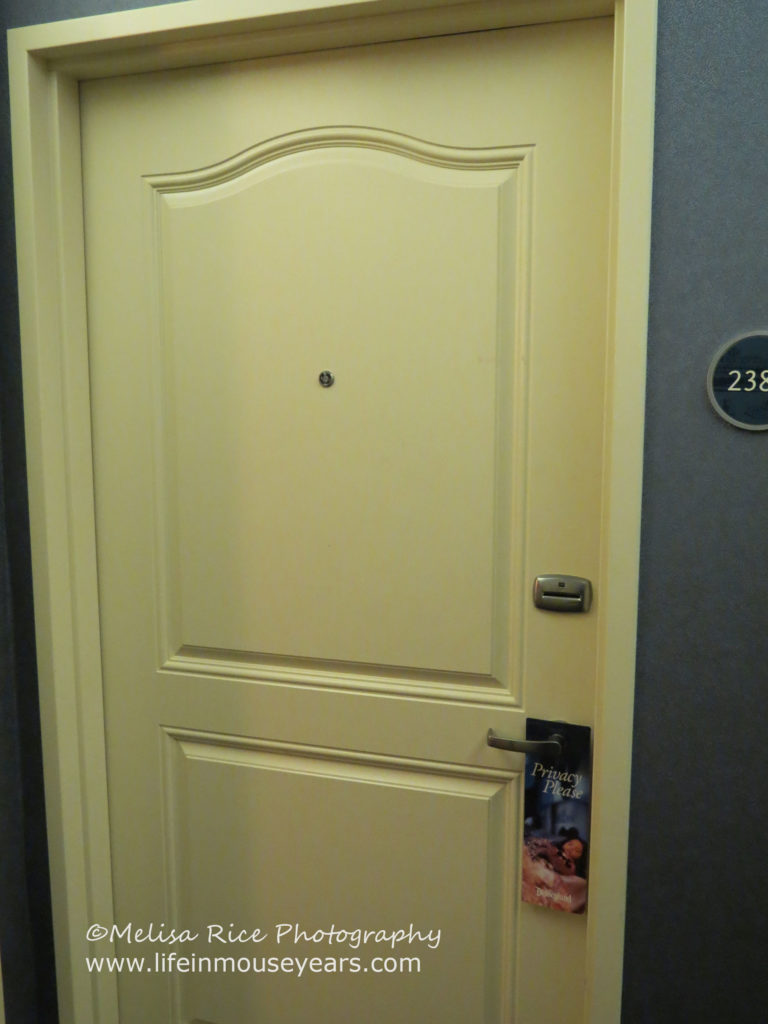 How many choices are there?
Next, The Disneyland Resort has seventeen In-Room Celebrations to choose from! They have a Frozen theme, Mickey, Minnie, Donald, Goofy, a Happily Ever After theme, birthdays, and welcome themes.
---
---
Prices
Unfortunately, these fun In-Room Celebrations come at a price. The starting price is $239.95 and goes on up to $549.95. While these packages are spendy, you get a lot for the price.
For example, for the cheapest  In-Room Celebrations package, there is a balloon bouquet, celebrate pennant banner, Mickey confetti, a big box with a certificate signed by Mickey Mouse as well as other treasures left around the room. In addition to Tinker Bell being somewhere in the room to help celebrate.
Another In-Room Celebrations example is the A Mickey Birthday Wish. In addition to a Mickey plush and balloons, there is a banner hanging on your hotel door, a chalkboard with character autographs, a birthday hat, and a bin overflowing with goodies!
Even though it is spendy, however, if you can afford to do In-Room Celebrations, it is a great way to celebrate someone's birthday during your trip. In fact, it is a great way to get a variety of souvenirs and not have to shop for them or carry them around the park.
Cheaper In-Room Celebrations
Not only does The Disneyland Resort have In-Room Celebrations, but they also offer two other options that are a tad more affordable. Gift Baskets and Flowers.
Gift baskets
First, there are gift basket options that can be delivered to your room. With 25 different options and prices start at $39.99 and go up to $165.95, this can be a more affordable In-Room Celebrations option.
Next, there are various Disney Characters' gift baskets to choose from. Classic Disney characters, Disney Villians, Nightmare Before Christmas, Star Wars, and more!
Gift basket examples.
Here are some examples of the gift baskets being offered right now.
First, for $39.99, you can get the Ears to You basket. Included in the basket are Mickey ears hat, autograph book and pen, 2.8 oz bag of Mickey Jelly Belly beans, and a  2oz bag of pretzels.
Next, for $59.99, you can get the Disneyland Snack Pack basket. This one has an insulated Mickey Mouse lunch tote, 12oz bottle of water, 5 pack of chocolate bars, 1 bag of mini unicorn pops (6 pops), 3oz bag Mickey puffy cheese crackers, 2 oz bag Mickey-shaped pretzels, Mickey Mouse, and the gang PVC keychain and a 4 pack walkers shortbread Mickey cookies.
Finally, the last example, for $165.95 is the Ultimate Indulgence gift basket. This basket has a 10" Mickey plush, 8 oz box of assorted chocolates, a bag each of milk chocolate covered pretzels, peanuts, and caramel squares, Mickey Mouse 3 pack chocolate coins, assorted chocolate bars, a box of sorcerers chocolates, 8 pack of coffee, 4.4 oz box of shortbread cookies, 1.5 oz tin of mints, 6 oz jar of chocolate-covered espresso beans, and a set of 2 diner Mickey travel mugs.
Whew! You get your money's worth with that basket.
Keep in mind that with 25 different options, there are lots of varying price ranges.
---
---
I received a gift basket from a friend.
During a trip to Disneyland in 2011. My friend surprised us with a holiday gift basket in our room. It was so much fun to come into our room and find it there on the counter! It was in a red material sack with a Donald Duck plush sticking out of the top of the bag. There were so many goodies inside of the bag too!
Some of the items were a journal, pen, corn candy, peppermint sticks, Jelly Belly beans, and a keychain.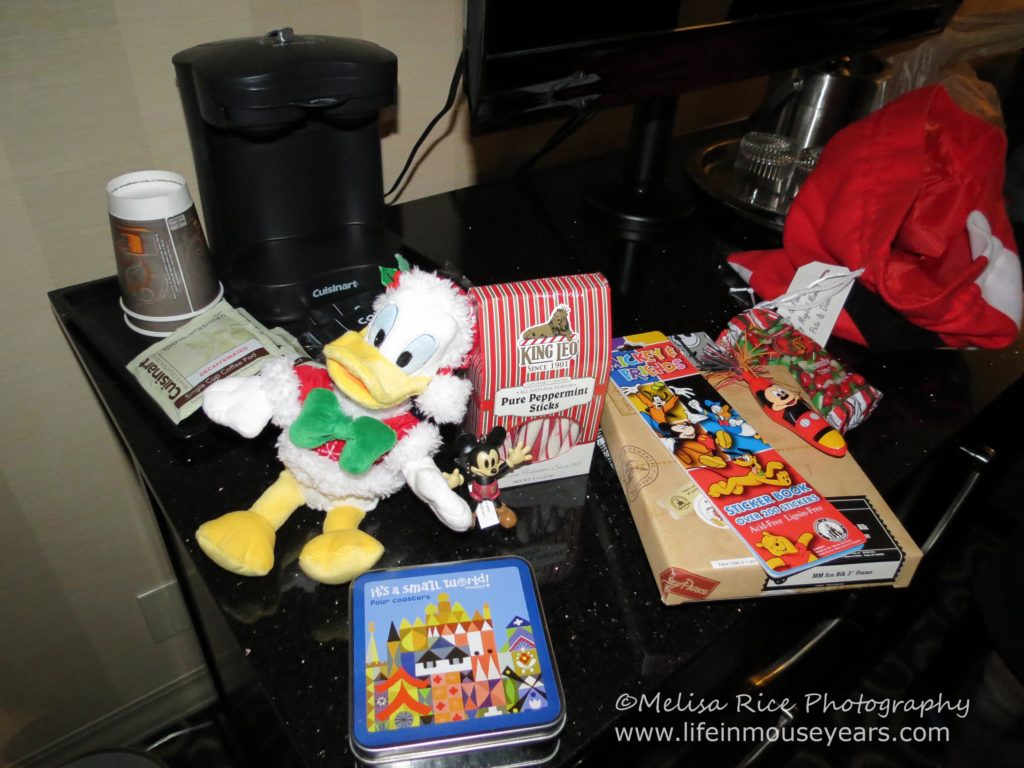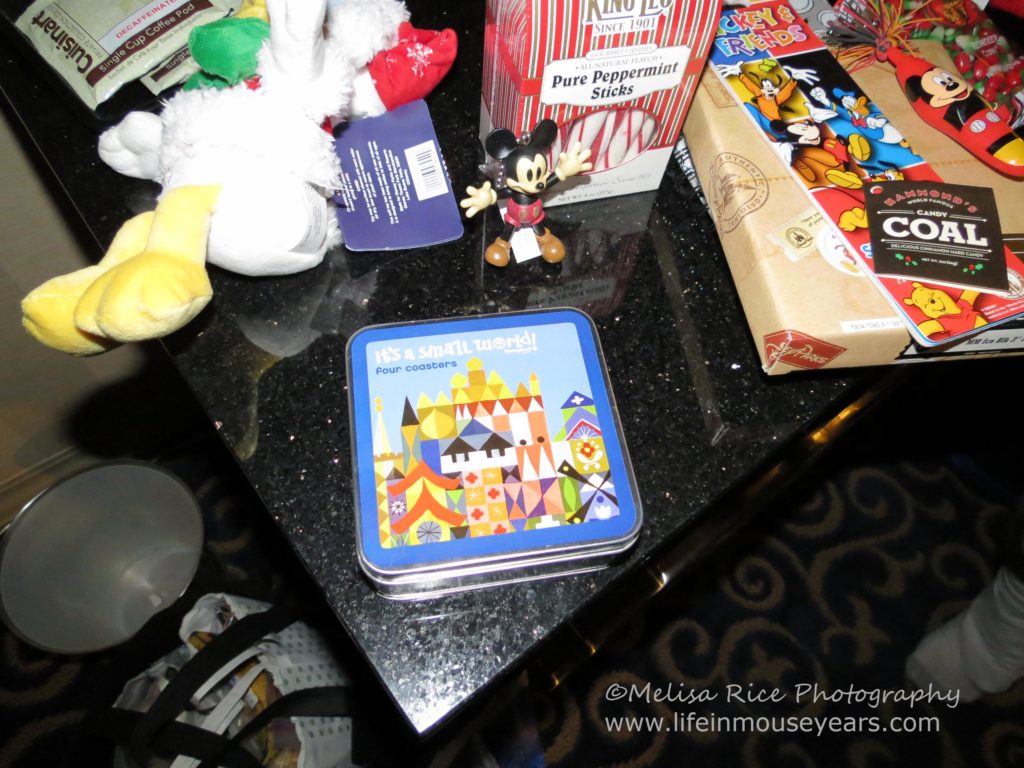 Flowers
Flowers are a great option for your In-Room Celebrations. They can be used to celebrate virtually anything! There are 16 different options to choose from and range in price from $49.99-$175.00.
Here are some examples:
First, for $49.99, there is A Minnie Magical Moment. It is a bouquet of 2 long-stemmed pink Roses, Alstroemeria, and a variety of designer greens, finished off with a pink polka-dotted bow.
Next, for $175.00 you can get Cinderellas Enchanted Bouquet. Inspired by the live-action movie, this bouquet has 12 long-stemmed pink roses, white Caspia, baby blue Eucalyptus, and a butterfly blue ribbon.
What a great way to say I love you, Happy Birthday, Happy Anniversary, or just because.
Disney always has some fun gift ideas, including jewelry.

Customize your basket.
Finally, you can customize your own basket! If you have a certain dollar amount to spend or if you would like to pick out the items included in your basket, you can do that! Disney Floral and Gifts website has a tab you can click on. All you have to do is pick the basket and pick the items and your Disney Dream Maker will make it happen.
Know before you order.
There are a few things you will want to know before ordering.
First, deliveries can be made to Disneyland Hotel, Disney's Grand Californian Hotel and Spa, Paradise Pier, and select local Good Neighbor Hotels.
Next, there is a delivery charge of $10.00.
Another thing you need to know about the In-Room Celebrations is that they do not deliver on Thanksgiving Day, Christmas Day, or New Years Day.
Finally, you can make reservations up to 60 days in advance and at least 3 days prior to delivery.
Disney Floral and Gifts website. 
( Currently still closed due to Covid)
If you would like to know more about In-Room Celebrations, here is the website. (The flower and gift shop at Disneyland may still be closed due to covid. The link aboves says to keep checking the website to see when it reopens.)
 You can order by character, holiday, occasion, gift basket, flower, or In-Room Celebrations.
In Conclusion
There are so many fun things to do, get, and experience at the Disneyland Resort. If you are celebrating something special during your Magical Disneyland vacation or if you just want to celebrate your vacation, Disneyland Resort In-Room Celebrations are the way to go! I hope that this helps you to know of ways to celebrate during your trip.
Thanks for stopping by Life in Mouse Years!
Your Thoughts?
Have you tried the In-Room Celebrations packages at the Disneyland Resort? Any gift baskets or flower arrangements? Let me know what you thought about them in the comments below. I would love to hear about your experience.
What would you like to see here?
Is there anything you would like to read about here at Life in Mouse Years? Let me know in the comments below! I would love to help!
Don't forget to sign up!
If you would like to stay up to date on new posts that come available, please sign up to receive email updates!