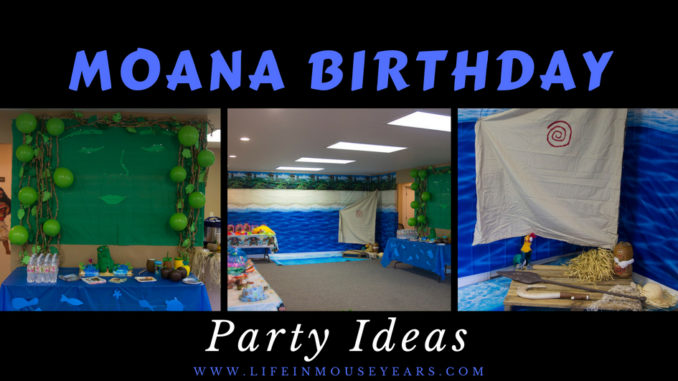 I know there are a lot of sites out there with Moana Birthday Party Ideas. However, since my friend just threw a Moana Party for her daughter's 6th birthday, I thought that I would share some of my photos with you of the decorations and cake. To hopefully help give you ideas of what can be done.
Moana Birthday Party Ideas
First of all, if you have read some of my other party how-to posts, I mention about little Disney touches. This is where you buy or make general themed decorations but add in some Disney items. For example with this Moana birthday party, Luao and ocean themed decorations were purchased or made. Next, my friend added some Moana stickers, favor bags, tablecloths, paper plates and napkins for the Disney touches. It works out nice when you can't find the specific party theme line or if you don't want to have the Disney to be overwhelming. (I am ok with Disney everywhere… But, I guess there may be some people that wouldn't like it. Possibly.)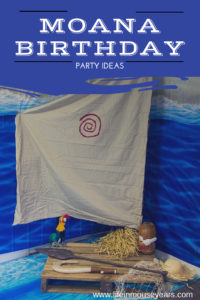 ---
---
Ocean and Boat
First of all, to bring the ocean and Moana's boat to the party, my friend had gotten wall wrap that was palm trees on top, sand and then the ocean. She also found some that were only the ocean. The walls were covered and a section of the floor (in one corner) where the boat was going to be. You can see the result in the photo below.
Boat
Next, the boat was a combined group effort. It turned out great! One friend found a picture example of how to make a boat quickly using a pallet. (Time was of the essence.) This friend happened to have a spare pallet that my other friend could borrow.
I gathered up some branches from my yard to use with the sail. (I live on some property with lots of trees.) In addition to a stuffed Hei Hei to use as a prop.
Another friend had a coconut figure and a safari hat to use as props.
My Moana birthday party-throwing friend bought a fishnet and a very light tan sheet. She cut the sheet into a triangle shape, markered the red swirl onto the sheet and tied it to the branch. She also had Moana's oar and Maui's hook for props.
The final result was awesome! Check it out in the picture below.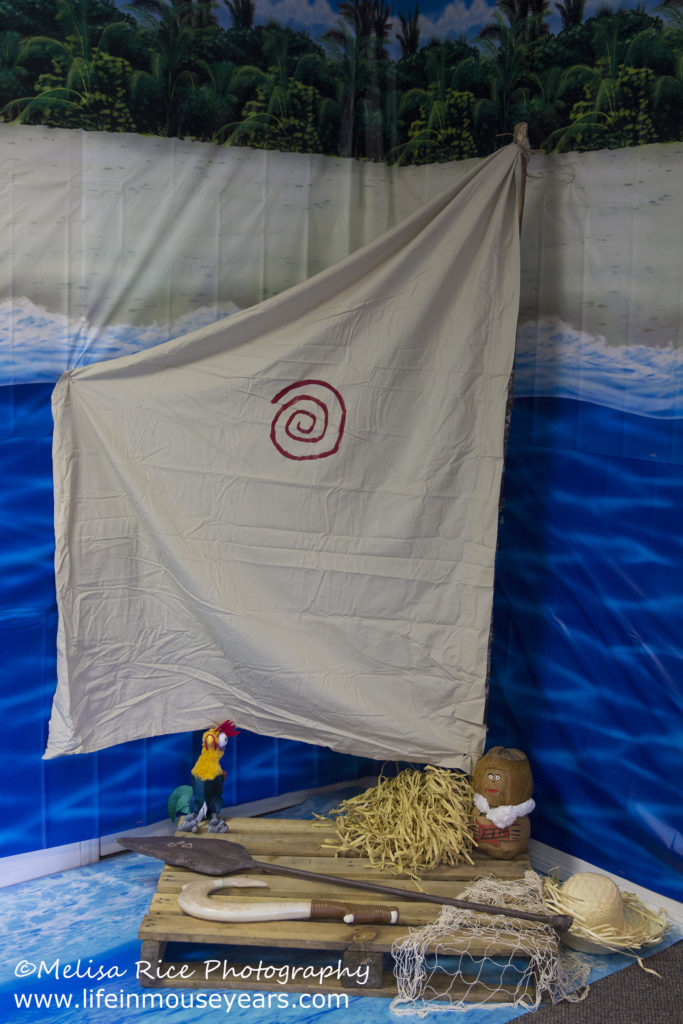 This boat prop area was a hit with the kids!
---
---
Favors
Party favors are the next to talk about for the Moana birthday party. The table was covered in a Moana tablecloth. The favor bags had Moana on them.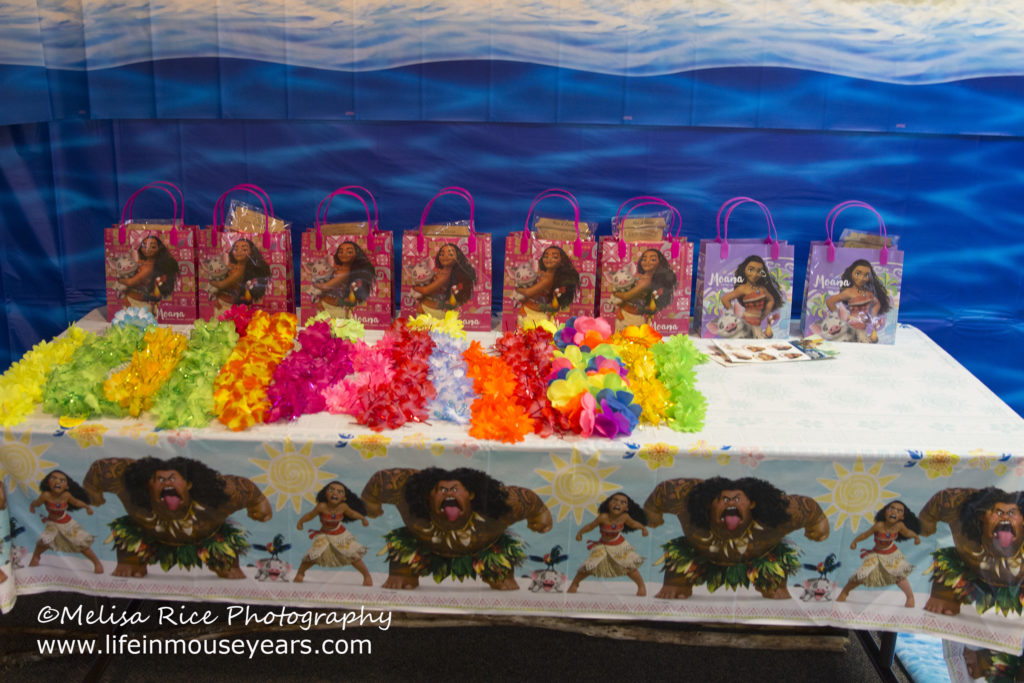 Inside of the bags were the seashell chocolates (find out how to make them here), Moana tattoos, Moana stickers, body art that were flip flops, a Moana magic towel, and a drink/coffee cozies that I made.
Decorations
In addition to the Ocean themed wall wrap, there was a tall palm tree, a smiley face sun, Hawaiian themed signs, and a pineapple hung on the walls. My friend had also gotten pineapple garland that was hung up above the craft table.
Next, my friend had Moana wall stickers that she put on the wall where one of the games was going to be located.  Also, she had gotten a big wall sticker that was Moana. I have to say that the wall stickers are a fast way to add that Disney theme to the walls. And they are specifically made for the walls, so there is no damage to them after you take them down.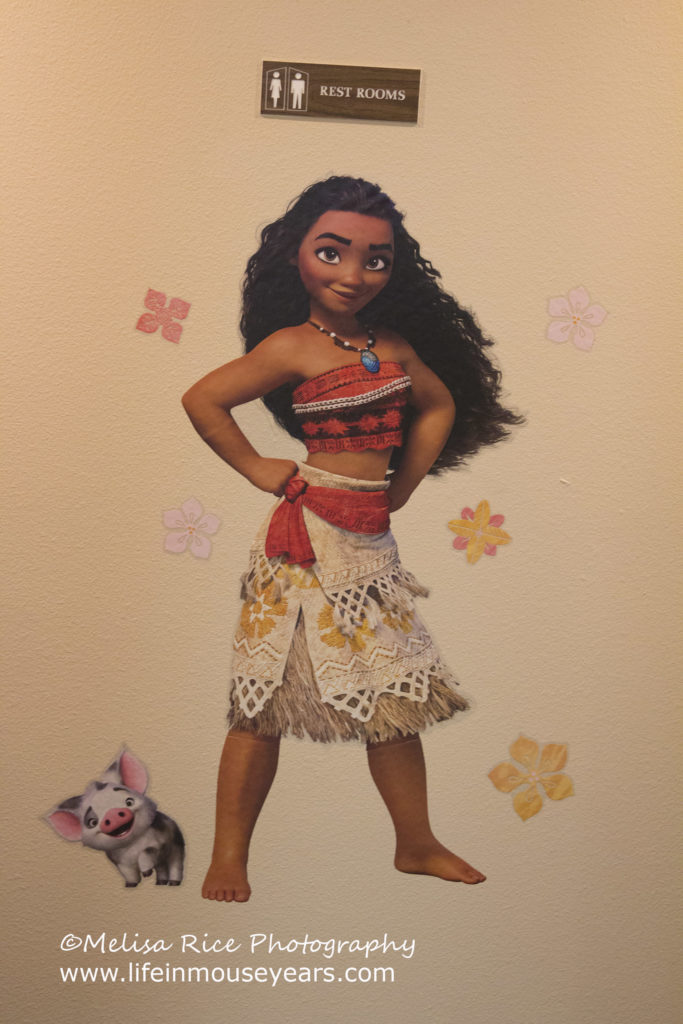 Cake
The next item to talk about is the cake! Oh yes. Cake. My friend likes to make cakes as I do. She took a request from her daughter on what she wanted for her cake. It turned out so well! She made Te Feti out of rice crispy treats and the bottom of Te Feti was a brownie. Next, she covered her with fondant and shaped her face. She added braids and flowers to Te Feti.
On both sides of Te Feti, she had chocolate cake with frosting on top sprayed with edible blue coloring to look like the ocean.
In front of Te Feti was a Moana figurine.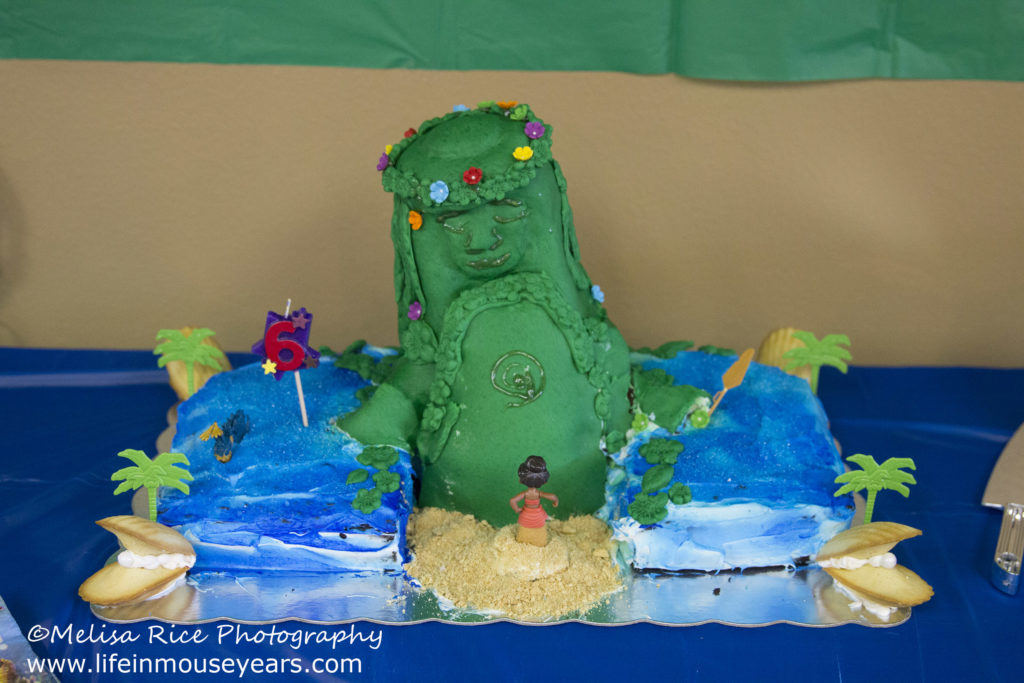 For fun, she took the Hei Hei figurine and put him in the ocean part of the cake with only his feet hanging out of the water. Like in the movie. It was funny!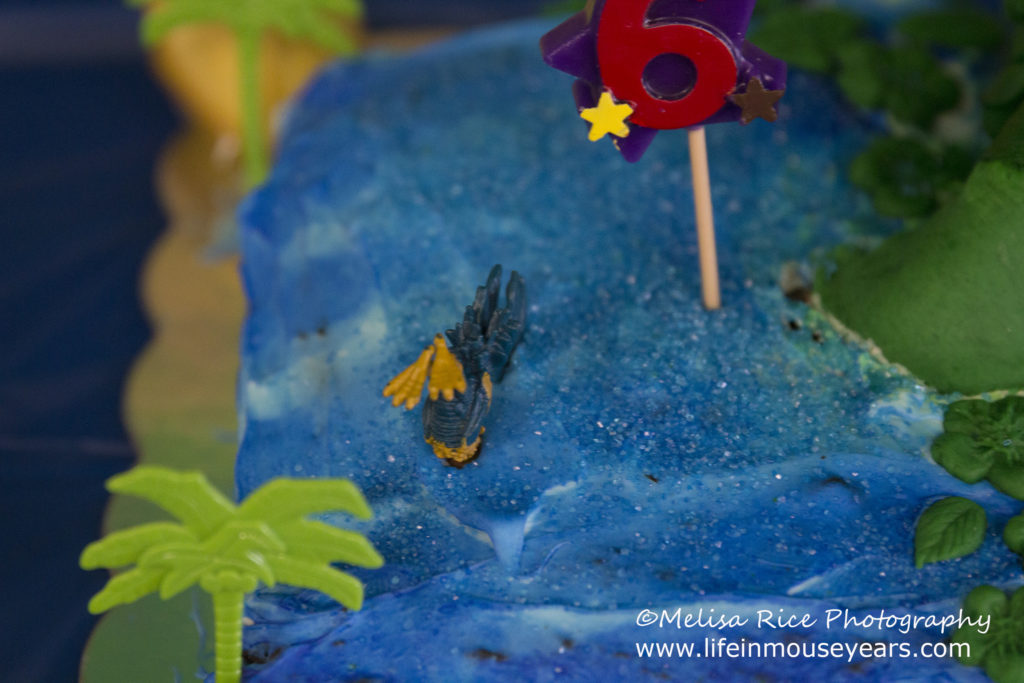 ---
---
Drinks
Water bottles and the cake were all on the same table. For the water bottles, my friend had gotten duct tape that had flowers all over it. It looked Hawaiian. I wrapped the bottles around where the label is. It creates a nice effect that doesn't take terribly long to do.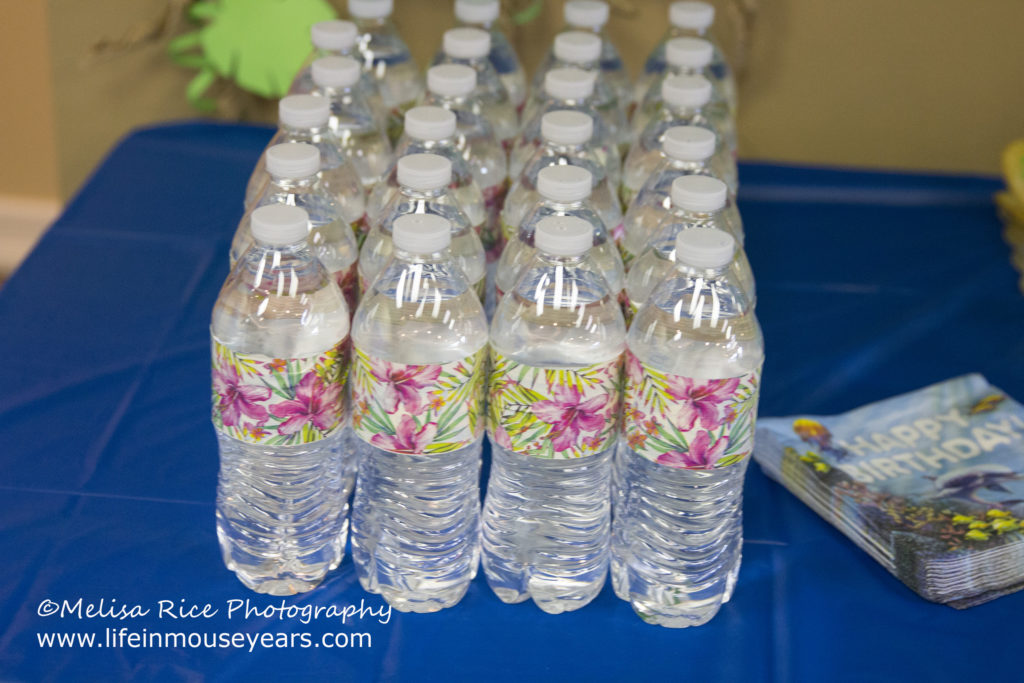 There was a dark blue tablecloth on the table. My friend cut different fish shapes out of poster board. Next, she taped them to the front of the tablecloth that was hanging down. It made a cool water/ocean effect.
Te Feti
One of the coolest parts of the party was Te Feti that was on the wall. Here my friend took a green tablecloth and taped it to the wall behind the cake table. Next, she took green poster board and cut out Te Feti's eyebrows, eyelashes, lips, and nose and then taped it to the green tablecloth.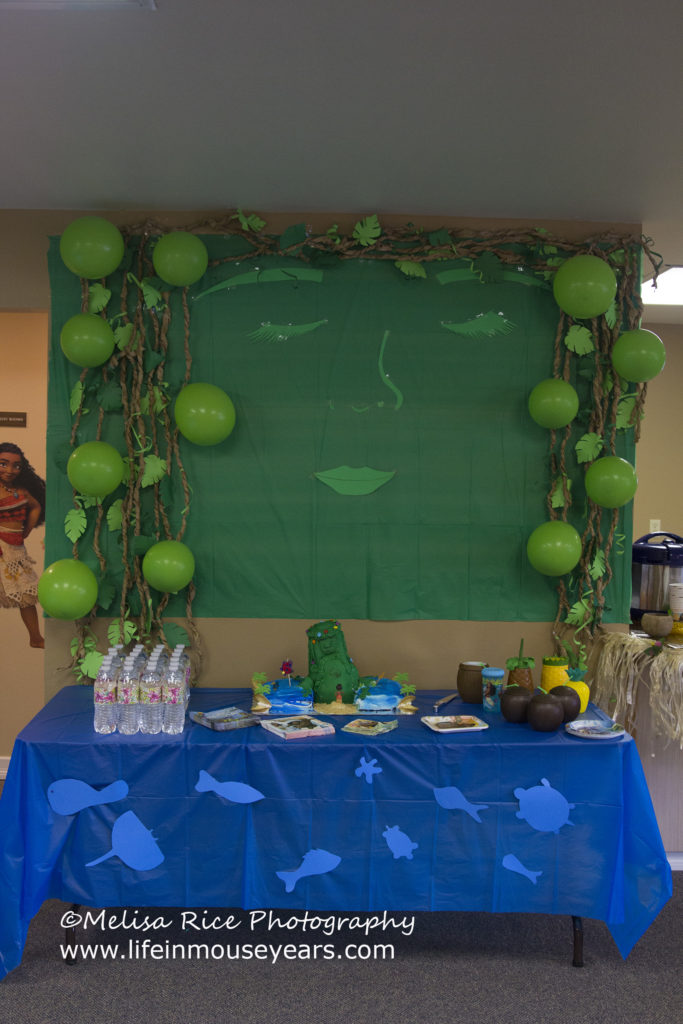 After that, we took the jungle vines I had made for her Lion King baby shower (You can find that party here, including how I made the vines), and taped it above and on both sides of Te Feti for her hair. I then inflated some green balloons and taped them to the vines in various spots. It looked so cool!
Craft Table
One of the activities for the kids during the Moana birthday party was a couple of craft projects. The table had a Moana tablecloth with giant palm leaves at each chair. Also at each spot, was paintbrushes, markers and paint for the kids to use. They could paint rocks as the heart of Te Feti and round boxes with lids that were to be painted as the Kakamora. The kids ended up drawing their own scenes on the boxes. It was fun to see their imaginations at work!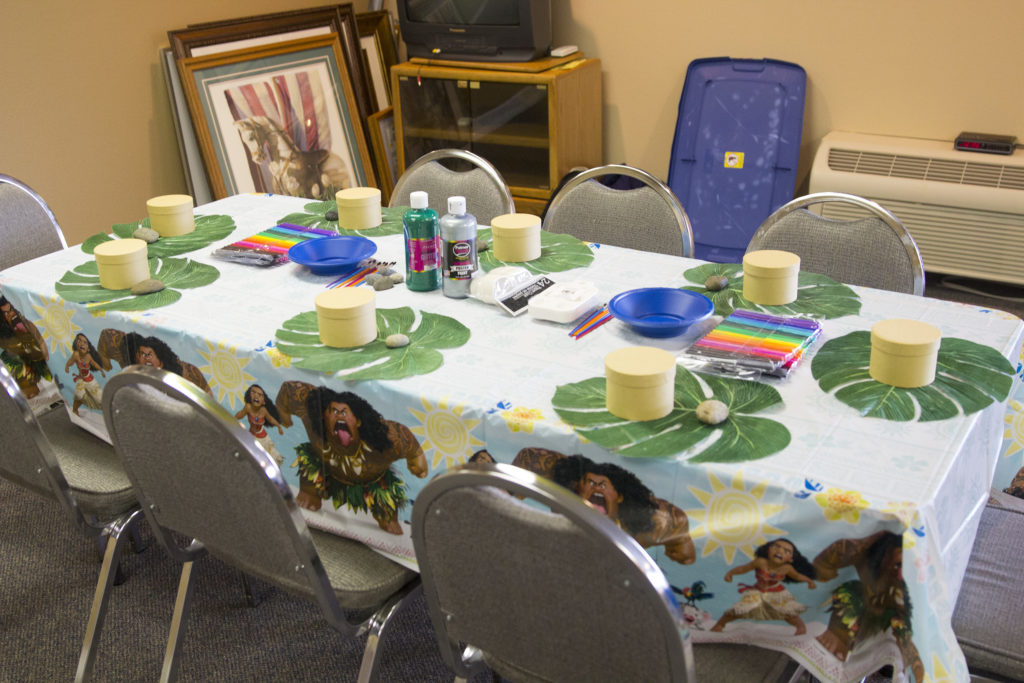 Food
You can't have a Moana birthday party without some sort of food! Think of the Hawaiian Islands.
The food counter area had a tablecloth on it that looked like a basket weave design. Around the counter, there was a grass skirt wrap with flowers along the top.
My friend had a couple of decorative coconut bowls. In one of the bowls, she had shaved coconut. Then the other bowl had goldfish crackers.
Next,  she had a platter with rice down the center of the platter and halved pineapple rings decorating the sides of the platter. Another platter had roasted chicken on it.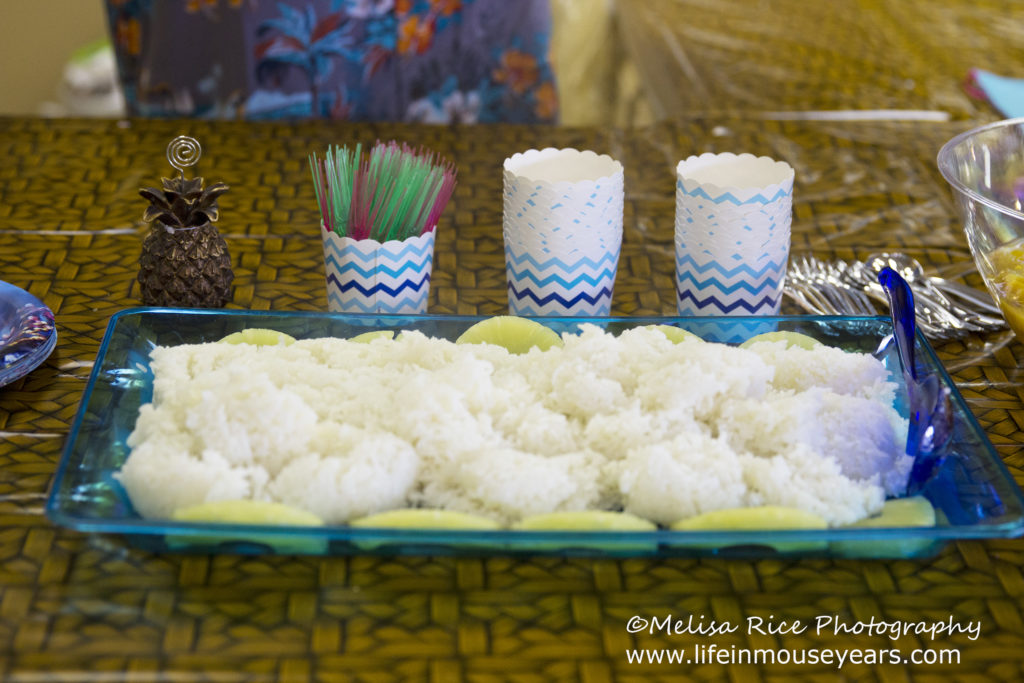 Finally, she had a fruit cocktail and mango salsa.  
In addition to all the food, she had punch and lemonade on the counter.
---
---
Toys
As a result of my friend's kids being huge Moana fans, they have a nice collection of the various toys they have been given as gifts. Therefore, my friend brought the toys and had them set out on a table. This way the kids would have things to play with in addition to the games and crafts.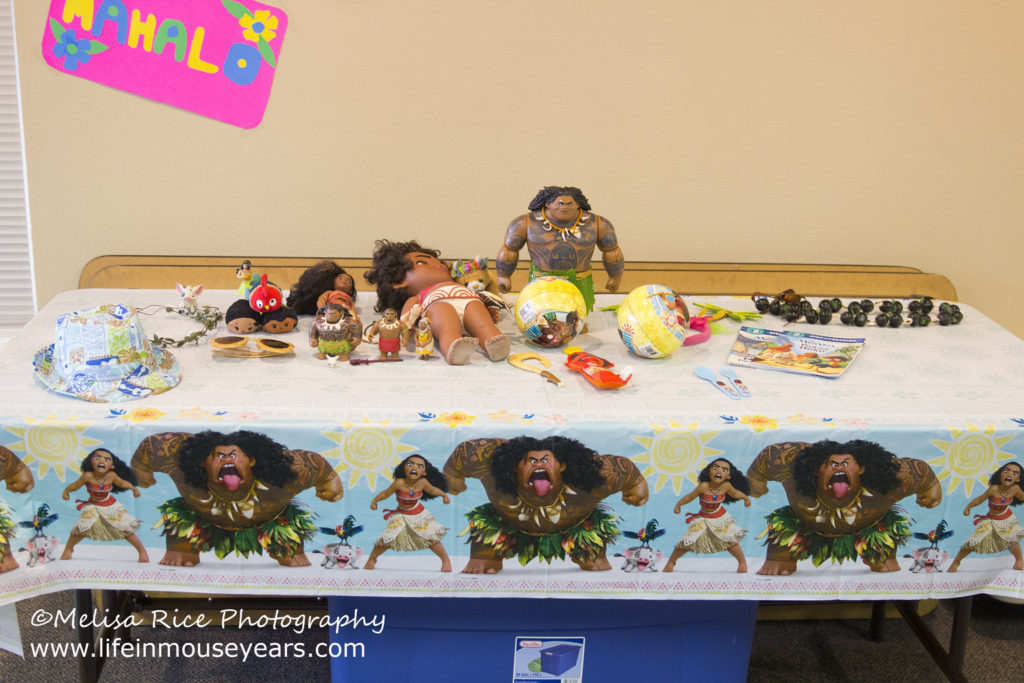 Games
First, there was a pineapple and coconut bowling game for the kids to play. The pineapples were the pins and the coconuts were the bowling balls. She used her daughter's Moana towel as the lane. It was a cute setup!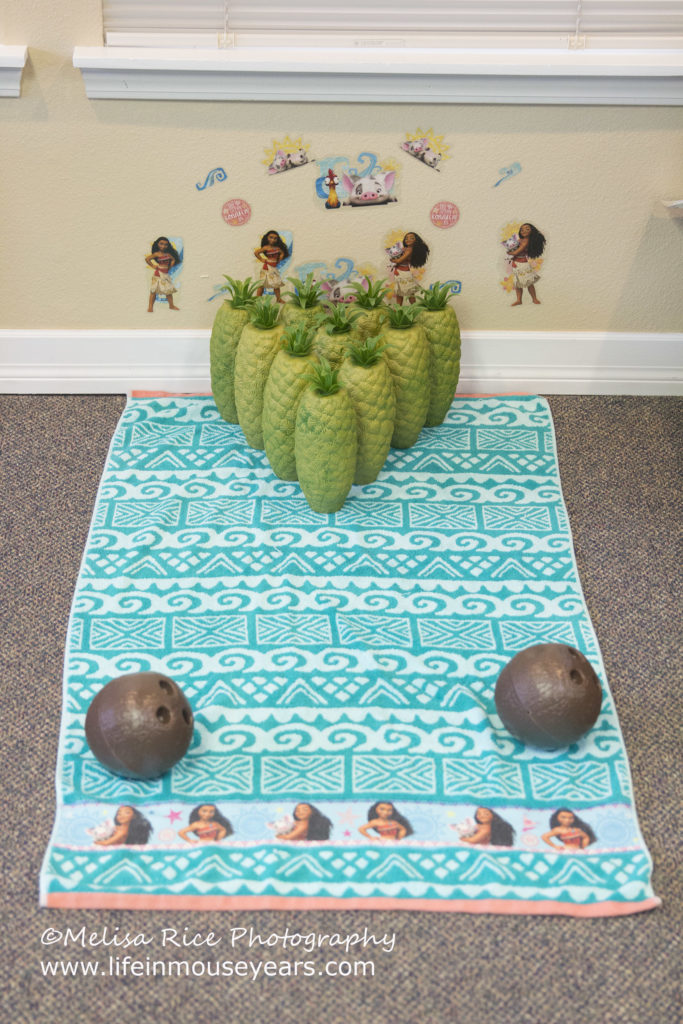 Next, there was a bean bag toss. You would toss the bags into the mouth of the tiki. This ended up being more of a photo prop/mask with the kids. But at least they had fun!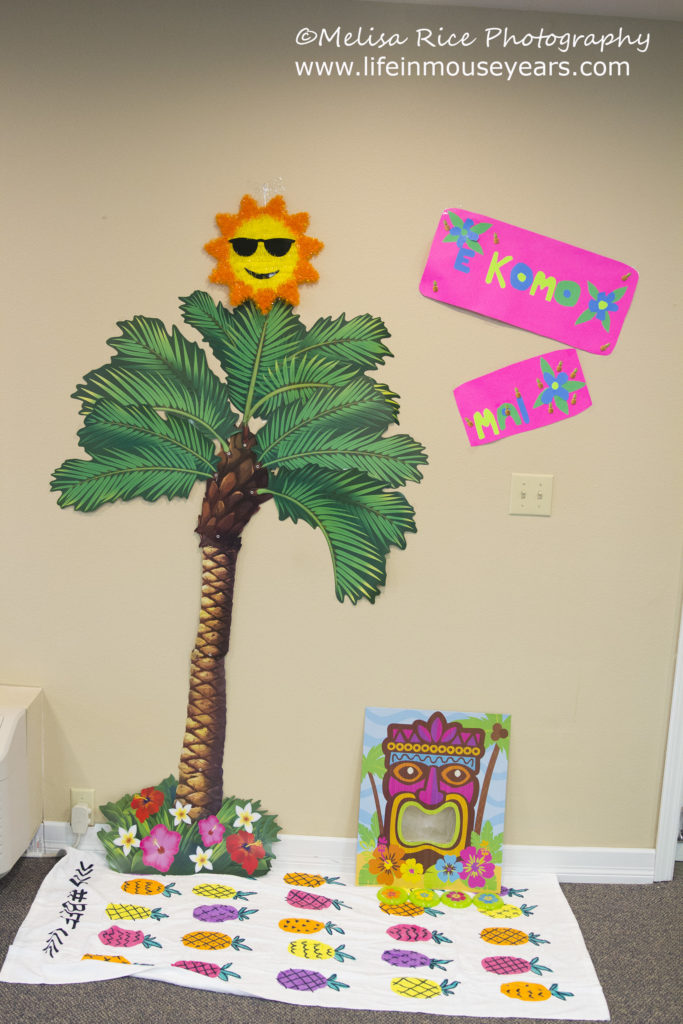 Pinata
You can't have a Moana birthday party without having a Moana Pinata! Well, you could. It is not mandatory. This Moana Pinata was one that you pull the strings one by one. Instead of beating it with a stick and risking someone getting hit with the stick. My friend had gotten wrapped candy that had Hibiscus flowers on the packaging and put it inside.
In Conclusion
I hope that some of these ideas help you to throw a Moana birthday party. Not only getting some ideas but also to learn how to use various items together to create a fun and exciting party theme!
Questions or Comments?
If you have any questions or comments on today's post, please feel free to leave them below!
Thanks for stopping by Life in Mouse Years!